How to Create A Warm Spring Makeup Look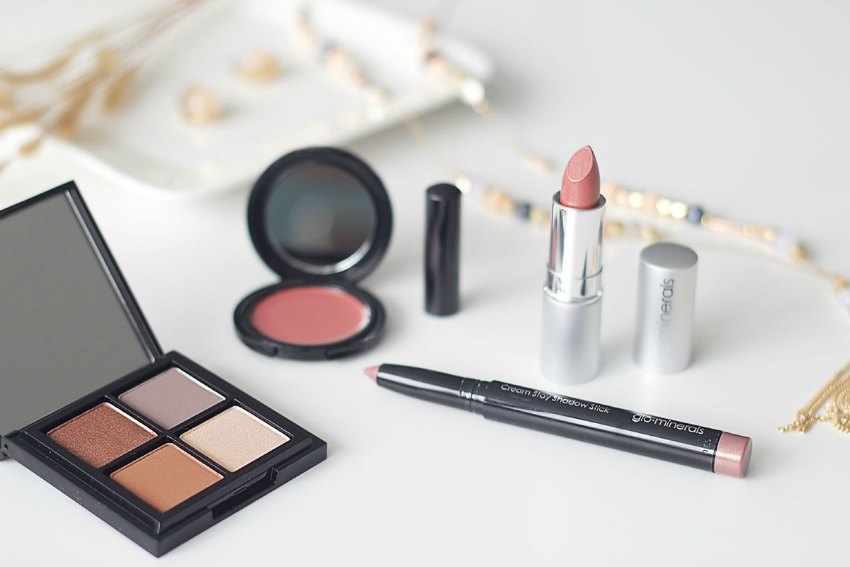 I didn't always prefer soft, natural, warm makeup. There was a time when I was all about bright and bold colour.
Let's take it back for a second…
Circa junior high, I used to wear thick white eye liner covered with baby blue eyeshadow all over my lid and a deep forrest green in the crease with bright blue mascara. Don't worry, I balanced it with peach blush and tinted lip balm. Honestly, it wasn't that bad. It's just not a look that I would rock these days, because my taste has changed. I prefer makeup in dreamy caramels, plums, roses, and golden hues. That's not to say I don't play with other colours, but for a beautiful, glowing and fresh face looked, these are my go-to tones.
This spring, glo Minerals created the limited edition Living Color Collection, featuring three makeup sets designed to capture to beauty of the season: First Blush, Full Bloom, and After Glow.
These colour palettes travel the boundaries from earth to sky, pairing soft, airy tones with deeper, grounded hues to seamlessly transition from day to night. After Glow includes: Cream Stay Shadow Stick in gold blush (soft violet with gold shimmer), Cream Blush in firstlove (fresh, warm petal pink), Lipstick in glaze (rose nude), After Glow Eye Shadow Quad: penny (deep copper metallic), dove (cool matte purple gray), dolce (matte deep caramel), glimmer (soft gold champagne).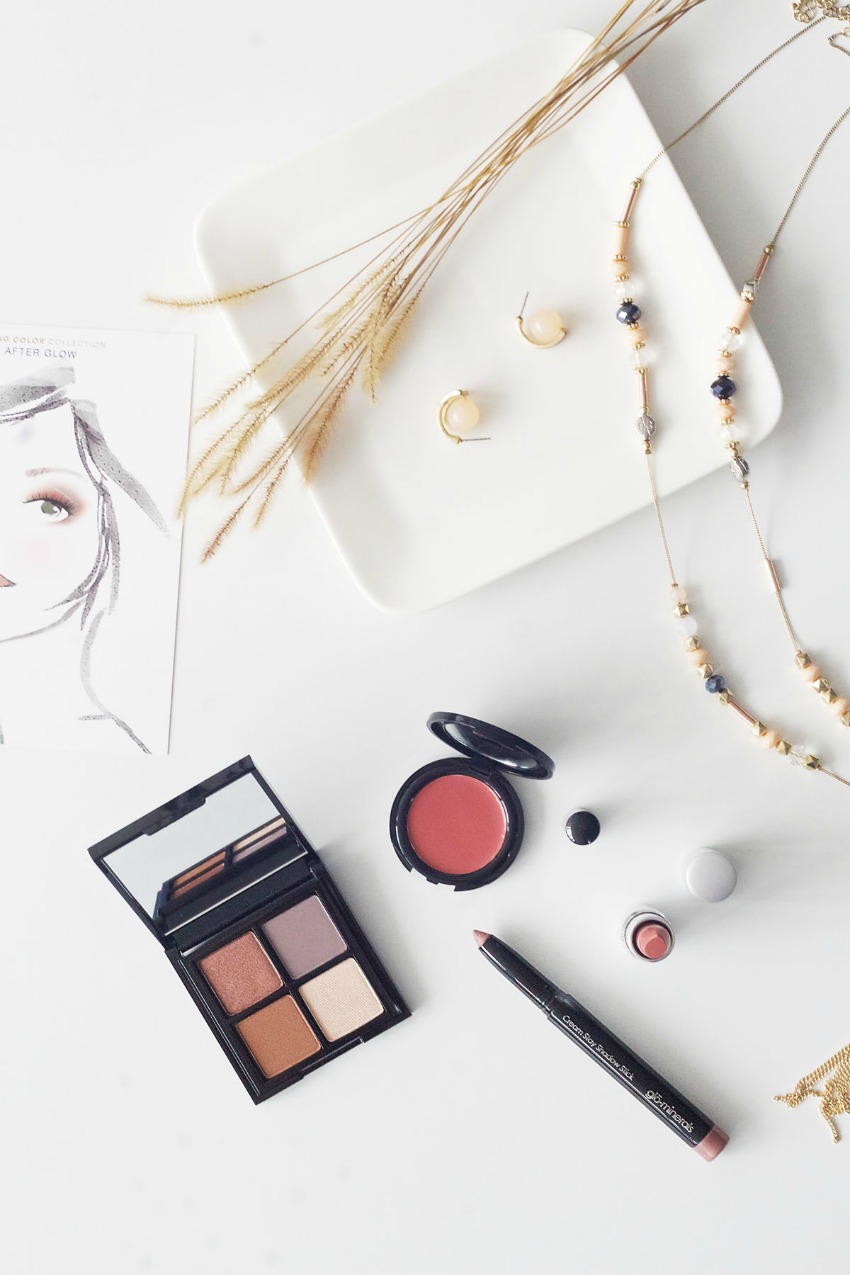 All three of the palettes are beautiful, however I was particularly smitten with After Glow, which glo Minerals sent to me. It was love at first sight when I first played eyes on all the soft rose and coppery hues! I've been having a ball playing with these pretty, feminine colours, wearing them from day to night.
The After Glow collection is perfect for creating a warm spring makeup look. Here's what I did…
How to Create A Warm Spring Makeup Look
First, I created a soft semi-smokey eye, where the "smokey" is mostly around the outer eye. I used PENNY (coppery shade) all over my eye and above the crease. Then I applied DOVE (matte purple grey) on half of my upper eye lid around the corner of the eye. After, I used my Cream Stay Shadow Stick in gold blush (soft violet with gold shimmer) in the crease of my eye, blended upwards, as well as my lower lash line. Finally, I highlighted the corner of my inner eyes and my brow bone with GLIMMER (soft gold champagne). I finished with two coats of black mascara.
Second, I applied Pressed Base in Beige Light all over my face, and contoured with Bronze in Sunkiss. I also used a light concealer under eyes and on blemishes which I blended well into the powder base.
Third, I smiled and dabbed a touch of Cream Blush in FIRSTLOVE on the lower part of the apples of my cheek up into my cheek bone and blended well with a (very) slightly damp sponge. Then I took a feather brush, grabbed a bit of GLIMMER (from the eye palette) and lightly applied on the top part of the apples of my cheek up into the cheek bone and near my temple – which added a bit of natural highlighting.
Finally, I applied my lipstick in GLAZE (rose nude).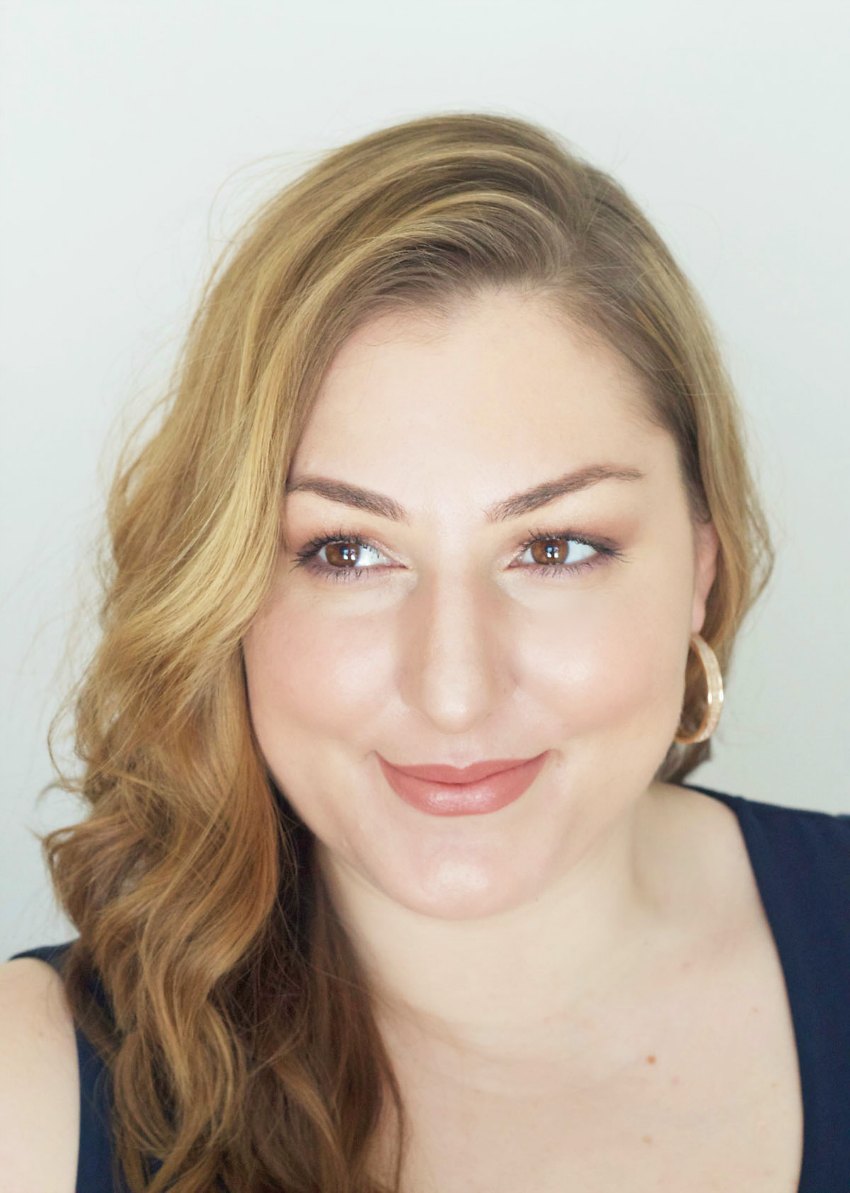 I love how natural and easy this warm spring makeup look is! And also how all the rose, copper, and golden hues just brighten up my face. It's always nice to use a collection that's been carefully created to work together – it makes applying makeup much simpler and less time consuming.
What do you think of this palette? Are these colours that you're also fond of and would use to create a warm, natural look as well?
The limited edition Living Color Collection comes in three palettes, which are each CA $80.00 and are available for purchase on their website.
---
This piece is in partnership with glo minerals. As always, all opinions are personal. Thank you for supporting my efforts to bring you exciting, new content.
Latest posts by Emily Smith
(see all)