5 Beautiful Ways To Decorate Your Home This Fall On A Budget

Every new season brings with it a desire for me to decorate our home with seasonal decorations. It's often just a subtle shift, but it ties into the time of year we're in. For example, when spring comes, white silk flowers fill watering cans. When winter comes, frosted pinecones and twinkle lights are strewn across the mantel. For fall, more than likely, a harvest wreath is hung on our door and white mini pumpkins scatter atop any bare surface.
Decorating for fall doesn't have to be expensive
Over the years, when shopping for fall decorations, I've realized that decorating for the seasons can be rather expensive. Some of the price points for decorations are down right over the top! Especially taking into consideration that a few fall decor items might only be used for three months before we switch to a Christmas theme.
With that in mind, I've tried to be a savvy shopper and carefully store the seasonal items in totes so they can be used again and again. I've also made a point of searching for fall decorating ideas that can be completed on a budget. Think DIY…
In this post, I have focused on sharing ideas that can be sourced around the house, in nature or bought for a reasonable price.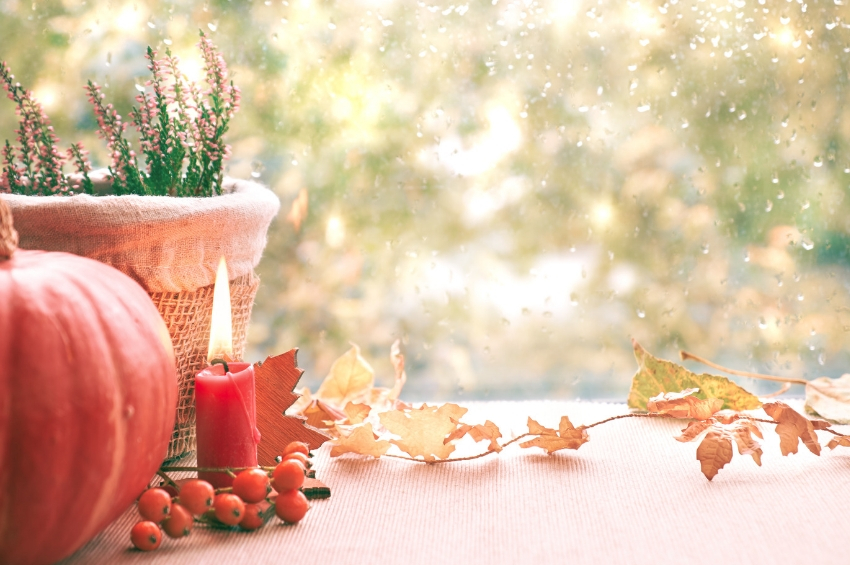 With these 5 easy-to-make decorations, you can bring the beauty of fall into your home without breaking the bank
1. Fall Tableau
First, you'll need to consider a spot in your home to place your tableau. This could be a console, kitchen table, or side table, just to give you an idea. Start with a richly coloured runner or placemat to protect your table, that will also work as a nice base to your focal piece. To create an arrangement that will brighten up any tabletop with the beautiful colours of fall, simply find a few branches outdoors still loaded with fall leaves. This could be a fun task for your kids, as long as they can find the branches in your backyard or on a nature walk. Once you've gathered a few branches, arrange them on the table as in, or in a large rectangular glass vase with water.
This is just the first step in building your tabletop and to give you an idea, it's up to you to get creative!
Next, gather as many different seasonal gourds as you can. Mix up the colours, textures and sizes, they should all look different. You can also stack your gourds using layers to create a balanced look, you could even use fall dishes to create different levels and interest. To complete your table, you can continue to decorate with a small potted plant, like chrysanthemums for example. Go ahead and creatively spread even more leaves on the table to give the feeling that fall has blown right into your home from the outdoors. You might also want to use items from your home, like a vintage table clock, votives, or a watering can.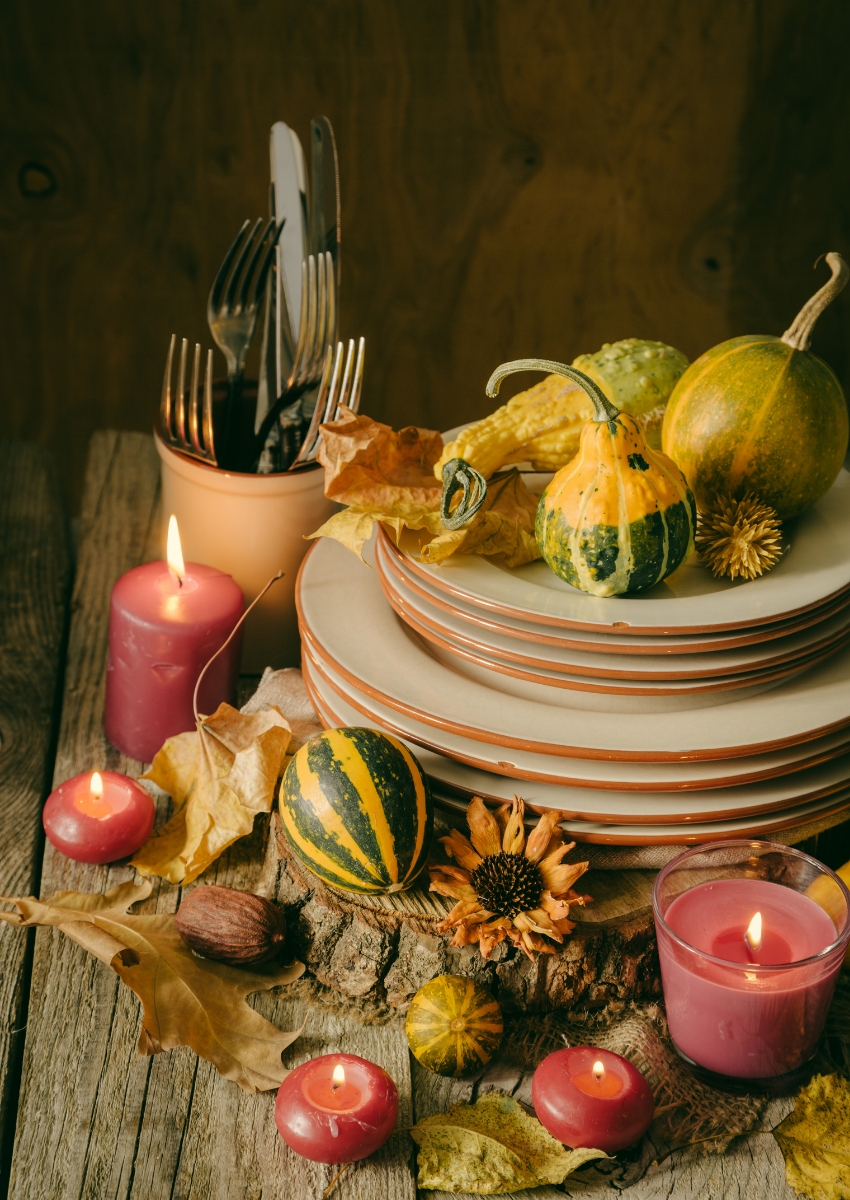 2. Floating Pumpkin Votives
This is great for the backyard or front porch, especially if you want to add a DIY water feature. Fill a wide rustic container half way up with water. Pick up a few mini pumpkins from the store to be used. With a small knife or drill, cut out circle inserts in the centre of the pumpkins, about 2 inches deep and wide enough to fit a votive candle or tea candle. Once you've gotten the holes right, carve out all of your mini pumpkins in the same way. Insert the candles and light them up. Float your mini pumpkins in the rustic container for a beautiful outdoor candlescape.
related: Redecorate Your Dining Room For Fall On A Budget
3. Pumpkin Wreath
To create this decoration, you can use a store-bought or home-made wreath. As for the mini pumpkins, consider buying synthetic styrofoam-based pumpkins (so you can re-used the wreath) or purchasing mini pumpkins and gourds of different colours at the farmer's market. Using florist picks, attach the pumpkins to the wreath. To make it easier, attach the picks to the pumpkins first, then work them into the wreath one after the other. Using new picks and a glue gun, attach other fall items into the spaces between the pumpkins. Fall leaves will make a colourful filler, and contrast sharply against the white and lighter shades of pumpkins, as would pine cones or currants.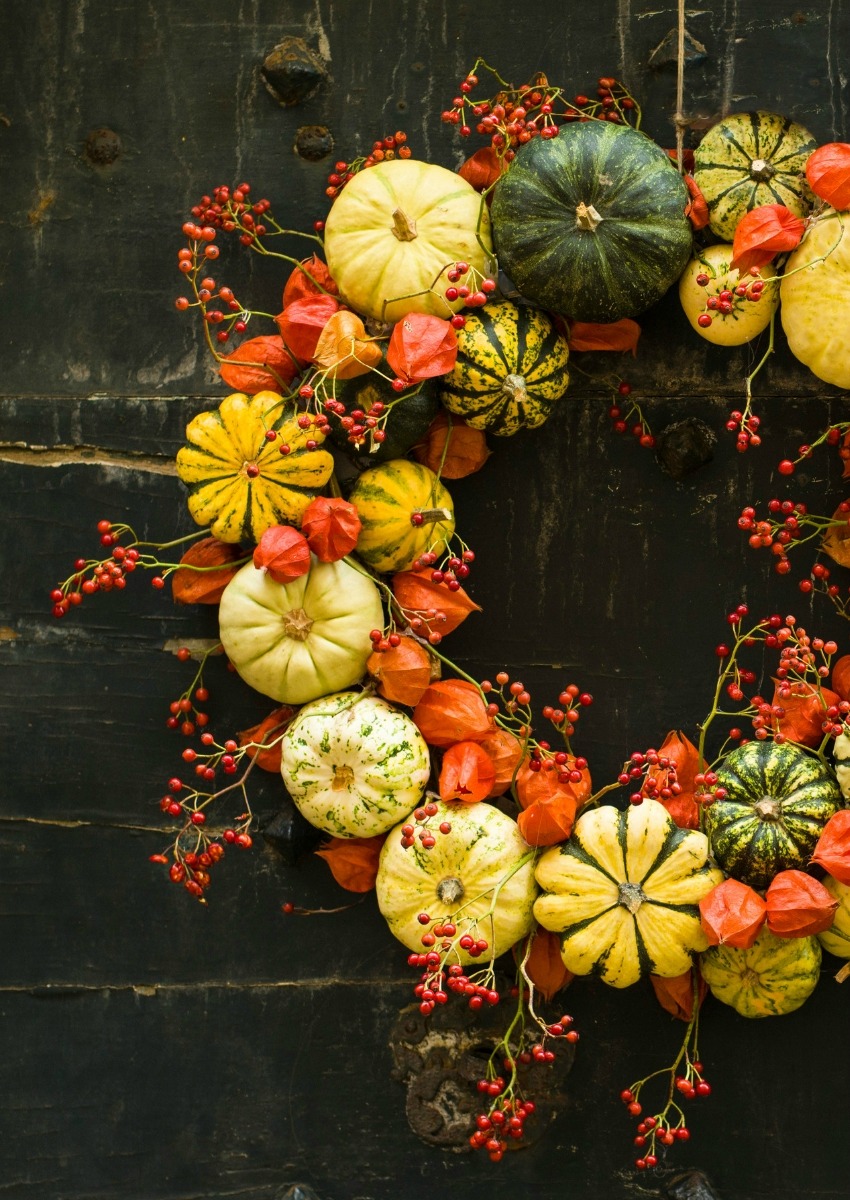 4. Cornhusk Garland
Have you seen this idea? I think it's super cute to decorate for fall. To create a cornhusk garland, you can begin with a piece of thin rope, such as sisal rope. Wrap the rope with dried grasses, such as corn tassels or broom corn. Next, arrange the corn along the rope in a single file, or using any creative pattern that comes to mind, and use hot glue and wire to hold it into place. Make sure the corn is set well, then hang your garland across your mantelpiece, porch, a door, a console table, or wherever you see fit.
related: Easy Fall Centerpiece
5. Traditional Pumpkin Mantel
At your local farmers market, pick out an assortment of small pumpkins that look as different from each other as possible. Spread them out in a vignette style (different heights in threes) on the mantel and floor near the fireplace. Intensify the fall effect by throwing around fall leaves to form a layer on the mantel and the floor. Next, bring in a few items that tie in the fall vibe: old books, an antique jewelry box, candles, pinecones, a chalkboard with a fall saying…etc. Whatever you add into your fall feature it should complement the fall colours to support the theme. And voila! A beautiful fall mantel to enjoy all season long.
Extra idea! Dried Flowers and Herbs Arrangement
Create a beautiful burst of colours on any tabletop in your home using this trick. All you need to do is gather a basket of fallen leaves and dried blooms and/or herbs in different colours. The sweet smell of the blooms, especially when mixed up, will add a sensory effect of fall to your home. You can use these decorations as a centerpiece or hang them around using a rope or ribbon.
Do you have any DIY fall decorations that are basically family tradition now? Share them with us in the comment section.
Latest posts by Emily Smith
(see all)