A Delicious Taco Pasta Bake to Impress the Whole Family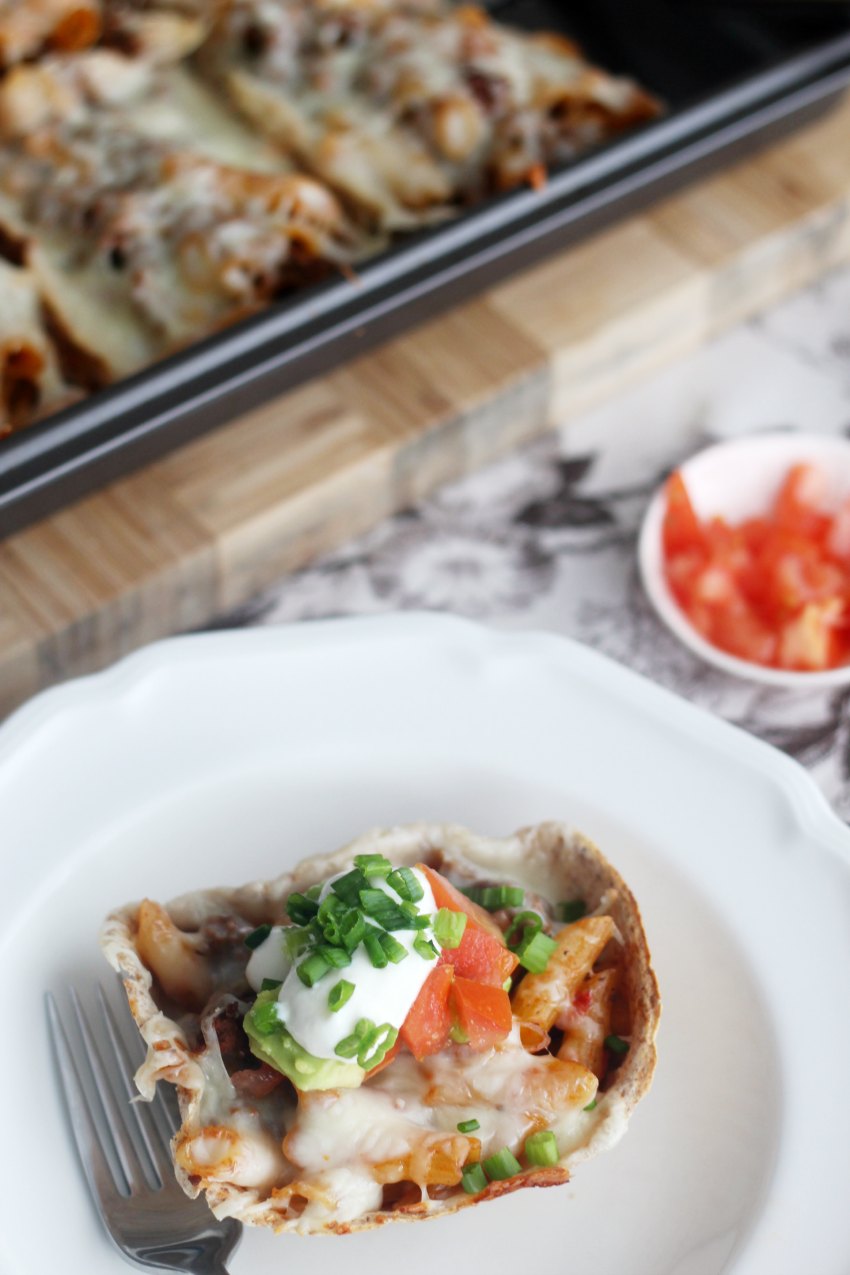 In my family, dinnertime is a great way for everyone to sit around the table and enjoy valuable quality time together. As children grow, schedules can become more hectic. I believe one of the most important and effective ways to instil healthy eating habits is by spending time in the kitchen and preparing new recipes that can quickly become family favourites. One of our family favourites in The Best of This Life household is actually a spin on an old classic: A Taco Pasta Bake featuring Old El Paso Whole Grain Tortilla Bowls. If you're thinking to yourself, "Tacos? And pasta? Those are two very different meals!" I assure you, by the end of this post you'll be copying down the recipe to make it the next chance you get! Not only is my Taco Pasta Bake filling and tasty, but all of the ingredients are extremely affordable. Plus, the recipe will leave you with leftovers that you can freeze for another easy dinner down the road.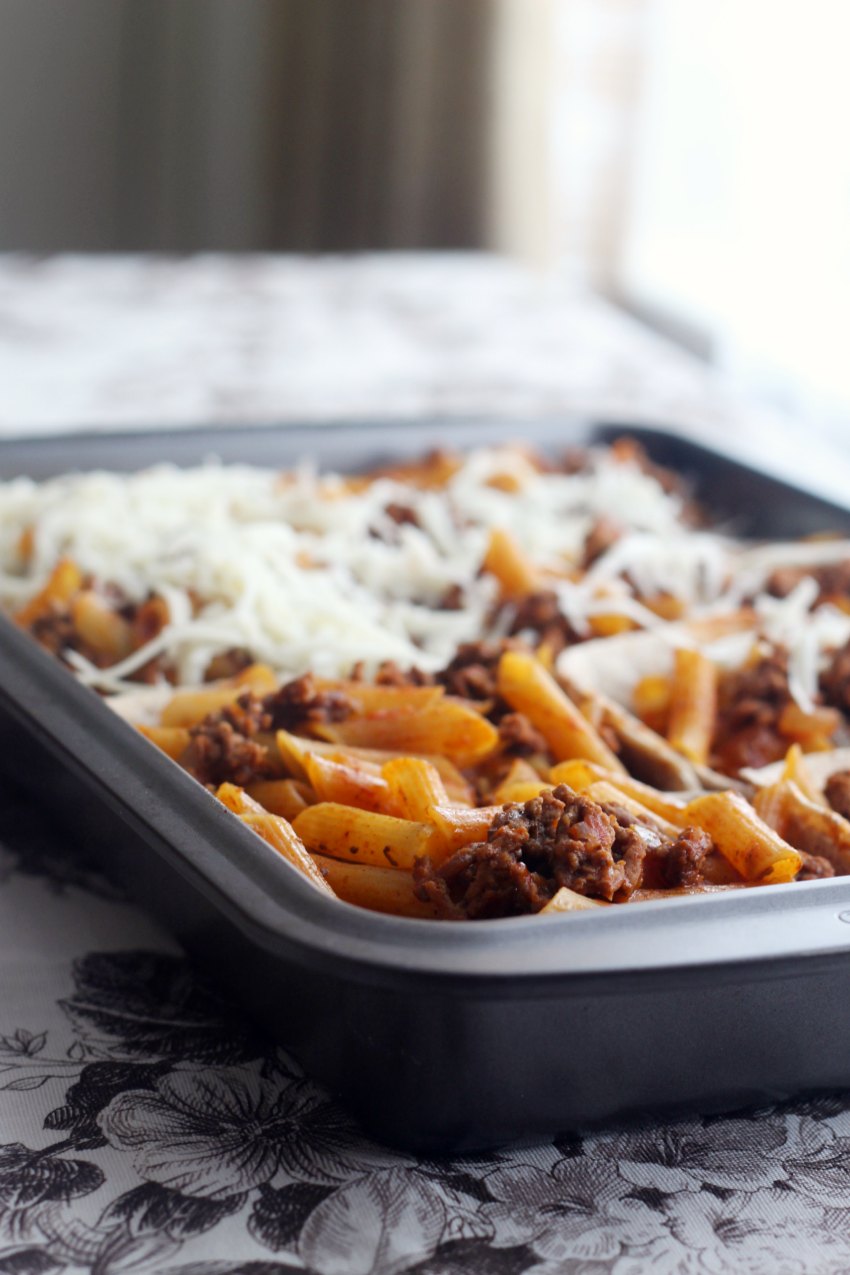 My son and daughter love to get creative in the kitchen when we're cooking. I was inspired to make this Taco Pasta Bake because the whole grain tortilla bowls are a perfect way to enjoy a delicious taco and pasta meal without the mess! For a traditional Mexican-style meal, I use extra lean ground beef, toss it with Old El Paso taco seasoning, and stir in chopped onions and minced garlic for flavour. We use a quinoa and corn blended penne pasta to add even more heartiness to the meal. You can even choose your favourite salsa (at a spice level you're comfortable with) for an extra kick.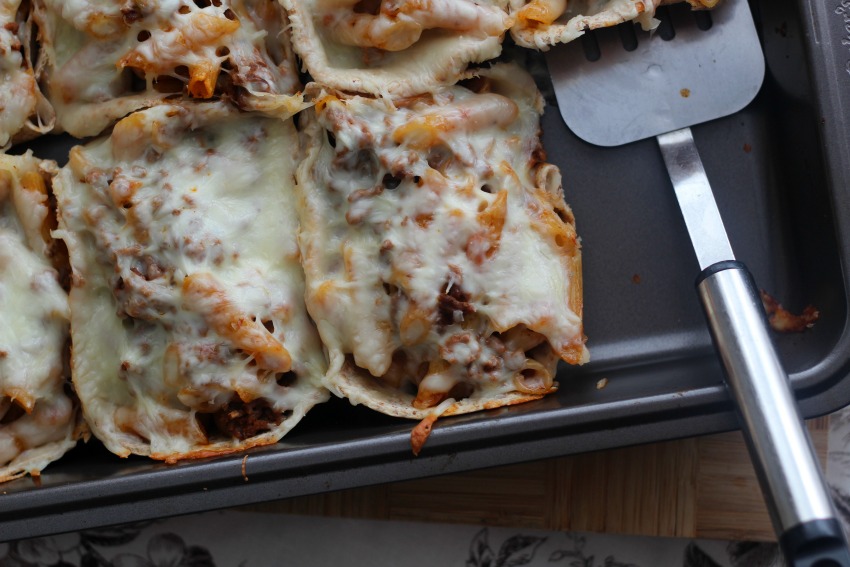 First, I lined the casserole dish with the Old El Paso Whole Grain Tortilla Bowls, then spooned-in the mixture and before putting it in the oven topped with grated cheese. After that, I prepare a smorgasbord of Mexican-inspired toppings like green onions, sour cream, diced tomatoes and sliced avocados to increase flavour and nutrition to this yummy dish. Not only is this mouth-watering meal easy to scoop out for family (and friends who've come to visit and share a meal together!), but also it's especially fun to serve individual portions. I promise any guests you're entertaining will be more than impressed when you serve them their own tortilla bowl full of melted meaty and cheesy goodness!
One of the best ways to keep kiddos excited and involved in the kitchen is by trying new and inventive recipes like this one. I encourage all of my readers to invite your little ones into the kitchen, have them identify their favourite meals and work together to design unique recipes that combine their top ingredients into something entirely new. Not only will you be encouraging your kids to use their imaginations (with delectable results), but also creating priceless family time, laughs and much more.
Print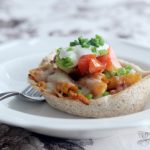 Taco Pasta Bake
---
Description
A creative and delicious take on two family favourites rolled into one.
---
1

pound extra lean ground beef

1/3 cup

onion, finely chopped

1/2 teaspoon

minced garlic

2 cups

water

1 cup

mild salsa

⅓ cup

tomato paste

1

packet Old El Paso taco seasoning

2 cups

penne pasta

2 cups

light shredded cheese of your choice
Toppings: hot sauce, diced avocado, green onions, diced tomatoes, sour cream
Old El Paso Whole Grain Tortilla Bowls
---
Instructions
In a large pan over medium-high heat, brown the beef.
Add in the onion and garlic, stirring for about 1-2 minutes.
Pour in water, salsa, tomato paste and taco seasoning. Stir gently to combine and add in the uncooked penne pasta.
Bring to a boil and then lower to low-medium heat.
Cover the pan with a lid and let the pasta simmer for about 8-10 minutes, until the pasta is tender.
While the pasta is cooking, preheat oven to 375 F and line a casserole dish with the tortilla bowls.
Using a slotted spoon, scoop out the pasta and sauce into each individual tortilla bowl until all the pasta is used up.
Top with grated cheese and place in the oven for 15 minutes, until heated up and cheese has melted.
Pull out from the oven, serve immediately, and enjoy!
---
Emily Smith is an Ambassador for Life Made Delicious and a member of the "Delicious Experts" Influence panel. This post is in partnership with Life Made Delicious. As always, opinions are 100% personal.
Latest posts by Emily Smith
(see all)