Deliciously Healthy Sweet and Savoury Havarti Snacks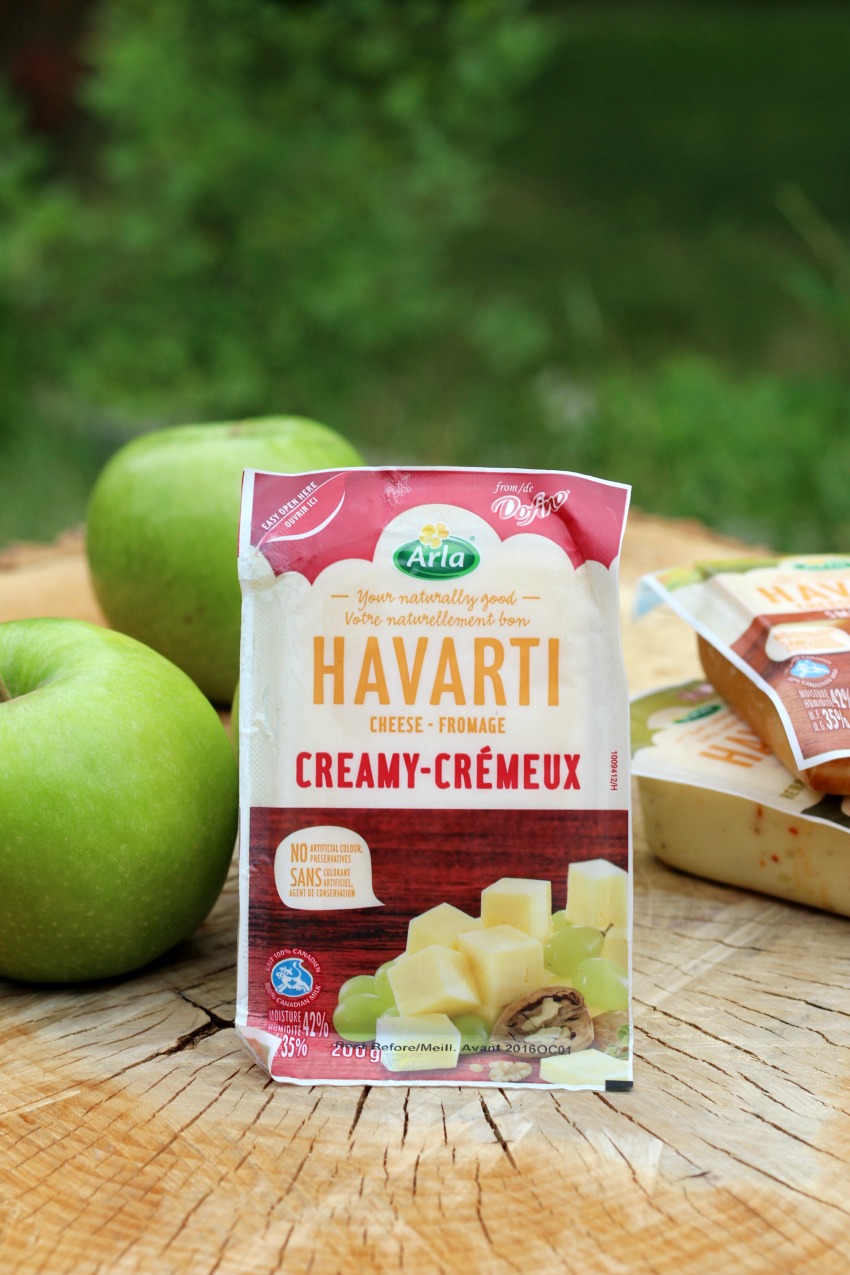 Summer is here, woo-hoo! Which also means lots of food prep with the kids out of school, right? It's easy to reach for unhealthy snacks in the summertime, especially when your kids are at home and some days it seems like all you hear from them is "I'm hungry". But, there are many healthy choices to choose over "junk food" – and if you can get your kids excited by letting them help you in the kitchen, you'll both be eating healthier snacks everyday.
A fruit and cheese combo is one of my family's go-to snack pairings. Not only is it tasty, it also provides vitamins (like A and C), protein and calcium. Overall it's an easy-to-make, balanced, and healthy snack.
To kick it up a level, we layered Arla® Havarti Creamy over green apple slices and topped it with lightly roasted pecans. The result? A slightly sweet and delicious treat, that is still good for you!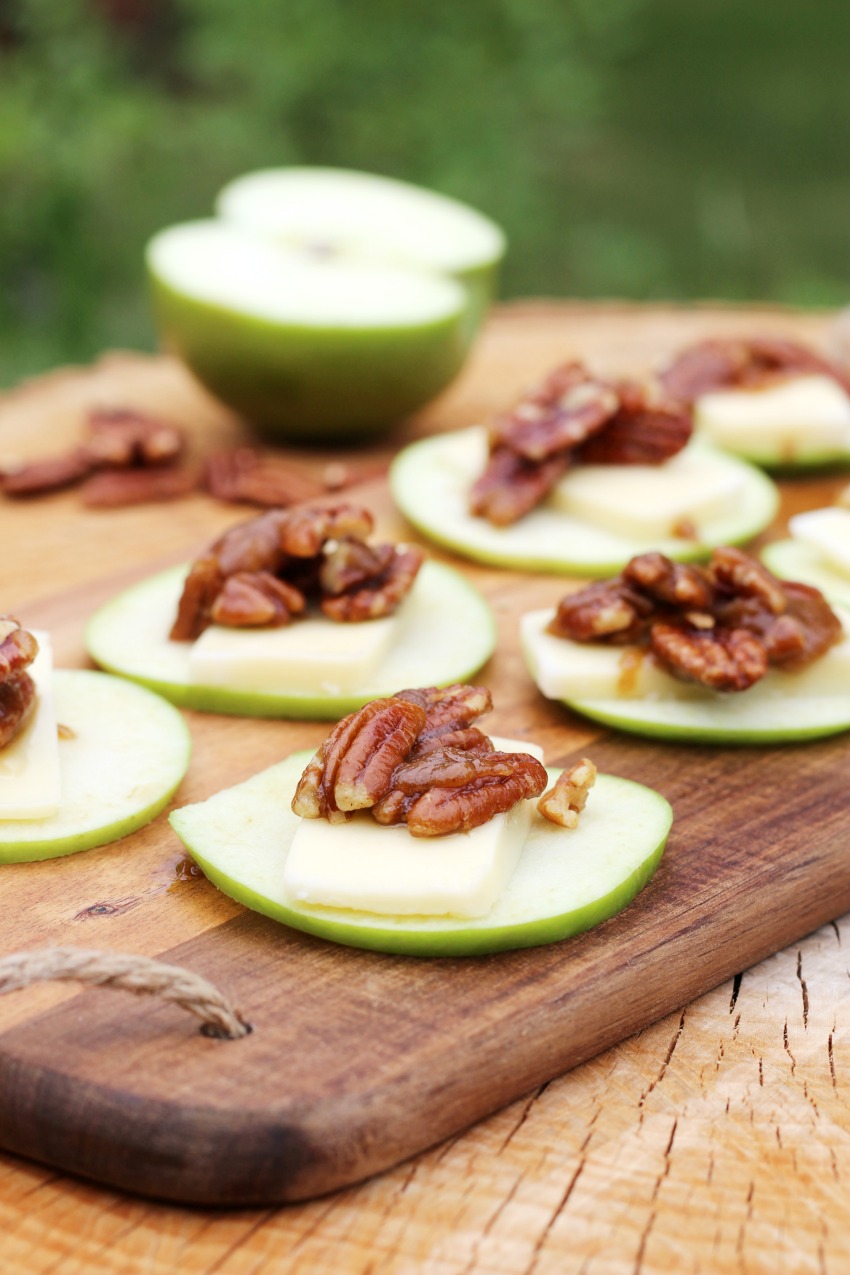 To Make Apple Slices & Havarti Cheese with Pecan Topping:
In a small sauce pan over medium heat, place 2 Tablespoons of butter or coconut oil. Let it melt, then add in 2 Tablespoons of brown sugar, stir together. Keep stirring as you add in ⅓ cup of pecans. Lower the heat, and stir the pecans until they are all coated. Remove pan from heat while preparing the apples and cheese.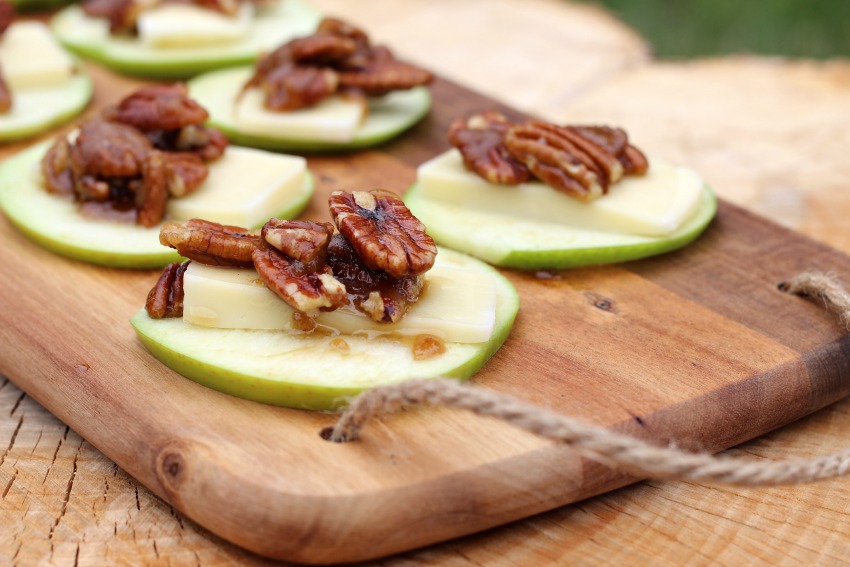 Cut 2 apples vertically, moving towards the core, creating round apple slices (aprox. ⅛ inch thick). Place on serving plate. Slice pieces of Arla Havarti Creamy and place on top of each apple slice. With a teaspoon, scoop pecan mixture on top of each apple slice and they are ready to enjoy!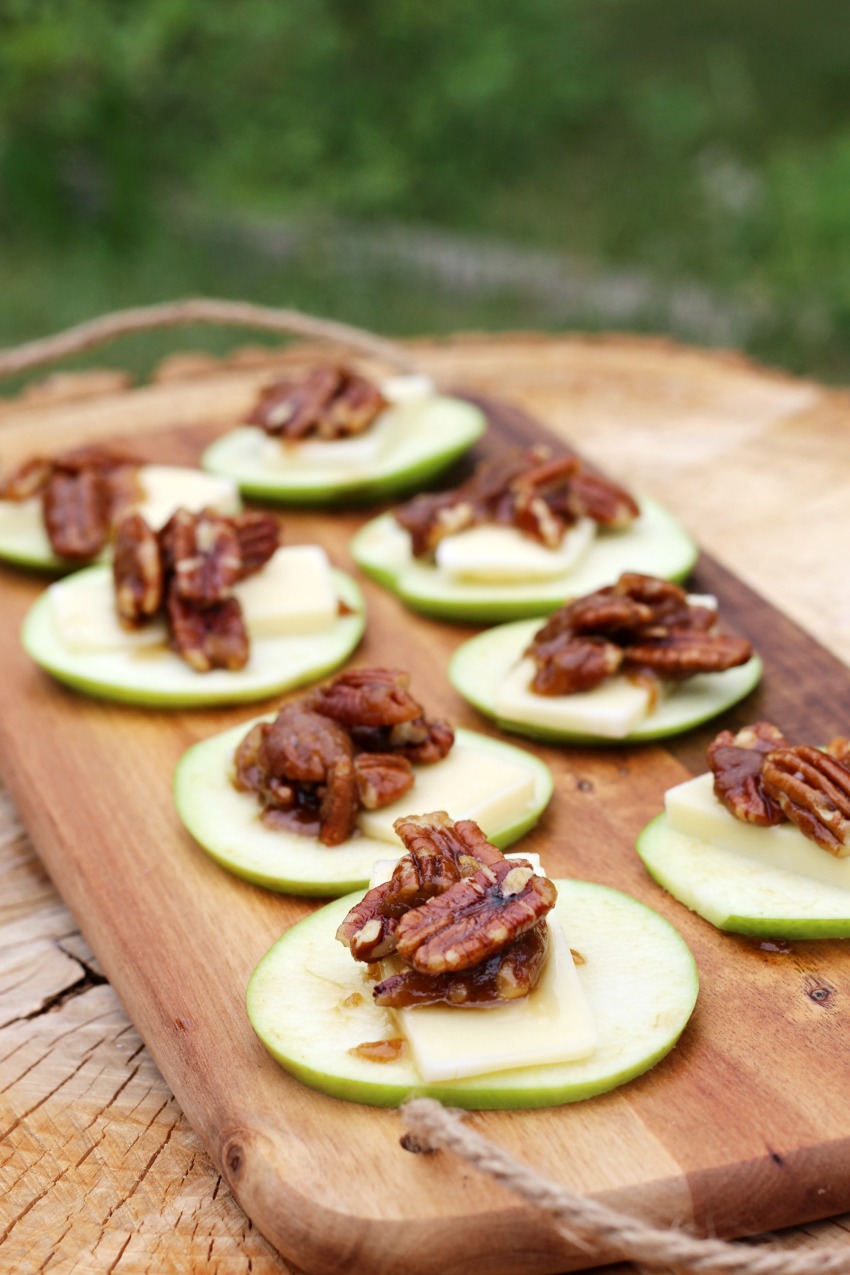 If sweet isn't your thing, I also have a savoury recipe to share. Or maybe you're like me, and you love both sweet and savoury! There are 9 Arla Havarti flavours available in the Deli section of your local grocer – so whatever your taste buds are asking for, you'll find a flavour to suit your palette.
Kids and grown-ups alike are big fans of Arla Havarti's creamy texture, made from 100% Canadian milk and without artificial colours or preservatives. Arla also offers lactose-free cheese for those with sensitivities to lactose. As a natural source of several essential nutrients, Arla Havarti is an excellent choice.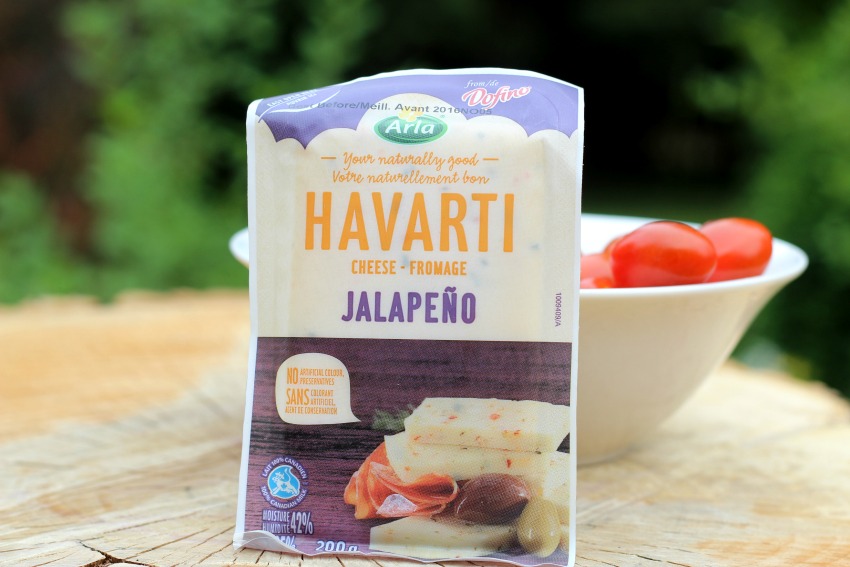 We recently tried the Arla Havarti Jalapeno and Arla Havarti Herbs & Spices – both were absolutely delicious and inspired us to make a "deconstructed" bruschetta appetizer. The Arla Havarti Jalapeno has a bit of bite to it, which my husband likes – but for my kiddos, Arla Havarti Herbs & Spices was the perfect savoury fit for this appetizer.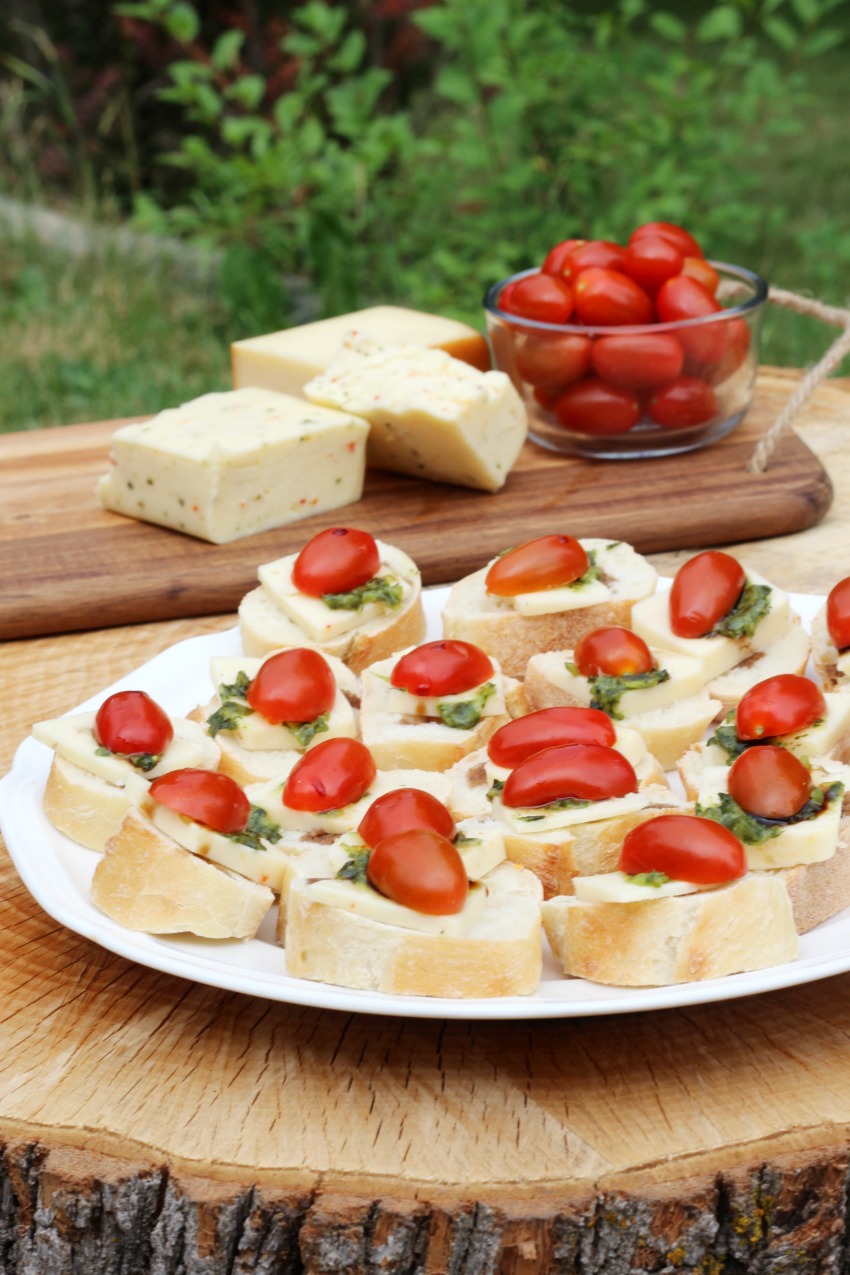 To Make Tomato Basil Havarti Cheese Bruschetta:
Slice one baguette (regular or gluten-free) into 1-inch thick pieces. Place on serving plate. Slice Arla Havarti Jalapeno and/or Arla Havarti Herbs & Spices and add on top of the bread. Smear a small amount of basil paste on top of the cheese and top with halved cherry or grape tomatoes. Finish with a drizzle (¼ teaspoon) of olive oil and balsamic vinegar on top of each serving. That's it! A healthy, delicious appetizer ready in no time.
Whether you're serving up snacks for your kiddos or looking for fresh, nutritious ideas for your next BBQ – I encourage you to add Arla Havarti to the mix, for a tasty and healthy choice everyone will love.
To get more scrumptious ideas and daily snacking inspiration, like Arla® Canada on Facebook.
Happy, healthy snacking friends!
Although this post has been generously sponsored by Arla® Canada, the opinions and language are my own, and in no way do they reflect those of Arla® Canada.
Latest posts by Emily Smith
(see all)