Discover Kusmi Tea Paris This Holiday Season and Enjoy It All Year Long

This post is proudly presented in partnership with Kusmi Tea Paris, as always all opinions are personal. Emily is a 2018-2019 Kusmi Tea Paris Ambassador.
Delight in the perfect cup of tea
Whether winter's snow is softly falling or spring's wind is gently blowing, a cup of tea is a small, yet luxurious comfort I enjoy all year long. However, there is something about the chilly Canadian days (and honestly we have more than our fair share of them) that just call for a perfect cup of tea; something that not only warms the body, but the soul too. It's a delightful ritual that I love to indulge in!
Which is why I'm so excited about my partnership with Kusmi Tea Paris – a company that has been offering the best in teas for more than 150 years!
This amazing tea house, with a rich history, has recently opened a beautiful new location right here in Ottawa at the CF Rideau Centre. When you're doing your holiday shopping this season, be sure to pop in, because it's really quite extraordinary.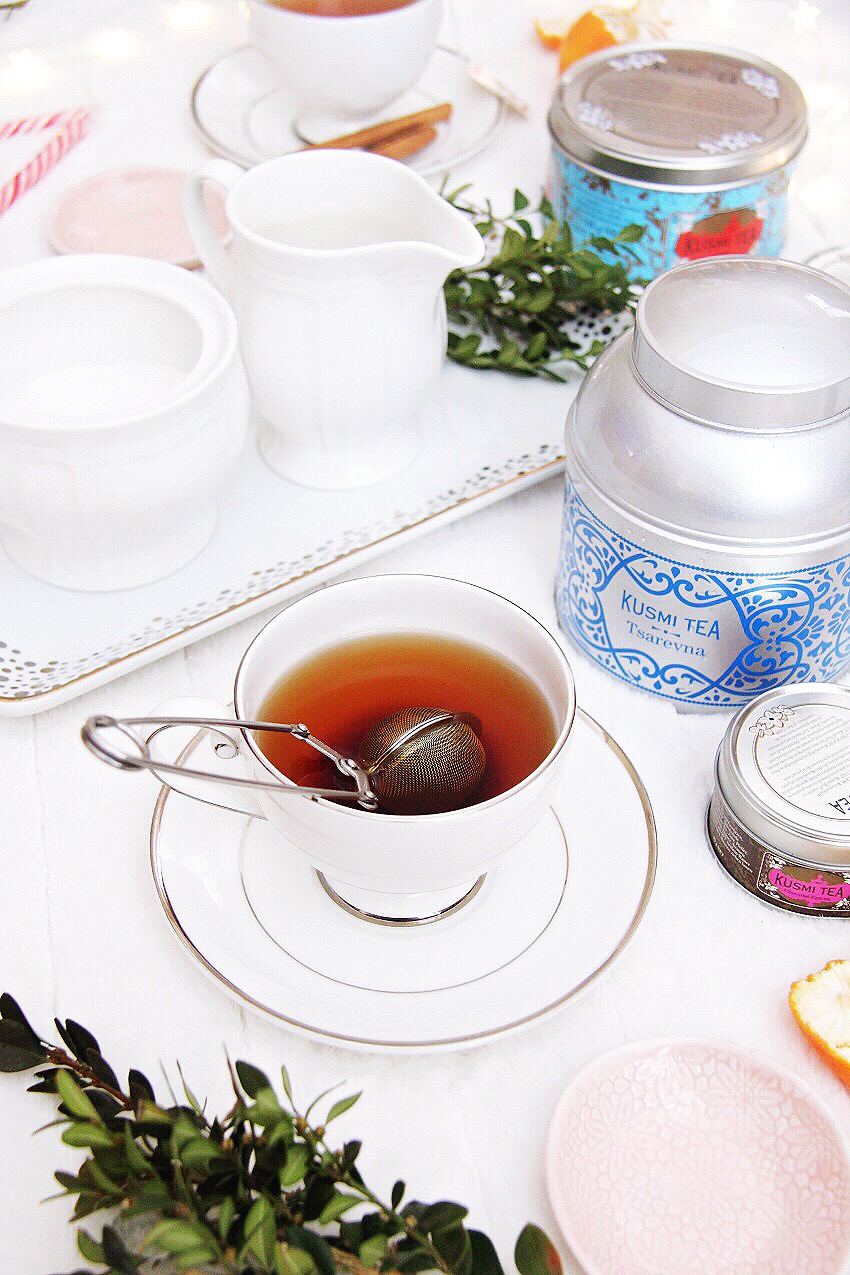 Kusmi Tea Paris has a long, rich history
Beginning in 1867 in St. Petersburg, Kusmi Tea Paris has been celebrated for its richness and originality, travelling across Europe to London, Berlin, New York and settling firmly in Paris in 1917. This brand of tea has a splendid reputation and I am delighted to vouch for it as well.
The first thing I noticed about Kusmi Tea Paris was its amazing packaging. I felt as if I had travelled back in time with its elegance and treasure-like appearance. The gorgeous tins are not ornamental alone though, within them they contain perfect blends of traditional and exotic flavours, that make a wonderfully gourmet cup of tea. The kind of cup you hold dear in your hand, inhale its aroma, and slowly sip with utmost care and appreciation.
Let me tell you, if you have a tea lover on your gifting list this year, Kusmi Tea Paris would be a wonderful holiday present they would no doubt cherish.
A few of my favourite blends from Kusmi Tea Paris
Over the past few weeks, I've tried a wide selection of their teas and I am convinced they will remain a favourite petite indulgence in our home. Each tea is its own special world of taste and flavour.
Kusmi Tea Paris' limited edition holiday flavour, Tsarevna, is like having a bit of Christmas in a cup. It features a delicious black tea with notes of ginger, cardamom, cinnamon, licorice, orange peel and aniseed. It's truly the perfect festive hot drink to enjoy all season long.
One of my favourite teas from the Kusmi Tea Paris collection is the Spicy Chocolate. It combines black China tea with scents of chocolate and spices; this tea warms you up and the touches of clove make it a perfect afternoon treat!
If you enjoy tea for breakfast (or anytime of the day really) the St. Petersburg, created to celebrate the 300th anniversary of the city would be a wonderful choice – it combines Earl Grey, caramel, vanilla, and red fruits to create a robust cup of black tea. Similarly, Prince Vladimir, created in 1888 to honour Vladimir the Great, is another blend of Earl Grey with citrus, vanilla, and other spices is a great tea for any occasion.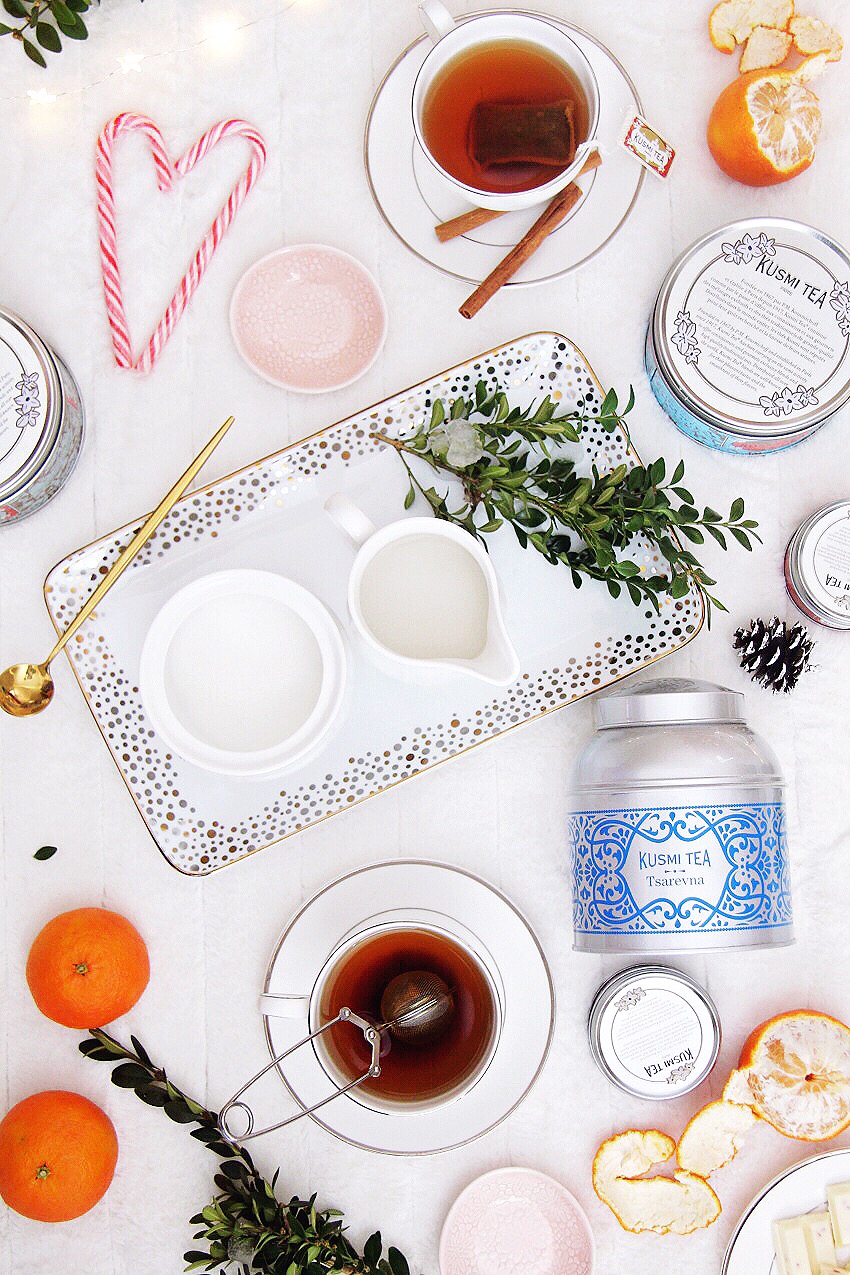 A cup of tea makes everything better
Another brilliant tea is the Anastasia, inspired by the story of the Grand Duchess Anastasia, this is a blend of black China and Ceylon teas with bergamot, lemon, lime, and orange blossom and will lift the moodiest stormy weather blues! It's a tasty and spirited tea, indeed.
In a similar character for an uplifting tea, the Four Red Fruits is a wonderful harmony of flavours, which I enjoy as an afternoon break – this tea is another blend of black teas with hints of raspberry, strawberry, redcurrants and cherries this tea is lovely by itself or with your favourite pastry or cake.
Truly, I think teatime should be a customary meal in Canada too!
The sampling I am enjoying from Kusmi Tea Paris is certainly enough to convince me of its luxury and all around enjoyable taste. Yet, by no means have I tried enough to fully appreciate the vastness of flavour and richness that defines Kusmi Tea Paris, with more than 80 teas available in Canada! I can't wait to continue to explore the many other blends and flavours they offer.
Give the gift of tea this holiday season + 10% off discount code!
If you are looking for a wonderful holiday gift, are hosting a seasonal get-together, or simply want to treat yourself to a little luxury every day then I highly recommend you try Kusmi Tea Paris. You can use my discount code: best10 at kusmitea.com to receive 10% off your order! Enjoy friends, xx.
Latest posts by Emily Smith
(see all)