15 Easy DIY Christmas Gifts For Friends and Family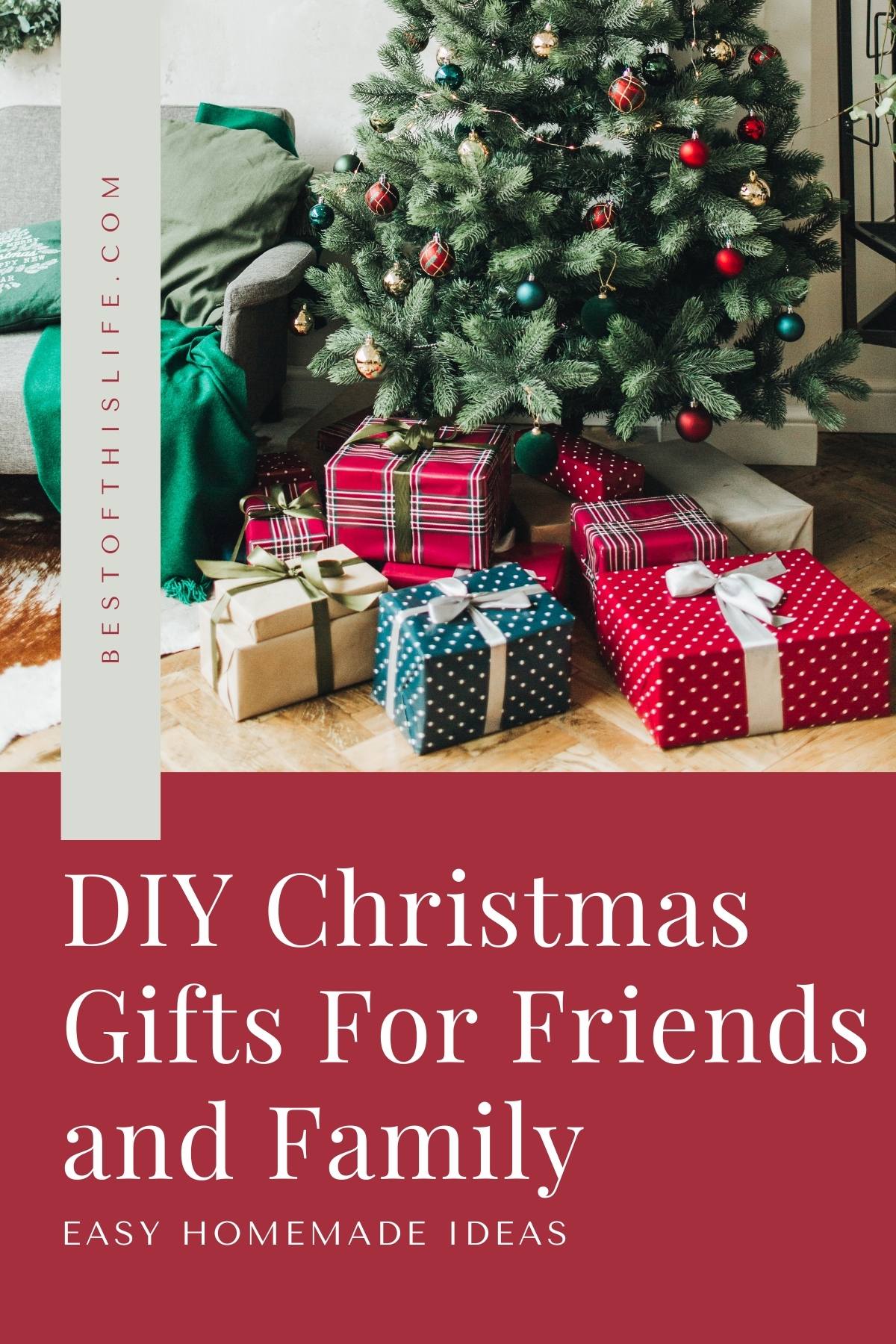 Make Your Own Christmas Gifts This Year
DIY Christmas gifts most certainly have their place this holiday season! There's just something about receiving and giving a handmade present.
There are a lot of reasons why DIY gifts may be a better option for you than store-bought gifts.
Maybe you want to make your own eco-friendly gifts. Or perhaps you're working with a smaller budget this year.
A great reason to consider DIY gifts is to create something personal or specific to the recipient. Another terrific reason to make handmade gifts, is to get in the festive and creative spirit. And what better time to try a seasonal DIY project or two than the holiday season!
Here are some my top DIY Christmas gifts that would be perfect to give to your friends and family.
A Festive List of Simple DIY Holiday Gift Ideas To Inspire You
Customize Christmas decorations: there are all sorts of fantastic DIY decorations you can customize for the holiday season. From candleholders to Christmas ornaments, add some personal flare to create a unique gift.
Make a wreath: making a holiday wreath can be such an enjoyable pastime. There are many types of wreaths you can create. From pinecone wreaths to felt wreaths. These make great gifts and they are a beautiful way to decorate your own home. 
Bake some holiday cookies: this is my all-time favourite holiday activity – from the classic sugar cookies to gingerbread, baking cookies is a lovely way to show someone you care. Try our recipe for White Chocolate and Cranberry Cookies.
Create a personalized gift basket: making gift baskets is a classic go-to for me. Finding someone's favourite tea and treats with a few other items makes a fantastic gift.
Design your own gift wrap: one way to DIY a gift is to create the gift wrapping. I like to use kraft paper as a base and decorate it using paint and cookie cutters.
Make a snow globe: with a used jar, some hot glue, and sparkles, you can create something truly magical. Follow our simple tutorial to make a DIY Mason Jar Snow Globe.
Write a Christmas carol for someone: this DIY might mean putting yourself out there! Writing someone a song is a pretty awesome gesture, and I know there is someone out there that can pull this off!  
Sew Christmas stockings: if you are handy with a sewing kit or machine, this DIY is for you. Pick a festive fabric, some soft materials for the details, and add their name or initials.
Bake a fruitcake: not all fruitcakes are equal! With many different Christmas cake traditions and ingredients to choose from, make this holiday dessert your own.
Create your own Christmas cards: snap a quick pic of the family, do simple edits, and use a holiday template to create a personal greeting card. Some great online tools to use are Canva and PicMonkey.
Create a Spotify or Amazon playlist: back in the day, receiving a mixtape was a pretty big deal – and the sentiment still applies today. Taking the time to curate someone a special playlist is a great way to show you care. 
Make homemade chocolate: making chocolate, or fudge, is a festive activity to do with friends and family. The results are delicious and perfect for gift-giving!
Fill a mug with goodies: pick out a mug, fill it with individual packs of hot chocolate and specialty marshmallows. Wrap it all up and you've got a sweet little gift. To personalize the mug, use a craft pen or Cricut to add a unique design or their name.
Put together a spa essentials kit: this one errs on the lighter DIY elements. Find a nice face mask, bath bombs, and a lovely tea (or a bottle of wine) and other spa-like items. Fill a pretty box with spa essentials for a throughout gift.
Make a batch of holiday jam: one of my favourite spreads during the holiday season is a charcuterie board. I like to make it full of my favourite things, including some tasty jam. Making and gifting fruit jam can be such a wonderful tradition.
Don't Be Afraid To Make DIY Christmas Gifts
The holiday season is a magical time, and giving gifts to loved ones is a lovely thing. Don't be afraid to explore some DIYs to include in your giving. Homemade gifts very thoughtful and they allow the recipient to get to know you better too.
DIYs are a pretty broad category. Don't be intimidated by the more daunting ones! As a starting point, begin with a simple DIY first. Then move on to something more ambitious.
Holiday cheers, and best to you on your DIY journey! 
Latest posts by Emily Smith
(see all)