An Easy-To-Make Sweet Nectarine Ginger Jam
7 Ways To Enjoy Nectarines This Summer From The FoodieMamas
This is the season to delight in glorious stone fruits. Peaches, plums and nectarines are a family favourite that we just can't stop eating! Nectarines are a cross between peaches and plums, with a sweet taste that captures summer.
They are so good just as they are, it's no surprise that while I make a recipe with them, I always slice some extra pieces to munch all while I cook.
To capture their delicious flavour longer than the season, I made a batch of jam that will keep for a month in the fridge. It's perfect for topping toast and pancakes with a little smear. As a complement and enhancement to the nectarines, my mom recommended that I add some fresh ginger to the recipe – which gives it just a touch of zing to balance the sweetness.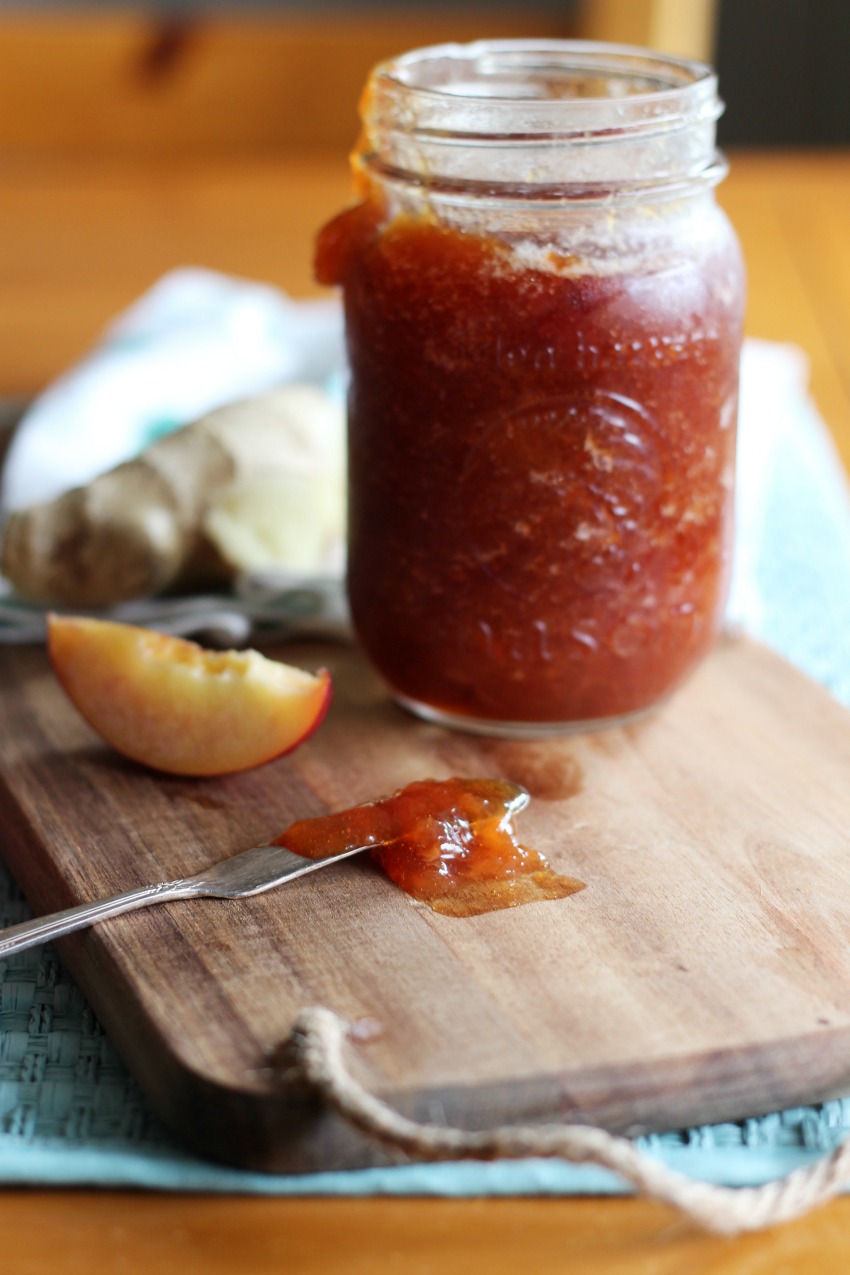 This jam is really quick and easy to make – you don't even have to peel the nectarines. In fact, the peel gives the nectarine jam a gorgeous colour and texture, not to mention a lot of nutritious value is in the skin, such as polyphenols, vitamin C content and carotenoids such as beta-carotene and cryptoxanthin (source).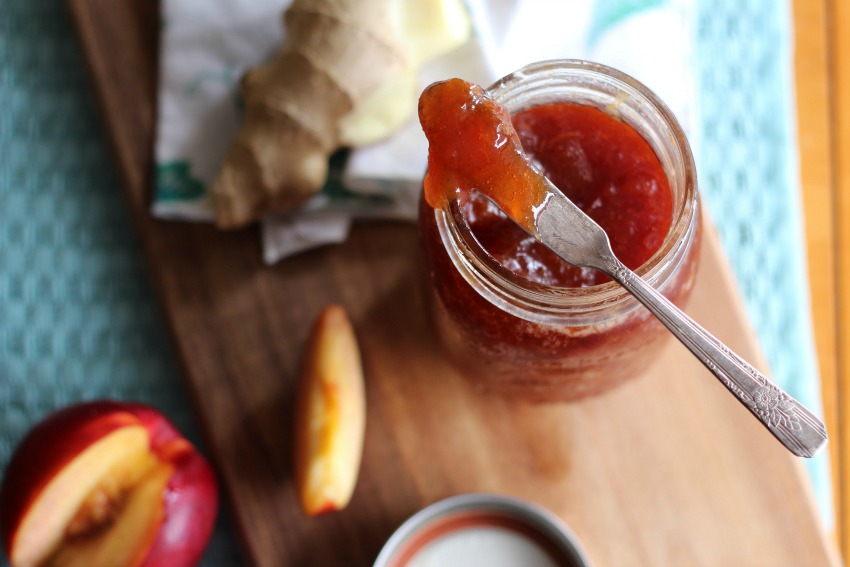 All you have to do is slice the nectarines, remove the pit and boil! While the fruit is boiling, you add in sugar, lemon juice and lastly fresh ginger. Once the mixture has thickened, you allow it cool down and then transfer it to mason jars to keep in your fridge.
There's nothing like flavourful, homemade jam!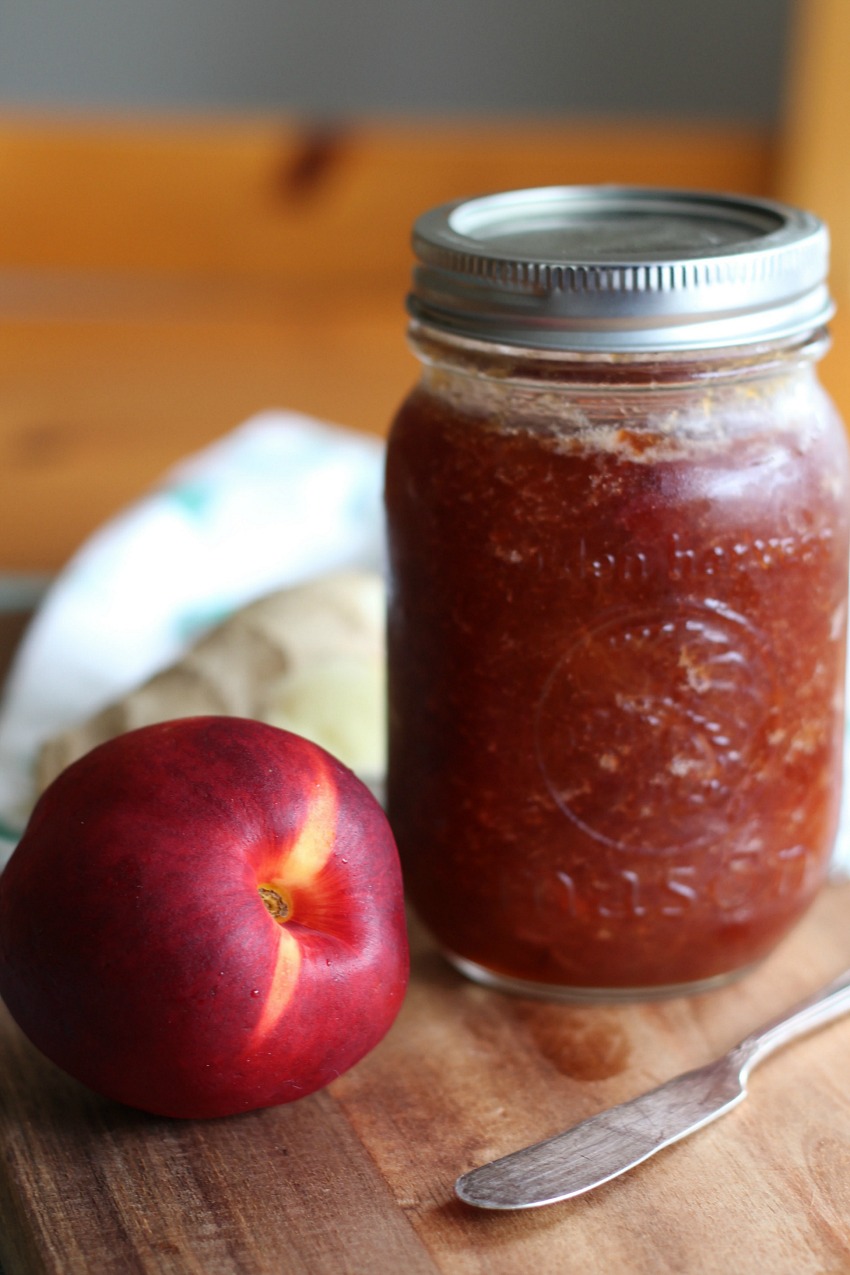 Here is the recipe for my sweet nectarine ginger jam – I hope you'll try it this summer. Keep scrolling below for more scrumptious, summery recipes featuring nectarines. The Foodiemamas have done an incredible job in the kitchen to bring you these delectable delights.
Bon Appetit!
Print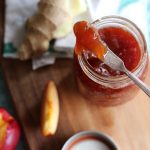 Sweet Nectarine Ginger Jam
---
Description
Beautiful and delicious homemade sweet jam made from summer's delectable nectarines.
---
2 1/4

pounds nectarines, sliced and pitted

2 cups

of sugar

2 tablespoons

fresh lemon juice

2 Tablespoons

of fresh ginger zest.
---
Instructions
Stir together fruit and sugar in a large pot over medium-high heat.
Bring to a boil, stirring until sugar is dissolved and mashing fruit with a potato masher.
Add lemon juice; continue to boil, stirring frequently.
Continue boiling for 12-15 minutes.
Remove the foam from top.
Stir in fresh ginger zest.
Test the jam to see if it's thick enough: use a wooden spoon to pick some up – it should be stick a bit to the spoon and look like jam consistency.
Turn off the heat, allow to cool for 10 minutes. If the jam is too chunky for your taste, you can run a beater on low through it for 2 minutes.
Afterwards, using a ladle, scoop jam into sterilized containers, leaving 3/4 inch of headroom. Let cool completely before refrigerating.
Cover, label, and refrigerate up to 1 month, or freeze up to 1 year.
Enjoy!
6 MORE AMAZING NECTARINE RECIPES TO TRY FROM THE #FOODIEMAMAS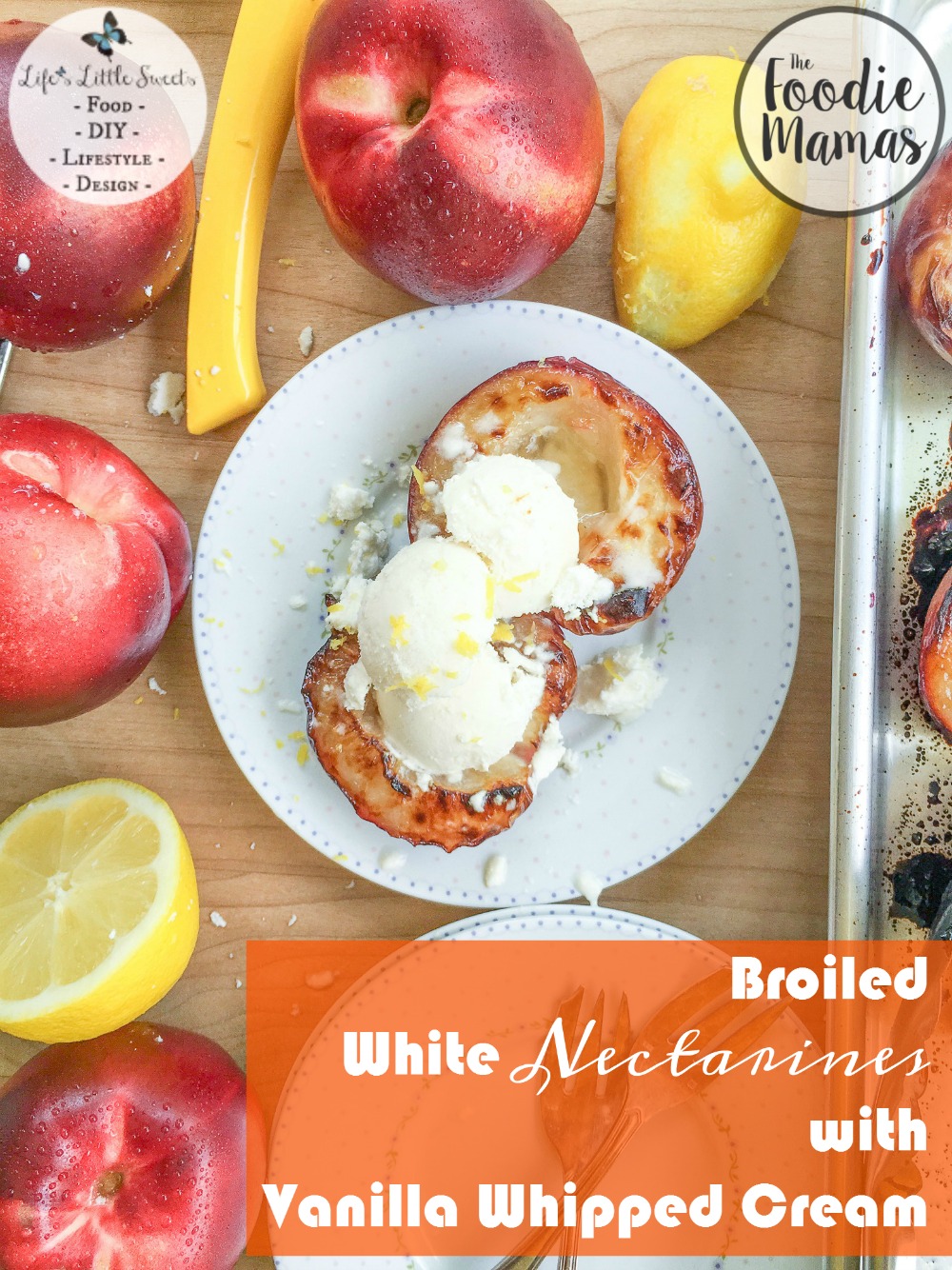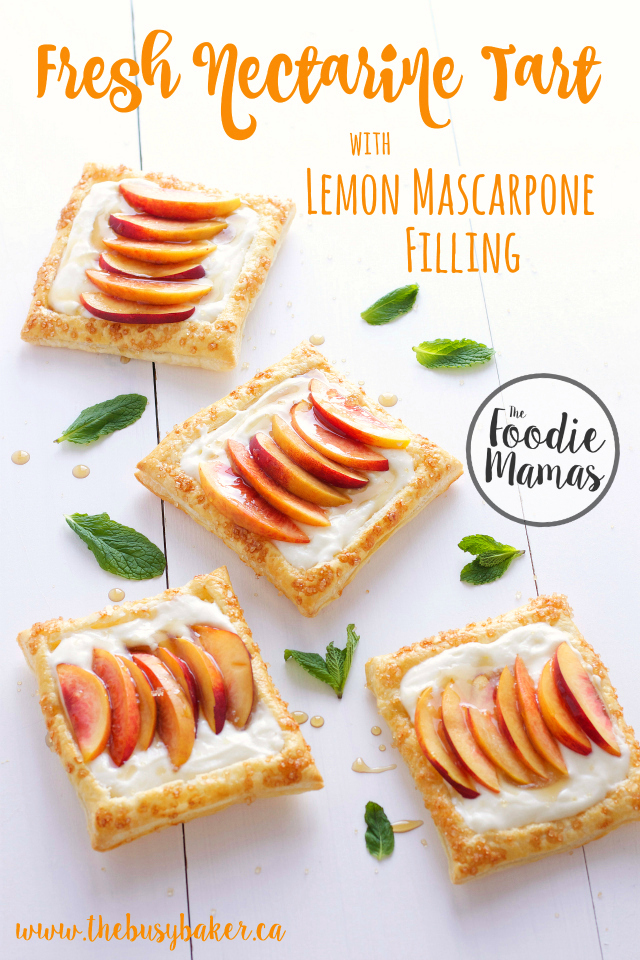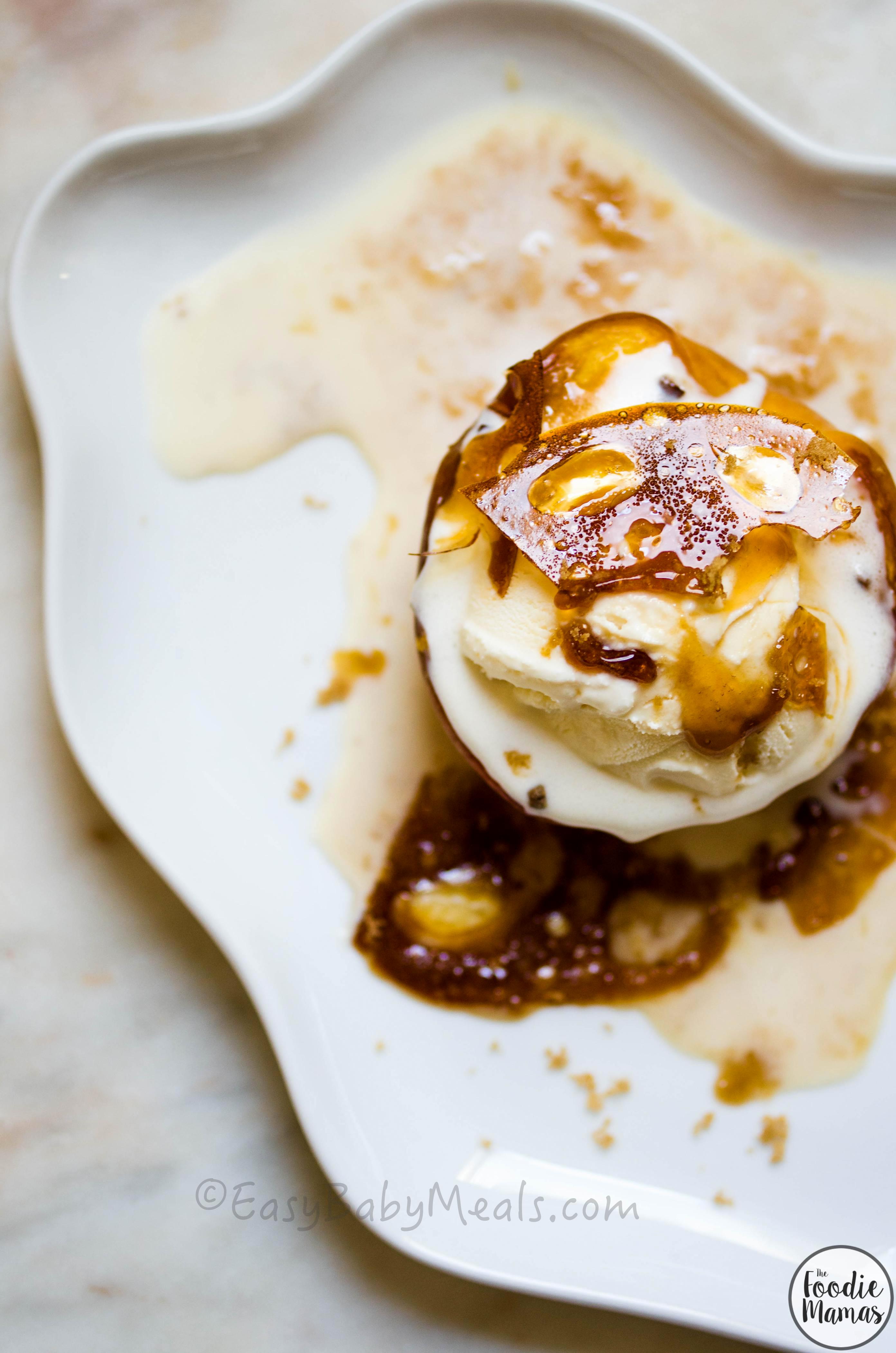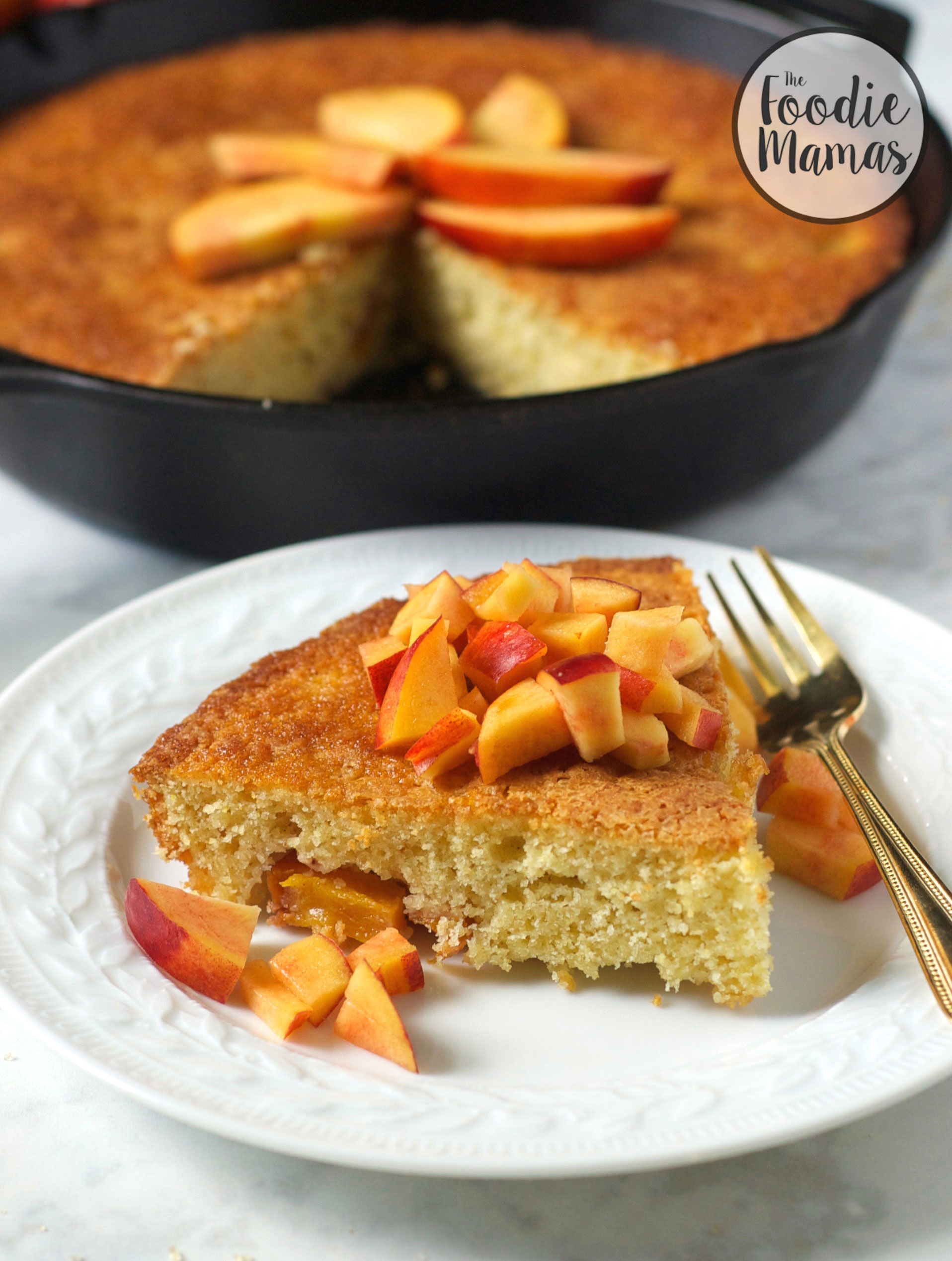 LOOKING FOR MORE DELICIOUS RECIPES BY THE FOODIE MAMAS? YOU GOT IT!
FOLLOW THE FOODIE MAMAS PINTEREST BOARD AND OUR HASHTAG #FOODIEMAMAS ACROSS SOCIAL MEDIA TO SEE WHAT'S COOKING.
Latest posts by Emily Smith
(see all)