Easy Weekend Brunch Table Setting
The thought of entertaining for some, even on a small-scale, can be overwhelming. I don't think it has to be that way! If there's one thing that I've learned from my Mom, it's that with just a few touches you can take a rather plain setting and add an element of extraordinary.
Firstly, work with a  simple menu. Brunch is always a favourite time of day of mine to host, because you have so many easy options available. Think french toast, eggs, fruit salad, cold cuts, vegetables and dip, homemade bread, and coffee.
To set the scene, you don't need much. Most of us have a set of plain white dishes. Start with those and build from there. Colour and texture are your friends – work them into your table setting. For the table I lay before you, the additional items that I included came to a total of under $20.
The simple colourful and textural details on my brunch table:
Set of 4 Gold Grid Low Ball Glasses, found on sale for $10 at Indigo (sorry, sold out)
Set of 4 Blue Spotted Cotton Napkins, on sale for $2.99 at Sears (also sold out)
Set of 10 Blue Paper Side Plates, $.99 at IKEA
Glass Bottle, $2.99 at IKEA
Roses were left over from my Valentine's Day bouquet – which I  divided into a medium mason jar and single rose vase – if we were calculating the cost of flowers, you could easily pick up a $5 bunch at the grocery store or pick wild flowers during warm months.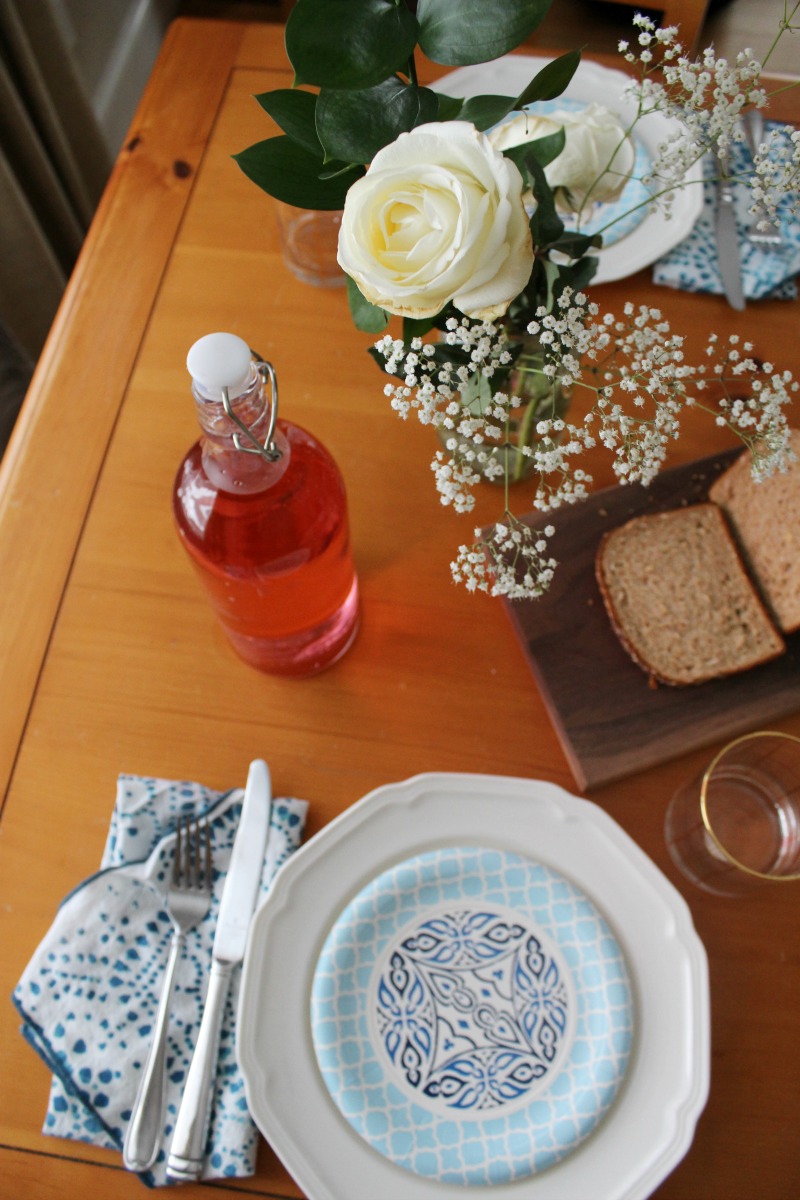 I adore different china patterns, but it doesn't really make sense at this point for me to invest in many different ones. One of my tricks to remedy my desire for colours and patterns is to purchase whimsical paper plates and layer them on top of my own china ware. It keeps the sophisticated element of having real china and a solid dinner plate to eat on, yet allows for creating a theme and colour story beyond your household staples. It's also a wallet-friendly option.
Budget-friendly ways to add flare to your table setting:
Colourful paper napkins or linen napkins on sale: go to your local dollar store to find a rainbow of colourful paper napkins to choose from. Or, visit a second-hand store and scope out the bins of linens. I have scored some great quality linens for 5 cents a piece!
Juice in clear pitchers: either use canned juice or make your own varieties and display them on the table in clear pitchers and bottles. Orange juice, grapefruit juice, cranberry juice, peach juice…etc. – they will all add organic pops of colour to your table.
Wood, Baskets, Craft Paper: most of us have a wooden cutting board, an empty rattan basket and even craft paper somewhere in the house. These items are great for adding natural texture to your table. You can purchase a roll of craft paper at your local craft store (or dollar store) and roll it out onto your table as a table-cloth. It's a really organic/natural look that contrasts fancier pieces and adds visual interest. It's also fun if you have kids at your brunch, because you can let them draw on the table!
Cheap (or free) flowers: if you're lucky to have wild flowers in your backyard, clip a few and place them in small vases around the table. Try to stick to the less perfumed ones, as not to overpower the food. Next option, head to the grocery store for an affordable 'grab' bouquet by the cash or ask your local florist if they have any discount flowers available – they often have a bunch or two that they need to get rid of before they wilt and will be willing to offer a discount.
Place mats: the same advice as the linen napkins, if you can find them at the second-hand store, you'll save big. Otherwise, IKEA, Giant Tiger and Loblaws have great prices. For a set that you're putting a bit more money into, think of a colour that you'll be able to use again and again. I love blues, yellows, and deep reds – because they work well in many colour stories. And another element to remember, get ones that you can wash easily!
Bright Food: let nature brighten your table with vivacious fruits and vegetables. You can make an edible arrangement or just full, rainbow-like platters to brighten the space.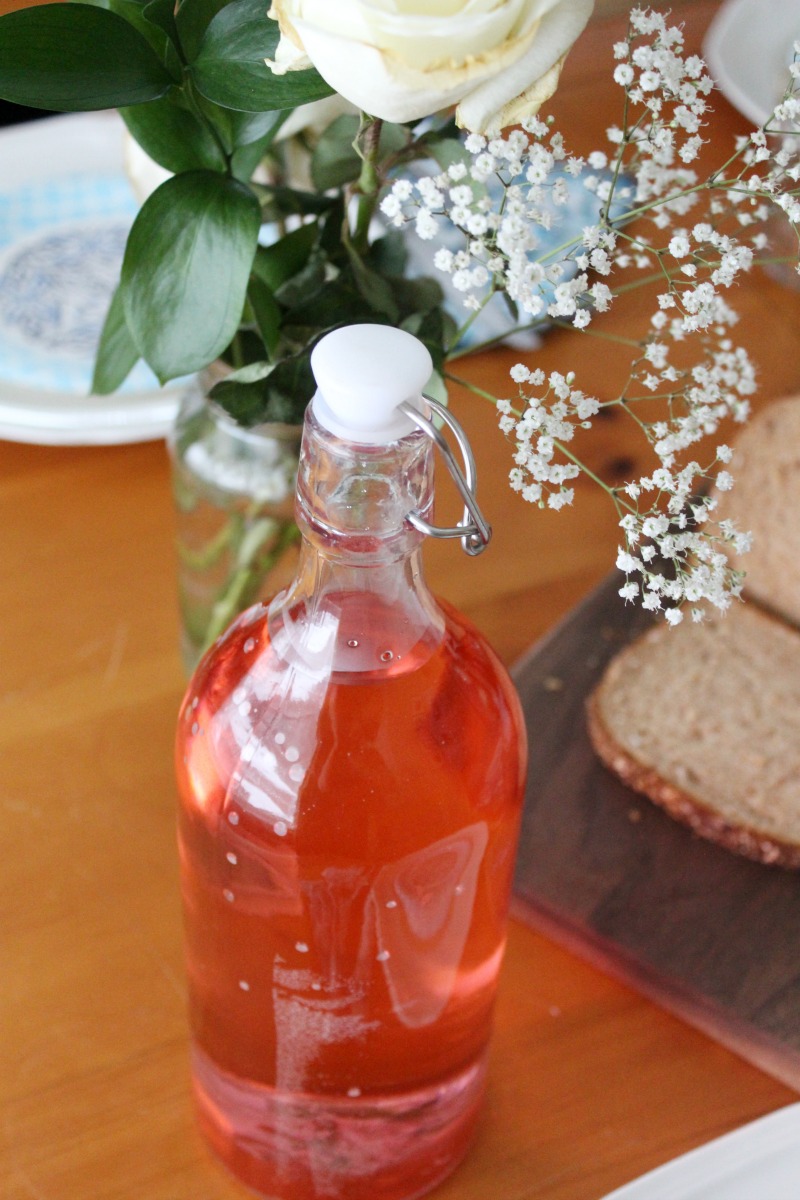 Adding some jazzy and sophisticated elements to a weekend brunch table will make guests (or even just yourself!) feel like you've gone the extra mile. The look is inviting, fuss-free, and all about enjoyment.
I hope you have fun at your next weekend brunch!
As always, if you have any decor questions please leave them in the comments and I'll be happy to answer you.
Latest posts by Emily Smith
(see all)