The Eco-Friendly Edit: Sustainable Gift Ideas
Are you looking for eco-friendly and sustainable gift ideas? We've rounded up a selection of fun and practical ideas that are also eco-conscious. When it comes to green living and gift-giving, there are lots of items you can find made from recycled materials, are sustainably sourced, and encourage less waste.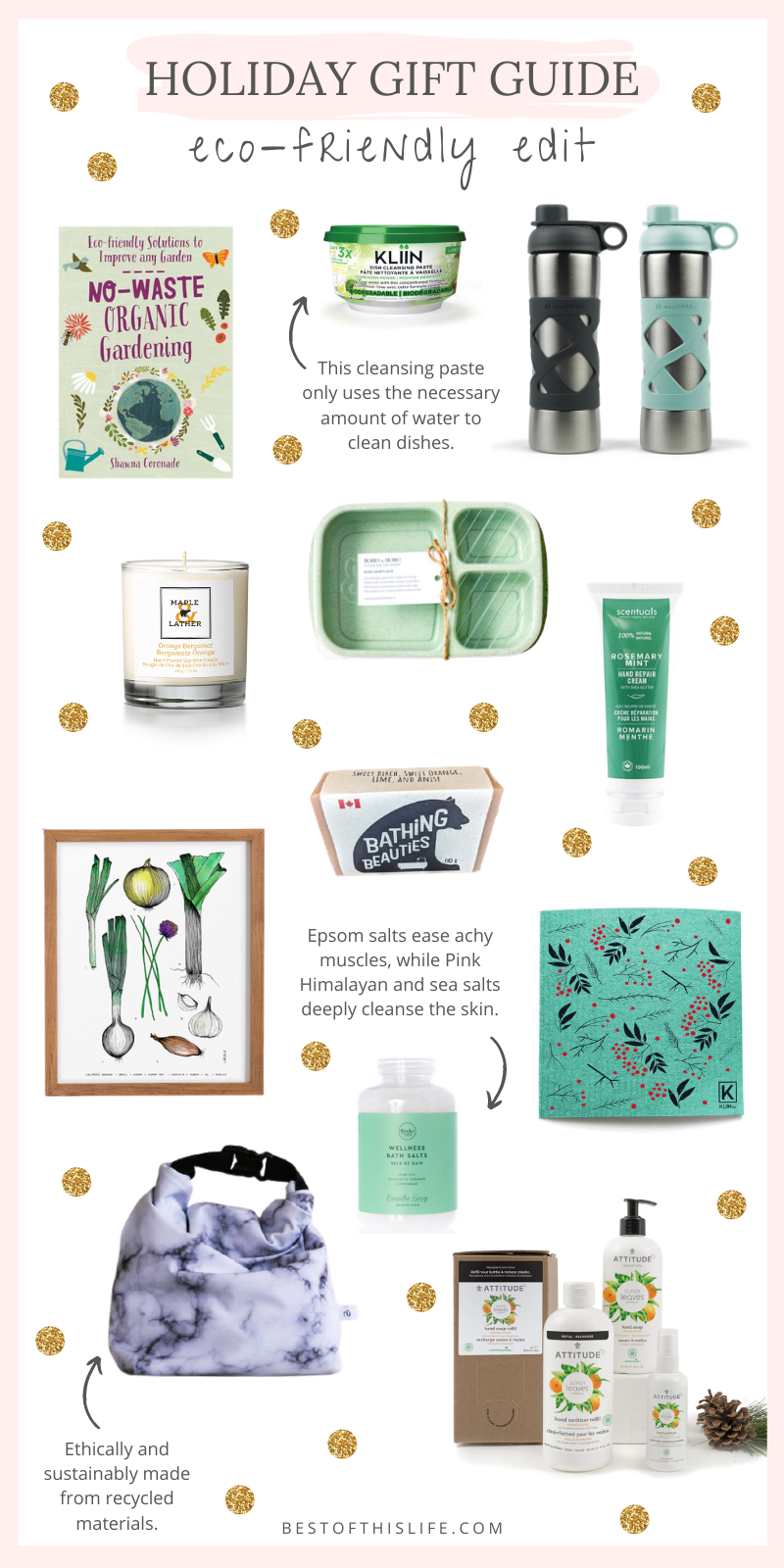 12 Eco-Friendly Gifts for Everyone on Your List
No-Waste Organic Gardening book at Indigo: "In No-Waste Organic Gardening, author Shawna Coronado guides you toward a more sustainable landscape with dozens of tips, tricks, and solutions that save you time and money—all while saving the planet, too!" This is an inspiring and actionable read for budding gardeners. ($25.99 CAD)
KLIIN Dish Cleansing Paste: this cleansing paste only uses the necessary amount of water thanks to its innovative KLIIN&GO technology. A little goes a long way and leaves your dishes spotless! ($7.99 CAD)
Aquasana's Clean Water Bottle: instantly transforms ordinary tap water into delicious, filtered water as you sip. This powerful water bottle is NSF-certified to remove 99% of lead, bacteria, chlorine, cryptosporidium, and giardia. The Clean Water Bottle is also made with insulated stainless steel that is designed to keep water cold for up to 24-hours and each filter cartridge is good for 80 gallons of water, or 600 single-use water bottles. ($19.99 US – Aquasana products are available on amazon.ca)
Maple & Lather Orange Bergamot Soy Candle: we're obsessed with the fruity notes of bergamot and orange peel in this elegant candle. Maple & Lather offers a full line of clean burning, soy wax candles that are responsibly and sustainably made in Canada. ($35.00 CAD)
Boho & Hobo Bento Boxes: "these eco-friendly Bento Boxes are made with wheat straw, a sustainable and natural fibre that is harvested from wheat plants. They are light weight, sturdy and perfect for takeout food, as school lunch kits and for leftovers." Not to mention, they are SO pretty! ($24.50 CAD)
Scentuals Rosemary Mint Hand Repair Cream at Well.ca: winters in Canada can be brutal, especially for your skin. This delightful hand cream is 100% natural, handcrafted with with shea butter and cocoa butter to leave your skin silky smooth. ($7.79 CAD)
PoCo Soap Co. Bathing Beauties we have a thing for citrus notes! The combination of sweet birch, sweet orange, lime, and anise is heavenly. Made with organic coconut oil, organic extra virgin olive oil, and organic unrefined shea butter, this soap is soothing and moisturizing. ($8.00 CAD)
Alliaceae family art print at Simons: handmade upon request, this beautiful art print represents "local consumption and a sustainable food supply," one of the best ways of preserving agri-food heritage. Each piece is unique and printed on recycled card stock. ($24.00 CAD)
Rocky Mountain Soap Co. Breathe Easy Wellness Bath Salts: there's nothing like a hot bath after a day spent outdoors in the cold. These epsom salts are infused with eucalyptus, rosemary, cedarwood and peppermint oils, for an incredibly soothing and relaxing experiencing. ($24.00 CAD) Made in Canada, GMO free.
KLIIN Reusable and Compostable Towel: from their trendy Holiday Collection these eco-friendly towels brighten up your kitchen with their fun and festive designs. ($9.99 CAD)
marbelüs lunch bag from rü supply co. : this lunch bag is not only super stylish, it's ethically and sustainably made from recycled materials too! In fact, we're smitten with the whole line from rü supply co. They get major bonus points for making lunch bags that are lightweight and machine washable. 1% of all proceeds are donated to their charity partner Mealshare. ($ 45.00 CAD)
ATTITUDE's Clean Hands Essentials Super leaves™ bundle: the orange leaves aroma is perfect for the holiday season! This gift set includes a hand sanitizer with their eco-refills. The 2L refill boxes reduce the use of plastic by up to 80%! When you purchase an ATTITUDE bundle, a tree will be planted in return. ($46.36 CAD)
We hope you're inspired by our eco-friendly gift guide to look for eco-conscious and sustainable gifts ideas this holiday season!
Latest posts by Emily Smith
(see all)