This Festive Pancetta Spaghetti Is The Perfect Choice For Family Gatherings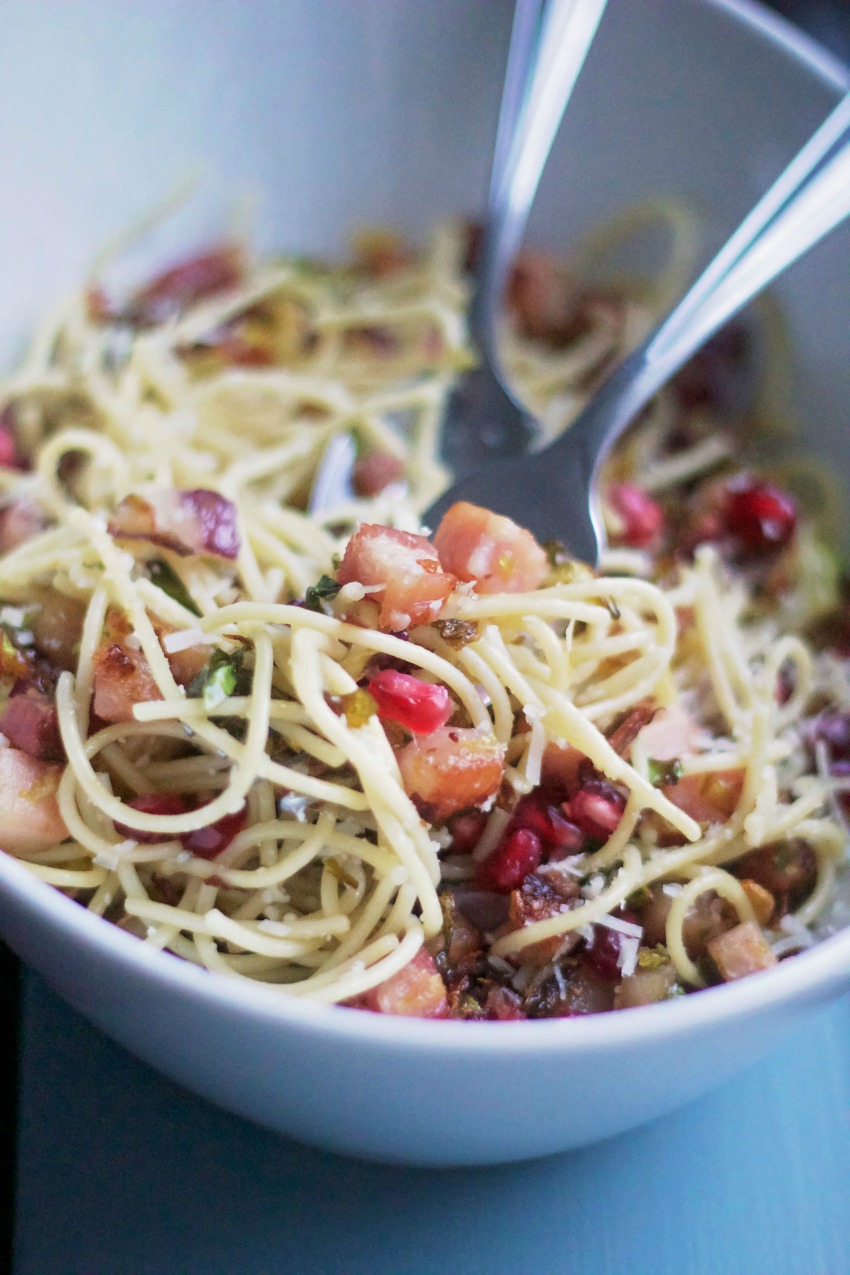 December is here and holiday family gatherings are upon us! If there's one meal that brings everyone around the table, it's pasta. I don't know about your family, but ours loves a good pasta dish, especially when there is delicious cured meat added to the mix.
When you're looking for an elegant family recipe to serve during the holidays, consider this gorgeous Pancetta Spaghetti which features the finest, freshest, seasonal ingredients that offer a festive twist: Mastro pancetta, pomegranate, brussel sprouts, red onion, olive oil, and aged-parmesan. In my mind's eye, the beautiful hues of the pancetta, pomegranate and brussel sprouts represent the iconic red and green of the holiday season and the parmesan is the perfect dusting of snow on top.
When you're cooking with your children, you can point that out to them, if they don't notice it first!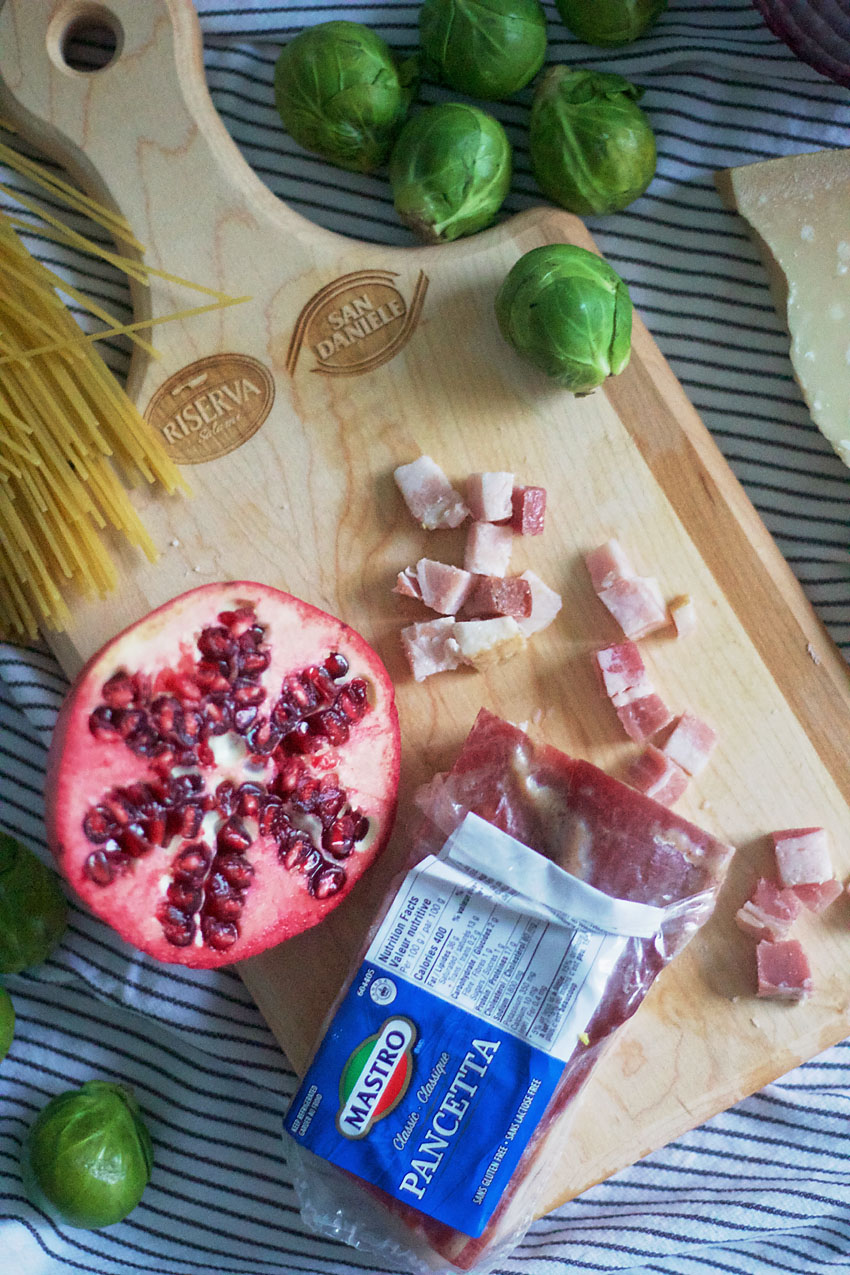 I love how hearty and flavourful this pasta dish is while simultaneously having such a beautiful presentation. The shimmering of pomegranate seeds look like little jewels to be discovered amidst the swirls of spaghetti.
Mastro's pancetta really makes this dish burst with taste, thanks to its decadent flavour. The brussel sprouts take on a crispy, rich palette because they are pan-fried with the pancetta, they taste nothing like when they're boiled and I find when they are cooked this way they are more enjoyable.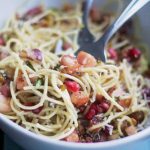 Pancetta Spaghetti
---
Description
A delicious festive pasta dish perfect for the holidays
---
1

lb (454g) package of spaghetti (I used gluten-free quinoa mix spaghetti)

3/4 cup

diced Mastro pancetta

1/4 cup

diced red onion

1 cup

finely chopped Brussels sprouts

1

pomegranate (the seeds)

1/4 cup

olive oil
Optional
Parmesan for topping
salt and pepper
---
Instructions
In a medium pan, on medium heat, add 1 TBSP olive oil, pancetta and Brussels sprouts. Cook for 7 minutes, add in red onion and cook for another 5-10 minutes, until the ingredients are nicely browned and cooked.
In the meantime, prepare spaghetti according to package, drain and set aside.
In a large serving bowl, add pasta, remainder of the olive oil, and Pancetta mixture. Toss to coat gently. Serve and top with a sprinkle of salt, pepper and parmesan cheese.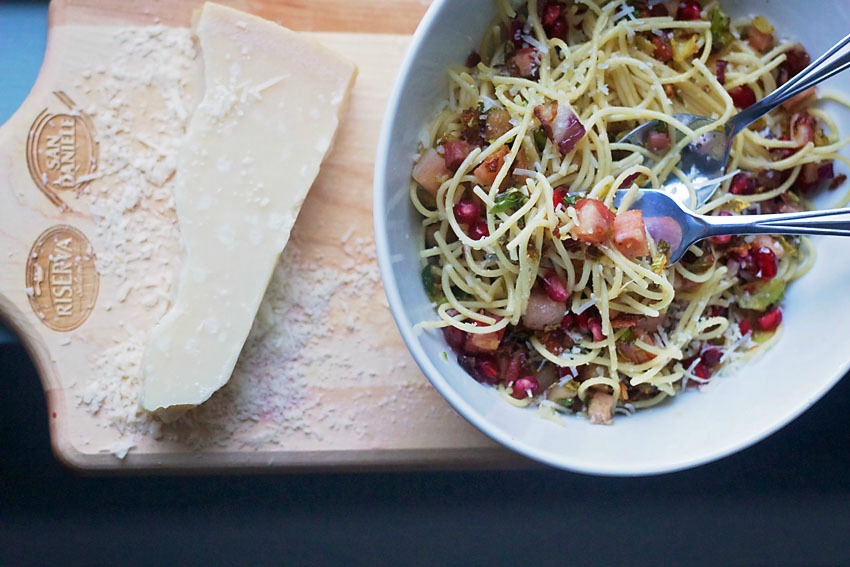 This holiday season, make sure Mastro Pancetta is on your shopping list! It's the perfect cure-meat to add to pasta, casseroles, and cooked chicken dinners.
In the spirit of the giving season, I've teamed up with Mastro to give away a prize pack to one lucky reader from Mastro and San Daniele over on my instagram page. To enter, come visit me at @best_ofthislife and leave me a comment about what you'd love to cook with Mastro Pancetta for the holidays. Don't forget to follow @share_mastro for a bonus entry. Good luck and buon appetito!
---
Emily is an ambassador for Mastro and San Daniele this holiday season. This post is proudly presented in partnership with Mastro and San Daniele. As always, all opinions are honest and personal.
Latest posts by Emily Smith
(see all)