Finding Joy and Confidence While Living With Chronic Pain

We know that having good self-esteem is essential to your confidence level and how you interact with the world around you. We also know the relationship you have with your body is a component in the health of your self-esteem and confidence. Yet, maintaining a positive body image can be a challenge for many.
Now, what happens when you factor in chronic pain?
Does dealing with chronic pain affect your levels of personal happiness, self-esteem and body image?
If so, how can you find joy and confidence while living with chronic pain?
While most people will experience acute pain in their lives, this type of pain is temporary and eventually heals. Chronic pain, on the other hand, is recurring and is more common among females compared to males across all ages. One in five Canadians lives with chronic pain. These individuals often experience increased anxiety, sadness, depression and anger. Additionally, fatigue, sleep problems and reduced daily activities are often observed1.
That said, women are finding ways to manage their chronic pain and build their self-esteem by focusing on what their body CAN do, rather than what it can't.
These Are Our Stories of Finding Joy While Living With Chronic Pain
In partnership with Dove and Refinery29, through personal stories, we are discussing the effects of chronic pain on daily living. We explore how empowerment and confidence are attainable by focusing on our bodies' abilities rather than on their limitations.
I'm sharing my history with chronic pain and invited two amazing women to share their stories of how they are finding joy while living with chronic pain.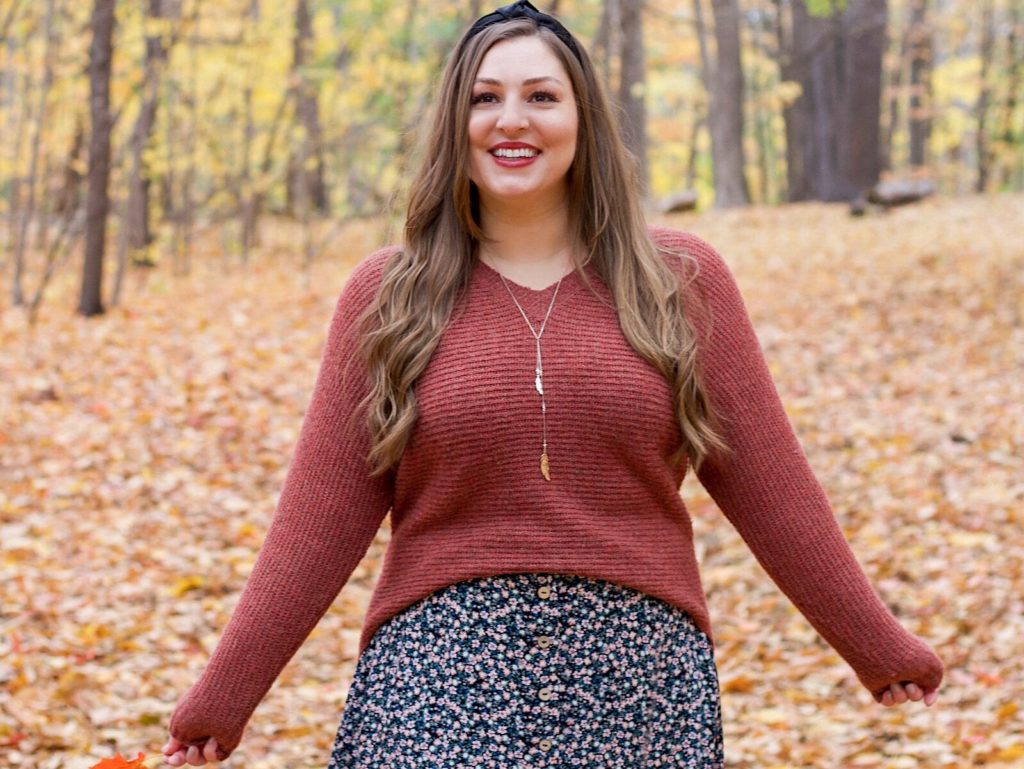 The first time I woke up with severe musculoskeletal pain was around the age of 4 years old. The pain was searing, I was nauseous from it, yet it felt foreign like I wasn't in my own body. The pain was happening to me and I had no control over it. These middle of the night episodes continued into my teens.
In the fifth grade, the migraines started happening. I had difficulty focusing, and I felt like the classroom lights were blinding. For years I've had chronic migraines, but as an adult I've learned to better manage their onset.
When I was around 12 years old, I got my period at school. I was about to change into my gym clothes for soccer practice when I was hit by massive abdominal pain. The pain shot into my legs and my back. It was relentless.
Again, it felt like my body was betraying me. I just wanted to go play soccer and live my life!
It would be several years before I was diagnosed with Dysmenorrhea; very painful menstruation that can cause abdominal pain, thigh pain, back pain, and nausea. Despite it, I continued to play sports, find joy in the arts, and escape to nature where I found peace.
At different stages in my life, I've experienced, and overcome, stretches of recurrent and chronic pain. To this day, I still have extremely painful menstrual cycles that have recently been linked to polycystic ovarian syndrome.
Embracing Your Body's Abilities and Finding Hope
Pain is frustrating, exhausting, and can compromise your outlook on yourself. Pain is pervasive and can influence your self-esteem. When you're hurting, you can have a skewed outlook on your appearance. That's why it's crucial to focus on what your body can do rather than its limitations.
Sometimes all my body can do is rest, and exercising self-compassion by giving it permission to do so is also empowering.
During both of my pregnancies, I experienced Hyperemesis Gravidarum. HG is persistent vomiting, well beyond average pregnancy nausea. It occurs in up to three out of one hundred pregnancies.
I was thrilled to be pregnant; I was proud of what my body could do in spite of being so sick. During those stints of extreme demands on my body, I focused on the wonderment of my babies being formed inside of me. My kids are one of my greatest joys!
As a result of my difficult pregnancies, I once again entered into a cycle of chronic pain. After my first pregnancy, I suffered severe water-retention, inflammation, and joint pain. I was initially misdiagnosed with Lupus and later on diagnosed with fibromyalgia. For my second pregnancy, which included hospitalization with HG, the cycle of chronic pain returned.
Now six years after the birth of my second child, the fibromyalgia pain is less severe, however I still struggle regularly with debilitating menstruation, migraines, ovary cysts, and ovarian fibroids. Just last year, I was in the hospital for hours of agonizing pain due to an ovary cyst rupture.
Pursuing Your Desire For A Happy and Full Life
As someone who has dealt with recurrent and chronic pain in their lifetime, I can attest to the desire to want to live fully and happily while struggling with pain. Because chronic pain is often invisible, people don't think it's as bad as it is. Especially, if your symptoms seem manageable.
Individuals who deal with chronic pain often go above and beyond to try to look and feel normal. They want to live their best lives just like everyone else, even when they are dealing with pain.
Personally, I try to make time for the things that bring me joy. I focus on all the amazing things my body can do.
Even though I dealt with HG, my body brought two beautiful children into this world and it has been integral in loving and raising them. When I have abdominal and lower back pain, I choose gentle exercises like yoga to help with relief and boost my self-esteem. I love swimming because of the feeling of weightlessness in the water. Most of all, the daily happiness I get from my family carries me through the times when my body is in pain. Their love, their cuddles, and all the wonderful times we share all contribute to a full and joyful life.
The Importance of Investing In Yourself
Finding confidence in myself and my body is something I have to tend to regularly. I invest in myself through self-care and small actions that help build and maintain my self-esteem and a healthy body image. Pain can make you angry at your body, but if you give into it you miss out on the joys of living.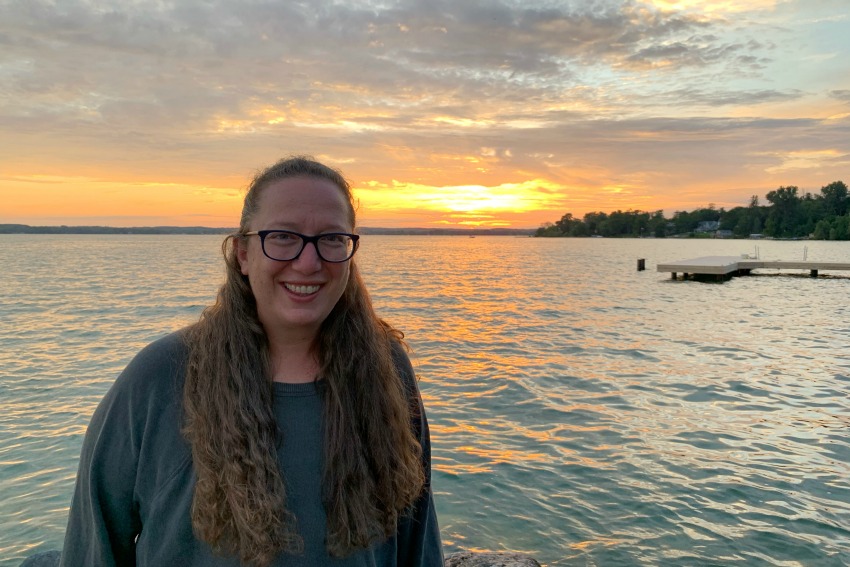 Renee Kaiman is also familiar with feelings of anger towards her body but chooses not to let those feelings overcome her.
" I've been living with metastatic (terminal) breast cancer for just shy of three years, but was first diagnosed with early stage breast cancer, five years ago. I have endured chemo, a double mastectomy, radiation, my ovaries removed, biopsies and hormone therapy. My cancer is now in my bones and liver. I live with pain from the cancer in my body. I never know when the pain is going to come or where it's going to target. Sometimes the pain is in my lower back, sometimes in my thigh or my hips.
It's very easy to be upset at my body. But I refuse to let that happen. Instead, I've learned to honour and respect my body in the face of my terminal illness and pain. After losing my breasts, I made a conscious decision to not let having breasts stop me from enjoying wonderful moments with my family and friends. It was hard at first to feel confident in wearing a bathing suit but I quickly realized that I'd rather be a part of the fun when I can and not miss out."
Renee appreciates that her body is working well at this point and can take her on adventures.
"My legs have been strong enough that while on a European vacation last year I was able to walk over 20,000 steps a day. My eyes allow me to experience the beauty around me like watching the sunset or watching my children splash in the lake. And most of all I appreciate that my brain and mind are working well to let me store these beautiful memories that I'm making with my loved ones. Smaller things also bring me such joy such as getting manicures, drinking coffee, listening to a true crime podcast, and spending time with my family and friends."
She also recognizes the importance of listening to her body.
"If I need a rest, a heating pack, or a warmbath, I do that. My husband is very supportive and my kids have come to understand that I have to listen to what my body needs which sometimes means missing out on things with them.
---
Renee's example of courage and self-kindness is inspiring. She is demonstrating the joy that comes from focusing on what your body can do and how empowering that is. In the face of illness and chronic pain, she is living joyfully and confidently.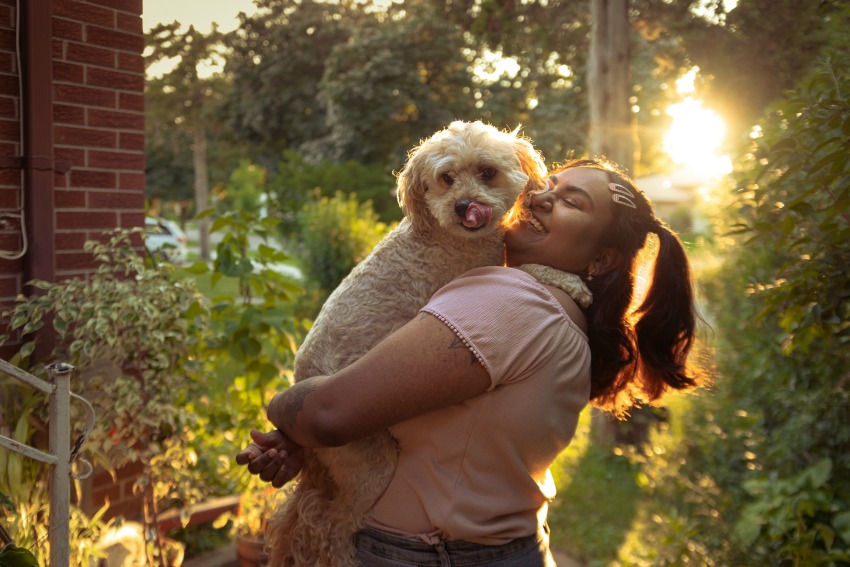 Respecting Your Body and Loving Yourself
For Vinsia Maharajah, respecting her body and loving herself, as she is, fosters a positive body image.
" I always thought I was just "built strong," as a Tamil (South Asian) woman with a family that's been directly affected by the war in Sri Lanka. Trauma and pain were packed into little suitcases as my parents immigrated over to Canada, along with their hopes, dreams, and whatever documents they could hold onto. Growing up, these suitcases were always a lot heavier than what I was going through. Until I shifted my thinking towards respecting and loving myself, and doing what I can to find joy, even if I don't feel like crawling out of bed."
The support Vinsia has found through her community has also been instrumental in embracing herself and finding joy while living with chronic pain.
" When I was diagnosed with PCOS, and then Depression and Anxiety, I thought I was a failure for letting my health get that bad. This was until I started openly speaking about PCOS on my social media platforms, which connected me with amazing, inspirational individuals living around the world, and I finally unlocked the cage I put myself in."
She feels it's important to look within and identify negative thoughts that influence self-esteem.
" I really had to start from within, by paying attention to what my mind was like, and what my feelings towards my appearance looked like. I had to find creative ways of "tidying up" these feelings, and I did so by incorporating beautiful things to change them forever. Examples of these beautiful things would be tattoos that remind me of how strong I am, or houseplants that grow and flourish at their own pace."
There are joyful moments of life everyday and Vinsia is choosing to actively look for them.
" Living with chronic pain isn't easy, but it shouldn't lock us away from experiencing beautiful moments of life that are waiting for us to meet them. Finding joy isn't difficult, especially when there's so much inspiration around me, whether it's admiring my dog Cleo playing with her latest favourite toy, or watching sunrises in complete silence. Our pain may be something that's a huge obstacle, but just know that we'll find ways to grow around it, making our mind and body a much more beautiful place."
---
Choosing To Find Happiness in Everyday Life
For many women who experience chronic pain, their perseverance to find joy in their lives, and confidence in who they are, make them so resilient.
The choice to honour our bodies, and recognize its abilities in the face of adversity, makes us triumphant. Our bodies are not against us. It is not our failure, but rather it is our passion for life that moves us forward to see the positive in our circumstances. There is hope and joy, even in the presence of pain.
When women focus on the strengths and uniqueness of their bodies, they have higher self-esteem and a more positive body image. When we feel we are worthy, as we are, we are also more open to be vulnerable and reach out for support, as well as giving our bodies the support it needs.
Renee Kaiman believes both are invaluable tools:
" To those who are struggling with pain while living with a terminal illness, I would encourage you to reach out to others with your diagnosis. It's amazing how much someone else's shared experience can help you. I would also encourage you to listen to your body – on days you feel great get stuff done and on days when you don't feel great, that's ok too. Take the time to relax and recharge."
Talking about chronic pain to loved ones, friends, and acquaintances can be difficult. It's hard to disclose your personal struggles and convey how living with chronic pain affects you, especially if you feel you won't be met with support. First and foremost, personal self-care, both mentally and physically are essential. By building your self-esteem, and knowing you are worthy of help and support, you will better ascertain who to welcome into your circle of support.
For people who know loved ones who are dealing with chronic pain, your empathy is everything. The simple act of being with someone and demonstrating that you see them, acknowledge their struggle and believe in them is greatly impactful.
Even when you have support, you still might face feelings of defeat. Vinsia shares her advice to those dealing with poor body image and low self-esteem because of their chronic pain:
"On days when I would have poor body image, I would try to find trees or photos of nature that have similar lines or discolourations as my skin does. When I did, it felt like what I thought was "ugly" or "unsightly," was beautifully reflected in natural spaces. The same way nature can create and destroy during natural disasters, our bodies and minds can go through the same chaotic, fluctuating pain. I would encourage others who are struggling with body esteem to try to see their body and mind as an ecosystem, with its own incredible, resilient beauty. The act of visualizing in this way could improve how you see yourself!
Finding parallels between myself and nature were much more beneficial in improving my self-esteem and developing a healthy body image, instead of comparing myself to others. How can you compare the growth of a lotus flower, to the growth of an apple tree? Both are incredibly beautiful when they bloom but go through completely different environments and challenges as they grow. Once I realized this, I stopped comparing myself and started to look within, and to nature to find connections. "
There isn't a singular approach to finding confidence and joy while living with chronic pain. Even though there are similarities, everyone's journey is different.
While chronic pain does have an effect on levels of personal happiness, self-esteem and body image, the key to overcoming it is knowing that you are worthy of living joyfully.
I encourage anyone dealing with chronic pain to invest in yourself. Take time for self-care. Carve out space to foster the development of self-love for the worthy person you are and for your beautifully unique body.
---
1. Canadian Pain Task Force Report: June 2019; Schopflocher et al., 2011; Reitsma et al., 2011; Steingrimsdottir et al., 2017; King et al., 2011
Latest posts by Emily Smith
(see all)