Fun In The Sun: A Summer Pool Party You'll Love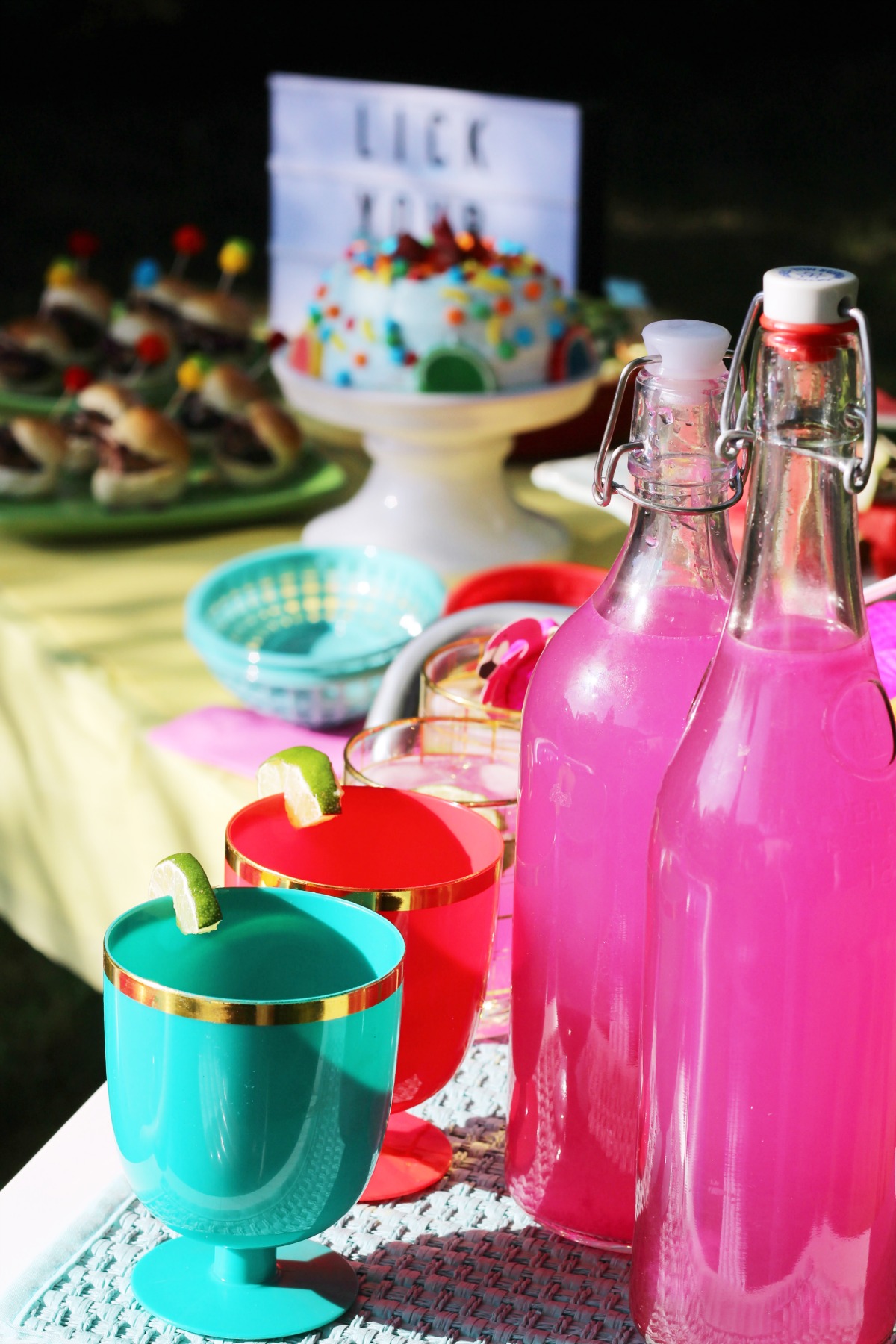 Pool Party Fun + Tasty Recipes with Lick Your Plate
Shining sun, blue skies, singing birds, a gentle breeze, crystal clear water, sizzling food – oh summer, you're here in all your glory!
There's no better time to throw a pool party, then when the days are long and hot. Everyone enjoys a tasty BBQ, cool drinks and a refreshing dip in the pool.
You don't need much friends: just some tasty grub, a place to splash, a few fun floatie-friends, and real ones too!
On a vibrant summer's day, Julie from Try Small Things and her lovely daughter joined my family for a late afternoon gathering. With a beautiful spread, featuring delicious recipes from the latest cookbook by Julie Albert and Lisa Gnat (aka @bitememore), Lick Your Plate and the cutest darn' pool floats from Indigo – we were all set for some good ol' fun in the sun.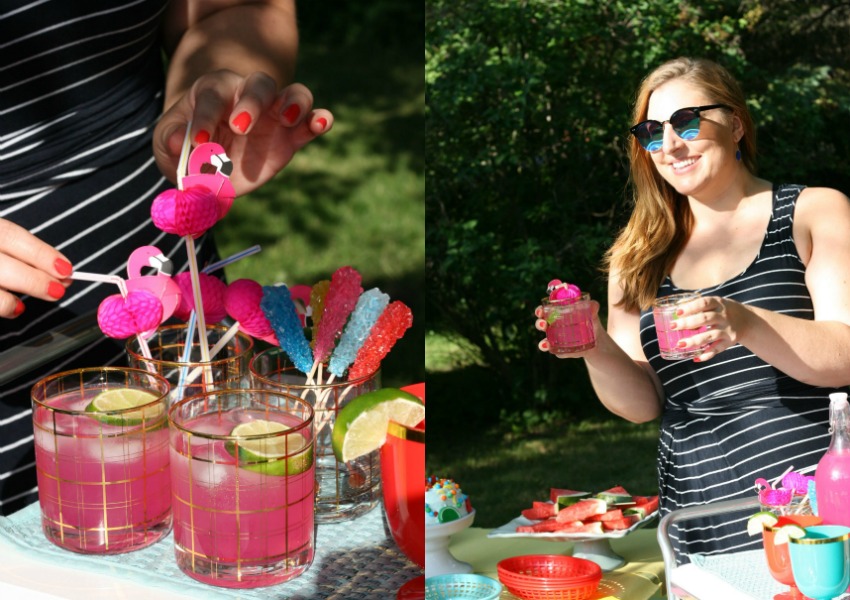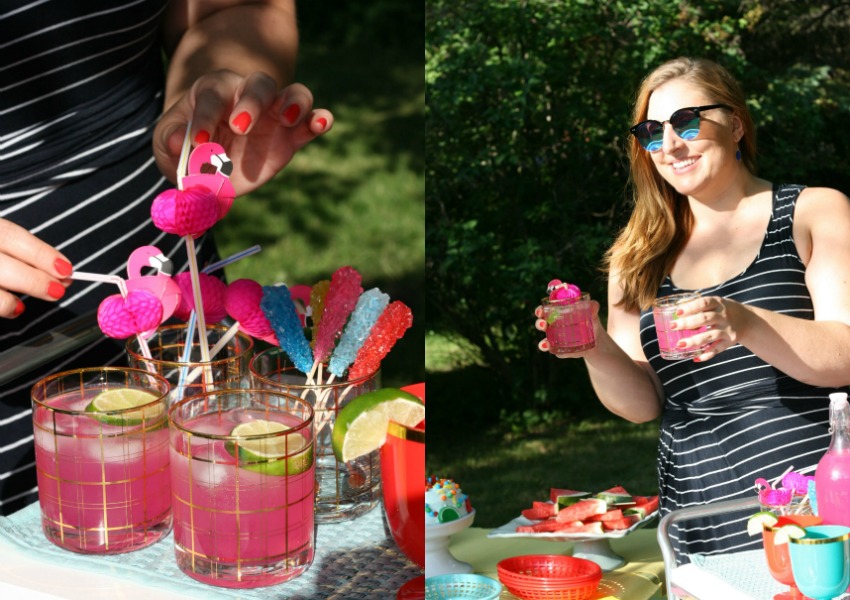 The sweetest things in life are often the simplest; like a glass of ice cold lemonade. Our kids were tickled-pink as they drank from glasses where colourful flamingoes floated upon a dreamy rose lake. Of course, the giant hot pink flamingo lounging in the swimming pool was a sight to see and my little Abby was quite taken with her new "birdie".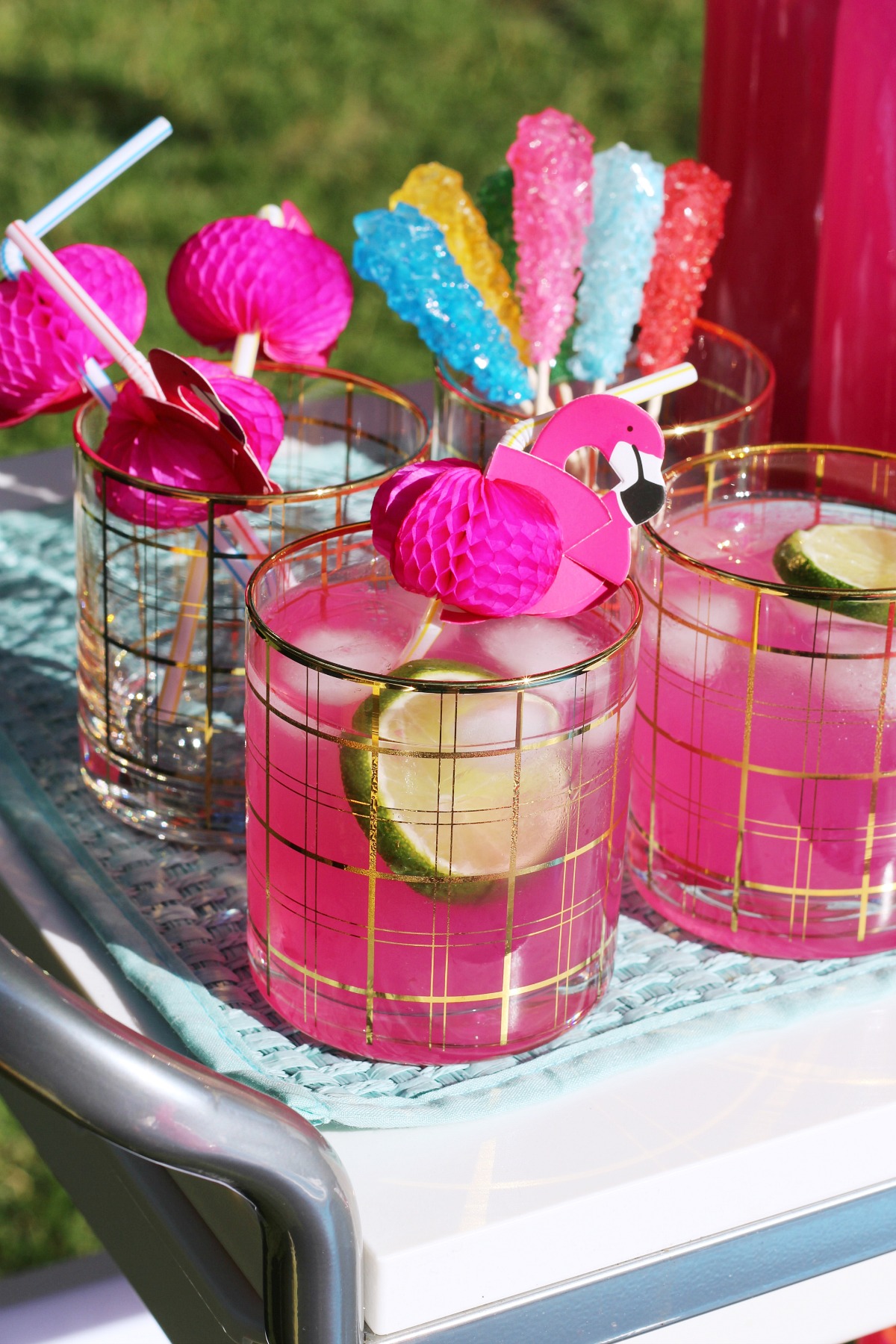 Delectable Food From Lick Your Plate
We set the party table with scrumptious foods, including a bountiful summer salad and delectable sliders made from recipes found in the Lick Your Plate cookbook. Julie had prepared them ahead of time and brought them to our backyard bash – a real life example of how they can easily withstand travel and are perfect to bring over to a friend's house for dinner or a potluck. Lick Your Plate is full of lip smackin' recipes, 160 to be precise. That's a whole lot of good eating! Page after page you will find the most enticing food, with clear and doable recipes.
On a previous afternoon, I poured over the yummy recipes and gorgeous photos. To paraphrase Julie Albert and Lisa Gnat – Lick Your Plate is an arsenal of inspiring, guaranteed-great recipes that will take you through breakfast, lunch and dinner (no deep-fryer, three-day meat sauces or wild-goose chases required!).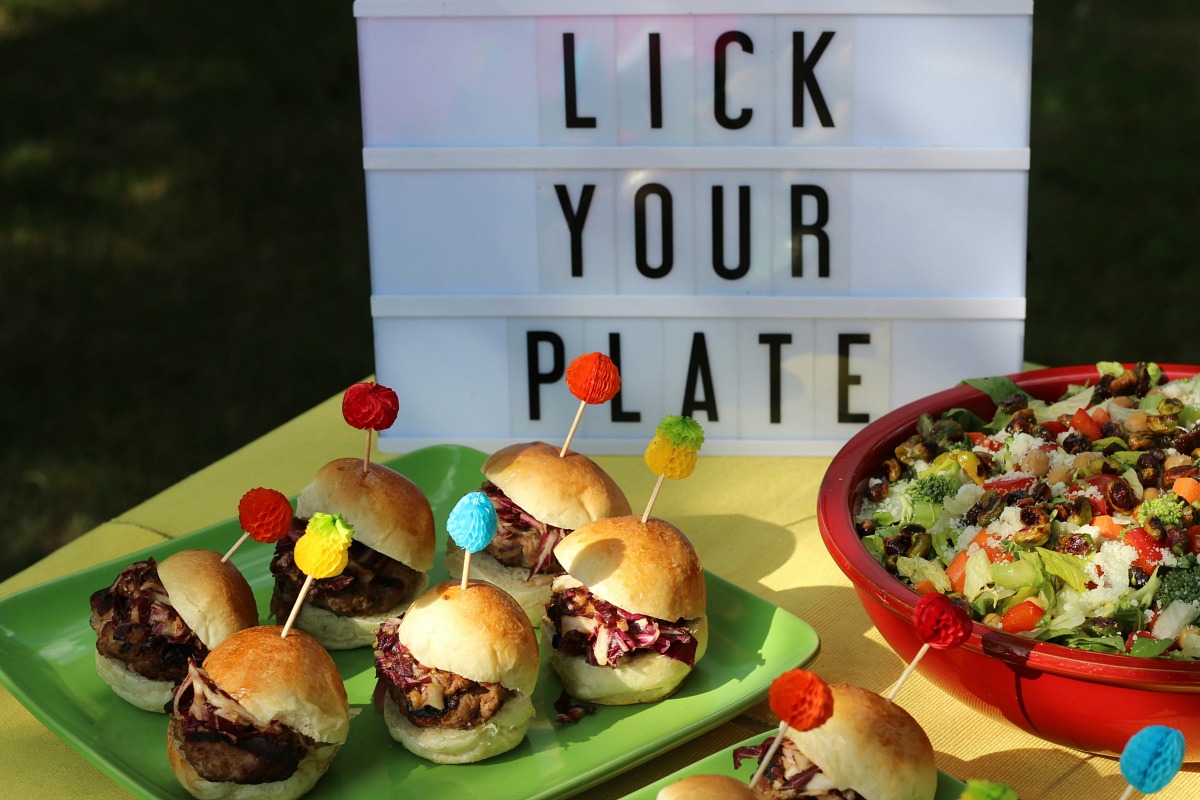 Details on The Must-Try Salad
Julie, from Try Small Things, and I are excited to be sharing a sneak peek at the sort of tastiness you'll find in the recipe book. You'll just have to pick up Lick Your Plate for the other 158 recipes. Scroll on down for one of the most ingredient-packed salads I've ever had; which turns out is also one of the best salads I've ever had! The flavour combination and sheer summer-in-a-bowl of it was just SO good. It definitely had me lickin' my fork…if not my plate.
My kiddos were huge fans of the Thai Turkey Sliders with Peanut Slaw. They just ate them right up! (to make these gluten-free, a simple bread swap will do. And if you can't find small buns, you can cut up a gluten-free baguette, not as pretty, but just as tasty). For the recipe, make sure to hop on over to Try Small Things.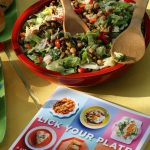 Italian Chopped Salad With Creamy Parmesan Dressing
---
Author:

Total Time:

30 minutes
Description
A fresh, packed-full of good stuff salad that hits the spot and completes any summer pool party!
---
Creamy Parmesan Herb Dressing
1 cup

mayonnaise

1/2 cup

sour cream

1/3 cup

freshly grated Parmesan cheese

1

small garlic clove, minced

2 tbsp

chopped fresh flat-leaf parsley

2 tbsp

chopped fresh basil

1 tbsp

fresh lemon juice

1/4 tsp

dried oregano

1/4 tsp

kosher salt

1/4 tsp

freshly ground black pepper
Pinch cayenne pepper
Candied Pecans
2 tbsp

butter

2tbsp

sugar

1 cup

pecans

1/4

kosher salt
Salad
6 cups

chopped iceberg lettuce

3 cups

chopped romaine lettuce

1 1/2 cups

chopped broccoli florets

1 1/2 cups

chopped cauliflower florets

1 cup

cherry tomatoes

1 cup

canned chickpeas, rinsed and drained

2

celery stalks, chopped

1

large carrot, peeled and chopped

1

large bell pepper, chopped

1/2 cup

freshly grated Parmesan cheese

1/2

coarsely chopped dates

1/4 cup

roasted sunflower seeds

1/4 cup

chopped fresh flat-leaf parsley
---
Instructions
For the dressing
In a food processor, combine mayonnaise, sour cream, Parmesan cheese, garlic, parsley, basil, lemon juice, oregano, salt, pepper and cayenne. Pulse until pureed and smooth. Cover and refrigerate until ready to dress salad.
For the candied pecans
In a medium skillet, melt butter over medium heat. Add sugar and stir until it dissolves. Add pecans and salt and continuously stir for 1-2 minutes, until coated and toasted. Remove from the heat and transfer ti a piece of parchment paper to cool-nuts will harden as they cool. Once cool, chop coarsely and set aside.
For the salad
In a large bowl, combine iceberg lettuce, romaine lettuce, broccoli, cauliflower, tomatoes, chickpeas, celery, carrots, red peppers, Parmesan cheese, dates, sunflower seeds and parsley. Toss with dressing, top with candied pecans and serve immediately.
Notes
We used candied pistachios instead of pecans and omitted the cauliflower (simply because of availability!) – there's some wiggle room with this delicious recipe and we love it!
Prep Time:

25

Cook Time:

5
Recipe from Lick Your Plate

Copyright © 2016 Pinky Swear Press. Reprinted by permission of Appetite by Random House, a division of Penguin Random House Canada Limited.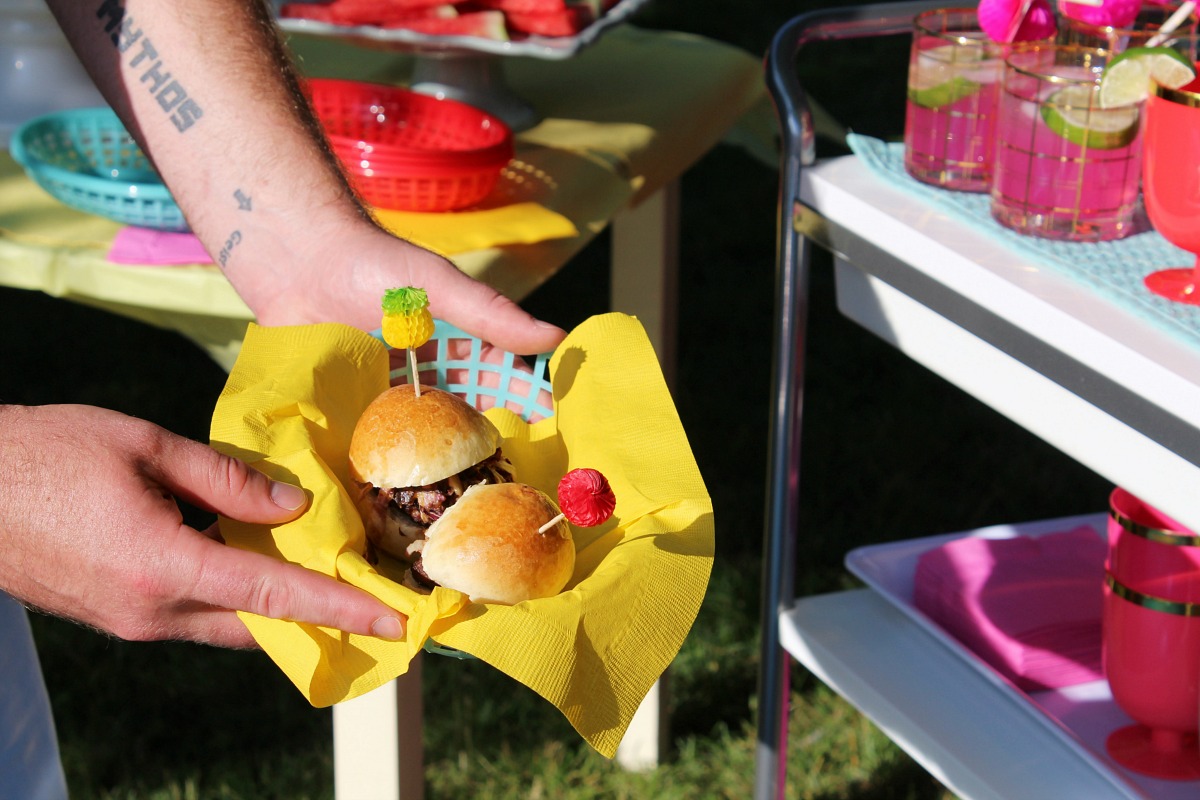 To finish off our summer BBQ, there was a candy-covered angel cake and watermelon slices to eat and wash down with more lemonade. Oh goodness, the kids were bouncing – but that's why we had a pool, and floats and hours left to play outside and burn it all off!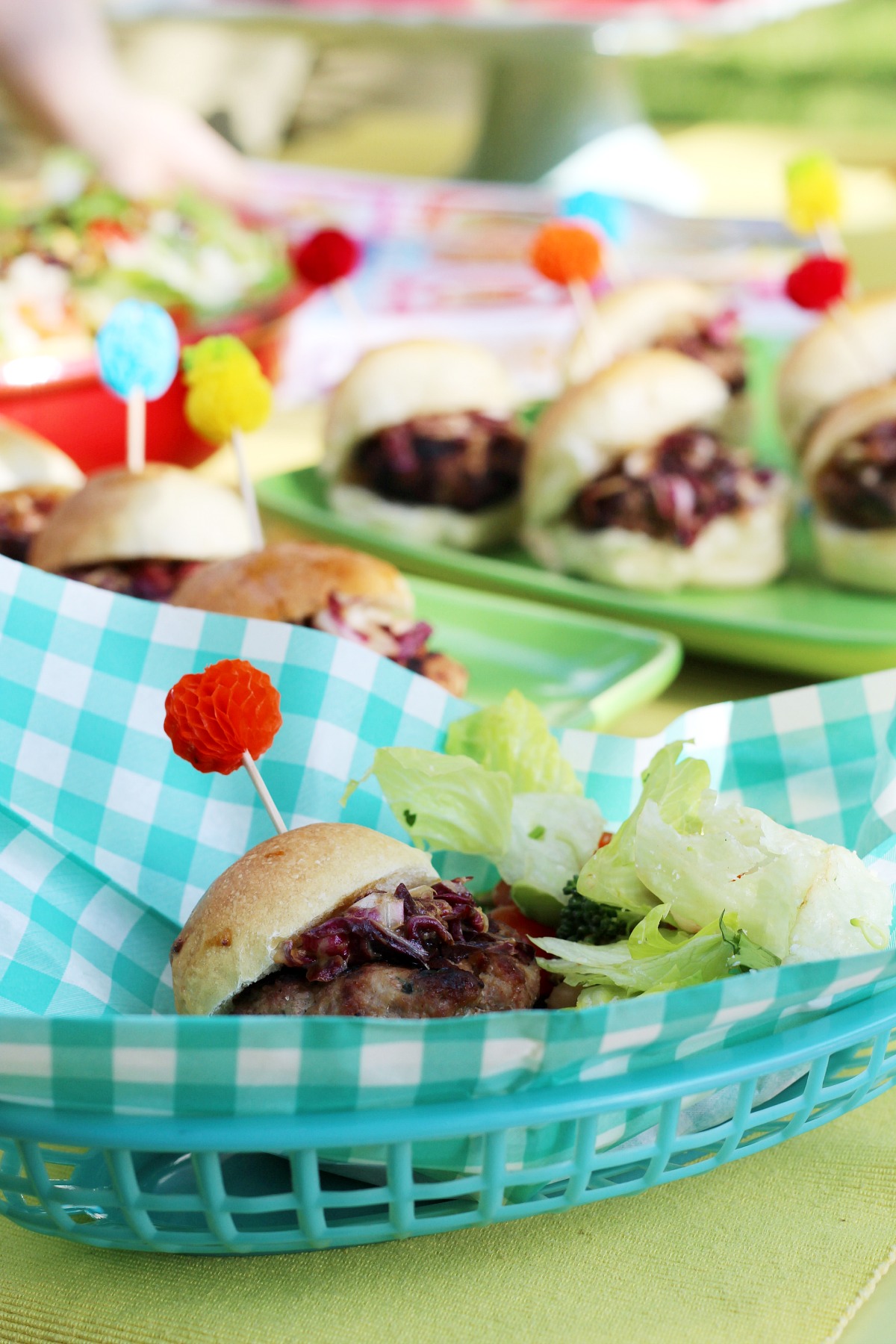 Keep it simple, friends
Throwing a pool party shouldn't be overwhelming! Think – bright, fun, easy, and uncomplicated. To make everything stand out, we used colourful placemats, napkins and serving dishes. Even the cake was easy-peasy (a boxed gluten-free cake mix y'all!), covered with light-blue whipped icing, sprinkled with a rainbow of candy and the freshest local strawberries. Mmmmmmm…..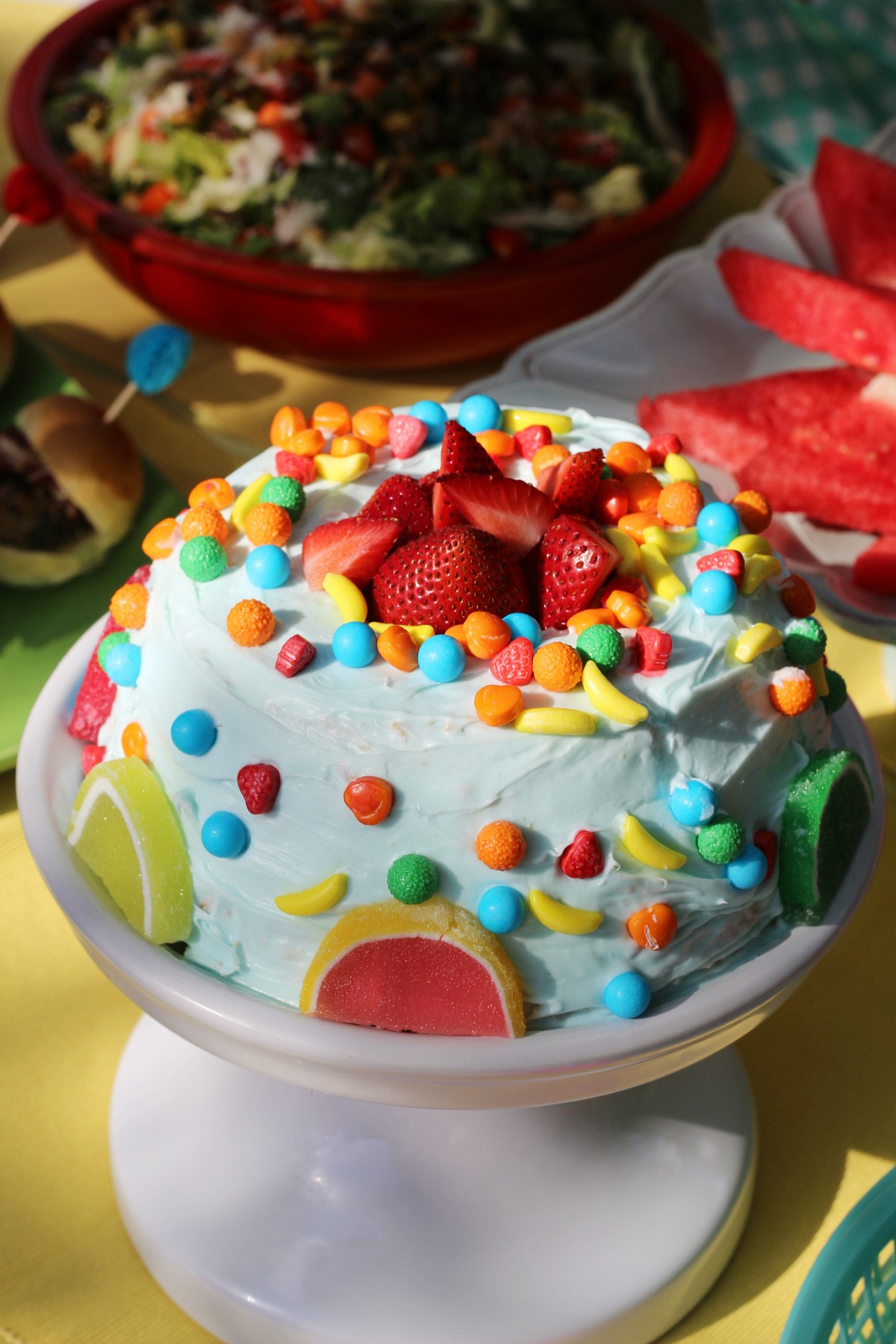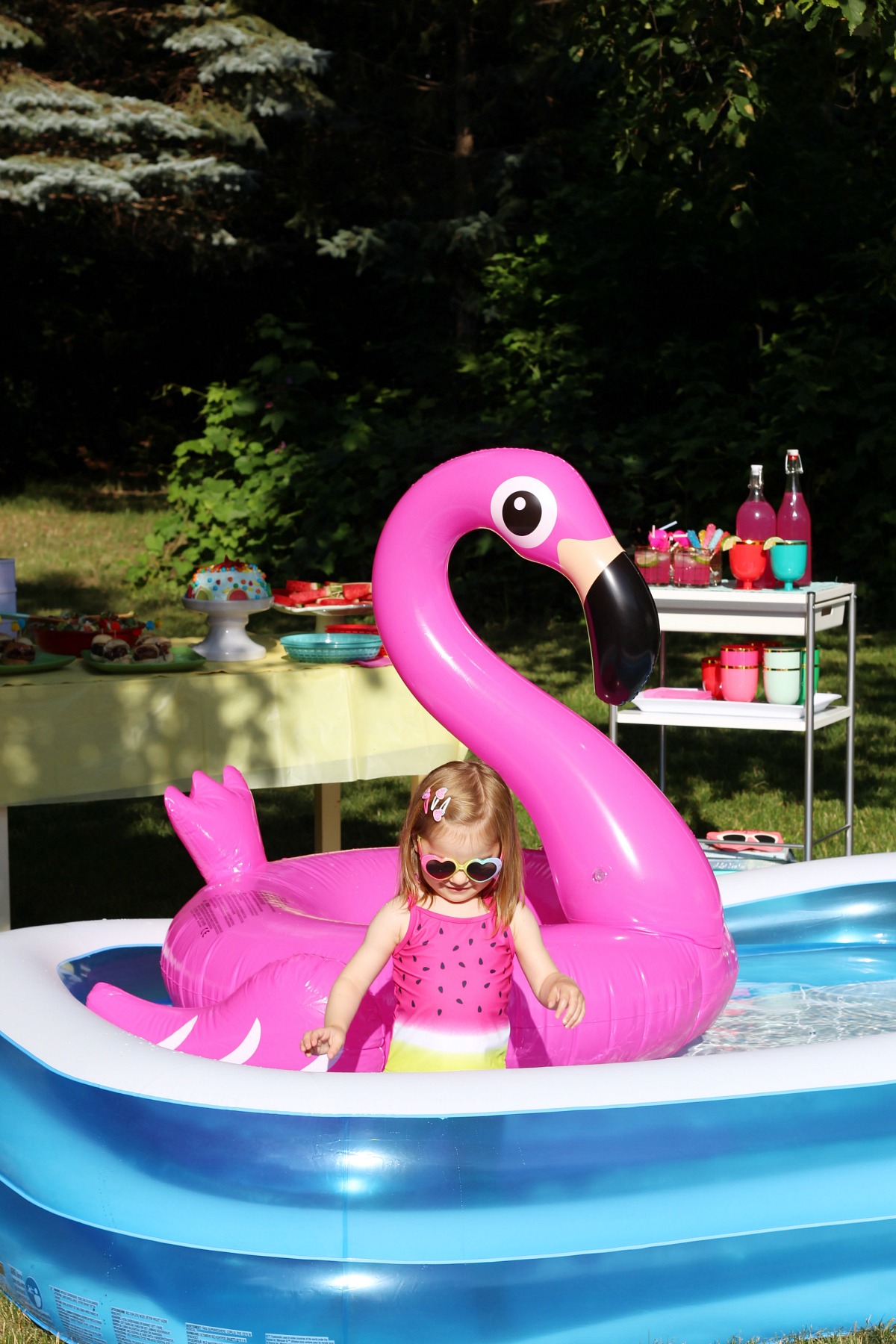 With full bellies and friendly floats waiting, there was nothing left to do but take a refreshing dip in the pool and splish-splash around!
CANOOOOOONNNNN…POPSICLE!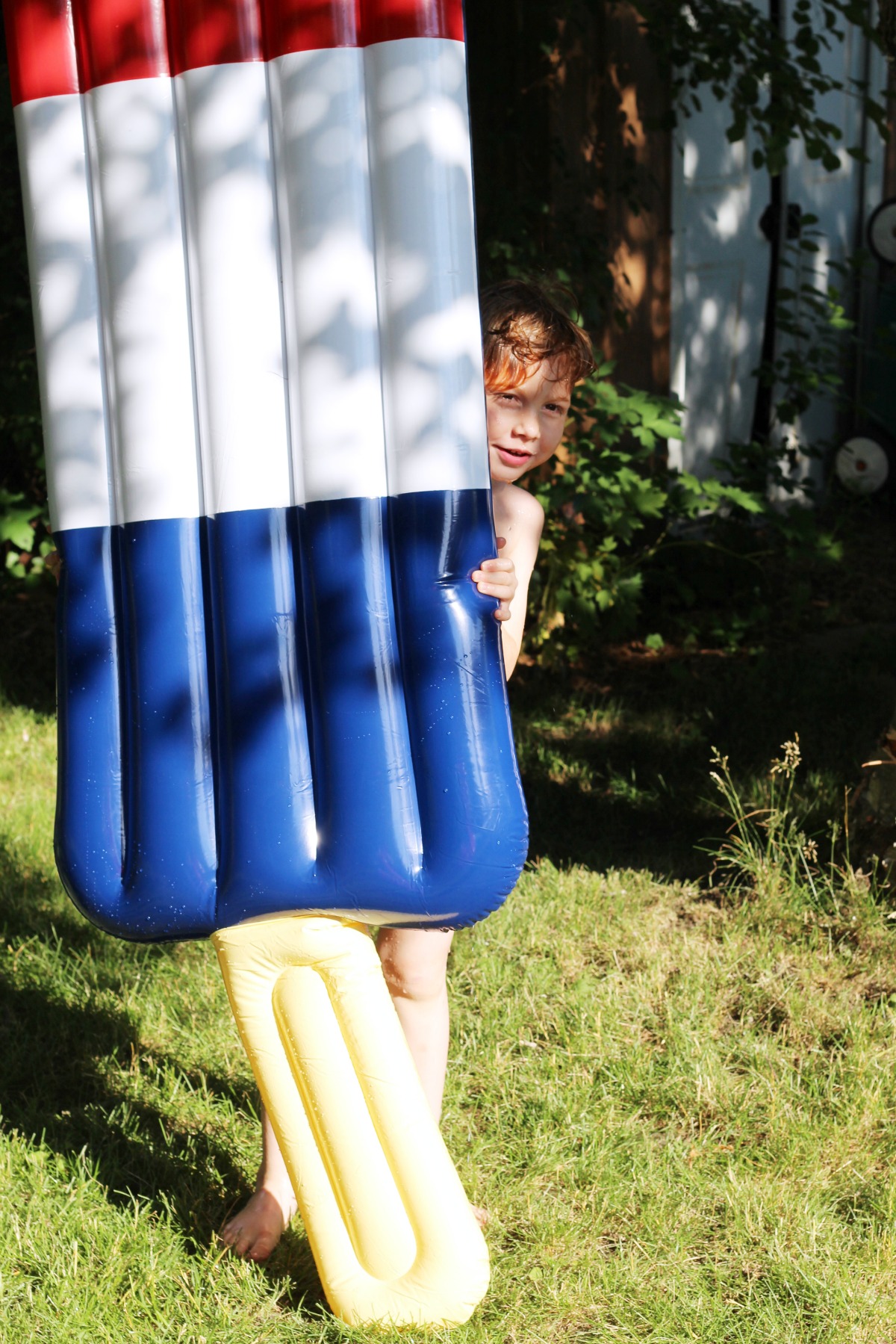 It doesn't get much better than gorgeous days like these spent with family, friends, and great food! I hope our fun in the sun pool party inspires your own – and if it does, well I'd love to see pictures, so feel free to tag Julie @trysmallthings and I @best_ofthislife on instagram.
And don't forget to pick up Lick Your Plate for a crowd-pleasing menu!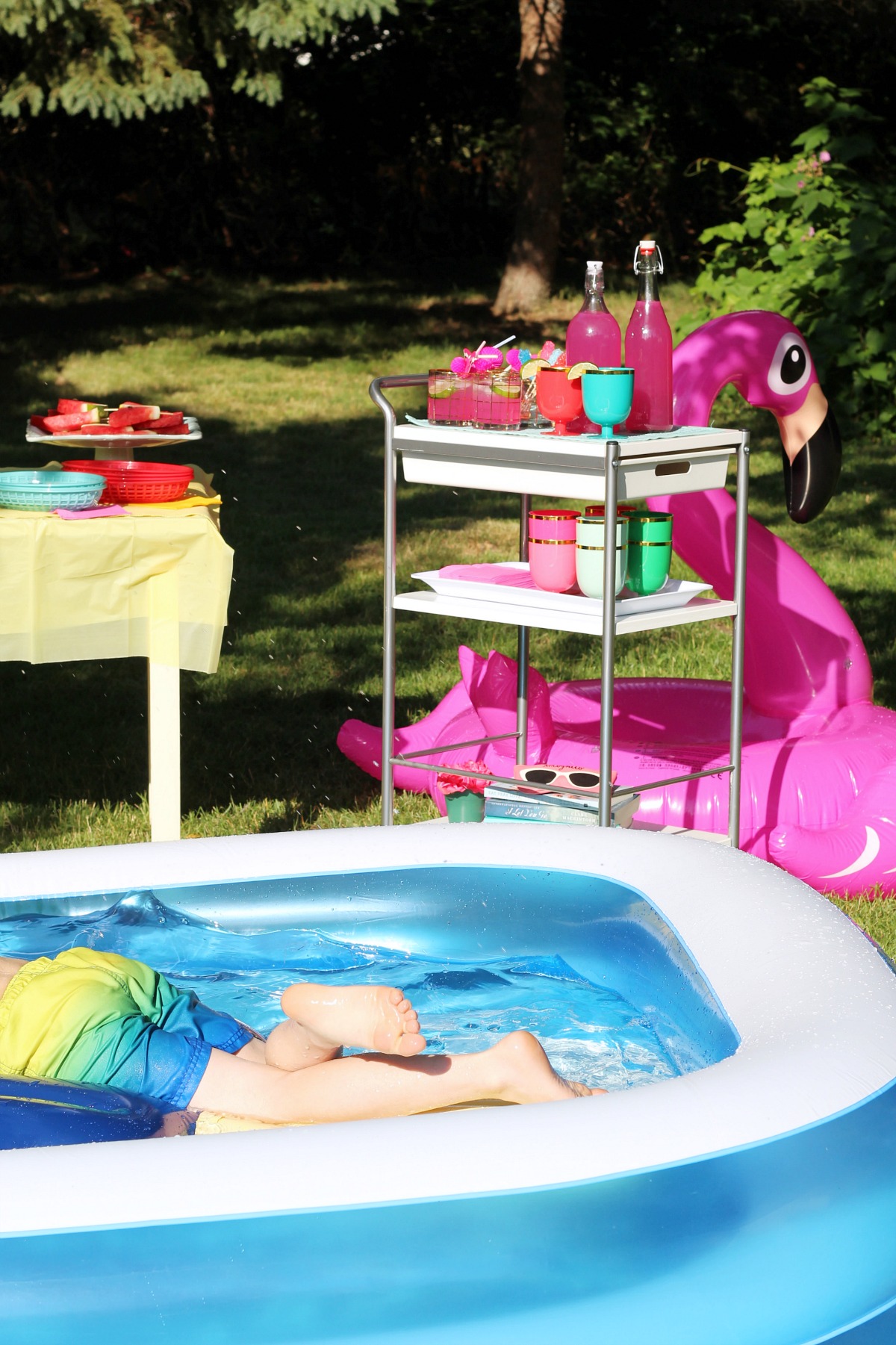 Cheers to more days like these, more fun parties, and more delectable food! Happy Summer dear friends!
p.s visit Julie's blog to score the turkey slider recipe and try it this weekend 🙂
This piece is in collaboration with Julie from Try Small Things, Indigo, & Penguin Random House Canada Limited.
Latest posts by Emily Smith
(see all)