Fit Food: Gluten-Free Tropical Snack Bites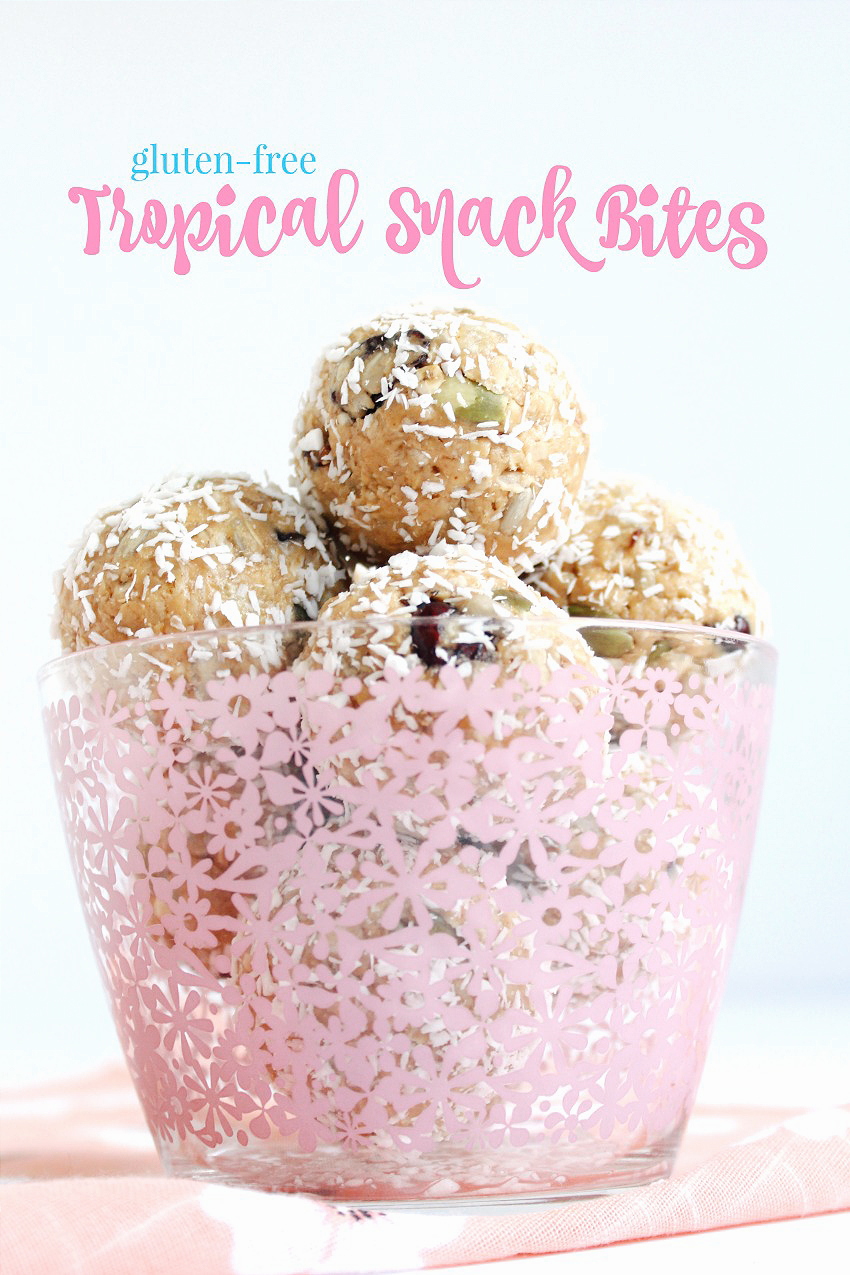 May is Allergy Awareness Month, as well as National Health & Fitness Month! Eating healthy, gluten-free foods is part of my daily lifestyle. Although my family isn't sensitive to gluten like I am, they have adopted a 75% gluten-free diet, because of the meals that I prepare.
I am mindful to watch for symptoms of allergies and food sensitivities in both my children, because they could develop (or show themselves) at any time.
Did you know that about 300,000 Canadian children under the age of 18 have a food allergy? That's a higher amount than I would have guessed. Having a food sensitivity is different than having a food allergy. If (and when) I eat bread, it might hurt my stomach and over time it will affect my energy levels, might give me a migraine, as well as cause fatigue in my body from overworking to digest it. However, an allergy can be deadly. There is no cure for food allergies other than completely avoiding the food all together.
So when someone says they have an allergy, it's important to be aware and mindful of what they are allergic to.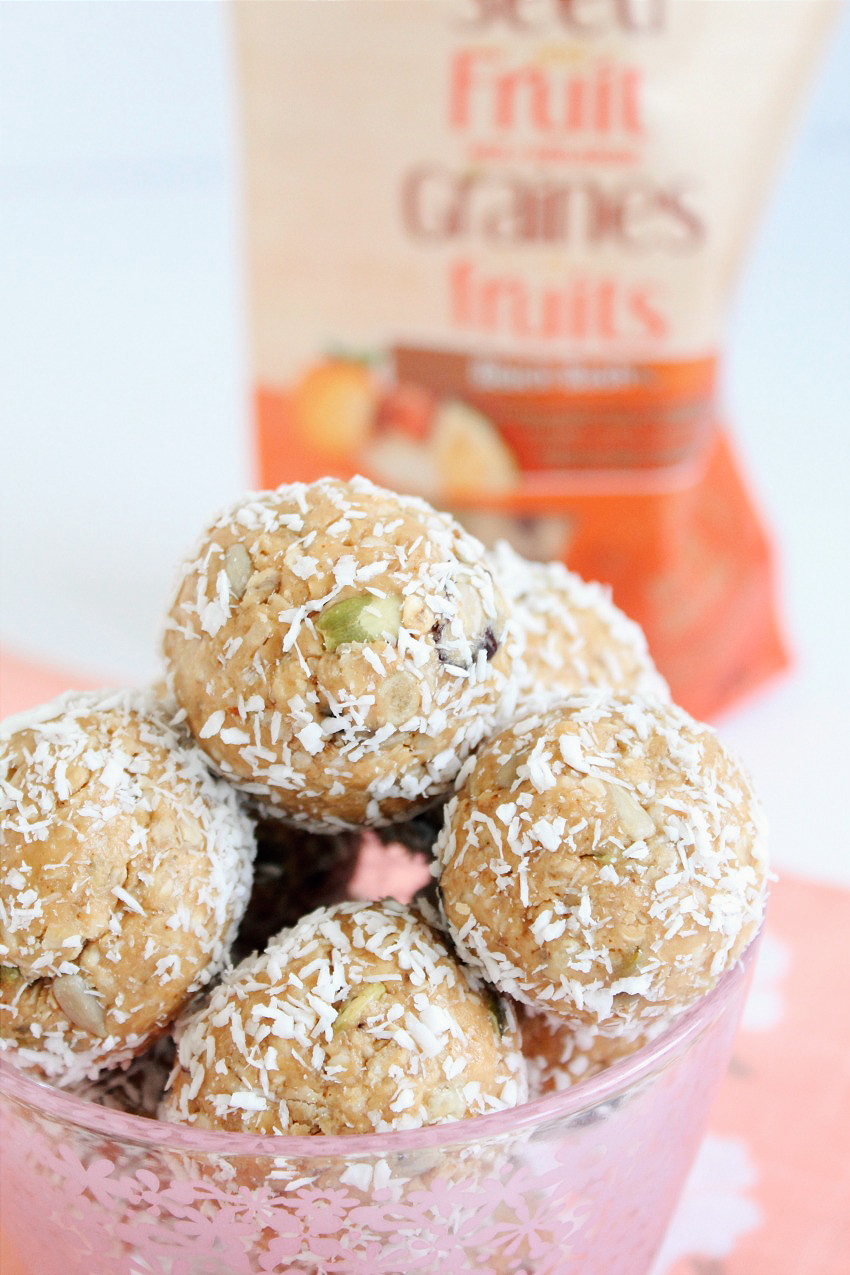 Enjoy Life Foods is a line of great-tasting, allergy-friendly foods that is free from priority allergens such as wheat, milk, peanuts, tree nuts, mustard, sulfites, egg, sesame, soy, fish, crustaceans and shellfish. It's also worth noting that their products do not contain genetically modified organisms (GMOs).
We've been eating Enjoy Life Foods for years now and in my opinion, their line just keeps getting better!
To make these yummy and healthy snack bites, I used their Beach Bash Seed & Fruit Mix – which is completely nut-free. Now, since we don't have a nut-allergy at home I added a few scoops of the mix to our snack bites recipe which includes peanut butter. They are however completely gluten-free and dairy-free.
Side bar: Enjoy Life Foods Seed & Fruit Mixes are great to send to school because they are nut-free!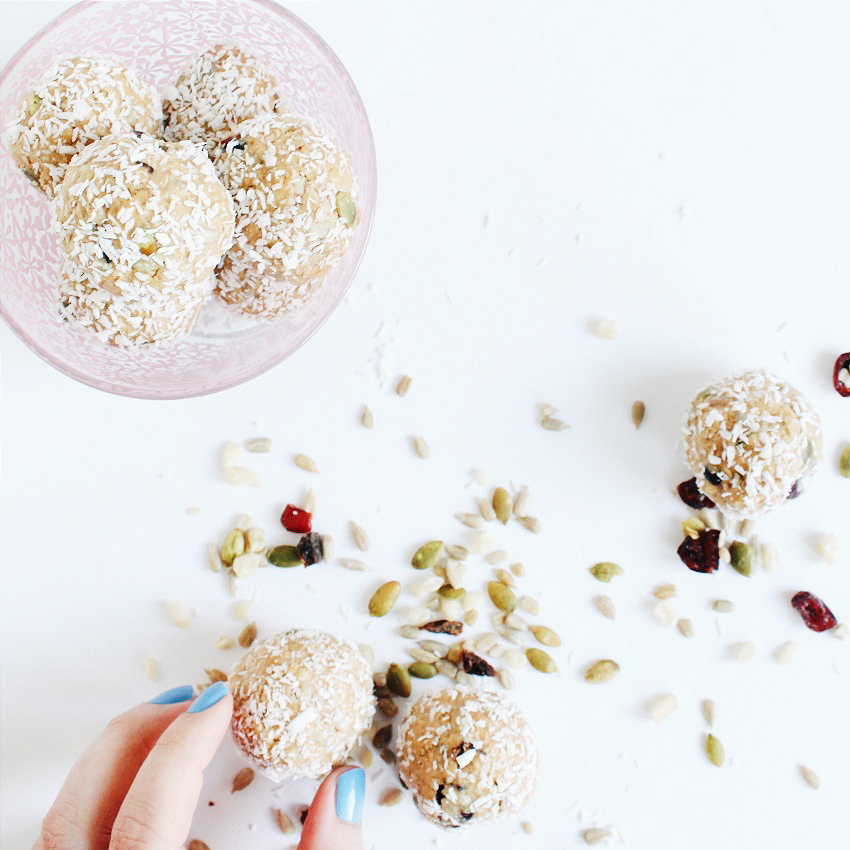 These Tropical Snack Bites are healthy and delicious. They are ideal for when you need to boost your energy and want to reach for something nutritious. My kids are huge fans of all variations, including these which feature the tasty medley of sunflower kernels, pumpkin seeds, dried pineapple, apricots and cranberries in Enjoy Life Food's Beach Bask Seed & Fruit Mix.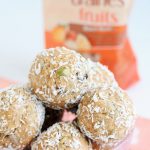 Gluten-Free Tropical Snack Bites
---
Description
Healthy and delicious snack bites featuring Enjoy Life Foods Beach Bash Seed & Fruit Mix.
---
1 cup

Natural Peanut Butter

3/4 cup

honey

1 tsp

pineapple juice

2 cups

gluten-free quick oats

3/4 cup

Enjoy Life Foods Beach Bash Seed & Fruit Mix

1/4

–

1/2

unsweetened shredded coconut for rolling.
---
Instructions
Mix peanut butter and honey in medium bowl until blended.
Stir in remaining ingredients.
Roll into 40 (1-inch) mini balls using about 2 Tbsp for each, or 20 (2-inch) balls as shown in picture.
Roll into shredded coconut.
Refrigerate for 30 minutes.
Enjoy!
Notes
Keep in fridge for up to 3 days. Store in freezer for up to 3 weeks.
To discover the whole allergy-free line, visit
enjoylifefoods.ca
. Enjoy!
Latest posts by Emily Smith
(see all)