Gluten-Free Toasted Sesame Caramel Chocolate Bars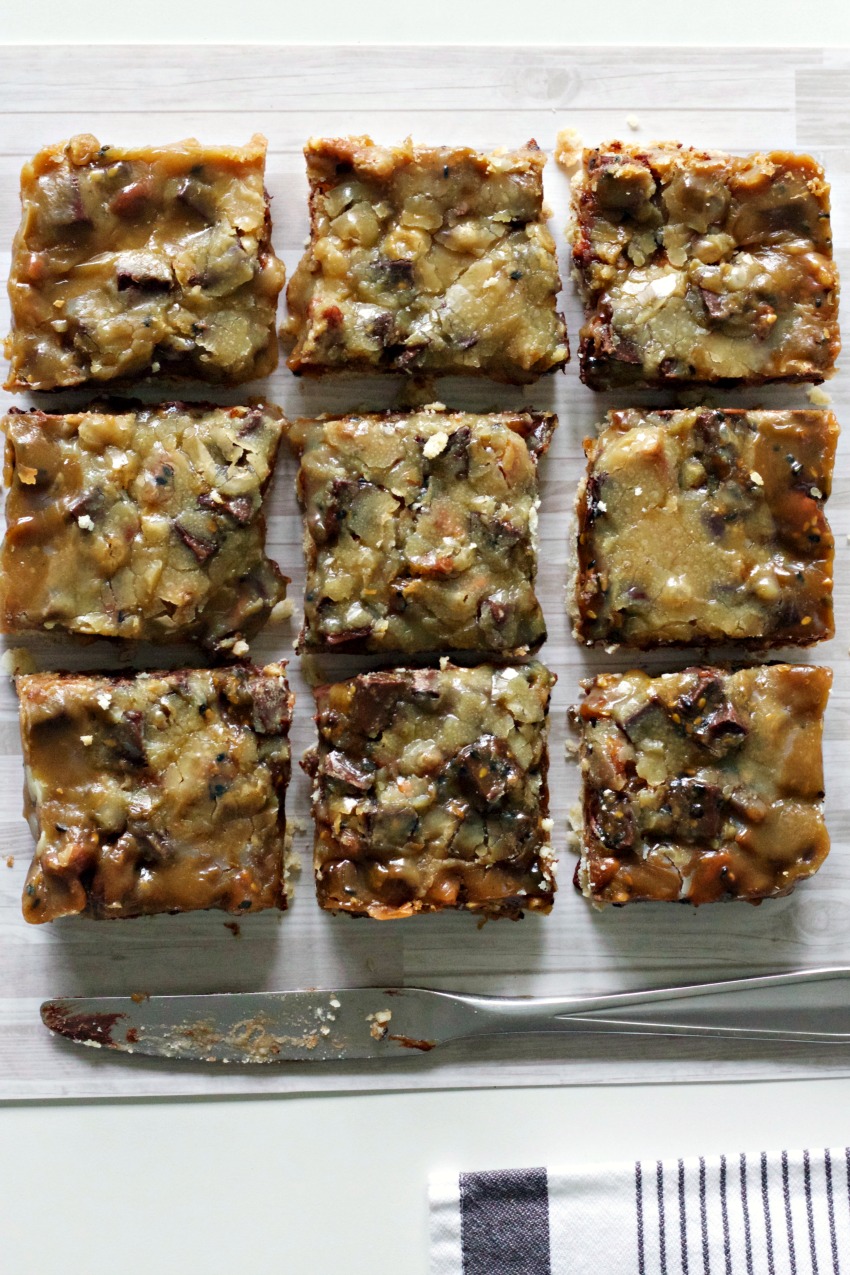 For the most part, we don't eat a lot of sweets in our family. But there are exceptions, like birthdays and holidays when we love to bake and make special treats. For those occasions, this recipe will now be one of our favourites.
At the beginning of the month, I received July's PC Black Box which contained two products to try out: PC Black Label Toasted Sesame Caramel Dessert Sauce and PC Black Label White Peach Condiment. While both are super scrumptious, the caramel sauce caught my attention and I wanted to create something sweet just in time for Father's Day.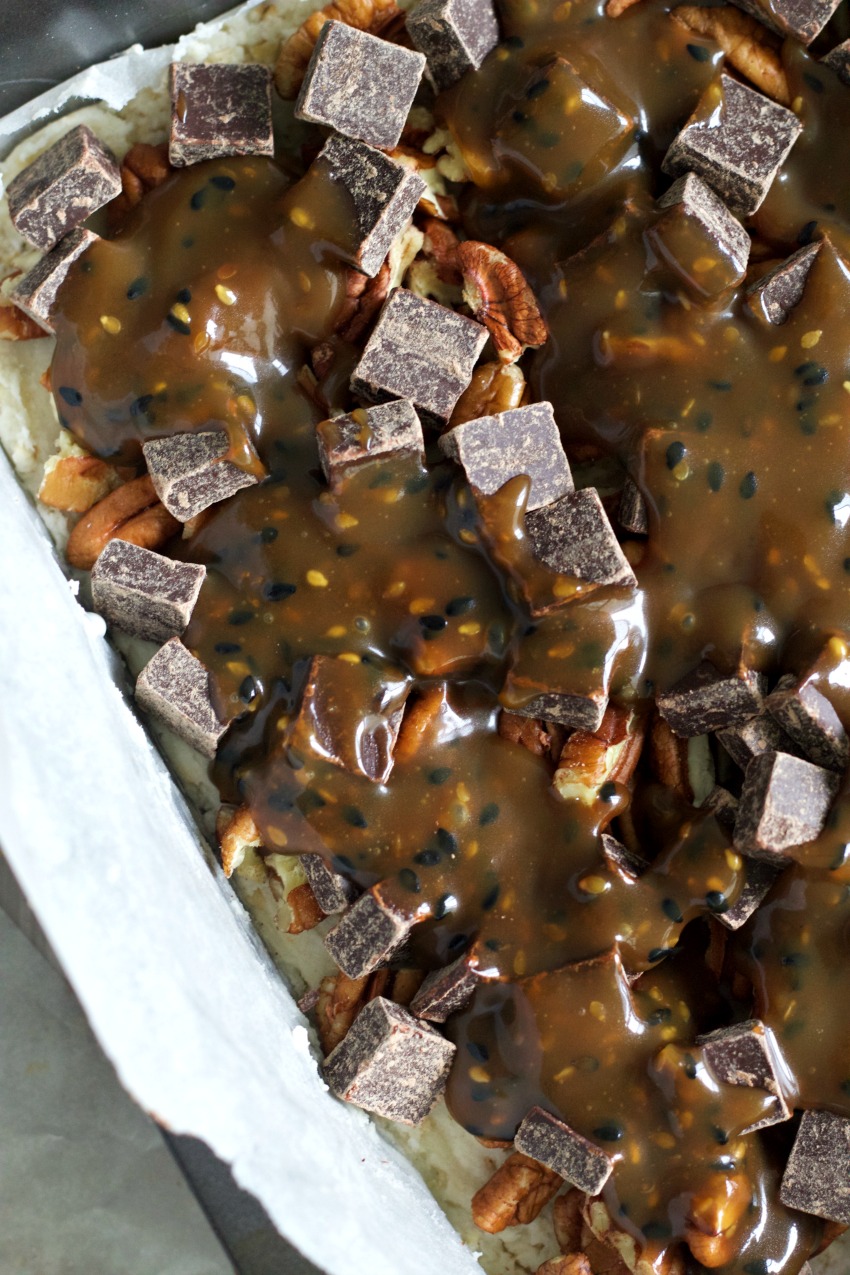 The PC Black Label Toasted Sesame Caramel Dessert Sauce has a decadent caramel flavour with hints of nutty taste from the toasted white and black sesame seeds. It's truly a unique and indulgent sauce that really wows the palette.
With the caramel dessert sauce in hand, I decided to try my hand at a sensational dessert. The kind that leaves you completely satisfied with just one square, because it's so exceptionally decadent. These dessert bars are first filled with chocolate, caramel, and pecans, then covered with a sweet buttery layer. All together, they make an irresistible filling!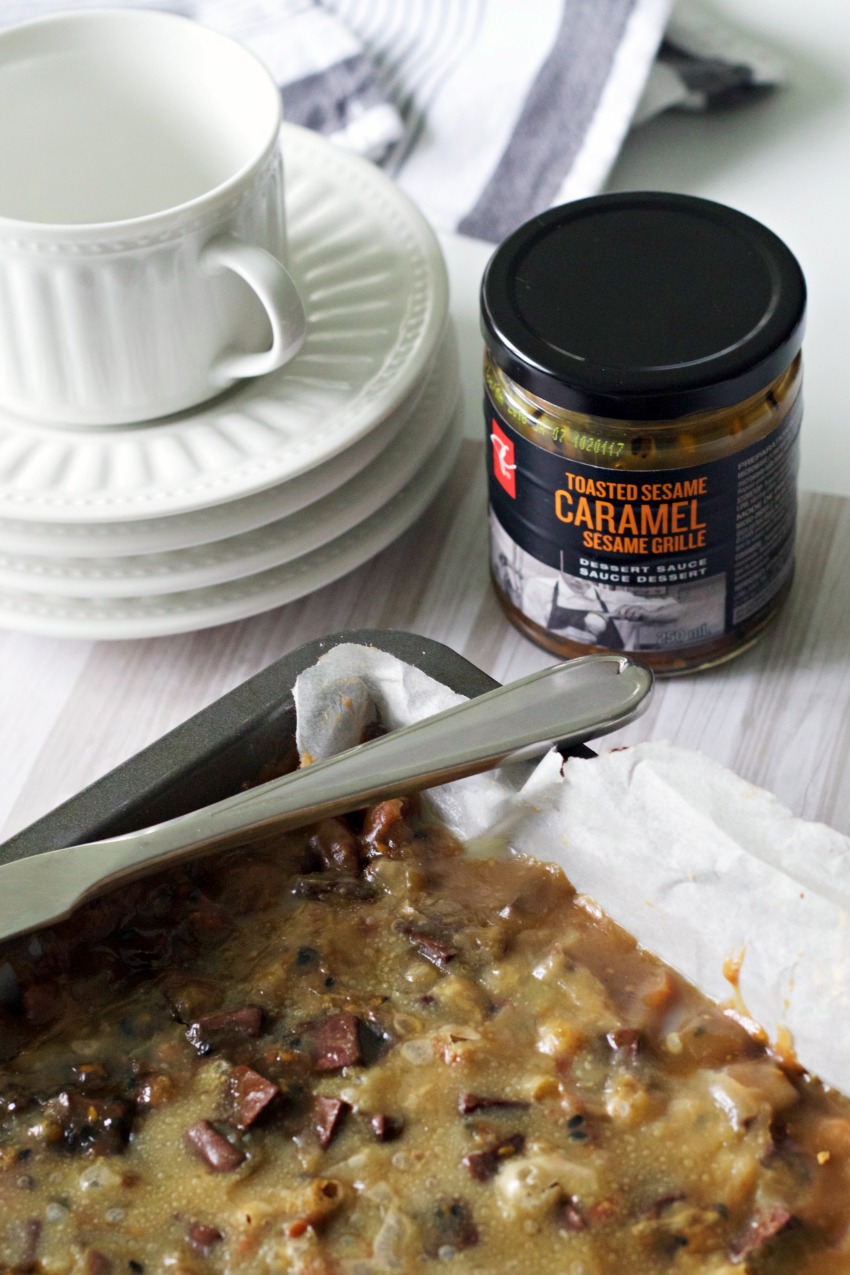 The piece de resistance is really the creamy caramel and nutty flavour of the PC Black Label Toasted Sesame Caramel Dessert Sauce. It adds a hint of welcome complexity to the taste and leaves you wondering, "What is the secret ingredient!"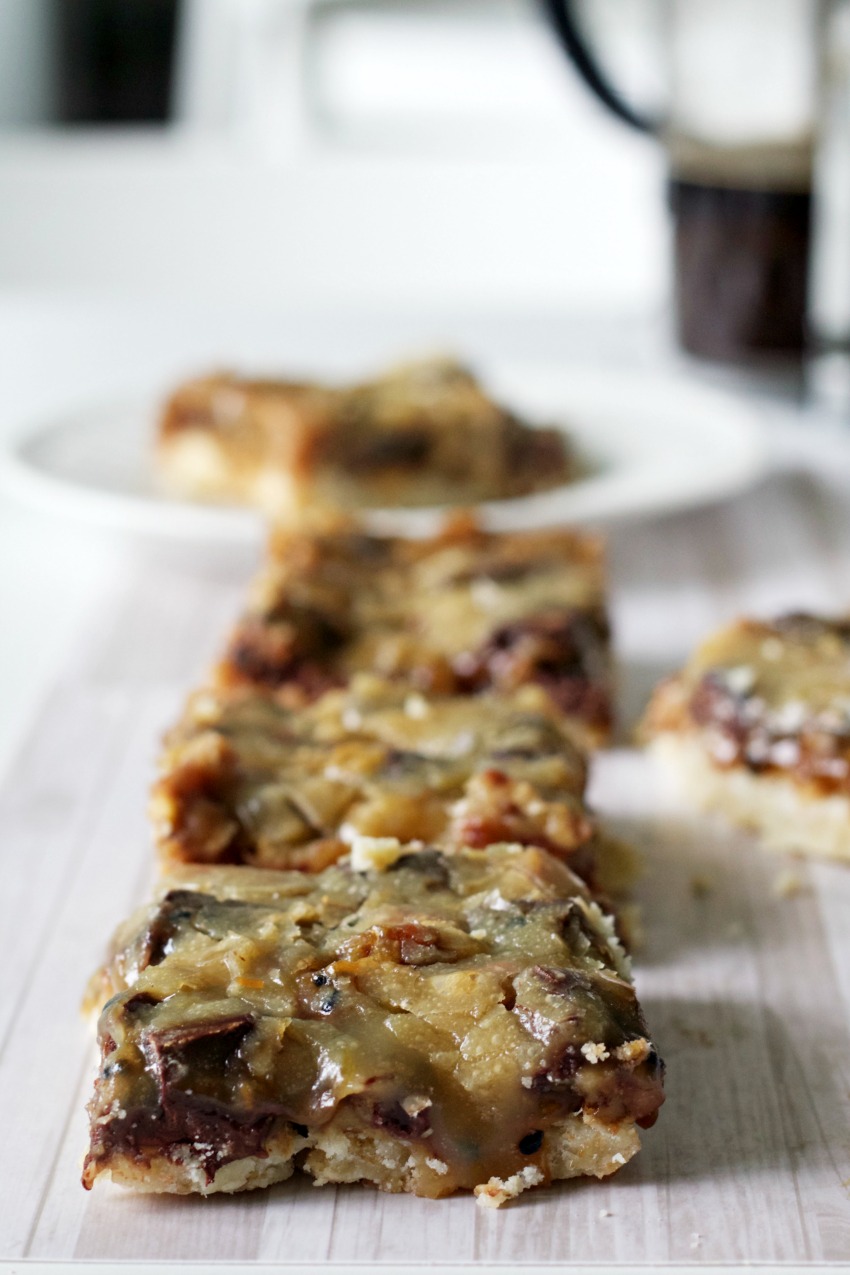 I surprised my husband with these Gluten-Free Toasted Sesame Caramel Chocolate Bars and he was over the moon. He said they were hands down one of the best desserts he's ever had. My kids were fans too! And as it happens, so was I. I ended up cutting them in bite size squares and freezing them, so we wouldn't over-indulge. Instead, we pulled a few squares out every other evening for a luxurious dessert.
For all of my caramel and chocolate lovers out there, this one is for you! There aren't too many pecans in this recipe, just enough to add some texture and flavour, however if you aren't a fan, you can leave them out. Friends, I'm telling you these bars are crazy yummy and if you're looking to make a show-stopping, over the top, melt-in-your-mouth dessert, then this is it.
Here's the recipe just for you. Before you run off and make these, keep scrolling – I've got a giveaway to share with you!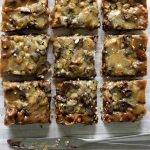 Gluten-Free Toasted Sesame Caramel Chocolate Bars
---
Author:

Total Time:

30 minutes
Description
Decadent dessert bars packed with PC Black Label Toasted Sesame Caramel Sauce, chocolate and sweet buttery filling.
---
For the base
1/2 cup

butter, softened

1 cup

PC Gluten-Free All-Purpose Flour Blend

1/4 cup

icing sugar

1 Tablespoon

cornstarch
Filling
1 cup

President's Choice Decadent Chocolate Chunks

1/2 cup

pecans, pieced

4 tablespoons

PC Black Label Toasted Sesame Caramel Dessert Sauce

1/2 cup

butter

3/4 cup

brown sugar

1/3 cup

whipping cream

1 tablespoon

vanilla extract
---
Instructions
Preheat oven to 350F. Line an 8-by-8-inch slightly greased baking pan lined with parchment paper.
In a large mixing bowl, combine all ingredients for the base and using your hands, cut butter into dry ingredients until small lumps and wet sand like texture forms.
Pack down the mixture into prepared pan, firmly with a cold (wet) spoon and hands until an even base is reached.
Evenly sprinkle with the chocolate chunks, pecans and drizzle the PC Black Label Toasted Sesame Caramel Dessert Sauce on top.
In a large, microwave-safe bowl, combine 1/2 cup butter, brown sugar, whipping cream, and heat on high power for 1 minute to melt.
Remove bowl from microwave, and whisk until mixture is smooth.
Return bowl to microwave for another minute on high. Then stir again and add in vanilla and salt.
Slowly and evenly pour the caramel sauce over the chocolate chunks, pecan and caramel sauce.
Place pan on a cookie sheet and bake for about 30 minutes, or until caramel is clearly bubbling around edges.
Allow bars to cool in the pan on a wire rack for at least 3 hours, or covered overnight, before slicing and serving.
Notes
Makes 9 very large bars. You can cut them smaller to make more servings. These taste great refrigerated too!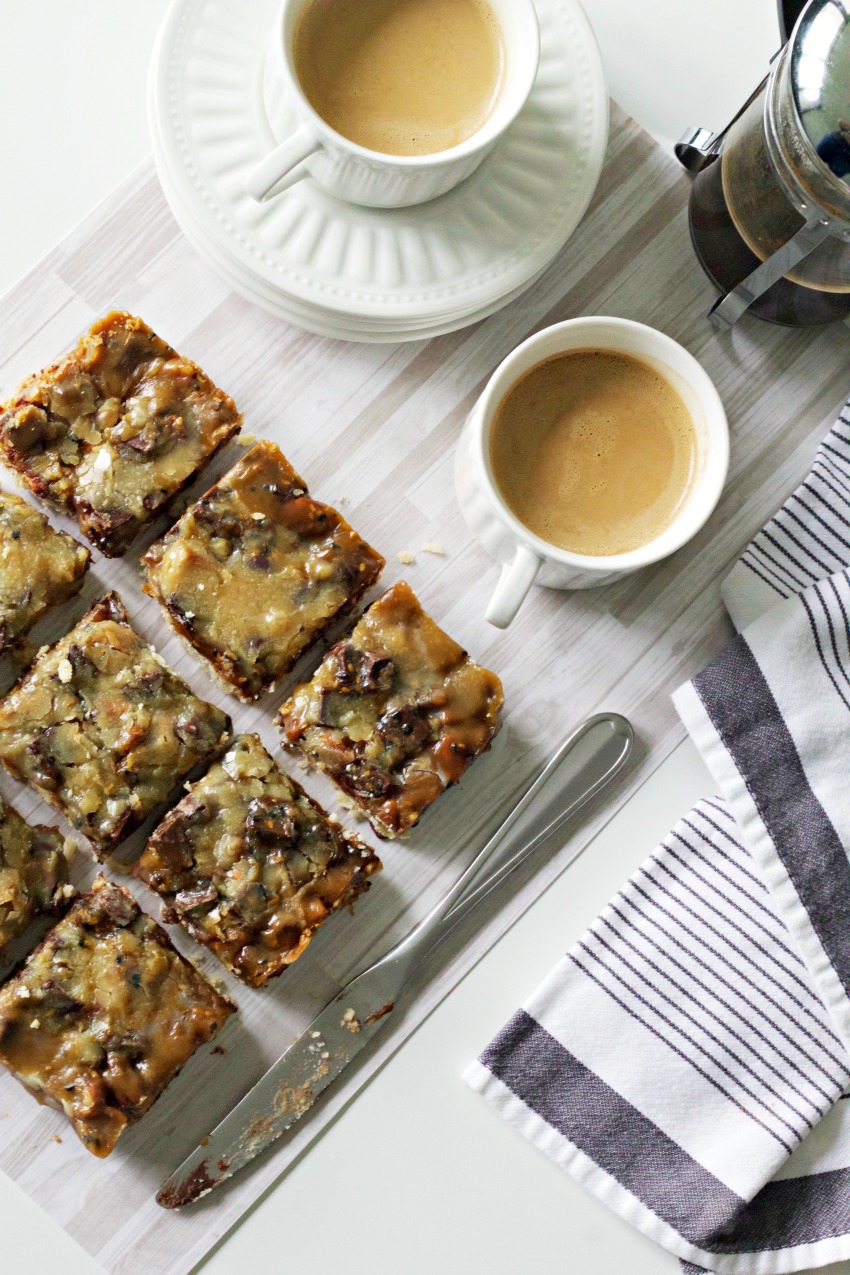 ---
This recipe has been created in partnership with President's Choice and the PC Black Label Collection. I am proud to be a #PlayWithYourFood partner! As always, all opinions are personal.
Latest posts by Emily Smith
(see all)