Home for the Holidays with Christine from Life on Manitoulin
I can't recall the exact date I connected with Christine online, but I'm fairly certain it was around the time I first began blogging in 2011 and discovered twitter. A few friendly tweets back and forth, amidst a twitter party flurry, and I found myself a new friend in the lovely, thoughtful, and joyful Christine. On her lifestyle blog, Life on Manitoulin, Christine covers many topics, including family anecdotes (often featuring her darling Little One), recipes, product reviews, stories from the farm (she's a city girl turned country, and I love following her on Instagram to get a daily glimpse into farm life!), travel, and much more. It's always a delight to catch up with her posts and connect with her on social media and so naturally, I wanted her to be part of my Home for the Holidays interview series to learn more about how she and her family celebrate the holidays.
So pour yourself a cup of something hot and get cozy as we head Home for the Holidays with Christine from Life on Manitoulin…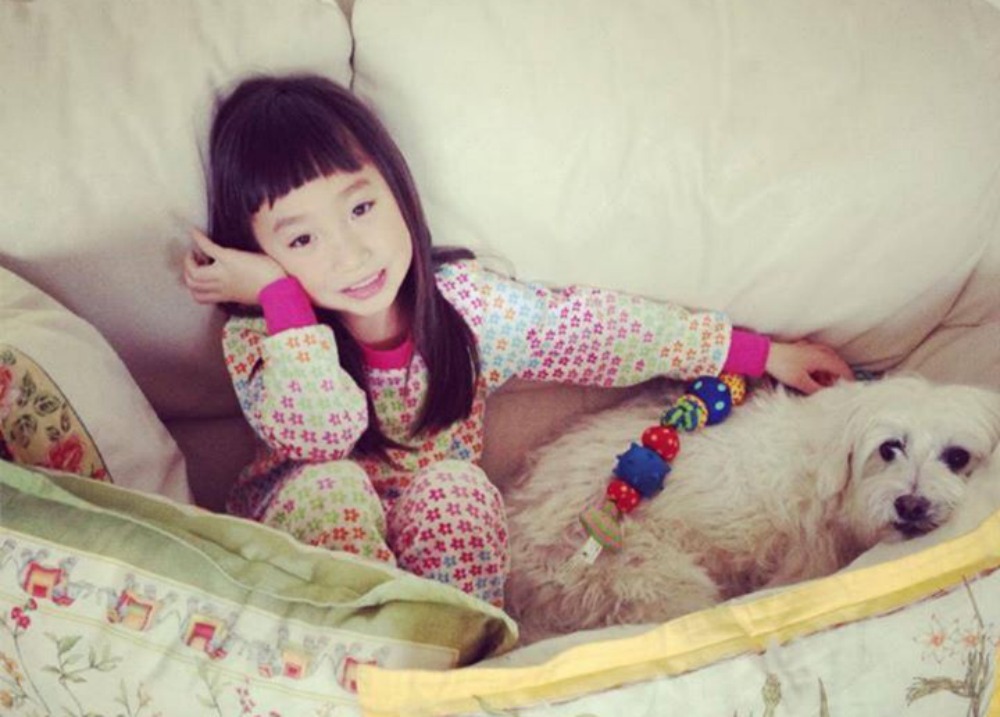 Christine, do you have a special Christmas memory that stands out?
When I was growing up, my maternal side of the family would all gather together for Christmas. My mom's siblings, their spouses, their kids, my grandparents, and close family friends would gather at one of my aunts' houses and we'd have a huge feast. We'd sing Christmas carols while my aunt played the piano, we'd go to Midnight Mass, and we'd come back and open Christmas presents. One of my uncles would dress up as Santa Claus. This one particular year, my Dad was the one who dressed up as Santa. My cousin noticed my Dad's shoes and said, "Hey! That's not Santa! That's Tito (Uncle) Rob!" I have no idea how before that, none of us realized that Santa was Asian! Too funny!
In more recent years, my most special Christmas memory was Little One's first Christmas. She was born on Remembrance Day of 2008, but was due February 3, 2009. She was in the NICU for the first 72 days of life, and her first Christmas was spent in the NICU. I was a bit down because this was our first Christmas with our newborn preemie, my husband was not able to be in Toronto with us, and I had to spend Christmas in the NICU. To my surprise, Santa Claus made an appearance in the NICU and we got photos taken with Santa posing with Little One (she was in her isolette). The nurses in the NICU had decorated Christmas stockings for all the babies and each baby received a book and some other items. There was also a Christmas/Holiday dinner for the parents. That just blew me away. I was so emotional.
What holiday traditions does your family have?
My mom's youngest sister made all of the kids (my brothers, cousins and me) personalized Christmas stockings. The stockings would all be hung on the railings of the stairwell at my aunt's house and each Christmas, we'd all line up on the stairs and have our photos taken by our Christmas stockings.
In your opinion, what is the true meaning of Christmas?
For me, the true meaning of Christmas is the spirit of giving and to bring happiness to others. I also equate Christmas with family. As a Christian, of course, Christmas commemorates the birth of Jesus.
Do you host during the holidays? Do you have a tip or two to share for joyful entertaining?
We alternate where we go to for Christmas. Since my husband's family lives on Manitoulin Island, one year we spend Christmas with his family on the island, and the following Christmas we spend in Kingston with my family. I don't host Christmas, but help with the cooking. When we spend Christmas in Kingston, we prepare festive Filipino Christmas food. That includes pancit (noodles), ham, lumpia (spring rolls), and Filipino fruit salad. We always make A LOT of food, because A) You never know who will show up –the more the merrier, and B) Leftovers mean no cooking for the next few days!
What are your favourite kinds of gifts to give?
My favourite gifts to give are gifts made with love and careful thought. Homemade gifts are so special to me. For those who are not fans of handcrafted gifts, educational or crafty kids' gifts are my go-to. For the adults in our family, gift cards to the LCBO or Chapters Indigo seem to be always welcomed.
How would you describe your holiday decor style?
I love holiday decor. I love all white, crisp, clean, with a hint of silver and blue. My husband and daughter prefer the multi-colour lights and lots of red, green and gold, with a touch of rustic thrown in. I guess as a whole our holiday decor style is traditional – definitely not modern.
In the same vein, what does a wrapped gift from you look like?
I love a beautifully wrapped present. Pretty wrapping paper with beautiful ribbon are what I take pride in. I suppose it also depends on the gift and the size and shape of the gift. Under our tree, you will find beautifully wrapped presents and also a few gift bags with coordinating tissue.
I have a feeling I already know the answer to this but I'll ask it anyway, do you like to bake during the holidays?
Christmas baking is one of my absolute favourite things to do with the family. Little One and I bake dozens and dozens of Christmas goodies and give them as gifts for her teachers, secretary, principal, and to our mail carrier, Purolator delivery person, and Muskoka delivery person.
Do you have a recipe you could share with our readers? I know they'd love that!
Of course, one of our favourite treats to make are Christmas Tree Brownies and Reindeer Brownies!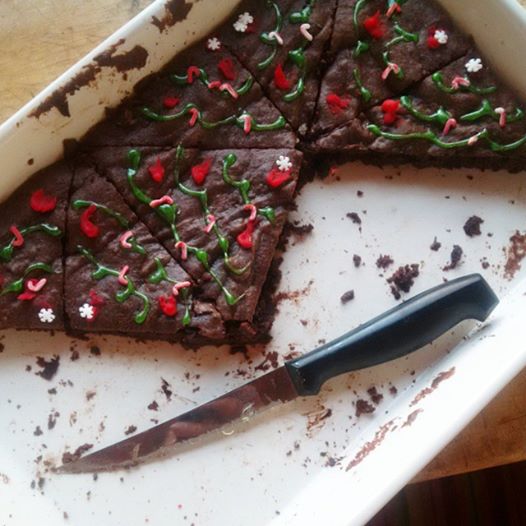 Are there any holiday activities that you and your family love to do?
My husband builds a luge run on our farm on one of our hills for all the neighbourhood kids to use. He also makes a skating rink for the kids to use. We love outdoor activities in the Winter.
Lastly, what's on your Christmas wish list this year?
On my Christmas wish list this year are:
Health (for my family and friends)
A finished and remodeled kitchen and basement (or at least one of them!)
More time with my family, especially with my newborn niece in Toronto, and my nieces and nephew in Kingston.
A new dishwasher
Peace and love for all
---
Thank you for sharing your Christmas memories with us Christine. Little One's first Christmas must have been very emotional, I'm glad there were people around to help make it so special. She's grown so much. I wonder what's on her Christmas wish list this year! I had a hunch you loved holiday baking just as much as I did and I can't wait to try the Christmas Tree and Reindeer Brownies – my kids will love making those! Happy holiday season, xx
Latest posts by Emily Smith
(see all)