Homemade Ice Cream Chocolate Chip Cookie Sandwiches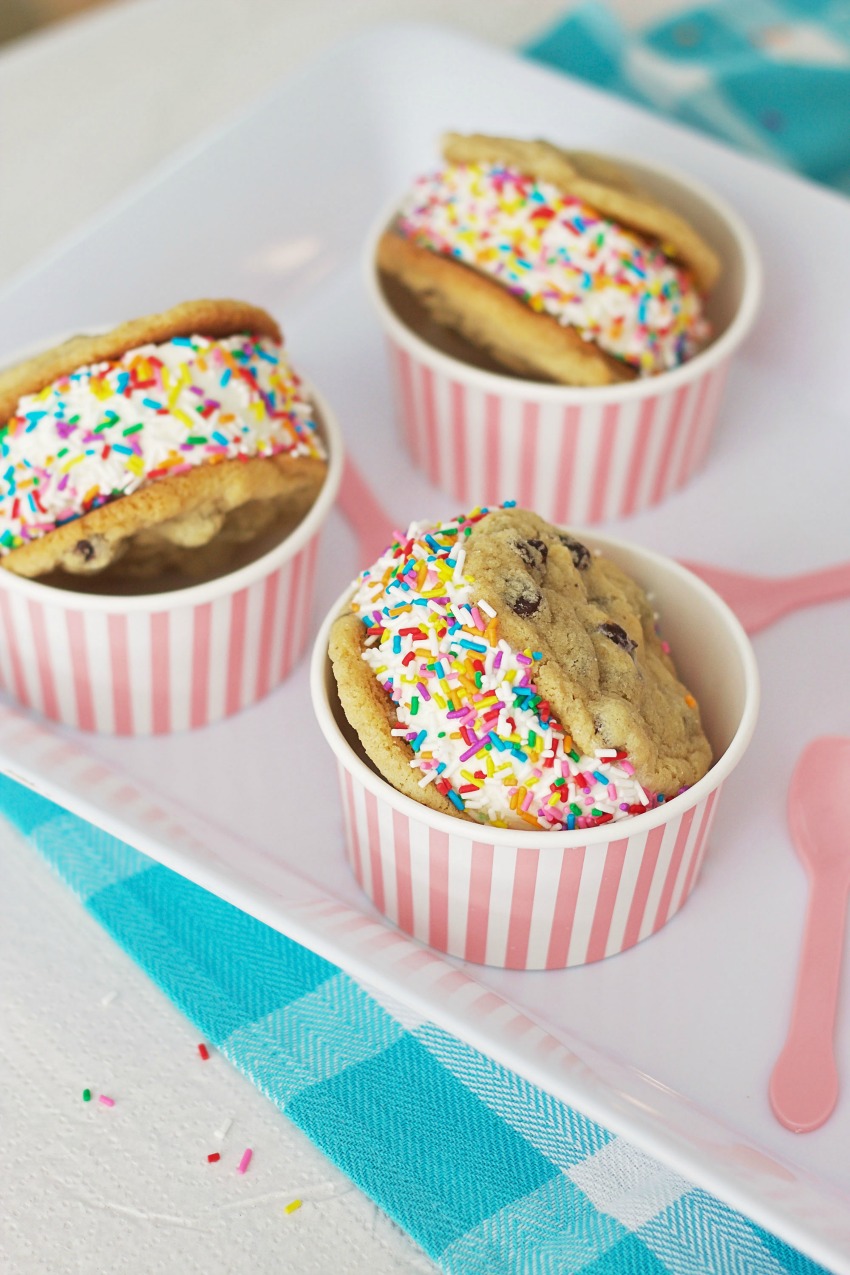 Did you know ice cream sandwiches are enjoyed throughout the world? They most certainly are, from Australia (enjoyed between wafers, like a lot of countries) to Singapore (which adds many, unique flavours like yam and sweet corn). In her book Of Sugar and Snow: A History of Ice Cream Making, Geraldine M. Quinzio says that the credit for the invention of ice cream sandwiches goes to New York City street vendors. The delicious treat was so popular they had "crowds of customers, from bankers to bootblacks, lining up to buy them." Back in 1899, according to Ms. Quinzio, the popular frozen treat only cost a penny!
Fast forward to today – they are still a favourite for many, especially in our home and especially when we make homemade gluten-free ice cream chocolate chip cookie sandwiches.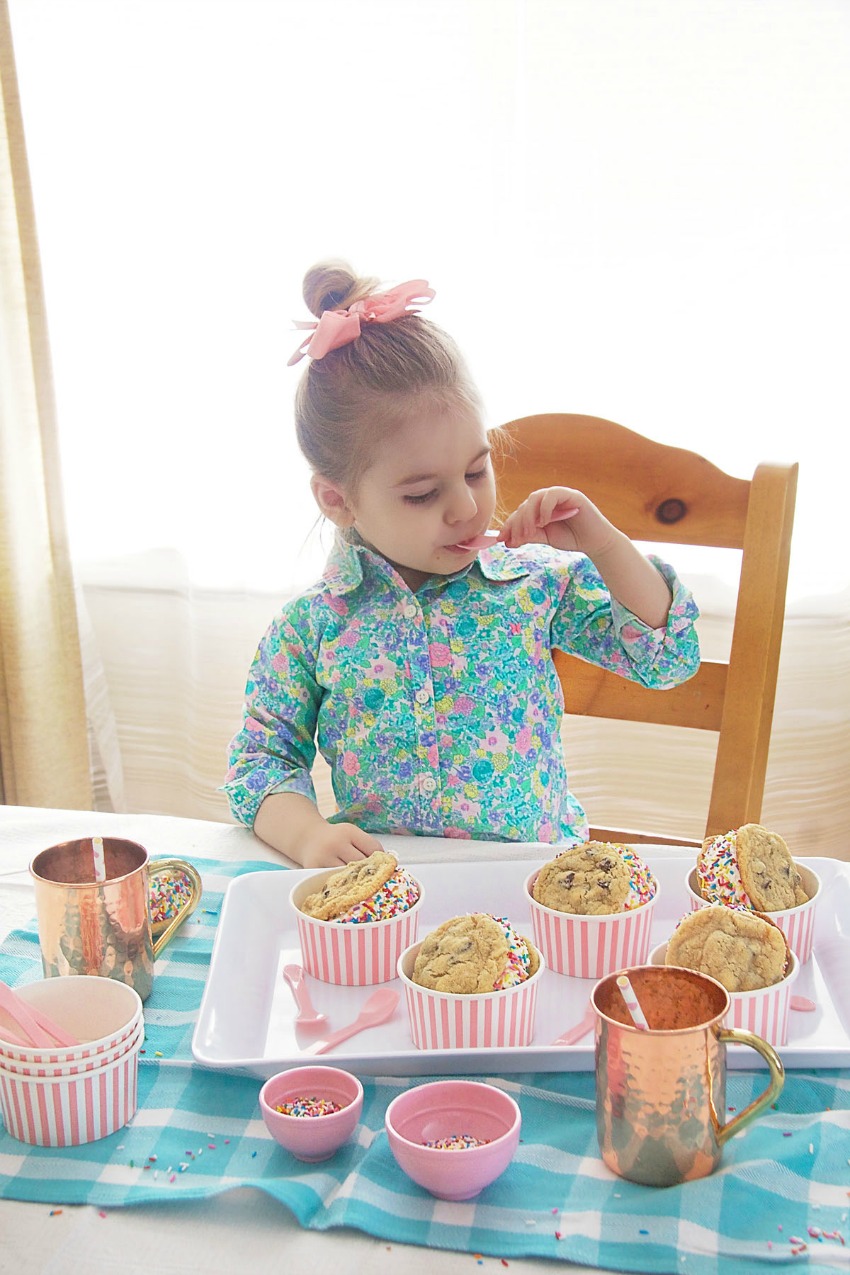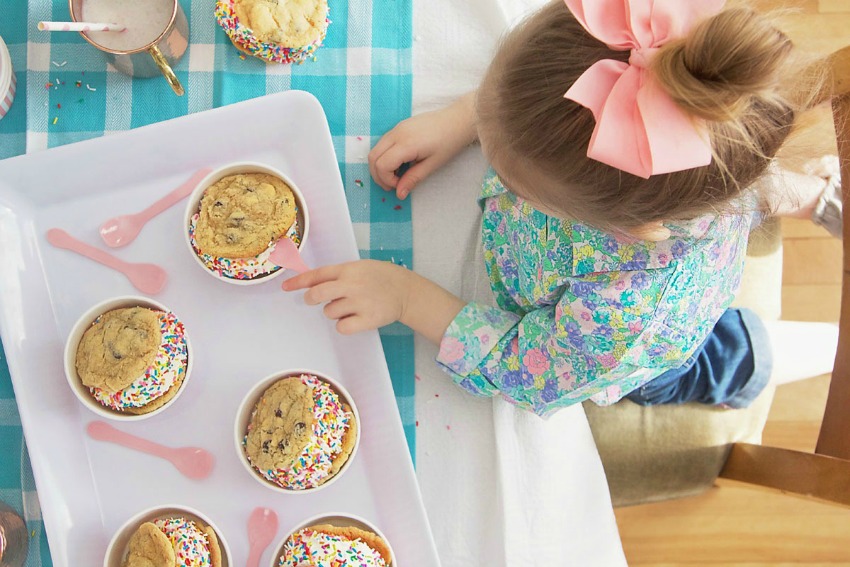 March Break is coming up, and even though it is still a winter wonderland in Ottawa, my kids love all things ice cream and cookies. That's right, ice cream isn't a seasonal thing in our home, but it's still considered a very special treat. When my husband and I want to go all out for a frozen treat, we make our own ice cream chocolate chip cookie sandwiches – and let me tell you, when we do, our kids are ready to party like it's a New York City summer in 1899!
Making our favourite Betty Crocker Gluten Free Chocolate Chip Cookies and adding vanilla frozen yogurt in between two fresh cookies, plus colourful sprinkles, sure makes for a fun and memorable activity and treat.
To get my kiddos as involved as possible, we baked the cookies together. Let them cool and set in the fridge, while we set out spoons, bowls, sprinkles, and glasses of ice cold milk. Then comes the exciting part of making and decorating your own ice cream cookie sandwiches. It's messy, fun, and most of all, delicious.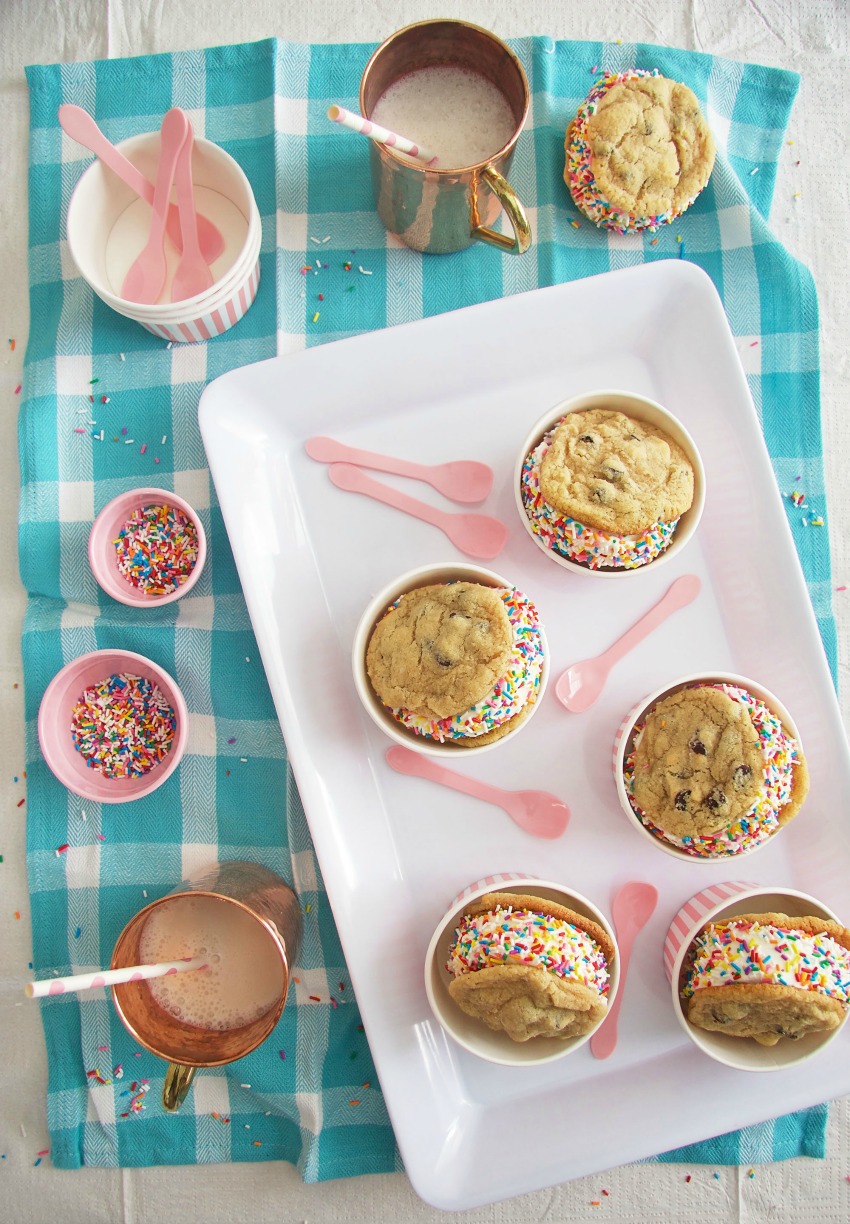 Your family can have a blast making these treats and the sky's the limit on how you serve up the dessert. You can use traditional ice cream, frozen yogurt, or dairy-free coconut frozen cream and for toppings, you can try nuts, mini chocolate chips, or chopped berries.
This March Break, enjoy an afternoon as a family baking cookies, and making homemade ice cream sandwiches together!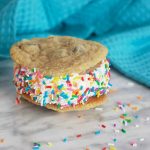 Homemade Ice Cream Chocolate Chip Cookie Sandwiches
---
Description
A scrumptious frozen treat the whole family can enjoy making and eating!
---
1

package of Betty Crocker Chocolate Chip Gluten Free Cookie Mix

1

L tub of vanilla frozen yogurt

1

jar of sprinkles
---
Instructions
Heat oven to 350F. Follow directions on package to prepare 2 dozen large cookies (dropped by rounded tablespoons). Remove from oven and allow to cool for 2 minutes, before placing in the refrigerator for 10 minutes.
This step is optional, you can opt to simply scoop ice cream onto the cookies, however it does make it easier for the kids to make the sandwiches: In a large deep dish casserole, scoop out frozen yogurt and spread evenly, around 2 inches thick. Using a cookie cutter or glass the same diameter as cookies, cut out circles of ice cream. Place on a tray and into the freezer.
Replace the remaining frozen yogurt back into the tub.
Set out the cookies and tray of ice cream circles to be placed together. Place one cookie on the bottom; add an ice cream circle in the middle, then a final cookie on top.
Spoon the sprinkles (or other topping) on the rims of the ice cream cookie.
Enjoy!
---
Emily Smith is an Ambassador for Life Made Delicious and a member of the "Delicious Experts" Influence panel. This post is in partnership with Life Made Delicious. As always, opinions are 100% personal.
Latest posts by Emily Smith
(see all)