Beauty Buzz: Jouviance Dream Cream Night Repair Cream-In-Mask
This post is written in partnership with Jouviance.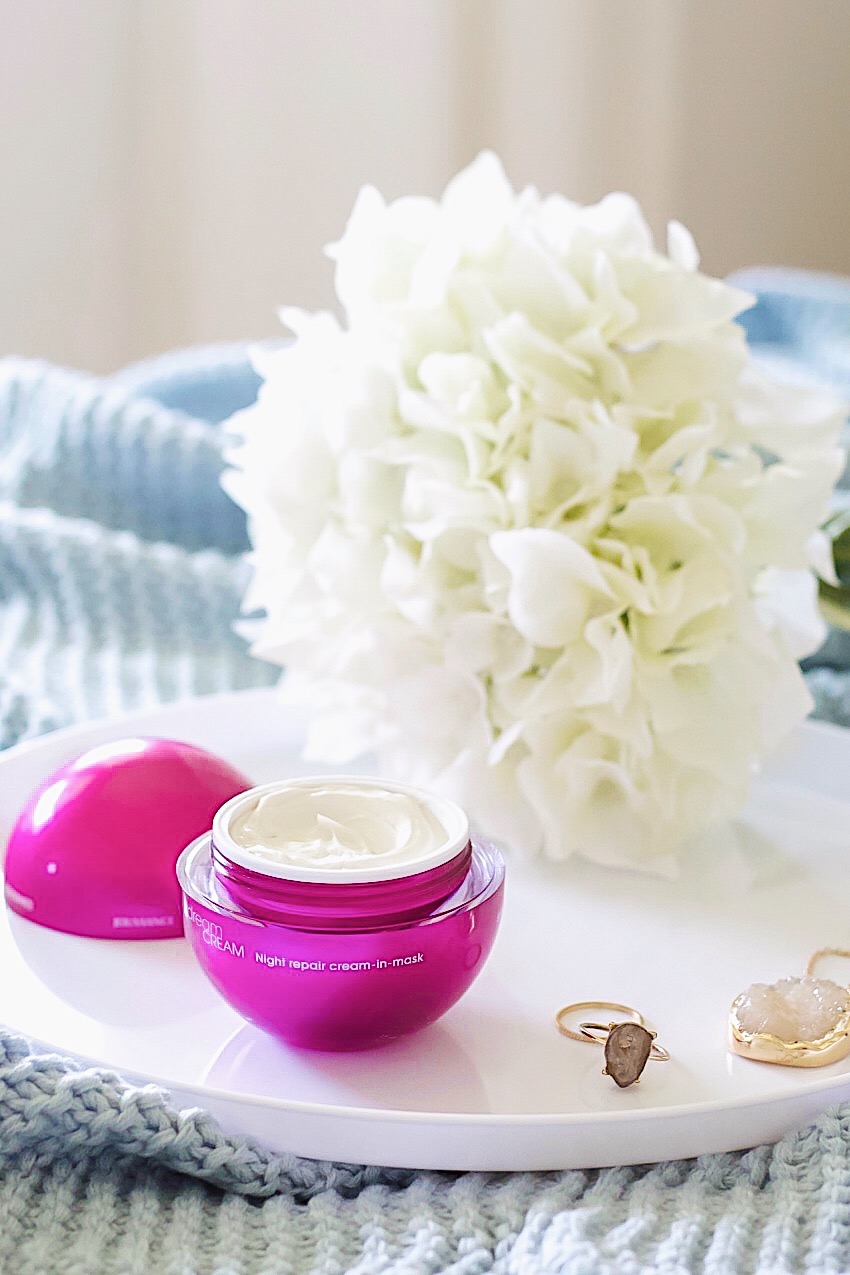 Just like many of you, I have spent the majority of the past 100 days at home, leaving only for a grocery store run a handful of times. Self-care in a time of a pandemic and a stay-at-home advisory is a strange thing. On the one hand, you are at home more than ever with seemingly more time to take care of yourself. On the other hand, the heightened stress of uncertainty, disruption in routine, and changes to the home environment are new detractors from taking care of one's self.
I've had both positive self-care days and neglectful self-care days throughout the last three months. It's funny how the days can be both long and fast all in one. Time began to be measured differently as our unique home routine settled in. But for the most part, I've been maintaining my self-care and beauty routine, because it makes me feel good to do so.
Whether it's a weekly facial mask, indulgent body scrub, or applying my night cream – it's all part of taking care of me, which in turn helps me to be better equipped to take care of my loved ones (stuck at home with me!).
I always say that every drop in the bucket counts! And we can't pour from an empty bucket.
Discovering Jouviance Dream Cream Night Repair Cream-In-Mask
Recently, my friends at Jouviance sent me a jar of their Dream Cream Night Repair Cream-In-Mask. I was eager to give it a try since I'm a fan of their skincare products. Jouviance is a Canadian skincare line that focuses on active ingredients, supported by clinical studies and developed for maximum efficacy. Their products are manufactured here in Canada with a mission to help restore their customers' skin to optimal health.
"Dream Cream Night Repair Cream-In-Mask is an intensive 2-in-1 treatment that stimulates cellular regeneration while reducing the signs of fatigue accumulated over time. Its luxurious, sensual texture soothes the mind at bedtime and its formula, in perfect symbiosis with the skin's nocturnal biorhythm, ensures a luminous and rejuvenated complexion in the morning."
For the past few weeks, I have been putting this dream cream to the test. Tough work, I know! Upon opening up the cream, I smelled it to see if it was fragrant. Thankfully, it has a very neutral scent with a touch of citrus (I don't like overly fragrant skincare products). The texture of the cream is like thick buttercream frosting that melts into your skin once it's applied. I can attest to the description of the product being luxurious – that, it is! It feels amazing and soothing.
Why Should You Use a Night Cream?
I have used a moisturizer and/or night cream in the evening for as long as I can remember, to help regenerate my skin while I sleep. Personally, it's about giving my skin the hydration it needs, as well as repairing and preventing skin concerns. I like how my skin looks and feels when I wake up in the morning after using the Dream Cream Night Repair Cream-In-Mask the night before. My skin feels hydrated, soft to the touch, and has a healthy glow!
I've noticed the Dream Cream is helping with one of my main skin concerns, which is achieving a more even complexion. I have redness in my skin, and I find this night cream, so far, has been a great addition to my skincare routine for helping with that concern. I do have other products that I alternate with as well and I have found that the cream has been perfect for me (and my skin type) to use every other night.
So what makes this cream so special? Well, the Dream Cream has five stand out ingredients that activate the skin's exfoliation process and cell renewal: Suprastim, Lime Pearl, Ecobiotys, Harmoniance and Moringa Butter. Together they also work to help rebalance the skin's microbiome, which builds its defence against environmental stresses. Which is so important!
Add a Touch of Luxury to Your Self-Care Routine
In conclusion, I am really happy with this product. As I mentioned, I've been using it for several weeks and I look forward to continuing to use it as part of my skincare routine.
Self-care comes in many forms, and for me, it's little things I do for myself every day. Like going for a relaxing walk with my family, reading for 30 minutes, strength training, or applying a luxurious skin cream!
If you're looking to add a night cream to your skincare routine that helps to hydrate, regenerate, and brighten your skin I recommend you try Jouviance Dream Cream Night Repair Cream-In-Mask. To learn more about it, including the science, research, and proven results, visit jouviance.com
P.S. Remember to take care of yourself, my friends. There's only one you!
Latest posts by Emily Smith
(see all)