Lights, Camera, Gala! Dress up with Hudson's Bay for 2016 Governor General's Performing Arts Awards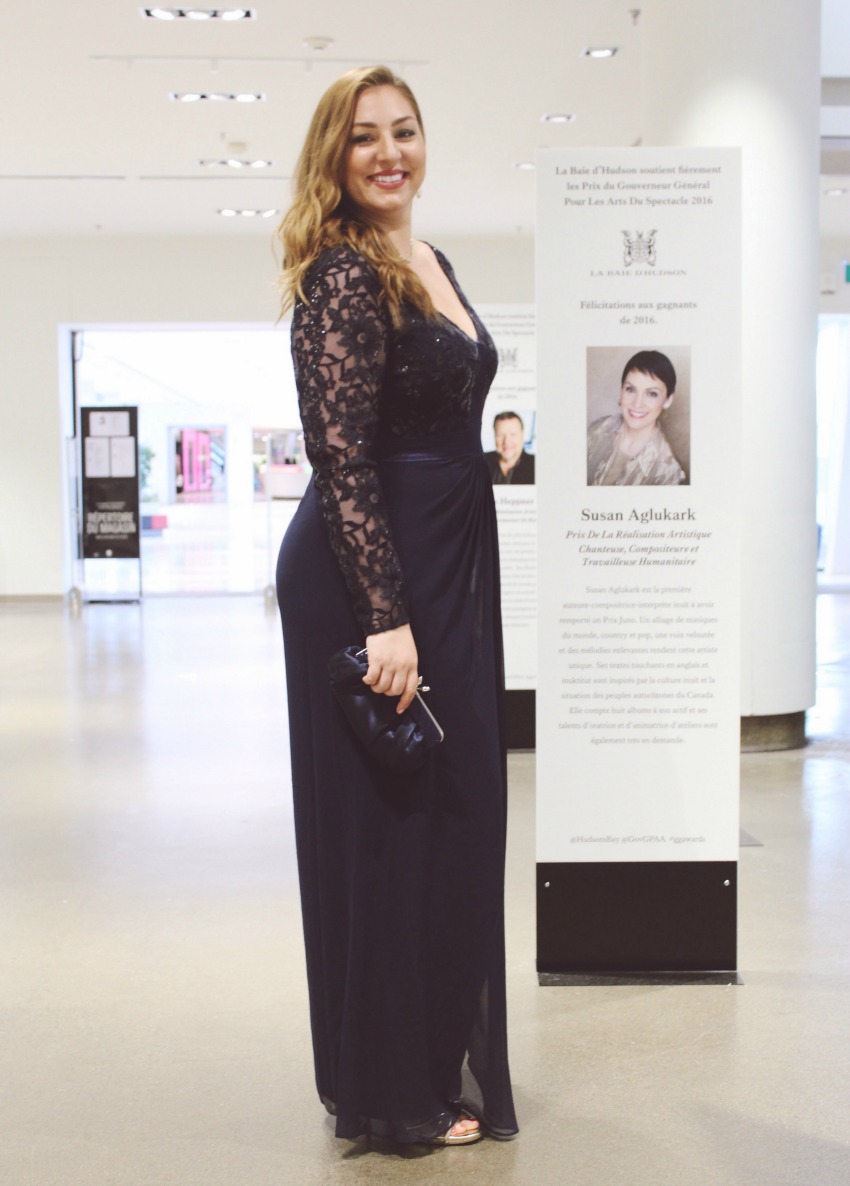 The spring season of galas and weddings is upon us, begging the age-old question: what should I wear? Many invitations will state whether the event is formal or semi-formal. Beyond that, one must consider the event itself. Location, scale, and grandeur are all discerning factors. For example, the grandeur of the Kentucky Derby warrants an impressive dress – however its location (and theme) guide you away from a gown towards a tea length day dress.
For a gala as prestigious as the Governor General's Performing Arts Awards, a full length gown or formal cocktail dress, to walk the red carpet in, is very much apropos. The Governor General's Performing Arts Awards (GGPAA) are Canada's highest honour in the performing arts (theatre, dance, music, film and broadcasting). As such, the GGPAAs is a night of glitz and glamour. It's the perfect opportunity to go out with your gown, heels, evening bag, earrings, necklace, bracelets, hair, and makeup – Lights, Camera, Gala!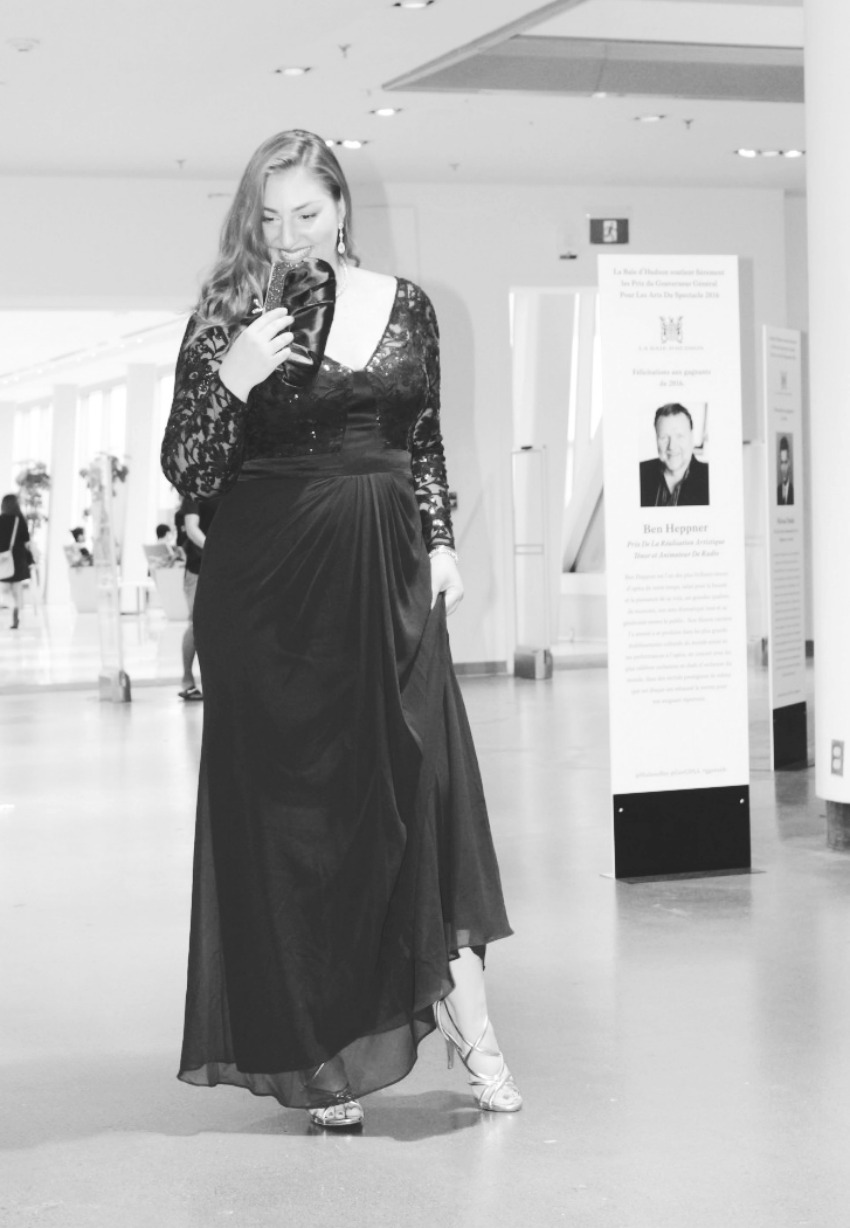 Having attended the awards before, I can tell you that guests wear a wide range of attire. Last year I spotted a Hawaiian shirt and jeans! However, many women wore a fancy cocktail dress, their best pearls and cute heels – comfortable enough to stand in, as you will for the pre-show reception with cocktails and canapés, red carpet arrival of Their Excellencies, the Right Honourable David Johnston, Governor General of Canada, and Mrs. Sharon Johnston, and the champagne after-party.
Hudson's Bay is the exclusive Fashion Partner of the 2016 Governor General's Performing Arts Awards Gala and as such, an ideal spot to shop for formal dresses. This week, I had the pleasure of visiting Hudson's Bay Rideau location – which has just been newly renovated into a gorgeous bright space with an open and contemporary look.
I met with personal stylist, Pamela Cutler, who had pulled several beautiful gown options as well as jewellery, evening bags, and shoes for me. Hudson's Bay personal styling is a new complementary service available to support you in finding the perfect outfit (or wardrobe!). In a private, welcoming environment you can meet one on one to discuss your shopping needs and receive expert style guidance – just like I did.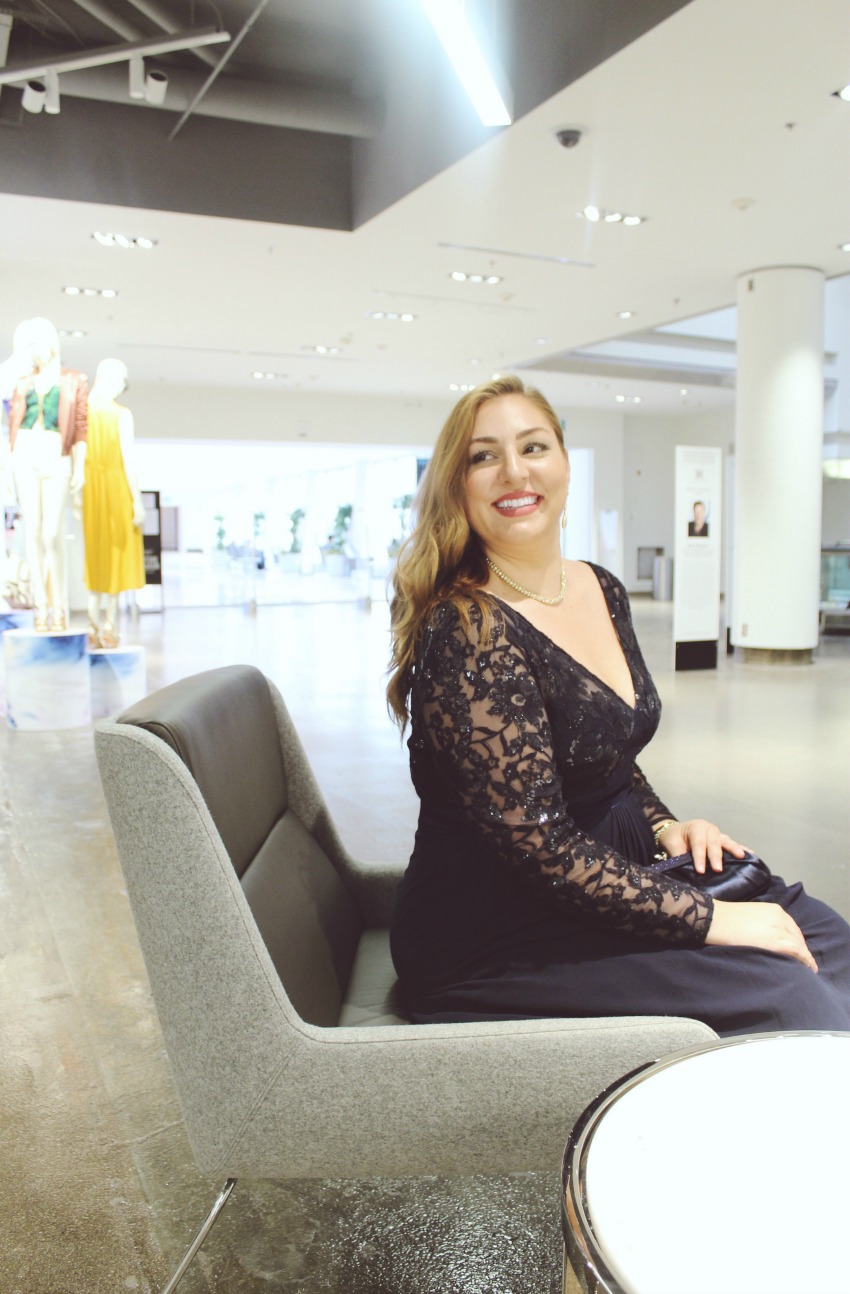 I absolutely fell in love with this elegant and classic Ralph Lauren Sequined Georgette Gown. The beautiful, flowing A-line silhouette is figure flattering and comfortable to wear all night long. It has a romantic, Elizabethan influence that is reminiscent of Shakespeare's Juliet – with cleaner and more minimalistic lines. It currently retails at $322.00, available in size 2-16.
Pamela paired the gown with stunning gold metallic sandals and gold earrings, necklace and bracelets. To complement the navy sequins in the gown, an evening purse with similar accents was the perfect final touch. All together, the beautiful gala look she created evoked timeless glamour.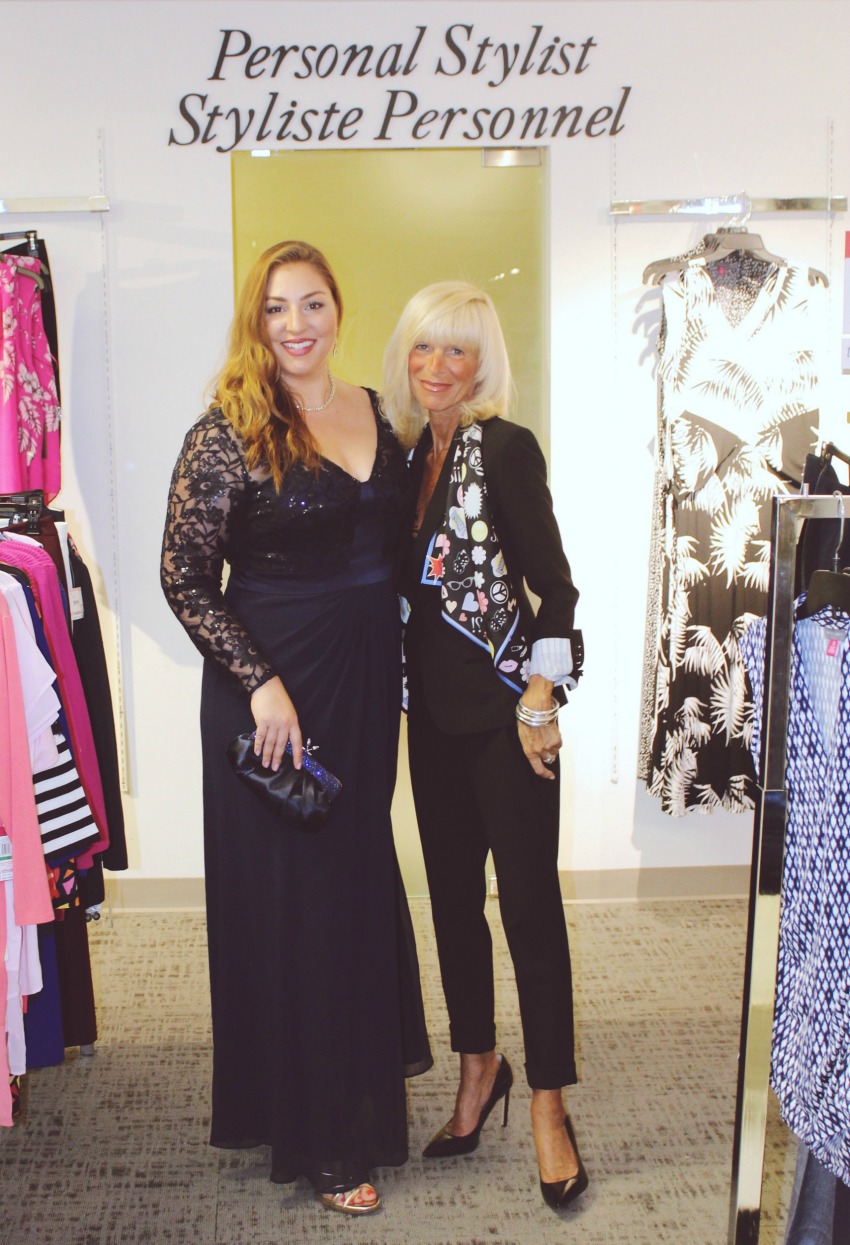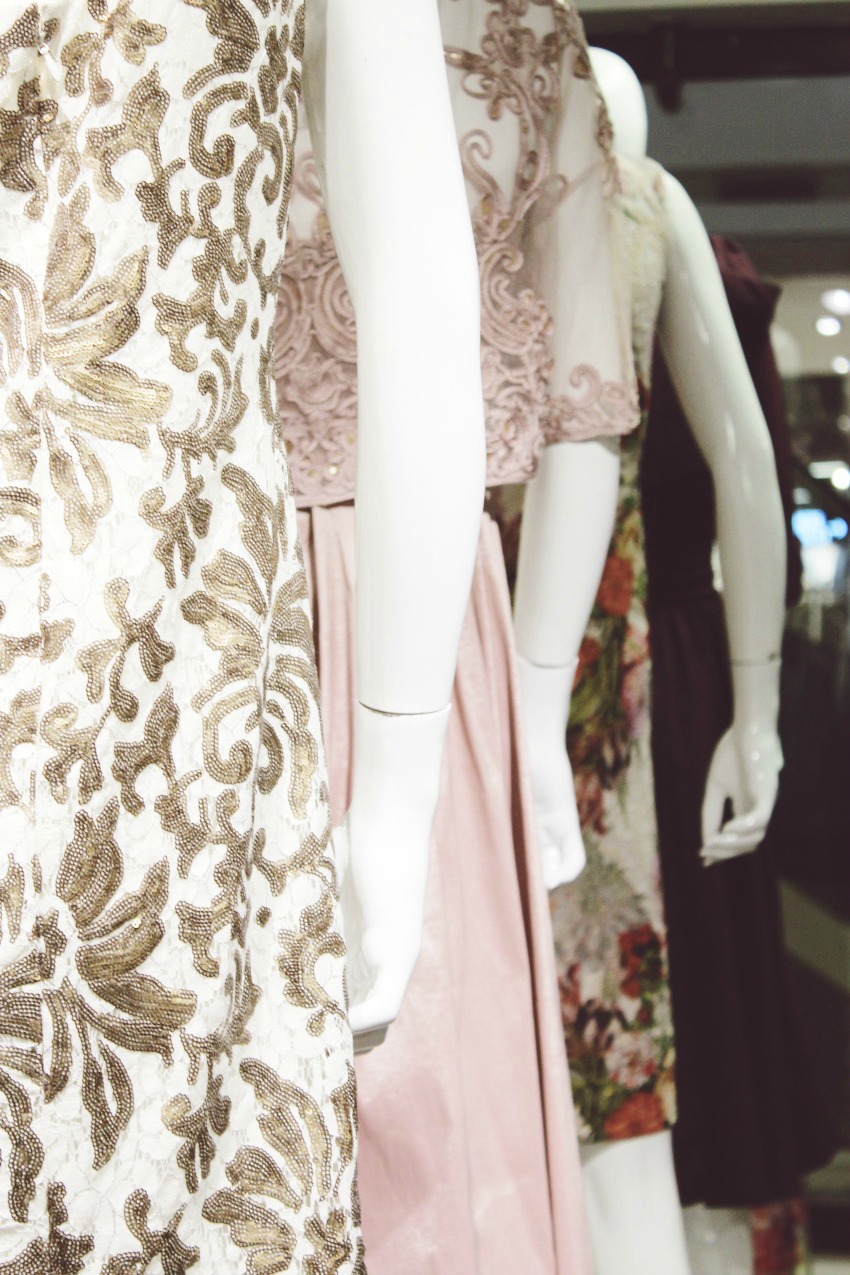 After my lovely personal styling session, I toured the third floor, spotting designers such as DVF, Eileen Fisher, Karl Lagerfeld and exclusive brands to Hudson's Bay including H by Halston, IMNYC, and Highline Collective. In the special occasion dress department was a nice selection from the likes of Adrianna Papell (one of my favourite dress brands ever!), Alex Evenings, Ralph Lauren and Xscape.
Along with extensive clothing inventory, Hudson's Bay has doubled its footwear and handbag selection and brought in new brands such as Kate Spade, Circus, Karl Lagerfeld and Marc Jacob. It's a delight to peruse the store and zero in on such gorgeous styles that make one's heart pitter patter with excitement.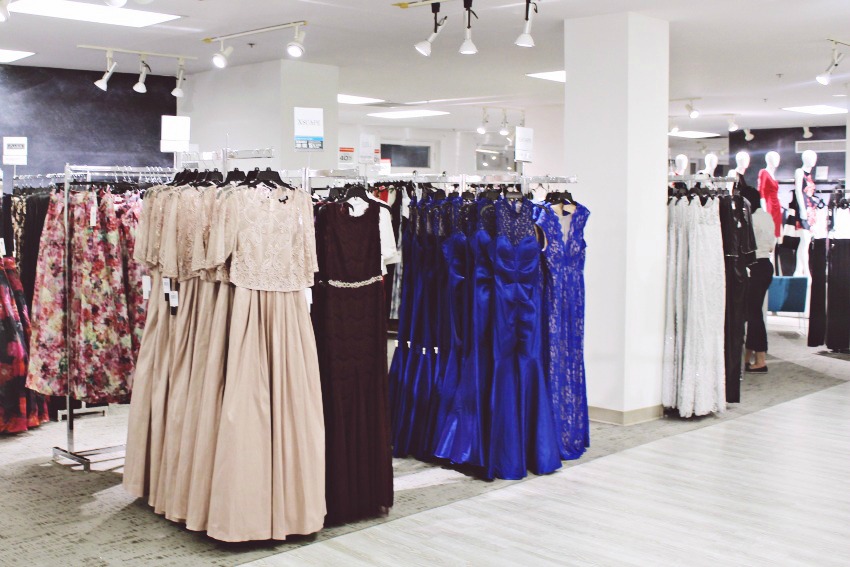 As the exclusive fashion partner of the GGPAAs, Hudson's Bay is directly supporting and paying tribute to Canada's greatest performing artists in theatre, dance, music, film and broadcasting. The awards this year will be featuring stellar performances, film portraits by the National Film Board, and many well-known guests including Chantal Kreviazuk, Tom Jackson, Paul Gross and Cynthia Dale amongst others.
There are tickets left (nearly sold out!) if you haven't purchased yours yet, you can do so here.
From the reception with complimentary culinary creations and Canadian wines, to the excitement around the arrival of the Governor General and celebrities, and the amazing performances – it's not difficult to see why this is a coveted event to attend.
Lights, Camera, Gala – enjoy the night!
Latest posts by Emily Smith
(see all)