Find Your Glow with Midnight Paloma Skin Care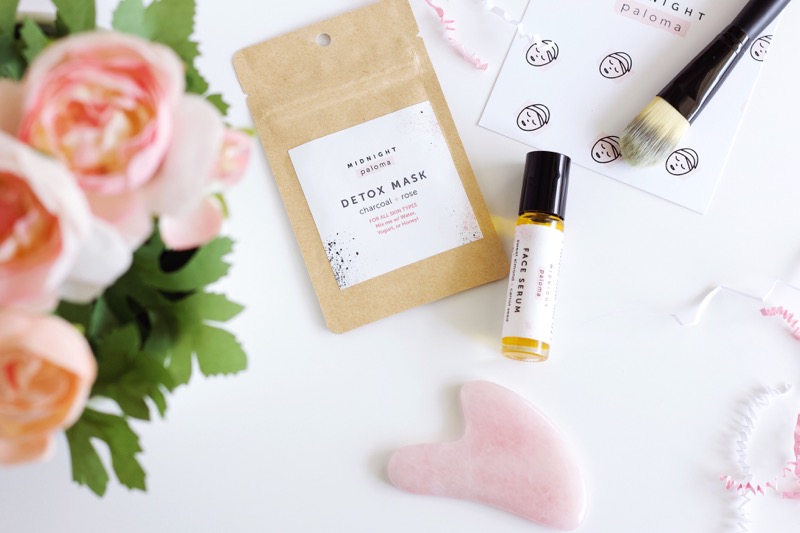 I will always love face masks. Always.
For as long as I can remember, applying a face mask has been an essential part of my self-care routine. It's relaxing, it's soothing, it's an instant lift. 
When Midnight Paloma, a small-batch skincare company from Vancouver, reached out and invited me to try their signature Charcoal + Rose Detox Mask, I was more than happy to try.
Midnight Paloma is all about clean beauty. Tayler, the innovator and owner behind the brand, is passionate about using natural ingredients to create her skincare and skin tool line. After doing lots of research, she inspired to incorporate charcoal into some of her products, including the best selling detox mask, for its many benefits. It's clear Tayler is enthusiastic about clean beauty being accessible and fun to use, which translates through the company's Instagram feed, website and packaging.
My shipment of goodies arrived in a sensible white box. But when I opened it up there was a party of pink and white shredded confetti surrounding the products. What a pretty presentation!
Your Products Arrive in Such a Cute Package
I received a few individual masks, packaged in the style of brown kraft paper. They were identified by a white label with millennial pink and soft grey writing. Along with the masks, I received a Mask Applicator, the Sweet Almond + Carrot Seed Face Serum, and the Gua Sha Face + Body Tool. The last of these was elegantly wrapped in black tissue. 
Included in my package was a little "how-to" card with directions on how to use the mask. Tayler recommends mixing the mask with 1 tsp of honey, water or yogurt depending on your skin concerns (honey for dry skin, yogurt for oily/acne, water for all types). Starting with a clean face, you apply your mask with the applicator, leave it on until it dries, wash it off, and follow with your skincare routine. 
There was also another "how-to" for using my new Gua Sha tool. If you're new to this skincare tool, as I was, it's a Rose Quartz facial tool that helps to move lymphatic fluid and flush out toxins. It works by breaking down hardness in facial muscles and increasing blood flow. It's said to help reduce puffiness and stimulate energy through facial massage. Overall the result is brighter, lifted skin. I was very excited to put it to the test! To use the Gua Sha, you glide it around your face in specific directions (as shown in the guide included with it). You can also apply the Sweet Almond + Carrot Seed Face Serum first and work the Gua Sha over it.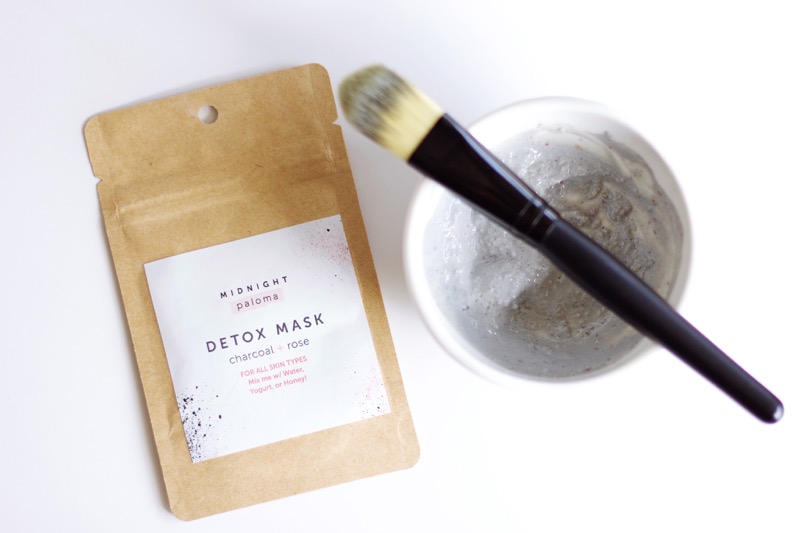 Add the Detox Mask to Your Self-Care Beauty Routine
To begin my Midnight Paloma beauty regime, I started with the Charcoal + Rose Detox Mask. As I have oily skin, I mixed it with plain, natural yogurt, as recommended. I washed my face cleaned, dried it, and then applied the mask. I let it work its wonders for 10 minutes until it was fully dried and then I washed it off with warm water. I loved how the mask smelt and felt on my skin. It was an absolute delight! I sipped on a cup of green tea and relaxed the whole time. When I rinsed it off, my skin felt really soft and nicely exfoliated. It also had that pinky tone to it that I always hope for when I use masks. I can't wait to use it again!
Next up, the post-mask bestie (as Tayler puts it!), Sweet Almond + Carrot Seed Face Serum. The serum helps alleviate redness and regenerate cell growth. It also works as a hydrator made with carrot seed oil. The serum comes out of a rollerball that you can apply over your face, which I did. It has a subtly sweet and herbal smell to it that is quite calming. I gently rubbed it in and switch to my Gua Sha tool for a facial massage!
Get Free Samples of Midnight Paloma's Detox Mask + Save 15% off Any Order
For the next minute, I massaged my skin and muscles using the Gua Sha, following the guide. Beginning with my forehead, then my cheeks, under-eye area, and finally my jawline. The cool sensation of the quartz on my skin was sublime! My brain started tingling as I was using it. The gentle pressure over my muscles felt so good and I instantly felt more relaxed and rejuvenated. I'm obsessed! 
Now it's your turn! For a limited time, you can receive samples of Midnight Paloma's Detox Mask for free, including a complimentary applicator. You just pay the shipping. It's the perfect way for you to try the best-selling mask that people are raving about, including me! I encourage you to take advantage of the offer and give yourself the gift of some blissful me time.
Once you've tried the mask, I'm sure you'll want to order some more Midnight Paloma goodies to add to your self-care routine. You can use my promo code: bestofthislife to get 15% off your order!
If you have any questions about the products, don't hesitate to leave a comment below or you can reach out directly to Tayler via Instagram or the website.

Happy glowing friends!
Latest posts by Emily Smith
(see all)