A Mother's Day Gift Guide as Unique as Her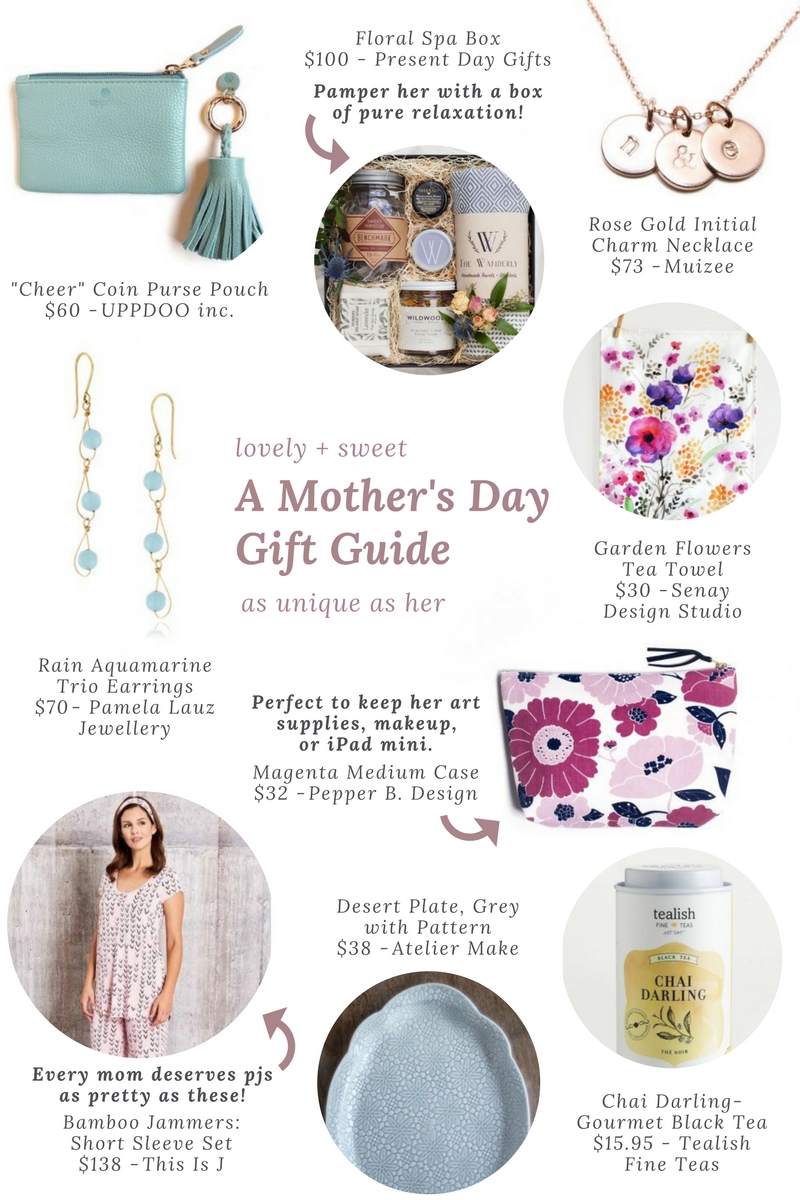 "I don't really need anything."
That's typically my answer if asked what I would like for Mother's Day.
"I'm fine, really. Let's just do something small. My gift will be being surrounded by the people I love."
And I mean it.
She means it. When the moms in your life say they are content by not making a big deal of Mother's Day, they mean it. After all, moms are pretty good at not making a fuss over themselves. They're known for putting everyone at the top of the list, taking care of their children wholeheartedly, and being content with the small tokens of appreciation.
Here's the thing, sometimes it's hard for us to admit we would love something special to celebrate our role as mothers. It makes us feel selfish. Yet, if I could, I would give my mom the world. I would give her everything she ever dreamed of because she is the most amazing woman. She's my superhero, my mentor, my inspiration, my sounding board, my bestie, and all around phenomenal parent.
Moms are incredible. They deserve to be celebrated and given a gift on Mother's Day that's just as unique as they are! Whether it's a tin of her favourite tea or a beautiful pair of earrings that are "so her" – I'm sharing with you some unique and wonderful Mother's Day gift ideas from the One of a Kind Online Shop to inspire you to surprise her this year with a present that she'll love and appreciate so very much!
9 Mother's Day Gifts As Unique As She Is
"Cheer" Coin Purse Pouch by UPPDOO inc.: her purse is usually already overflowing with everything under the sun, why not give her a cheerful and bright spot to keep loose change, cards, and her favourite lipstick. The matching tassel is the perfect touch!
Floral Spa Box by Present Day Gifts: for the busy mom who is always on-the-go, this pampering kit is pure relaxation! Book a night off for her to enjoy some much needed R&R.

Rose Gold Initial Charm Necklace by Muizee: she'll love this thoughtful and beautiful gift featuring her beloved children's initials.
Garden Flowers Tea Towel by Senay Design Studio: for the mom who believes the kitchen is the heart of the home, she'll love this tea towel that is truly a work of art.
Rain Aquamarine Trio Earrings by Pamela Lauz Jewellery: these delicate earrings are just as dazzling as she is.
Magenta Medium Case by Pepper B. Design: she likes to keep things neat and tidy, and with this gorgeous case she'll find a pretty new home for something that needs it!
Bamboo Jammers by This is J: breakfast in bed with lovely new luxury pajamas are definitely on her wishlist. This super-soft short sleeve set is ideal for springtime.
Dessert Plate by Atelier Make: for the mom who loves to bake, this stunning dessert platter will be cherished forever.
Gourmet Black Tea by Tealish Fine Teas: if she adores a good book and a perfect cup of tea, then look no further than this delicious gourmet tea.
This Mother's Day, when she says she doesn't really need anything, don't listen! Celebrate who she is, the difference she makes, and the impact she has on everyone around her. Blow up balloons, hand-make a card, serve breakfast in bed – and surprise her with a thoughtful and unique gift she'll treasure.
This piece is in collaboration with One of a Kind Online Shop. As always, all opinions are personal.
Latest posts by Emily Smith
(see all)