No-Noodle Vegetarian Zucchini Lasagna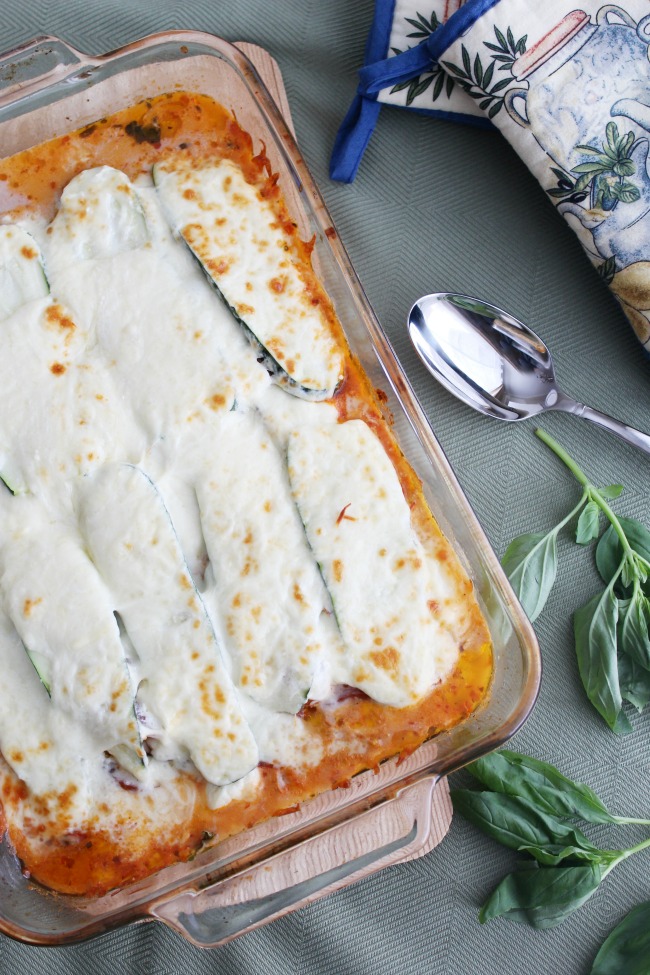 This week, our local produce market had some incredible sales and gorgeous fruits and vegetables. We are truly blessed to have continued access to such fresh foods during these cold, Winter months. I couldn't resist picking up a ton of fruits and vegetables to enjoy all week long. With a fridge full of produce, I planned for some delicious veggie-filled dinner recipes. First on my list, a creamy no-noodle zucchini lasagna.
We don't typically eat a lot of cheese, except for holidays. However, my husband has been asking for a real cheese casserole for a while now. Alternatively, if you want to keep this dish dairy-free, you can use Daiya Foods Mozzarella Style Shreds and Plain Cream Cheese Style Spread to replicate the mozzarella and ricotta used.
Just take a look at this natural goodness…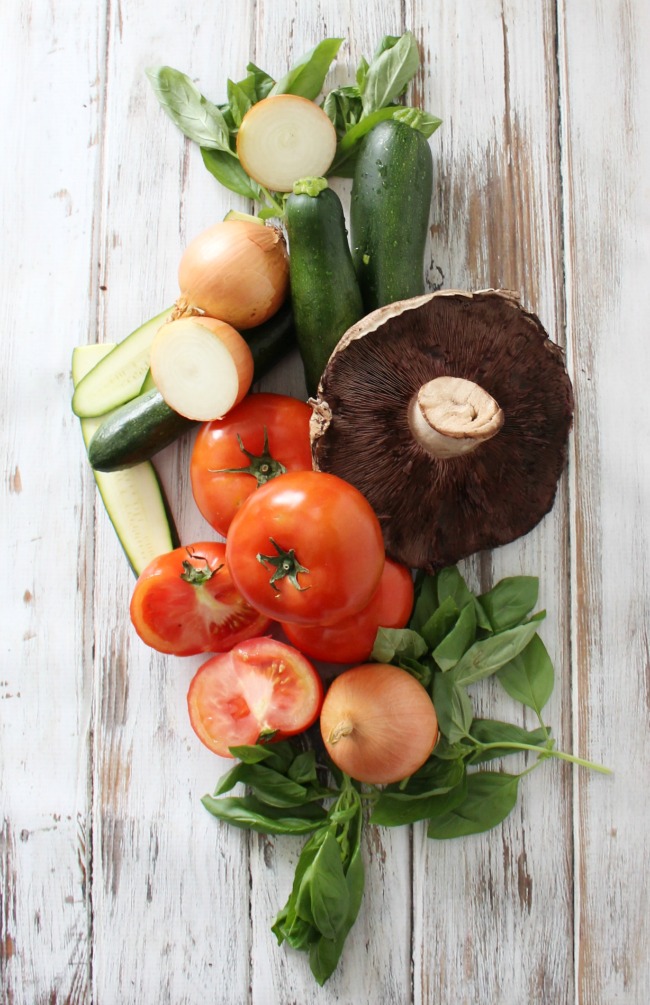 The hardest part about making this zucchini lasagna is prepping the veg. That's it! Wash, peel, chop, and slice. After that, it's a quick assembly and into the oven until it's ready to enjoy. Honestly, it's not difficult at all. The best part? You get to enjoy loads of vegetables in an amazingly delicious meal.
Remember, it's not about perfection! Don't worry if it looks a little wonky, I promise you it will still taste good.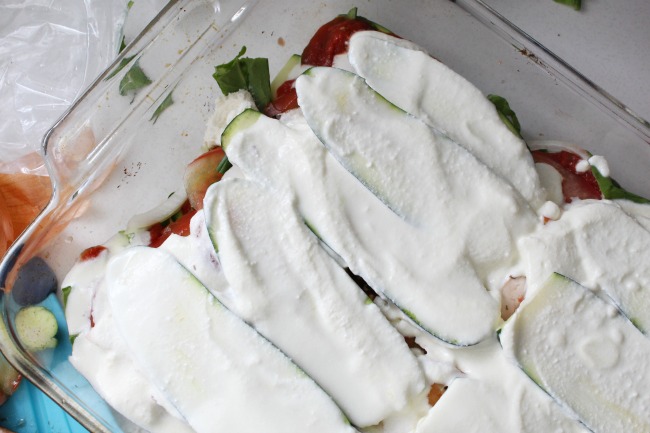 I put a layer of thick ricotta mid-way and then I poured a layer of thinned out (using water) ricotta over the whole zucchini lasagna. If you are making a dairy-free version, you have a few options. You could replace the white sauce with a simple tomato sauce, add nothing (natural veggie juice will occur), or use thinned out Daiya Foods Plain Cream Cheese Style Spread. To do the later, you would place the spread in a bowl, add 1/3 cup water (more if needed) and whisk until blended and more fluid.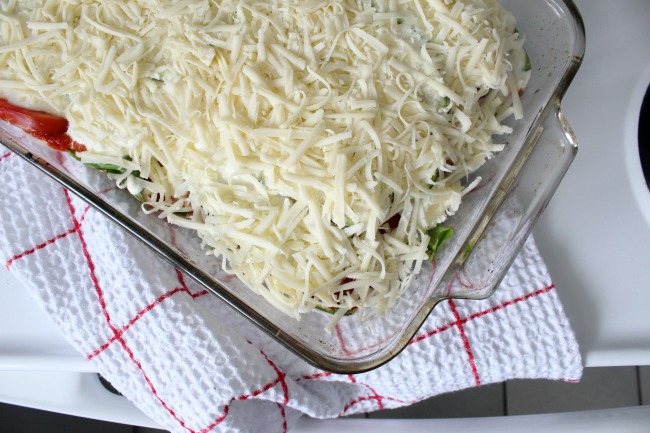 I didn't add any layers of mozzarella cheese until the very end. That's where it really counts, in my opinion.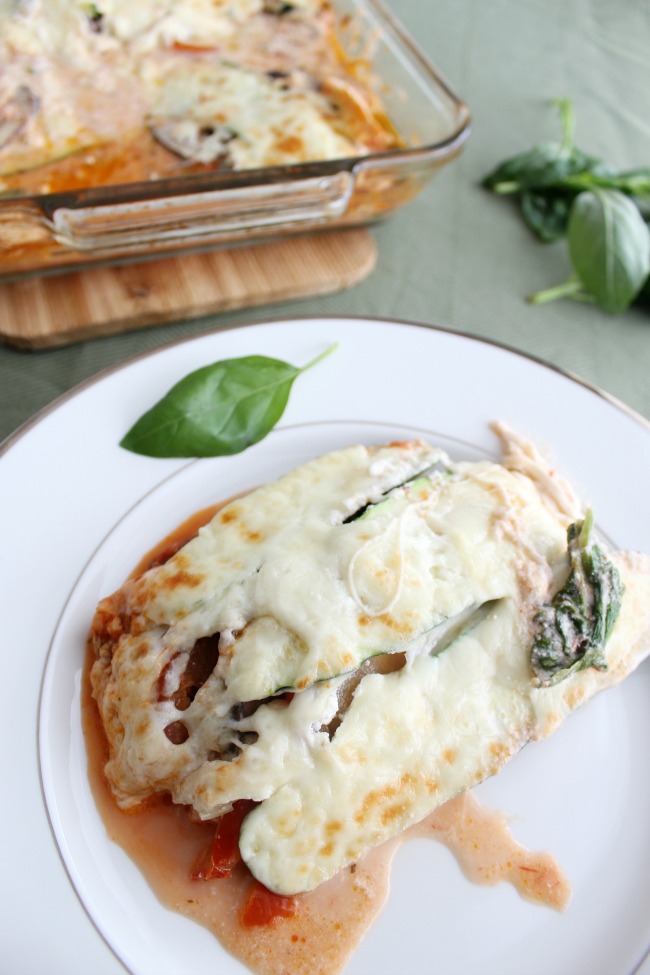 It's really impressive how the casserole holds together nicely. Just make sure to use a sharp knife to cut through all the layers of vegetables and a large spatula to serve.
Enjoy friends!
With love and gratitude,
Emily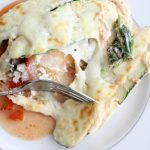 No-Noodle Vegetarian Zucchini Lasagna
---
Description
Creamy zucchini and vegetable lasagna, without traditional noodles.
---
1 Tbsp

olive oil

4

large zucchinis

1

large portobello mushroom, sliced

2

tomatoes, sliced

1 cup

of fresh arugula or spinach

3 tablespoons

chopped fresh basil

1

container low-fat ricotta cheese (

15 ounces

/

425 g

)

1 cup

of tomato sauce

8 ounces

shredded mozzarella cheese
salt and pepper
---
Instructions
Preheat oven to 325 F.
Lightly grease a deep 9×13 inch baking pan.
Slice zucchini lengthwise into thin slices.
Slice tomatoes, mushroom, onions.
To assemble lasagna, spread 1/2 the zucchini slices. Layer with arugula or spinach.
Scoop a few spoonfuls of ricotta cheese and drop over layer of spinach.
Pour layer of tomato sauce.
Top with a layer of sliced tomatoes, basil and onions.
Add a layer of mushrooms.
Then the second layer of zucchini.
In a bowl mix the left over ricotta cheese with 1/4 cup -1/3 cup of water. Whisk until smooth and pour over the zucchini.
Season with salt and pepper.
Add final layer of mozzarella cheese.
Cover with foil and bake for 45 minutes.
Remove foil and broil on low for 5 minutes, until cheese bubbles.
Let stand for 5-10 minutes before serving.
Latest posts by Emily Smith
(see all)