Peanut Butter Beef & Vegetable Stir-Fry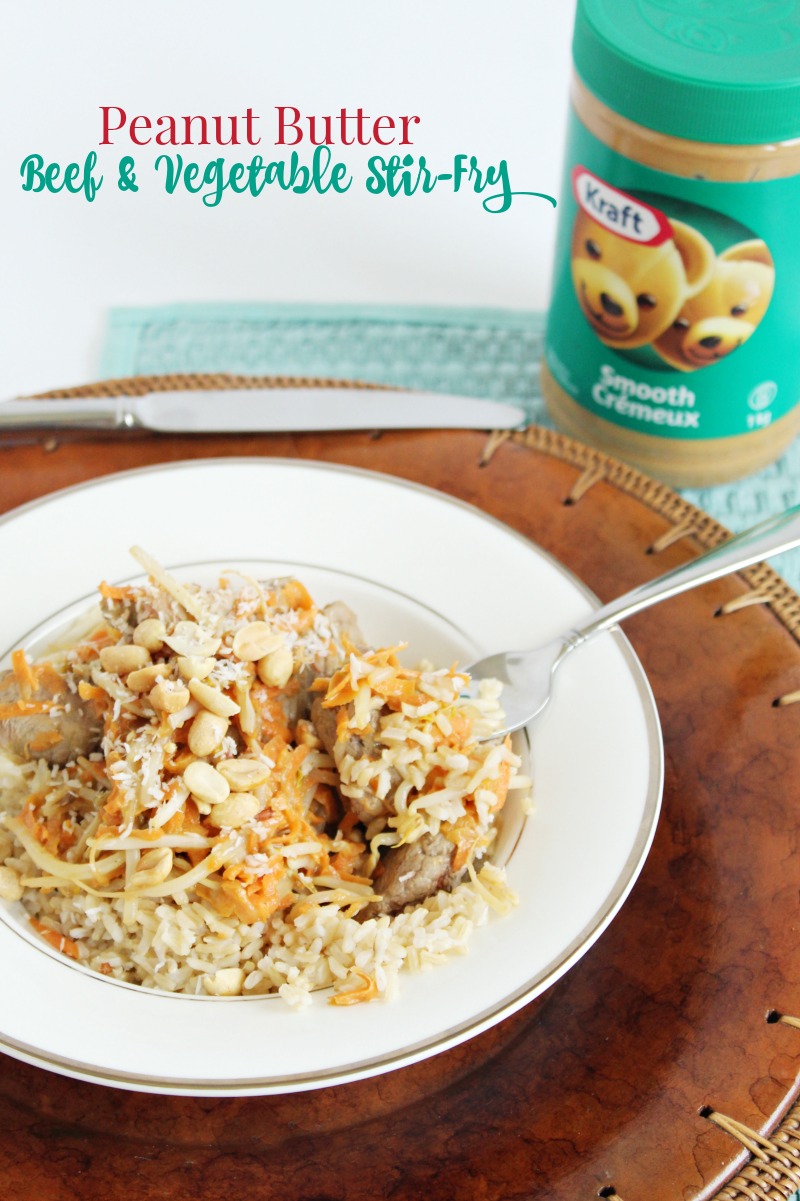 Lately, I've been getting adventurous in the kitchen using one star ingredient in particular that keeps serving up home runs. It's not every day that you think to put peanut butter in a main dish, but there are surprisingly a lot of delicious recipes that use peanut butter to create rich, saucy, delightful dishes.
I used Kraft Smooth Peanut Butter to make a creamy sauce for one of our family's staple meals, the stir-fry. By using peanut butter in the sauce, it completely switched up the flavour of our traditional recipe and left us all Mmmmm-ing over it.
Our simple stir-fry got a Kraft Peanut Butter upgrade!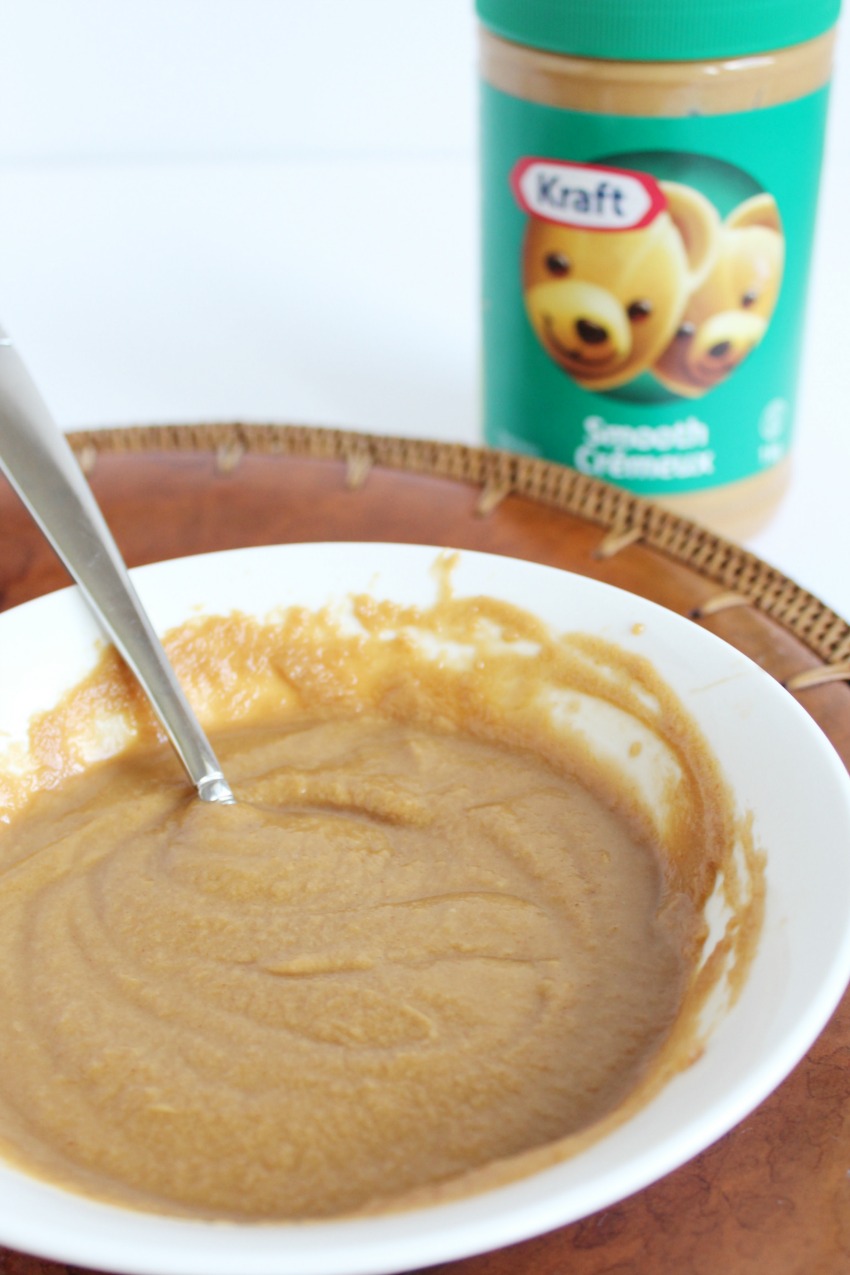 Peanut butter is made for so much more than spreading on toast. It truly adds a wonderful flavour to meals, desserts, and smoothies too.
I really enjoyed re-inventing our usual stir-fry and breathing new life into it and so did my whole family. My kiddos absolutely love the taste of peanut butter. They were eating up those sprouts and carrots without a second thought!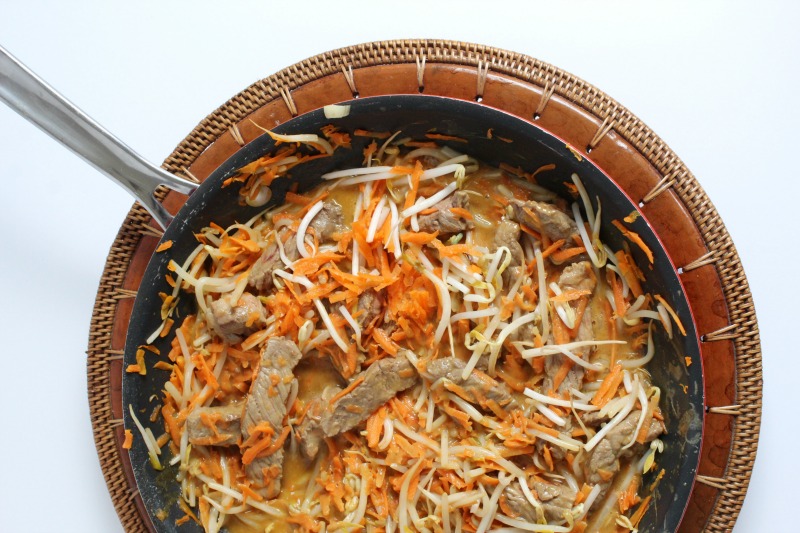 Sometimes trying a new recipe can be daunting, but this stir-fry is really easy to whip up. First you begin by making the sauce by blending Kraft Smooth Peanut Butter, orange juice, soy sauce, rice vinegar, and honey together. Next, you brown some garlic, and cook the steak for a few minutes. You can either swap out the steak or use another pan to cook the sprouts and carrots for three minutes, then you combine the beef, vegetables and sauce, heat it through and enjoy over brown rice.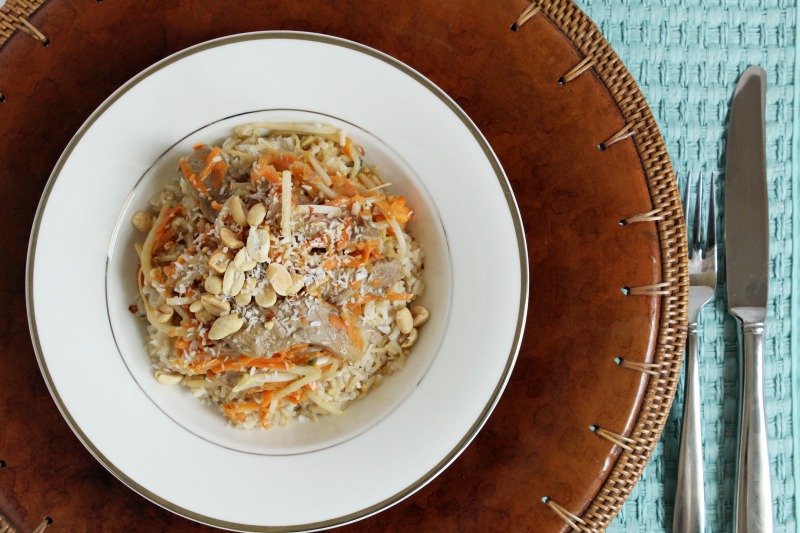 Print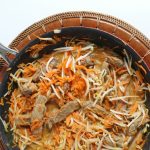 Peanut Butter Beef & Vegetable Stir-Fry
---
Description
Sweet, tangy and lightly spicy peanut butter beef stir fry with fresh vegetables.
---
1/4 cup

Kraft Smooth Peanut Butter

1/3 cup

orange juice

3 tablespoons

soy sauce

1 tablespoon

rice vinegar

2 teaspoons

brown sugar

4 teaspoons

canola oil, divided

1 tsp

siracha

3

cloves garlic, minced

1

pound sirloin steak, trimmed and thinly sliced

2 1/2 cups

sprouts

2

–

5

tablespoons water

2

carrots, grated

1/4 cup

chopped unsalted roasted peanuts
---
Instructions
Whisk peanut butter, orange juice, soy sauce, vinegar, siracha and sugar in a medium bowl until smooth.
Heat 2 teaspoons oil in a large skillet over medium-high heat.
Add garlic and cook for a minute.
Add steak and cook, stirring, until browned and barely pink in the middle, 2 to 4 minutes.
Transfer to a bowl.
Reduce heat to medium. Combine the remaining 2 teaspoons oil. Add sprouts and 2 tablespoons water (more if necessary while cooking); cook, stirring, until beginning to wilt, 3 to 5 minutes. Add carrots and cook about 3 minutes more.
Return the steak to the skillet, then add in the peanut sauce and toss to combine. Cook for 2 minutes.
Serve as is or over brown rice. Top with peanuts. Enjoy!
I'm always excited to try new recipes and create healthy, delicious meals for my family. I encourage my husband and kids to cook with me and discover the joy of cooking. My daughter who is just over two, likes to sit up in her high chair and watch every step we take to cook. She's so curious and likes to taste-test throughout the process! Involving my family in meal-prep is not only about having fun, but also exploring their talents as chefs.
My son has some pretty wild ideas when it comes trying new ingredients. He's certainly surprised both of us with a few winning concoctions! But, we know that when it comes to Kraft Peanut Butter, we've got ourselves a winner.
I hope you're ready to try out this tasty stir-fry and for even more enjoyable and easy recipes visit http://bit.ly/24q9t3K.
I'm also super excited to let you in on an exciting contest! You can enter the #KraftPeanutBetterIt Giveaway contest below for a chance to win a grand prize valued at $500, including a $300 VISA gift card and yummy Kraft Peanut Butter products. Good luck!

Although this post has been generously sponsored by Kraft Heinz Canada ULC, the opinions and language are my own.
Latest posts by Emily Smith
(see all)