Perfectly Baked Sweet Potatoes with a Twist
You surely are aware that I have a penchant for simplicity. If it wasn't the best of this life…it could very well have been, the simple life. I guess I believe the best things are simple. Just like these baked sweet potatoes. They are plain old root vegetables, but when they are baked – they taste like sweet candy to me. Whether cooked with warm or savoury spices, turned into fries, or added in a casserole – their delicious flavour is hard to miss.
Personally, I like to just wrap them up in foil, toss them in the oven and delight in their goodness about an hour or so later. So what's the twist? Virgin coconut oil and nutmeg. Trust me, it's heavenly. After you take the baked potatoes out of the foil, slice them in half, drizzle a bit of organic virgin coconut oil on them, add a sprinkle of nutmeg and enjoy the exotic taste. It's like root vegetables gone wild…so scrumptious.
Alternatively, you could use cinnamon, all spice, or pumpkin spice. Be warned: the aroma is incredible! And friends, if you are really craving something sweet, add half a teaspoon of pure maple syrup to the mix. Mind-blowing.
And let's talk health benefits before you run off and cook your potatoes.
Health Benefits of Sweet Potatoes
283% of your daily intake of Vitamin A in one medium sweet potato. Oh okay then! MAJOR VITAMIN A source. Vitamin A is necessary to maintain healthy skin and vision.
Sweet potatoes contain vital minerals such as iron, calcium, magnesium, manganese, and potassium that are very essential for enzyme, protein, and carbohydrate metabolism. Magnesium is also the relaxation and anti-stress mineral.
A good source of Vitamin B-6, which is required by the body for proper brain development and function and to make the hormones serotonin and norepinephrine, which affect mood (source). Read: sweet potatoes make you happy
So eat them up and enjoy.
Bon Appétit!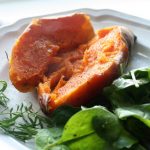 Perfectly Baked Sweet Potatoes
---
Description
Cooked to perfection in the oven with the added touch of warm spices and exotic hint of virgin coconut oil
---
2

–

4

Medium Sweet Potatoes
Virgin Coconut Oil
Nutmeg
Optional
Sea salt
Black Pepper
Pure Maple Syrup
All Spice, Cinnamon, or Pumpkin Spice
---
Instructions
Preheat oven to 400 F
Wash and scrub the exterior of each sweet potato thoroughly. Pat dry.
Wrap each sweet potato in foil and place on baking sheet.
Put in the oven on the middle rack.
Bake for 1 hour (or until your fork slides right through the middle)
Removed from oven and take off the foil, using tongs or baking mitts.
Slice in each sweet potato in half.
Drizzle each with approximately one teaspoon of virgin coconut oil and 1/4 teaspoon of nutmeg.
Serve immediately.
Enjoy!
You might also enjoy Maple Whipped Sweet Potatoes and Baked Squash with Apple Stuffing
Latest posts by Emily Smith
(see all)