Purposeful Living: An Interview with Vanessa Falsetti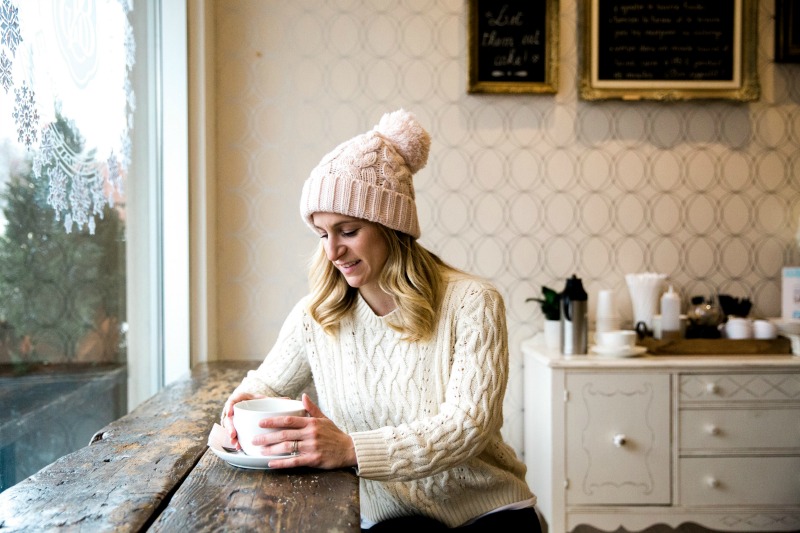 Are you familiar with the Danish word hygge? It somewhat translates to coziness, but it means so much more than that. In essence, hygge means creating a warm atmosphere and enjoying the good things in life with friends and family. When I first came across Vanessa's instagram feed, the term hygge came to mind. It seemed the most fitting description for her collection of photographs from daily life. The chunky knit sweaters, sweet babies, freshly baked bread, trips to the countryside – it's all so inviting and telling of someone who is finding joy in the simple and beautiful pleasures of life.
On her blog, Josephine – named after of one of my favourite literary characters of all time, Josephine March of Little Women – Vanessa explores simple and creative living. She writes about a litany of topics including motherhood, recipes, and travel, as well as shares personal anecdotes. She also created a series called Josephine's Blooming Boutiques which highlights small shops that she is quite keen about and eager to share with her readers. In a recent post, she covered the brand Mo Green Clothing Co. and it's absolutely worth the hop over to see the adorable pictures of her little ones and the clothing featured.
In one of her latest style posts, Vanessa shows off the overall trend in such an approachable and fun way. Her writing pops off the page with make-you-smile 90s references, complemented by sweet and down to earth pictures of her rocking the look with two beautiful babies in tow. Vanessa's warm and joyful vibe is always nice to connect with, either on her instagram or blog, and I'm happy to have her here today so we can learn more about her.
---
First off, let's get to know you better!
I feel most inspired when… I'm enjoying time with my family, writing, baking or on vacation. We love Europe and it always inspires me!
On most days, I'm wearing… my high-waisted track pants a tank-top and cardigan or a dress and a cardigan.
My favourite place to spend time outdoors is… by the lake either near our house in the city or at the family cottage.
One of my favourite inspirational quotes is… " You do have a story inside you; it lies articulate and waiting to be written." by Anne Rice.
When I'm feeling down and out and need to change my mindset, I… love to spend time relaxing with my kids. It's so funny how children have a way of making the world melt away. I also write, take a long relaxing bath, go for a walk to the lake or take a yoga class.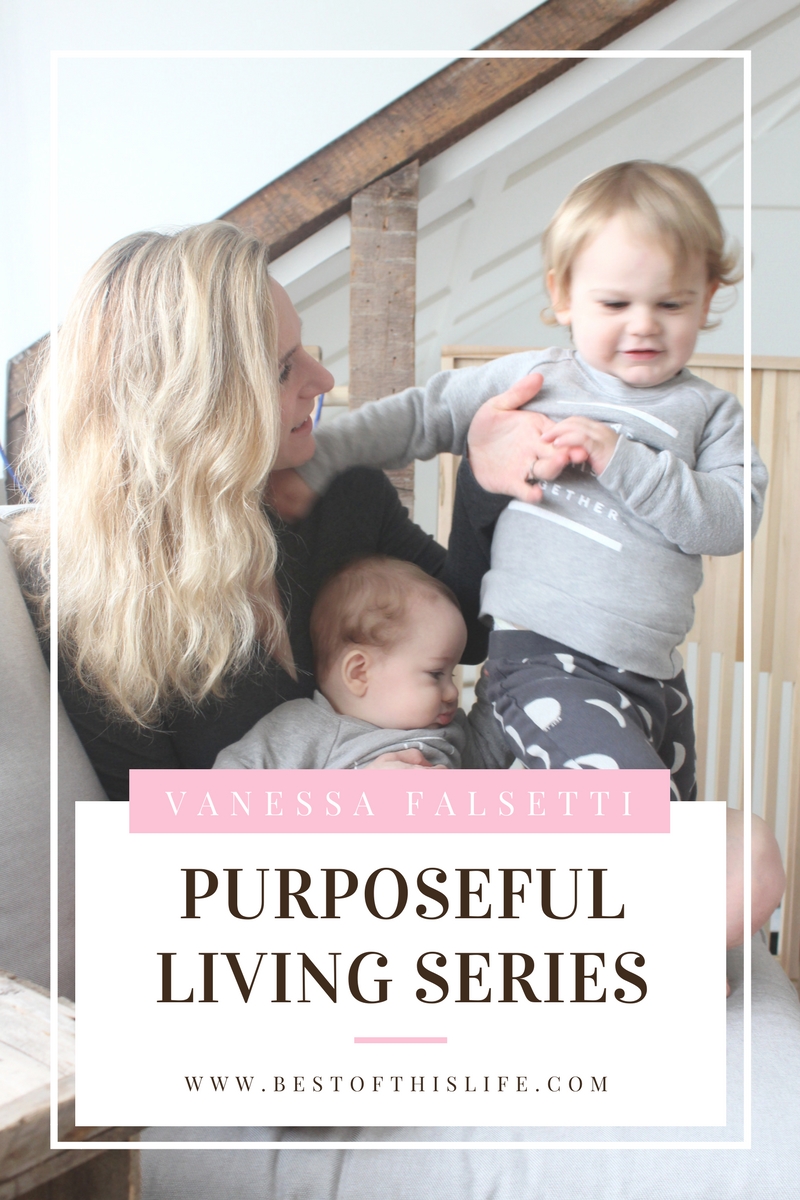 Now let's get right to it, what does purposeful living mean to you?
Purposeful living means so many things to me, but it really means creating the life I imagined, a simple and full life surrounded by the people that mean the most to me like my family and friends. It also means doing what I love and doing it with purpose, like writing to share a story that might make a difference or finding a way to give back whenever I can.
When it comes to work, what are you most passionate about?
When it comes to work I am most passionate about using my creative outlets to share stories and help others. Writing has always been my passion and as a teacher I love helping others find their passions or share their stories.
How do you find joy in each day, even the tough ones?
I find joy each day by giving myself a chance to enjoy the little things; a nice stroll with my family to the lake or taking time to slow down and savour precious moments with my children. They are still so young and even on the toughest of days they give me so much joy and make me feel so much gratitude.
How does a successful day look to you?
A successful day can look different depending on what day of the week it is. Mondays are always about checklists for me and that's not very exciting, so let's talk about a successful Sunday. A successful Sunday is one where we (our family) wakes up and enjoys brunch together, spends the day outside, either at the park or near the lake. We get a few things done around the house to prepare for the week ahead and relax together reading or watching a favourite movie.
How do you get out of your comfort zone?
I do things. I know that might sound funny, but I'm kind of an 'over thinker' so doing something like attending an event, starting a blog or taking on a new project always gets me to step out of my comfort zone. Blogging and motherhood have taken me out of my comfort zone more than anything else so far and I love it out here!
What is one tip you can share with us for building genuine connections and relationships in your industry?
As a blogger, freelance writer and teacher building genuine connections really happens when you are actually genuine. I've met some amazing people over the past couple of years and it's always happened because we had 'real' conversations and were genuine from the get go. I love hearing other people's stories and sharing my own and I think so much can happen when we open up, share and take the time to get to know someone.
What is one of the biggest lessons you've learnt since starting your blog/business?
Since I started my blog I've learned that kindness really matters and that if you don't try you'll never know. Blogging has become a huge part of my life and really changed my perspective in so many ways. I've had the pleasure of meeting and working with so many inspiring people and my hope is to encourage and inspire others as they pursue their dreams as well.
What is one thing you do often that contributes to living a purposeful and fulfilling life?
I take time to pause, reflect and enjoy simple moments. Sometimes this happens when I'm writing and often it happens when I'm with my children or husband, they ground me and bring so much joy and purpose to my life.
What words of encouragement would you give to someone who is just starting out or struggling with their blog/business?
Always remind yourself why you started and know that you can do anything, maybe not everything, but anything.
We all have dreams and goals, would you mind sharing a few of yours with us?
Writing and sharing stories has always been a huge part of my life, I've always dreamed of writing a book and one day finding a way to use my words or find a creative way to help others, maybe even to use words to for good and potentially start a charity.
One last thing…what has been one of the best pieces of advice you've ever received/read?
One of the best pieces of advice I've ever received would be " you can do anything you set your mind to." My mom has been saying this to me since I can remember and it's really stuck. And "take pride in your work" my dad used to say this about everything, from house chores to big school projects and I think about it all the time. My parents have always encouraged my sister and I to follow our dreams, work hard and do our best. They've been such a strong source of inspiration in my life and I truly hope I can pass some of these lessons and feelings of encouragement on to my children too
---
I can absolutely relate to Vanessa's definition of a successful Sunday. I always feel so full and happy when we get to spend the whole day as a family, enjoying our traditional weekend breakfasts, tidying together and having an outing or cuddling up while watching a movie. We definitely don't let our weekends get away from us and enjoy them to the fullest. One of my favourite pieces of wisdom – "Always remind yourself why you started and know that you can do anything, maybe not everything, but anything." I love that!
Thank you Vanessa for letting us get to know you better and for sharing your wonderful thoughts with us today.
If you have a question for Vanessa or would like to let her know something spoke to you from her interview, please leave a comment below!
*photo credit for the first image: Reena Ray Photography
Latest posts by Emily Smith
(see all)