White Bean (YES!) Oatmeal Chocolate-Chip Cookies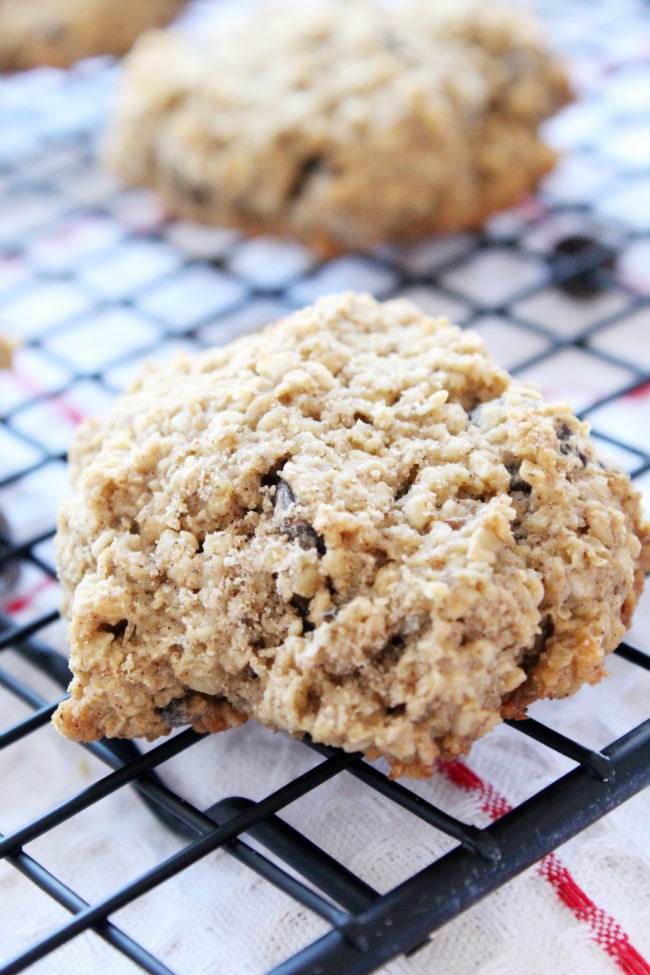 How about a chocolate chip cookie that has 75% less butter (margarine, oil, etc.) than most recipes, yet is incredibly delicious and moist? Do I have your attention? Okay, I probably had your attention with the title of this post.
BEANS? Beans in cookies!
Yeah, my husband freaked out when he saw what I was up to in the kitchen. But, I'll ask of you the same thing I asked of him. Just try it.
Yep, that's his hand there…trying one, then two…and maybe even three white bean oatmeal chocolate chip cookies.
So what's the deal with white bean cookies? In this recipe, which has been spotted on Self and Epicurous to name a few spots, Idaho State University researchers in Pocatello replaced 75 percent of the butter with beans to create cookies with 105 calories and 3 fat grams (compared with 150+ calories and 7 fat grams).
Now that's science I can get behind 😉
Honestly, not only are these cookies AWESOME – they fill you up so fast. It isn't the kind of cookie that makes you want more and more. You're getting a pretty big bite of protein and it hits the spot.
You can click through for the original recipe (link at bottom of post), which included white flour and more sugar. In my version, I only use oat flour and I took the sugar down a notch as well. My whole family loved them! I actually think they make a wonderful post-work out snack considering the protein aspect.
So, when you're craving something sweet this weekend, try this recipe! You probably even have a can of white beans sitting in your cupboard just waiting to take centre stage.
Enjoy friends and let me know what you think!

Print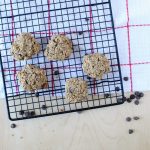 White Bean (YES!) Oatmeal Chocolate-Chip Cookies
---
1 1/2 cups

old-fashioned gf oats

1 1/2

cups oat flour (grind gf oats until smooth like flour)

1/2 teaspoon

baking powder

1/2 teaspoon

baking soda

1/4 teaspoon

salt

3/4 cup

drained great Northern, cannellini or any white beans

3 tablespoons

butter, softened

3/4 cup

firmly packed light brown sugar or coconut sugar

2

large eggs

1 teaspoon

pure vanilla extract

1 cup

semi-sweet chocolate chips
---
Instructions
Preheat oven to 350°F.
Lightly grease 2 baking sheets.
In a food processor or grinder, grind 1 1/2 cups old-fashion oats until ground but not powdery (this is NOT your flour). Combine with oat flour, baking powder, baking soda, and salt in a bowl. In a clean blender or food processor, puree beans and 2 Tbsp of water. Combine bean puree, butter, sugar, eggs, and vanilla in a separate bowl and beat well. With the mixer on low speed, beat in oat and flour mixture. Stir in chocolate chips by hand. Drop batter (by the tablespoon) onto baking sheets. Bake 15 to 17 minutes until centers are firm and edges are lightly browned. Transfer to wire rack to cool.
Notes
This is an adaptation of the original recipe spotted here: http://www.self.com/food/recipes/2004/09/oatmeal-chocolate-chip-and-bean-cookies/
Nutrition
Serving Size:

1 cookie

Calories:

105

Fat:

3 g
Latest posts by Emily Smith
(see all)