Sharing Sweet and Cherished Moments of Life with Family and Friends – That's What It's All About
When I close my eyes and try to remember childhood moments with my grandmother, an array of images scroll through my mind like an old film. Blue knitted slippers, a soft pink sweater, homemade french fries, wild roses, green beans, lace curtains, jam cookies, snow falling outside her living room window – they keep coming, reminding me of simple and cherished times we shared together before she passed away.
My grandmother was a wonderful baker, especially when it came to holiday sweets. Her beautiful dessert tables were always covered with crystal dishes filled with treats including old-fashioned Jam Cookies, just like these ones from Bonne Maman. They were one of my favourites! My mom carried on the tradition of making them for special occasions after my grandmother parted with us – and I've even tried my hand at them a few times. My husband and my children absolutely love these simple, sweet cookies that melt in your mouth with each bite.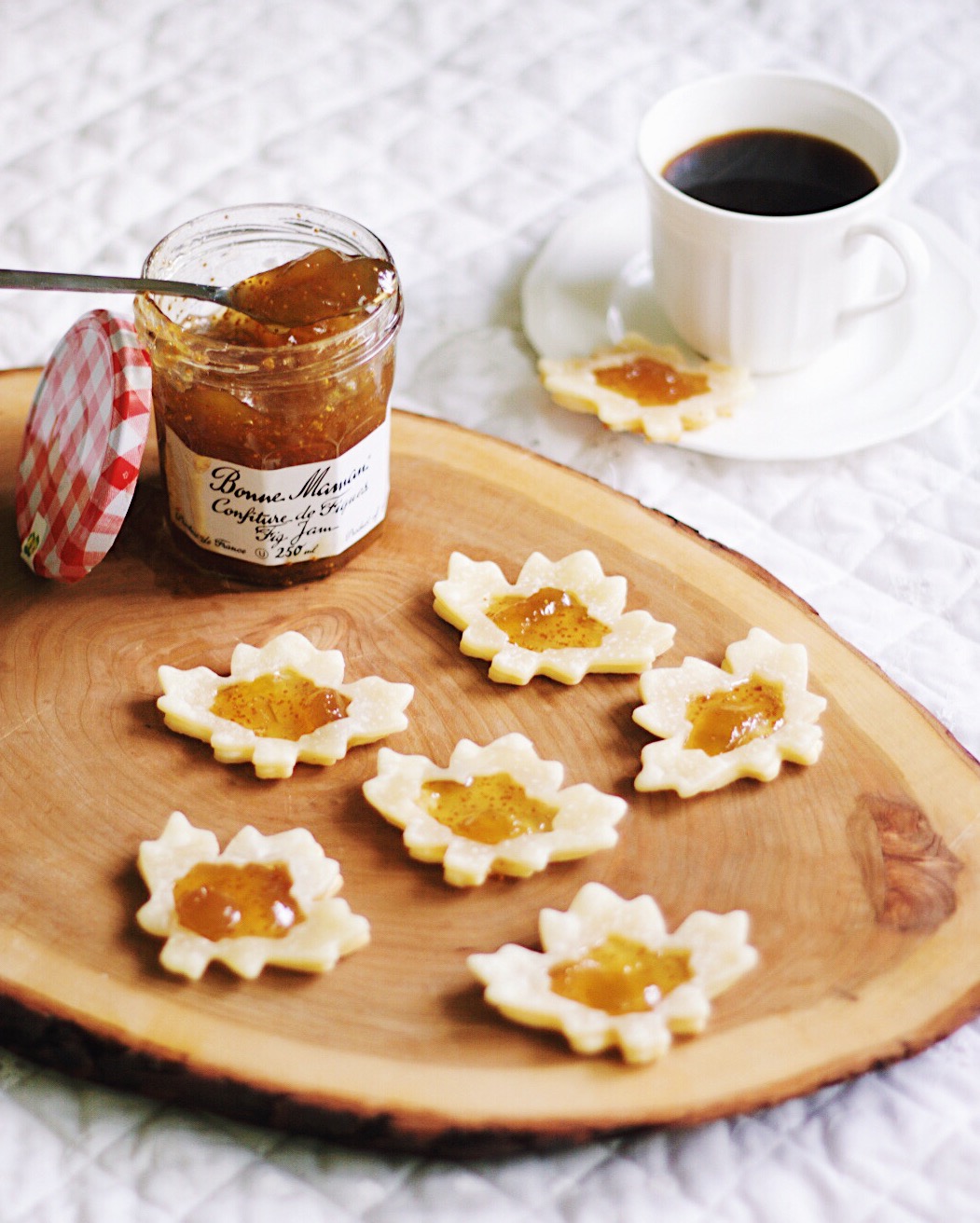 You may be asking yourself why my thoughts are wandering to my grandmother and her jam cookies. Well, Bonne Maman is a loving term for grandmother in french and earlier this month, I had the pleasure of attending a lovely Bonne Maman Event at North & Navy, a charming restaurant in the heart of Ottawa known for its classic dishes made with seasonal game, seafood and vegetables. With its northern Italian influence, North & Navy merges with local flavours and uses only the freshest and quality ingredients – and their food tells no lie.
Among friends, new and old, I was delighted by a series of jam-inspired dishes curated by North & Navy's chef, Adam Vettorel. During this unique culinary experience, Adam wowed us with an array of dishes inspired by the Italian cooking technique known as Agradolce.
Agradolce is a where sweet and sour come together. For all the menu items, the sweet came from a variety of Bonne Maman jams and jellies, which was balanced by various sour ingredients such as lemon and assortment of vinegars. ~Adam Vettorel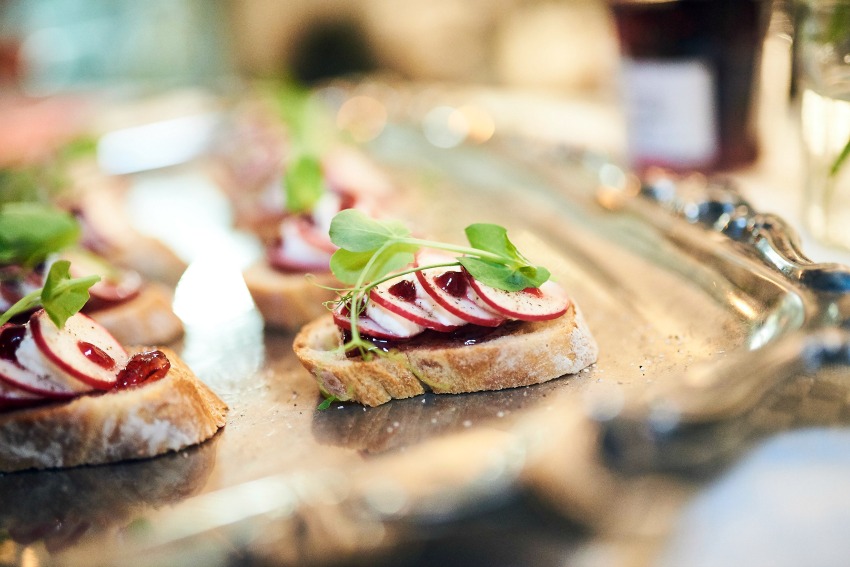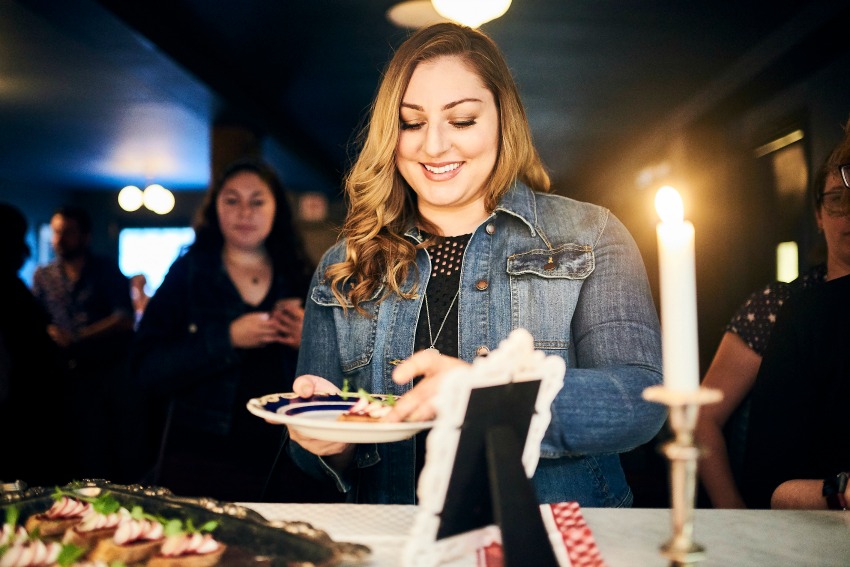 For our intimate menu tasting, Adam served the following dishes:
Redcurrant Jelly Cicchetti with Ricotta & Radishes – the perfect bite sized snack to begin our evening. The pairing of red currant jelly with ricotta was simply heavenly!
Cured Lonza topped with Fig Jam – a simple appetizer that just melted in my mouth. The cured pork tenderloin was complemented in the best way with the sweet, tangy addition of fig jam.
Peach Glazed Lake Trout with Grilled Polenta – I was utterly wowed by this dish. Not only was it cooked magnificently, but every bite was bursting with flavour.
Pork Belly & Cherry-filled Agnolotti – an unexpected yet delightful twist, this pasta dish ended the evening on a high note. The cherry and pork pelly medley were a harmonious team and everyone raved about it.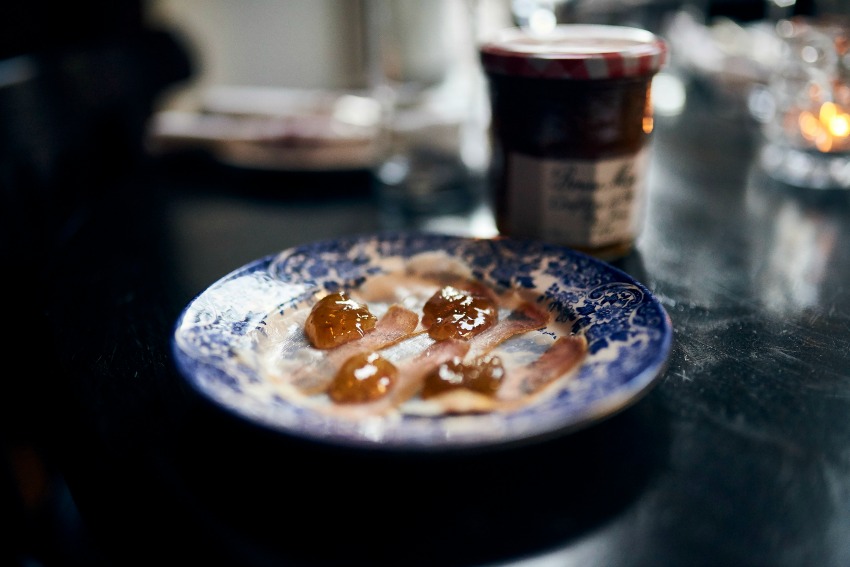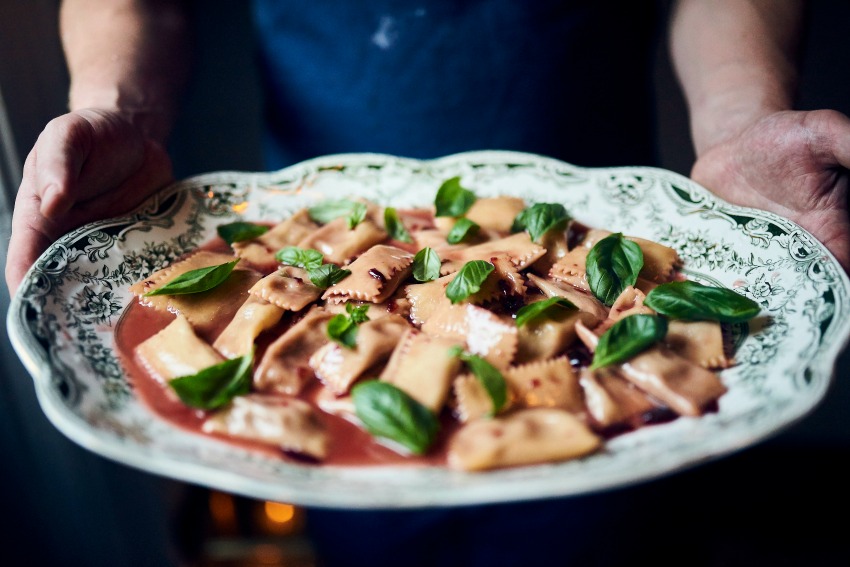 To be honest, I don't think I've ever made a savoury dish using jam, but I'm sure inspired to try now! Everything was positively scrumptious. So much so, I just had to ask Chef Adam Vettorell to share his technique for making one my favourite dishes of the evening with you, the Peach Glazed Lake Trout with Grilled Polenta, which he kindly obliged (keep reading below!). I know I'll be making this very soon and I hope you love it just as much as I did!
Butter basting is one of the tricks chefs use that makes the food taste better and richer than what a home cook typically achieves. The good news is anyone can do it, and it's a great way to add another layer of flavour as I did with the Bonne Maman Jam.

The trick to butter basting is to approach cooking the item as you normally would, however just before it is finished, remove the pan from high heat, place a few tablespoons of butter and begin spooning the butter over the item you want to baste. You can do this with any meat, but it also works with eggplants, carrots… really anything you want.

For the trout I recommend placing the seasoned fish skin side down in very hot pan with a small amount of vegetable oil. Move the fish around a little so it does not stick and then leave it to cook till the skin is crispy (about 4-5 minutes). Once the skin is golden (You can use a fork to lift up a side to have a peek) remove the pan from the heat and flip the fish over being careful not to splash yourself with hot oil. Put 4 tablespoons of butter in the pan and one tablespoon of the peach preserve. If the pan is at the right temperature you should have bubbling butter but not smoking butter. Begin using a spoon to pour the foamy bubbles over the fish. One trick is to tilt the pan slightly to one side. All the melted butter and jam will pool there and you can use your spoon to create a cascade of butter over the fish. The jam should caramelize and add nice colour and flavour to the fish. If the pan cools down too much, return it to the heat but be careful not to leave it there so long that the butter burns. This technique can be used with any flavour/aromatic and it is also a great way to achieve an even golden presentation side of whatever you are cooking.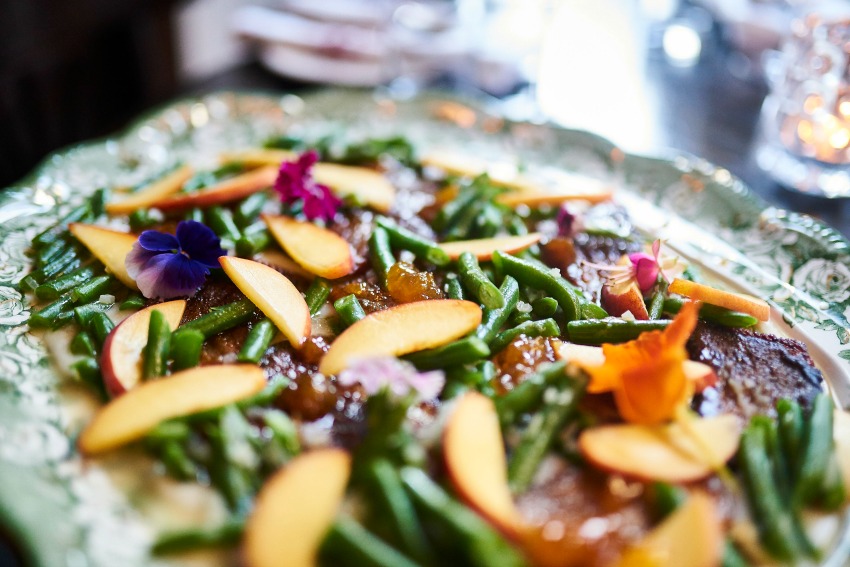 For this particular dish, we used soft polenta for the dish. At NoNa we use white polenta; a highly refined product typical of Friuli and Venice and very rare outside those areas. We cook our polenta for a minimum of 4 hours every day. Start by putting 3 parts salted water to 1 part polenta. Bring the water to a boil before adding the polenta and then quickly reduce the heat to low. Stir often. We keep a wooden spoon in a cup of water next to the pot so anyone walking by can give it a stir throughout the day. We also keep some hot water handy in case it starts getting too thick or starts sticking to the bottom. Once you deem it ready (the polenta is completely soft) check the seasoning and add 2 tablespoons of butter for every cup of polenta. Whisk the butter in vigorously, serve and enjoy! ~Adam Vettorel
Mmmmm….doesn't it look good! It's really that delicious.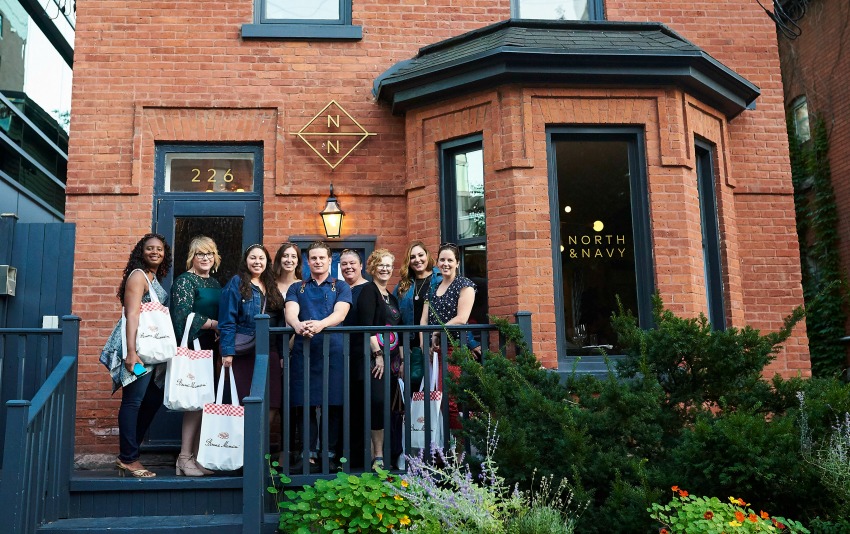 After a wonderful evening, guests (including me!) were treated to a bag full of Bonne Maman jam and jelly. With my Grandmother and her jam cookies in mind, I made a fall version of the classics for my children, using Bonne Maman's Fig jam and maple leaf cookie cutters. I just love how they turned out with their golden amber hue and rich, harvest flavour. Magnifique! I followed Bonne Maman's simple and easy recipe found here – I baked the cookie for 10 minutes, then added the jam and the top outline and baked for another 5 minutes. We skipped the powdered sugar this time, as I just wasn't ready for the visual of snow on my leaf cookies!
Bonne Maman is without a doubt a household name known for its well-rounded flavour made only with 100% natural ingredients: fruit, sugar/cane sugar, concentrated lemon juice and fruit pectin. However, it's also a family favourite. It makes me happy knowing there is only the best in each jar which means no preservatives, no additives, no corn syrup, and no sulfates.
Pure goodness. Sweet, cherished moments – that's Bonne Maman.
---
This piece is sponsored by Bonne Maman. As always all opinions are my own. Photo's of the the event by Jen Bernard Photography courtesy of Bonne Maman.
Latest posts by Emily Smith
(see all)