How To Make Shabby Chic Bunting For Your Canada Day Party

During my travels outside the country and while living abroad, I've many times been asked where I am from. Of course my answer is, Canada. Now you may already be quite familiar with the response that follows, which is by far the most common I've received, "Oh Canada! I love Canadians!"
It's true. We're pretty well liked around the world, aren't we!
Canada has always been a very endearing home to me. I love being Canadian and feel truly lucky to live in this beautiful country. So for our Canada Day celebrations this year, I wanted to add a little warmth and heart to our decor to honour that lovability Canada evokes. To do so, I created a homy, shabby chic bunting – and instead of including the more traditional "O Canada", I decided to use "Oh Canada," which to me sets a loving and sentimental tone that works well with the quaint design of this bunting.
It goes without saying, you can personalize this Canada Day bunting with any word(s) or saying you please!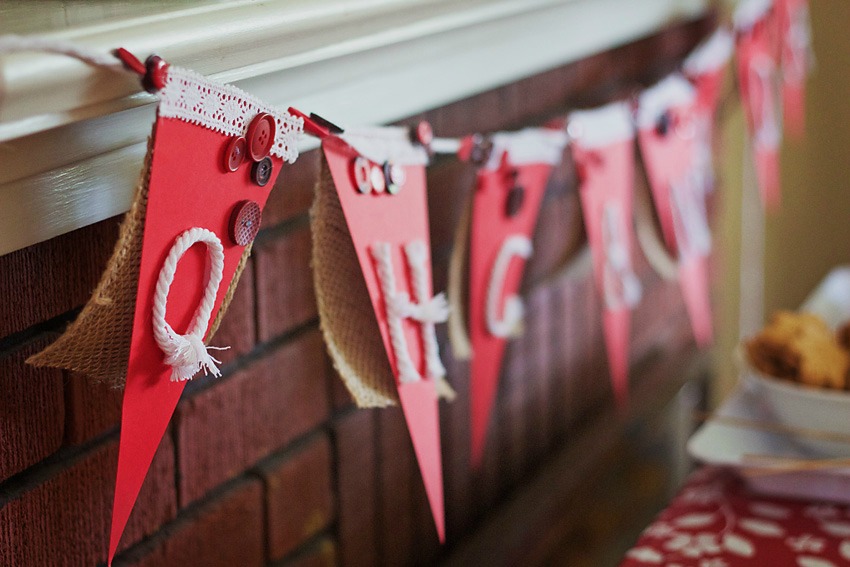 To get started, here's what you'll need:
Red Card Stock ( I used 4 sheets of 9 in x 12 in)
Assorted buttons, included red
Craft rope ( I purchased a packet with 9.1 m /29 ft)
Crochet lace, 2 cm wide (0.78 inches)
Burlap garland, 12.7 cm wide (5 inches)
Hot glue gun + glue sticks
Pencil
Scissors
Ruler
Step by step to make shabby chic Canadian bunting:
Lay the card stock horizontally, and fold at centre. Using the two top corners as your guide and a ruler, draw two lines to the centre of the rectangle. Cut out the triangle to achieve two bunting triangles (flags). Continue until you reach desired number.
Measure and cut crochet lace trimming. Use the hot glue gun to place a few dots along the top of the bunting triangle and gently apply the lace. Repeat until complete.
In a nonuniform manner, hot glue various buttons onto each bunting triangle. Repeat until complete.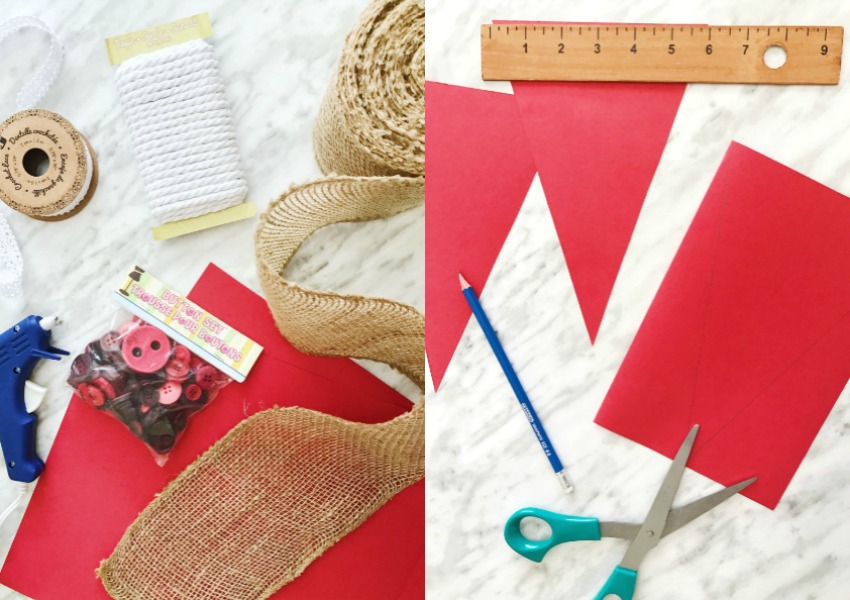 Cut pieces of burlap, approximately 12.7cm x 12.7 cm (5 in x 5 in ) and hot glue with a few dots along the back top of the bunting.
In pencil, write the letters to the wording you would like on your bunting.
Trace each letter with rope, and cut length according to each letter.
Use the hot glue gun to secure the rope into place.
On a long table or the floor, layout the rope for your bunting. I used 1.7 metres (65 in) with a little bit extra on either side for hanging.
Position your bunting flags along the rope. I gave about 5 cm (2 in) between each flag, more between the Oh and the Canada.
Dot a few drops of hot glue along the back of each flag and press down onto the rope.
Allow to set before hanging up the bunting where you choose.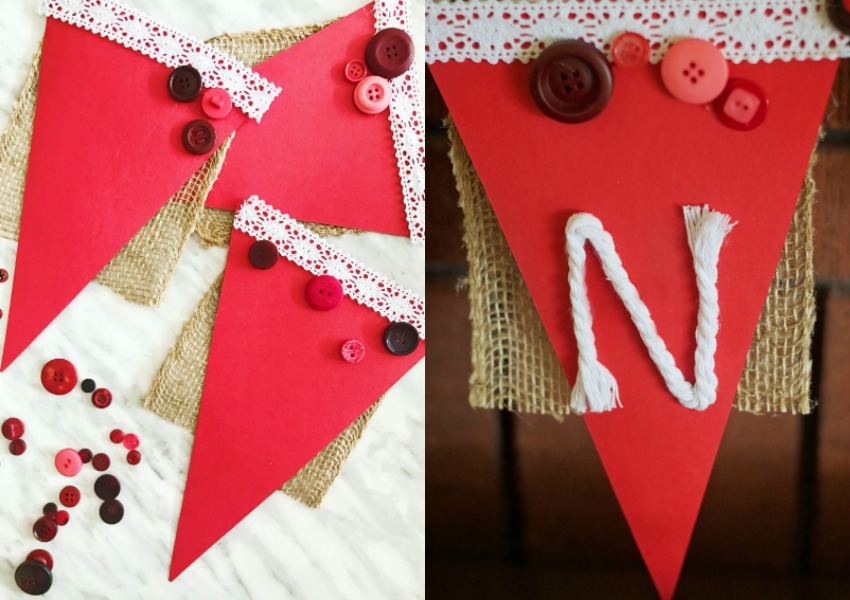 This simple and fun Canada Day bunting is perfect to hang on a mantel or on a wall behind a food station. It has a charming feel to it, which makes it an ideal part of decorating for family gatherings. You can set a table or buffet right in front of it and set it with Canadian-themed food and voila, you're ready for a party!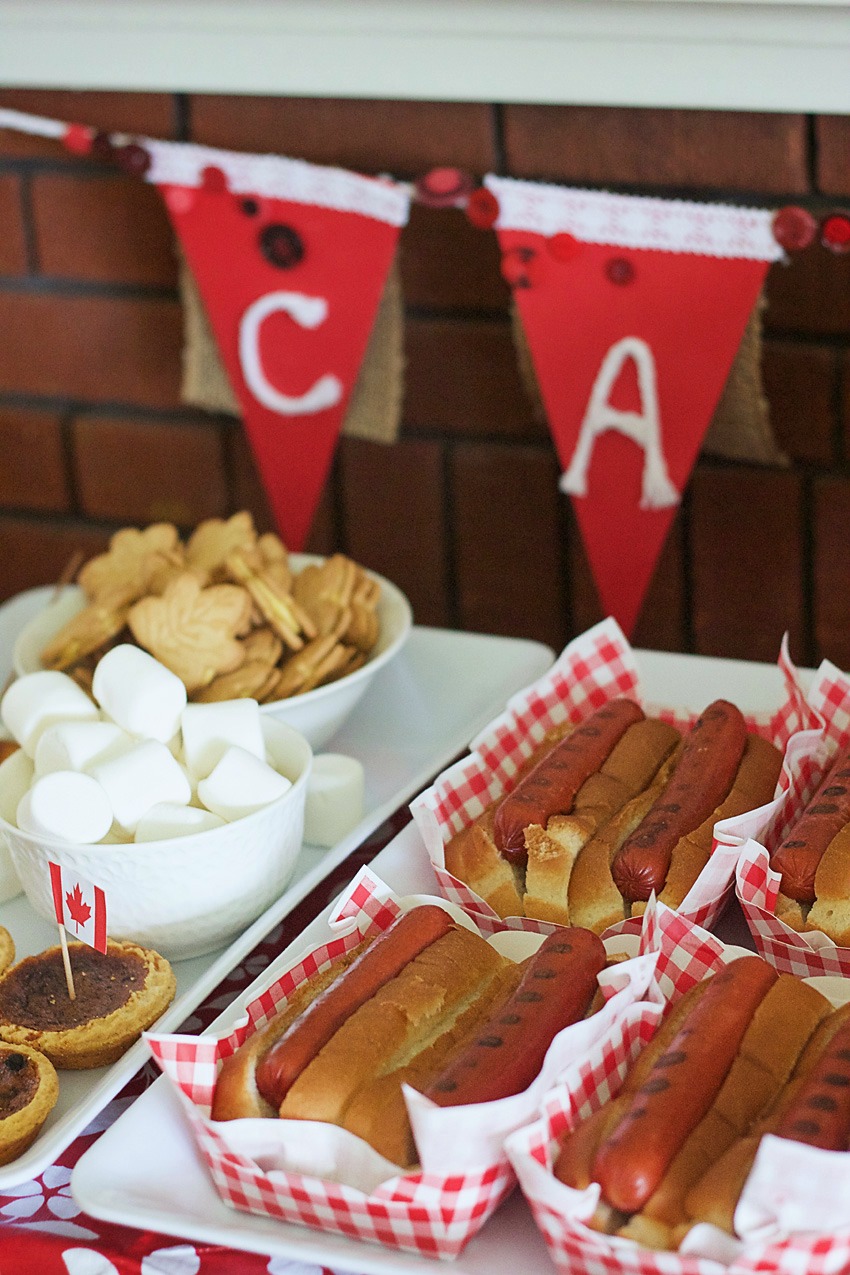 I love the overall look and how the bunting gives a sort of cozy, Canadian cottage vibe to our decor. What do you think of how it turned out? I'd love to know how you're adding red and white to your home and festivities this year. And if you're looking for some inspiration for Canada Day, check out Wayfair.ca's Canada 150 page where you'll find a round up of their most popular made-in-Canada products!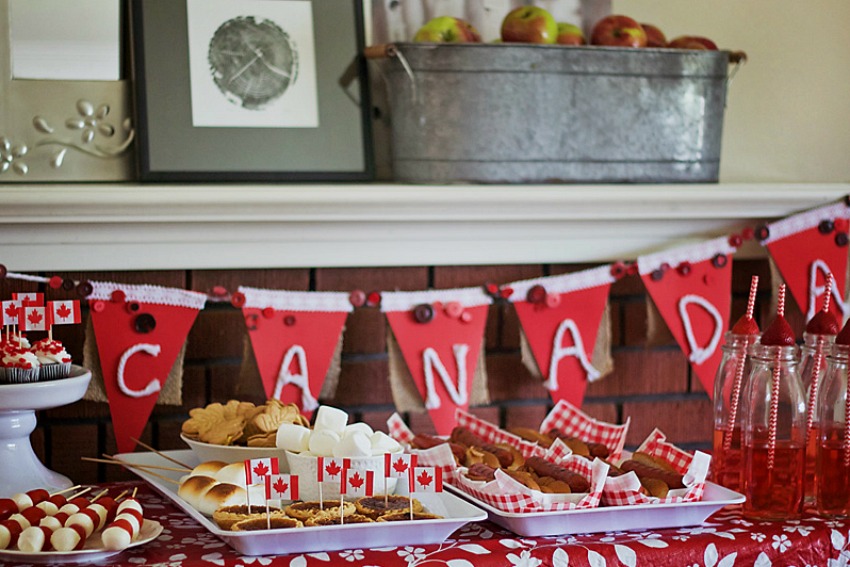 I hope you give this DIY shabby chic bunting a go and add your own personal touch! If you do, I'd love to see how it turns out so be sure to tag me on social media!
And for more home and party decor inspo be sure to visit Wayfair.ca
Happy Canada Day xo
---
This post is sponsored by Wayfair Canada. As always, all opinions are personal.
Latest posts by Emily Smith
(see all)