Is A Standing Desk Worth It? We Put One To The Test!
Are you considering making the switch from a regular desk to an adjustable standing desk? 
I was in the same boat. I wondered if it was worth the investment.
And I wasn't sure if a standing desk was right for me.
Until, I tried it.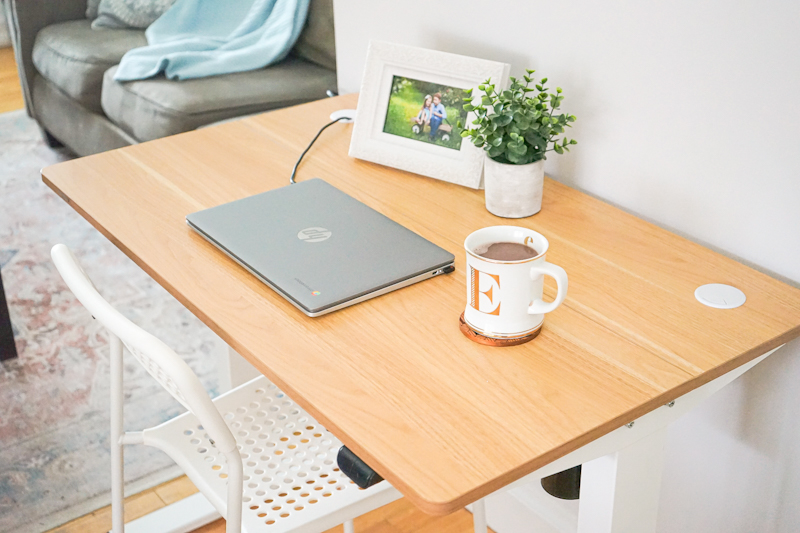 My First Impressions of Working at a Standing Desk
For the past few months, I have been working from my new Flexispot Electric Height Adjustable Standing Desk (model EG1-40″W). Now that I've experienced first-hand using a standing desk, I'm all in. Within the first week, I felt the difference in my body. 
I work from home, and most days I am back and forth with sitting and standing, because of the nature of my work. When I'm not in front of the computer, I'm working on shooting content, in the kitchen doing recipe-testing, setting up a flatlay for video, or doing a myriad of other things that require me to be on my feet.
That said, there are days when I'm in front of my computer for 8 hours straight writing, editing photos, and connecting on social media, among other things that keep me glued to the screen. On those days especially, the long hours of sitting would always translate to aches and pains.
With my Flexispot Electric Height Adjustable Standing Desk, I can stand-up, maintain a good posture, and keep my body in an engaged position. It makes a big difference throughout the day to be able to continue working at the computer while standing. I love it!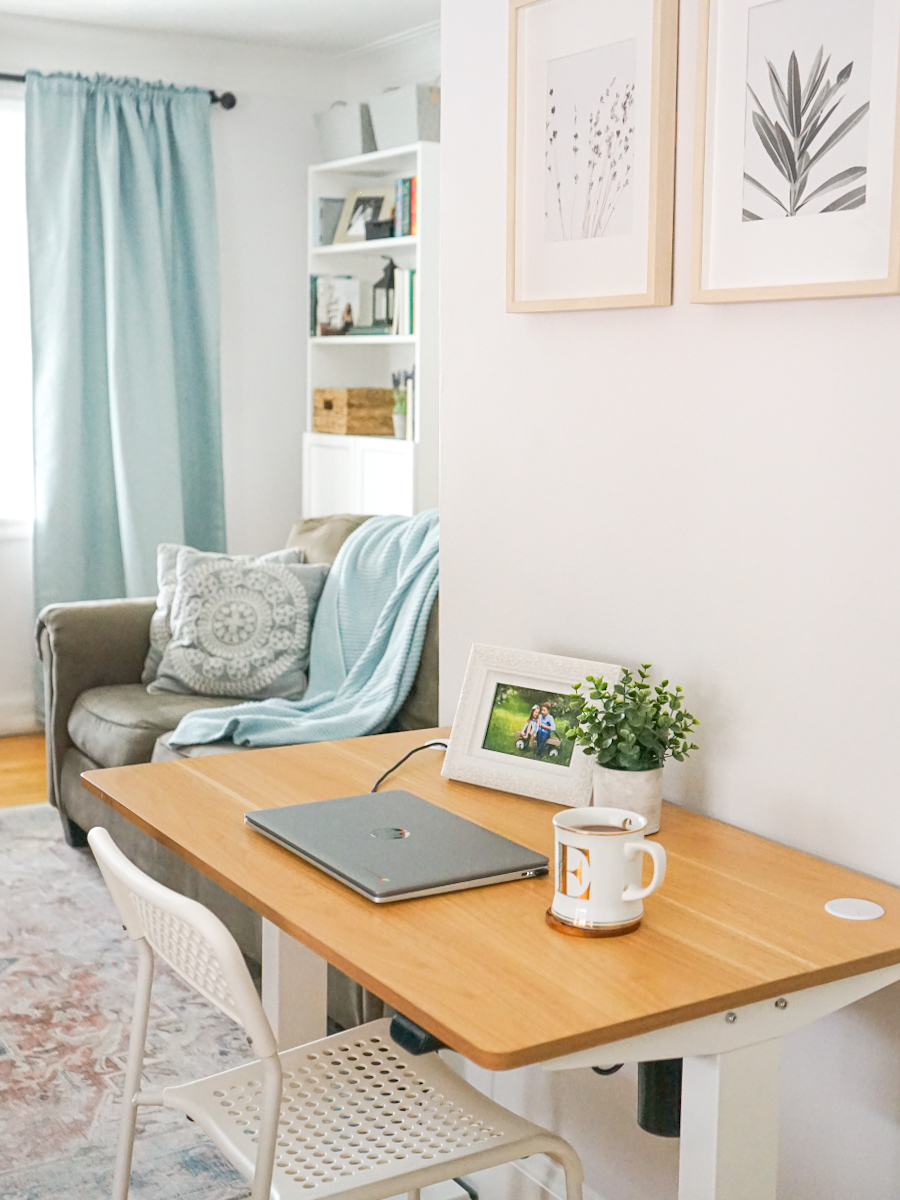 What Are the Benefits of an Adjustable Standing Desk?
Medical advice encourages us not to sit too long. "When you sit, you use less energy than you do when you stand or move. Research has linked sitting for long periods of time with a number of health concerns," said Dr. Edward Laskowski, certified by the American Board of Physical Medicine and Rehabilitation.
Sitting too much can lead to different types of chronic health problems. This is a very frustrating concern, given how much work most of us have to do sitting in front of a computer.
So what are the benefits of an adjustable standing desk? First and foremost, you have the option to stand while doing your work. I like that I can have the best of both worlds. Most of the time now, I begin my day in a standing position until I feel like having a break and sitting down.
While I also include routine activities throughout the day – like going for walks and stretching, I enjoy having the option to move from a seated position to a standing position while continuing my work; I can extend my legs, adjust my posture and consciously move around.
The Electric Height Adjustment Feature Is the Best
The main feature that makes the Flexispot Electric Height Adjustable Standing Desk stand-alone (pun intended) is the electric height adjustment. This feature makes it easy to find your comfortable desk height.
Not to mention, it makes it family-friendly as well, because you can easily adjust the height for any family member.
The desk has a two-button controller that allows you to adjust the height between the range of 28.7"-48.4" (73-123cm). It's so convenient to switch from sitting to standing throughout the day.
In my opinion, if you are using it for work, having the standing desk leveled at about elbow height is best. It's incredibly simple to adjust to your preferred level, whether you are in a standing or seated position.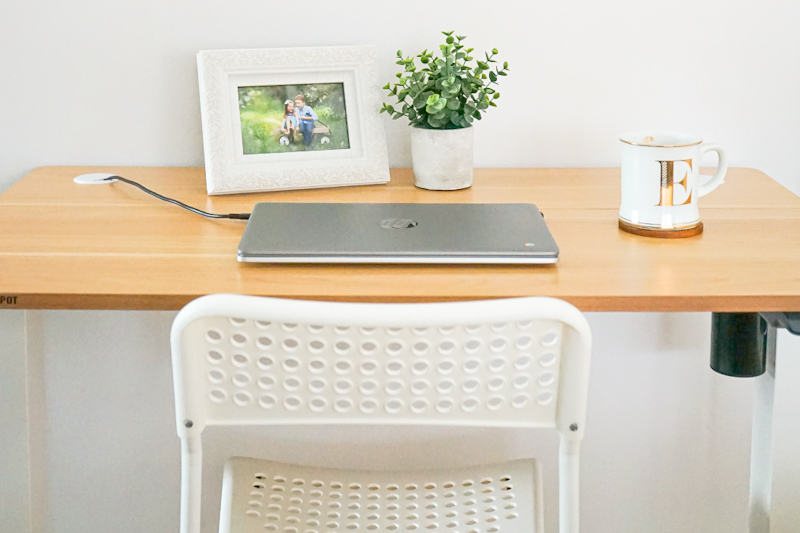 Is an Adjustable Standing Desk Work the Investment?
Being able to adjust the height of the EG1-40″W Flexispot Electric Height Adjustable Standing Desk is just one of the many practical features of this product.
The desk has two cable management holes, enabling you to connect with your devices and keep them organized. The desktop is chipboard, composed of 70% recycled material, and can support up to 60kg.
Aesthetically, it comes in two different colours; a Maple worktop with a white desk frame or a Mahogany worktop with a grey desk frame.
I chose the maple and white combination for my decor style and I'm quite pleased with it. It easily fits into our living room space without overwhelming it.
If you are considering making the switch from a regular desk to an adjustable standing desk, I highly recommend taking a look at FlexiSpot to see the available standing desk options. 
I couldn't be happier with my EG1-40″W Flexispot Electric Height Adjustable Standing Desk. It's made a difference in my workflow and how I feel after a long workday. My body is thanking me for the switch!
This piece is presented in partnership with FlexiSpot. All opinions are honest and personal. The Best of This Life contains affiliate links to products. We may receive a commission for purchases made through these links at no additional cost to you. We hope you love the products we recommend! 
Latest posts by Emily Smith
(see all)