Strawberry Coconut Shortcake Trifles (Quick and Easy!)
These Strawberry Coconut Shortcake Trifles served in individual mason jars, are a quick and easy twist on the traditional strawberry trifle recipe. They are made with juicy strawberries, fluffy angel food cake, and creamy coconut whipped topping, which is why they're one heavenly treat.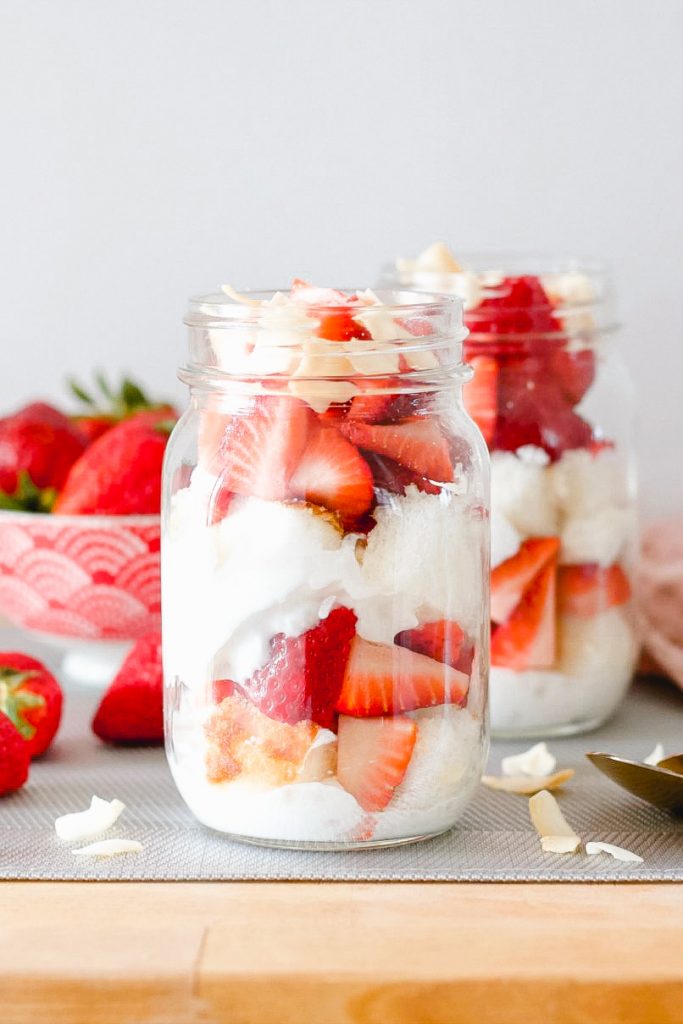 This post has been sponsored by the California Strawberry Commission. All opinions are honest and personal.
---
Strawberries Are Not Only Delicious, They're Nutritious
To say we're a strawberry-loving family would be an understatement. We adore strawberries! I mean, what's not to love. Strawberries are bursting with sun-kissed flavour. They are naturally sweet and deliciously juicy!
We're so lucky to be able to find organic and conventionally-grown California strawberries at our local grocery and natural food stores. They are always fresh and tasty and are now in peak season.
Did you know California strawberries are an excellent source of Vitamin C? They have the same amount as an orange!
8 California strawberries equal 1 recommended serving and deliver a dose of Vitamin C and fibre for 50 calories.
Whether you enjoy them for a healthy snack during the day or add them to a sweet treat you're baking in the kitchen, California strawberries are always a delight!
We have nothing but heart-eyes for strawberries around here which is why I wanted to share with you one of our favourite strawberry desserts to whip up. This recipe is quick, easy, and fun for kids to do as well.
Our Strawberry Coconut Shortcake Trifles served in individual mason jars, is our take on the traditional strawberry trifle. We love the flavour combination of coconut and strawberries – it's simply heavenly!
Here's what you'll need to make your own Strawberry Coconut Shortcake Trifles:
4 x 500ml mason jars
2 cups coconut whipped topping
3 cups angel food cake, chopped
2 cups California strawberries, quartered
1/3 cup toasted coconut chips
To assemble the individual trifle desserts:
Begin by adding a layer of coconut whipped topping to each jar. Then add a layer of angel food cake, and finally a layer of strawberries.
Repeat once more. Then top the trifles with toasted coconut chips. Enjoy!
Notes: For the coconut whipped topping – you can either use canned which you can purchase at the store, or, you can make it yourself by whipping full-fat canned coconut milk (only use the thick creamy part and discard the water). For the angel food cake – you can easily make this cake from scratch, use a mix or purchase a ready-made cake from the grocery store. It's up to you and how much creative time you have to spend in the kitchen!
Making these heavenly Strawberry Coconut Shortcake Trifles is such a fun family activity!
All the components are kid-friendly and you can even set up a trifle-making bar. Just present all the prepared ingredients in bowls, spread out on the table, and let every family member assemble their dessert.
You can get creative and include extra toppings and layers. Such as honey, maple syrup, vanilla pudding, sprinkles, or chocolate sauce. Yum!
To sum up, you can truly make these trifles as easy-going or as fancy as you choose. We hope you have as much fun with this recipe as we do!
Whether you are a beginner or seasoned home baker, California Strawberries offers a vast collection of delicious recipes for at-home treats at californiastrawberries.com.
There are so many strawberry recipes our family has bookmarked to try like these Strawberry Pistachio Cream Tarts that look mouthwatering! Mmmmm….
From California Strawberries and our family, we hope that you and your families are staying healthy.
Latest posts by Emily Smith
(see all)