Which Sunscreen Is Right for Your Face?
Sunscreen is a summertime essential. But beyond summer, are you using sunscreen? It's recommended we wear sunscreen all year round. While you may not need an SPF 50 in the wintertime, unless of course, you're on the mountain skiing, even wearing a lighter SPF on snowy days can help you stave off skin damage.
Whether you're jumping into a pool on the sunniest summer day or making a snowman in your backyard in the heart of winter – sunscreen is a must!
When it comes to choosing the right sunscreen for you, it's important to consider your skin type and individual needs. For example, do you have dry skin? Will you be wearing the sunscreen for swimming?
For myself, I have a range of sunscreens that I use, depending on the day. Am I going to be active and outdoors or mostly indoors and wearing makeup? The purpose and circumstance help narrow down the options.
Today I'm sharing my picks for best facial sunscreens. I have tried all of these personally and will share with you my thoughts of each one and how they can best serve you.
Sunscreens for Dry and Sensitive Skin
Murad Essential-C Day Moisture Broad Spectrum SPF 30: moisturizing and protecting, this sunscreen helps shield skin from UV damage and pollution. It supports a healthy-looking complexion and leaves skin with a nice glow finish.
CeraVe Facial Moisturizing Lotion AM: at only approximately $13.99 CDN this sunscreen is a steal! It's the perfect choice for a daily moisturizer that includes SPF 30. CeraVe is a trusted brand for sensitive skin, their entire product range is gentle. This product helps maintain your skin's natural protective barrier and to keep your skin hydrated.
Sunscreens for Oily Skin
Skinceuticals Physical Matte UV Defense SPF 50: as the name suggests, this sunscreen offers a matte finish that lasts even on hot, humid summer days. I've used this for a few years now and I like the smooth texture it gives skin and the fact that it dries to a powder finish. It's easy to apply makeup over the top of it, and if you're going makeup-free, it offers a universal tint that gives skin a nice look. It's non-comedogenic and non-acnegenic.

Oil and Pore Control Mattifier Broad Spectrum SPF 45: I'm always on the lookout for a great sunscreen that won't cause my already oily skin to be oilier or to breakout. This SPF moisturizer not only keeps oil at bay, but it also minimizes the appearance of pores and offers 10 hours of shine control.
Sunscreens for All Skin Types
Riversol SPF 30 Lightweight Broad Spectrum Sunscreen: I've just recently started using this sunscreen and I'm already a fan. It's a very blendable tinted formula that works right into your skin, leaving no trace. I find it moisturizing without being greasy and I like the overall finish. It offers UVA and UVB protection with reef-safe mineral sun filters and it's enriched with antioxidants to minimize the look of wrinkles and dark spots. To learn more about this company, you can read my recent review here.
Reversa Radiance Cream SPF 30: if you already have dark spots from sun exposure, I recommend this sunscreen. Not only does it lighten existing dark spots (from acne or sun spots), it prevents new ones from forming. It's made with Vitamin C and glycolic acid, known to increase collagen synthesis and overall brightness. I find this cream instantly makes my skin glow, it goes on so easily and leaves a dewy finish. I would just put on some light cream blush and lip gloss and be ready for the day!
Avon Anew Hydra Fusion Daily Beauty Defense SPF 50: I love how ultra-lightweight this sunscreen is! It goes on perfectly smooth and melts into your skin. With its fresh scent, it's a great start to your morning routine. Apply after washing your face and you're set with your daily defence against free radical damage.
Water-Resistant Sunscreens
La Roche-Posay Anthelios Ultra-Fluid Lotion SPF 60: this sunscreen has a light texture that's easy to apply on the skin. It applies matte to the touch and works well under makeup. It's formulated with sensitive skin in mind and is fragrance-free, paraben-free, non-comedogenic, and as a bonus, it's water-resistant. This one is great to apply before and during a full day out in the sun.
Hawaiian Tropic Island Sport Lotion Sunscreen SPF 50: I'm not going to pretend I don't love the smell of this sunscreen, because I do. It's that classic tropical smell that just takes you to the beach. Which is exactly what it's perfect for! Whether you're heading to the beach, pool, lake, or waterpark, this sunscreen is up to the task of protecting you from the sun's harmful rays. It's water-resistance, yet it's light enough that it won't clog your pores. Yay!
These are a few of my top sunscreen picks. It's important to speak with a skincare professional to find the right choice. I also recommend doing some research on each product, request a sample if possible, and reach out to the company if you have any further questions to make sure it's a perfect fit for your skincare needs.
PIN THIS POST FOR EASY REFERENCE!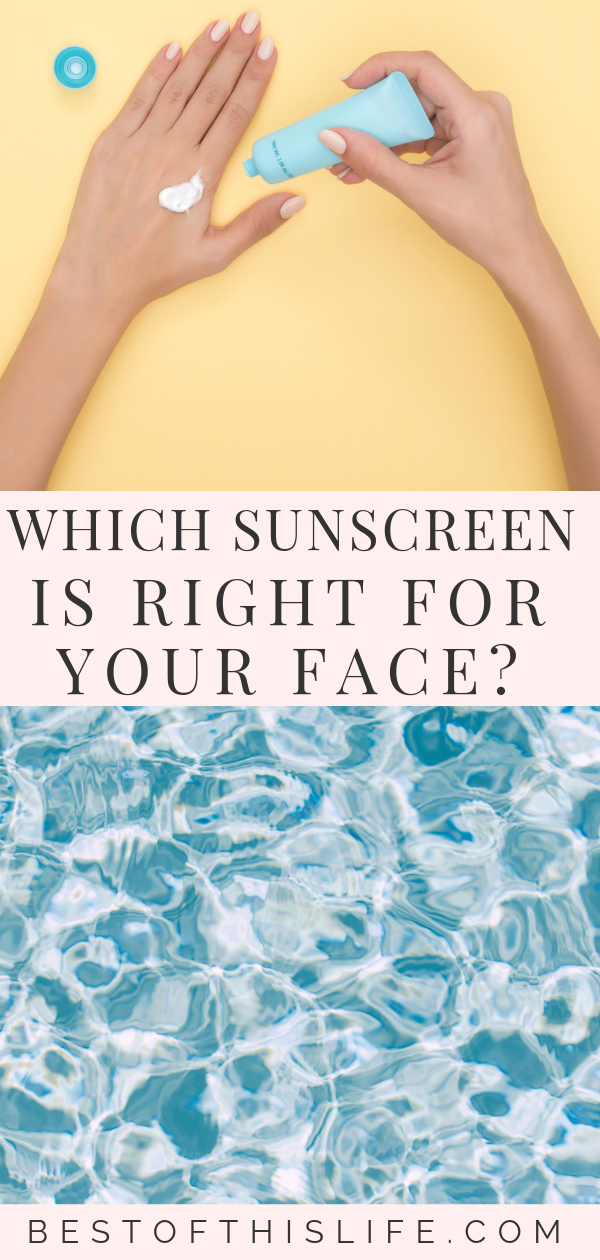 Latest posts by Emily Smith
(see all)