Sweet and Zesty Clementine Spinach Salad For Spring
It's officially the first day of spring! We made it through the long winter. This morning, my daughter woke up, ran to the living room, opened up the curtains and proclaimed, "SPRING IS HERE!" She then proceeded to ask her daddy where all the green grass and flowers were. I'm with you, darling Abby, I also wish spring was magically in full bloom today however, we still have a little ways to go.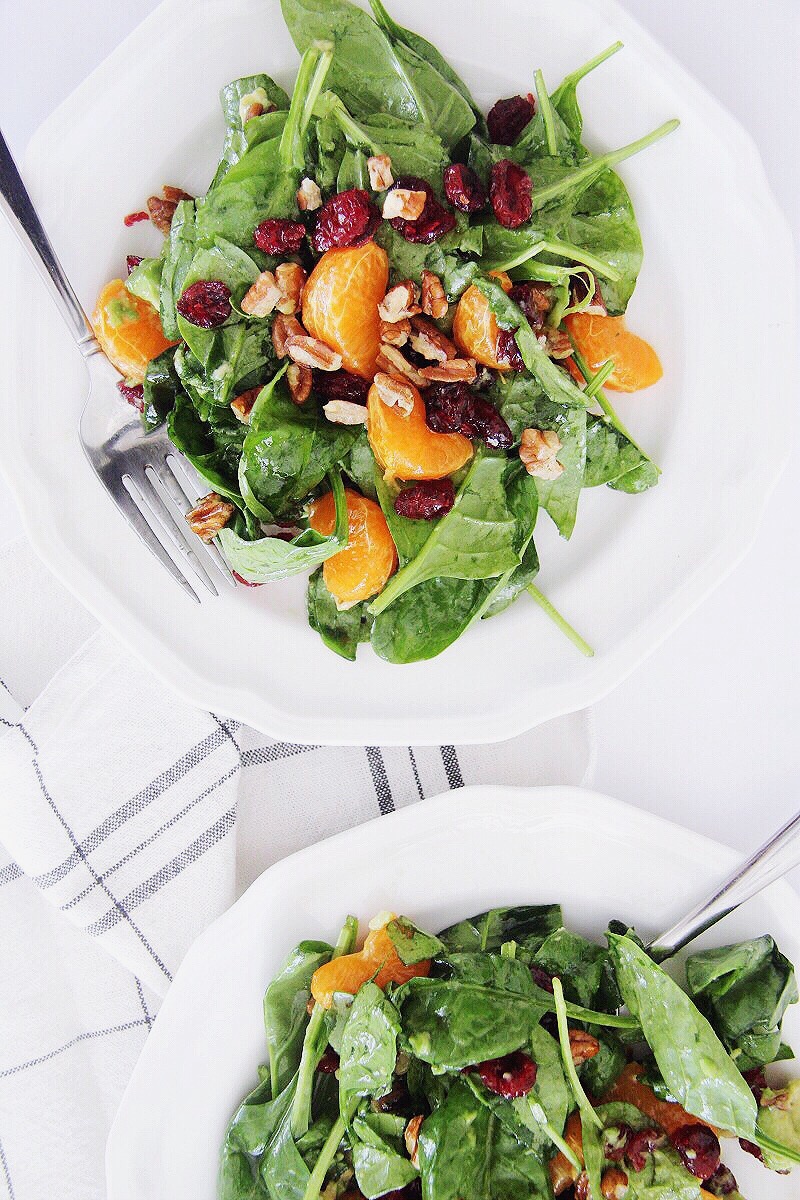 We are closer than ever to warmer weather, and I can't wait to see beautiful, bright tulips spring up. I can feel the shift happening already, especially because I'm craving more salads. This always happens. During the colder months, I am not as inclined to want a crispy, juicy salad. I'm more likely to make a vegetable soup. However, the past two weeks have me thinking of lots of different spring salads I'd like to make which is how I know the tide has turned and winter is definitely behind us.
This deliciously sweet and zesty clementine spinach salad is bursting with flavour, tanginess, and crunch. It's got all the components I love in a salad! Clementines are still very much in season around here. They're wonderfully aromatic and a delectable addition to salads.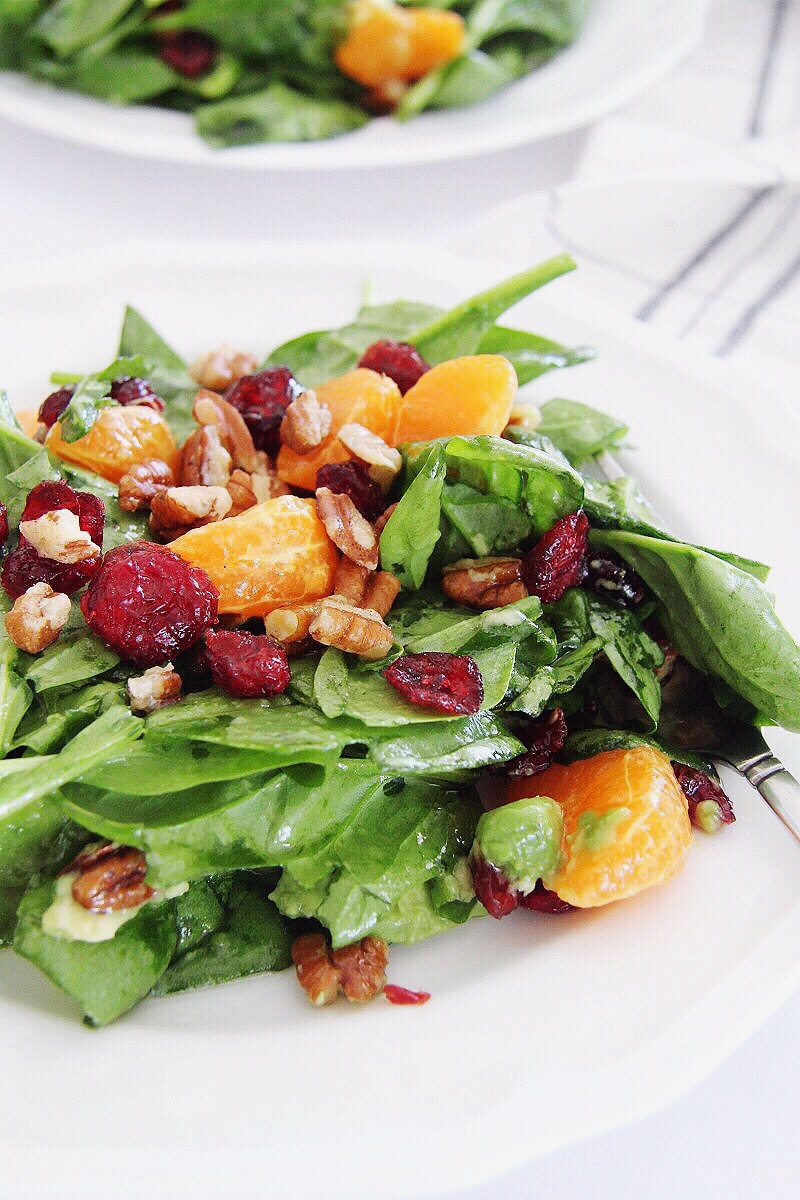 For this salad, I began with a bed of baby spinach, then added sliced avocado, clementines, chopped pecans, and dried cranberries. Then I topped it off with a citrusy dressing. That glossy look to the spinach leaves is thanks to a good amount of freshly squeeze lemon juice. It gives the salad a perfect balance between sweet and acidic.
As with all salads, feel free to swap out ingredients, add extra ones, or more dressing (or less). It's all about your personal taste and what gets your palate excited to dig into YOUR salad! This recipe makes just enough for 4 side salads, or 2 entree portions. My husband and I shared this for lunch the other day and we ate it all up!
Print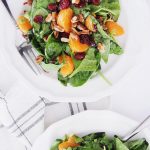 Clementine Spinach Salad
---
Description
A sweet and zesty spring salad full of flavour and crunch.
---
4 cups

baby spinach

1 cup

clementines, peeled and divided (around

3

clementines)

1

avocado, halved and sliced into quarters

1/3 cup

chopped pecans

1/3 cup

dried cranberries
For the dressing
4 Tbsp

extra virgin olive oil

2 Tbsp

freshly squeezed lemon juice

1 Tbsp

honey

1/4 tsp

fine sea salt
---
Instructions
Wash and prepare all your ingredients.
In a medium-size salad bowl, add baby spinach, avocados, clementines, pecans, and dried cranberries. Prepare the dressing in a small dish. Pour over salad and toss until coated. Serve and enjoy!
Notes
Makes 2 entree salads or 4 side salads.
If you're looking for more salad inspiration, you might want to check out these other tasty recipes: Springtime Pasta Salad with Radicchio + Goat's Cheese, Bibb Salad with Radishes and Asparagus, and Raspberry Pear Spinach Salad. Yum!
PIN this recipe!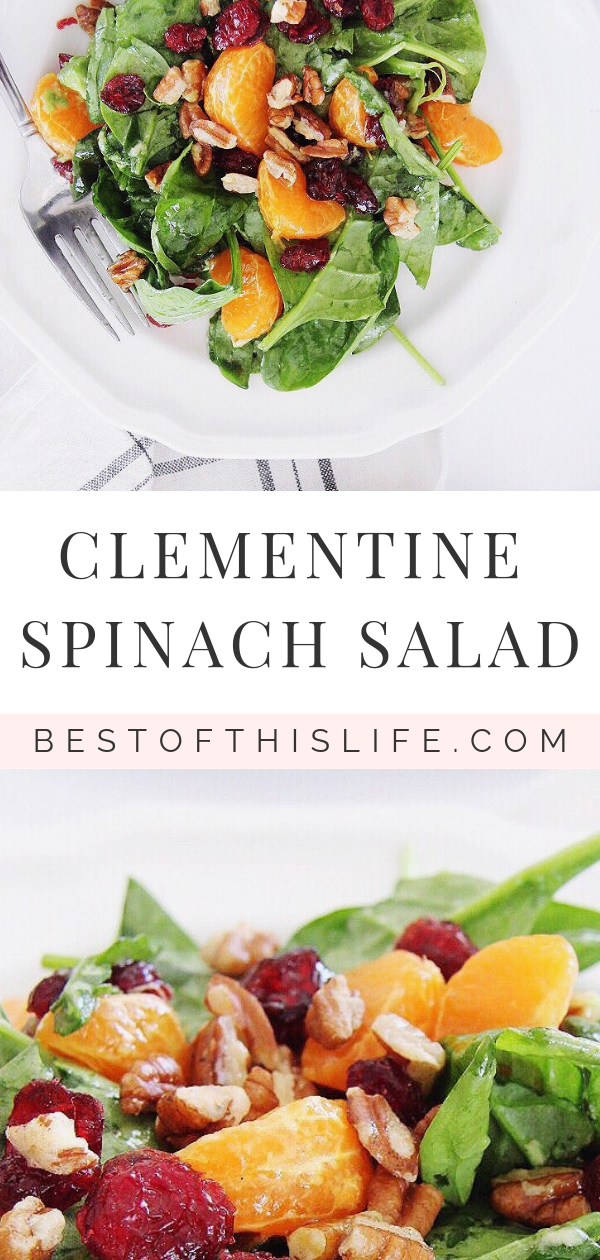 Latest posts by Emily Smith
(see all)