Taste of Tuscany Gluten Free Macaroni

What does a bowl of pasta make you think of? Comfort food. Home. A glass of wine. Italy.
Many moons ago, I visited the beautiful villages in Tuscany, Italy. I had the privilege of eating some of the most incredible food I've ever tasted. At the vacation home where I was staying, there was a private cook who made fresh, magnificent meals everyday from local produce and foods.
There was one evening, where a spaghetti pasta dish was on the menu – being gluten free, I requested to save some of the fresh ingredients so that I could just eat them as they were. The chef made me a charcuterie plate with prosciutto, fresh Parmesan cheese, regional olives, sliced tomatoes, a light green salad with herbs, and pieces of melon.
It was a memorable taste.
Fast forward years later, with the availability of delicious Catelli® Gluten Free pasta, I've imagined that recipe and made it my own – a Tuscan inspired macaroni dish that the whole family can enjoy.
Did you know that Catelli® Gluten Free pasta is made from a unique four-grain blend of white rice, brown rice, corn and quinoa? It has a delicious taste and smooth texture – which is probably why it was voted the Best New Gluten Free Pasta by Consumers.*
My friends at Catelli invited me to join the Catelli Gluten Free Pastabilities Challenge and submit a recipe to be judged by Chef John Higgins – Director of Toronto-based George Brown Chef School, judge of The Food Network's Chopped Canada and former personal chef to the Queen Mother. My recipe will be judged according to creativity, taste and overall culinary experience.
When I think of culinary experience, I close my eyes and I am brought back to that summer evening in Italy, where I first tasted prosciutto and my senses were overtaken. This recipe captures that moment in time and blends it with the flavours and comforts of home.
Everything slows down with each bite.
What do you think, if you were judging – would this recipe be a winner? I hope so!
Although olive oil would be customarily used in a pasta sauce from Italy, I chose to use butter. The taste of garlic and shallots sautéed in butter adds richness to the dish and also infuses a bit of my french descent into the recipe. Not to mention, the aroma it creates – bringing the whole family to the dinner table within minutes!
I hope that you will be enticed to try my recipe and bring a little bit of the taste of Tuscany into the comfort of your home. I promise you it's very easy to make and you will be delighted with each mouthful.
Print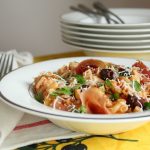 Taste of Tuscany Gluten Free Macaroni
---
Description
Bringing the tastes of Tuscany to home in this comfort food, gluten free macaroni dish.
---
1

pkg (340g) Catelli Gluten Free Macaroni

1 teaspoon

of coarse sea salt

5

garlic cloves, minced

3

shallots, minced

1 cup

of Italian black olives, pitted

1/2 cup

of olive juice (saved from jar or can of olives)

4

roma tomatoes, diced

4 Tablespoons

of thick tomato sauce

6 Tablespoons

butter

2 teaspoons

Italian parsley, chopped

2 teaspoons

of fresh basil, chopped

60 grams

fresh Parmesan cheese, grated

200 grams

prosciutto, finely sliced.
---
Instructions
Cook macaroni according to package directions (use sea salt in the water). Set aside.
In a large pot, over medium heat – warm up 2 tablespoons of butter.
Add in garlic and shallots, stirring as they sauté.
Next, add in the olives and diced tomatoes, cooking for around 2-3 minutes.
Pour in the olive juice, then the tomato sauce and remaining butter, gently stir for another 2 minutes.
Slowly add the prepared macaroni into the sauce.
Add the grated Parmesan cheese to the pot and stir into the pasta.
Serve immediately in pasta bowls and top with fresh italian parsley, basil, and prosciutto.
Enjoy!

Would you like to join me in the kitchen? Create and post YOUR own original gluten free pasta recipe on Catelli's Facebook page to enter the Gluten Free Pastabilities Challenge from May 4-31, 2015. You can use this coupon to save $1.00 off on any one Catelli® Gluten Free 340g product to get started!
The three people whose recipes get selected and have the highest number of likes on Catelli's Facebook page will receive a year's supply of gluten free pasta, courtesy of Catelli.
I can't wait to see what delectable pasta recipes you come up with!
---
*According to results of the 2015 BrandSpark Best New Product Awards survey conducted by BrandSpark International. For more information visit www.BestNewProducts.ca
The Best of this Life received product from Catelli to create this recipe. All opinions are authentic and personal.
Latest posts by Emily Smith
(see all)