The Perfect Pair: Perfetto Espresso + Chocolate Cake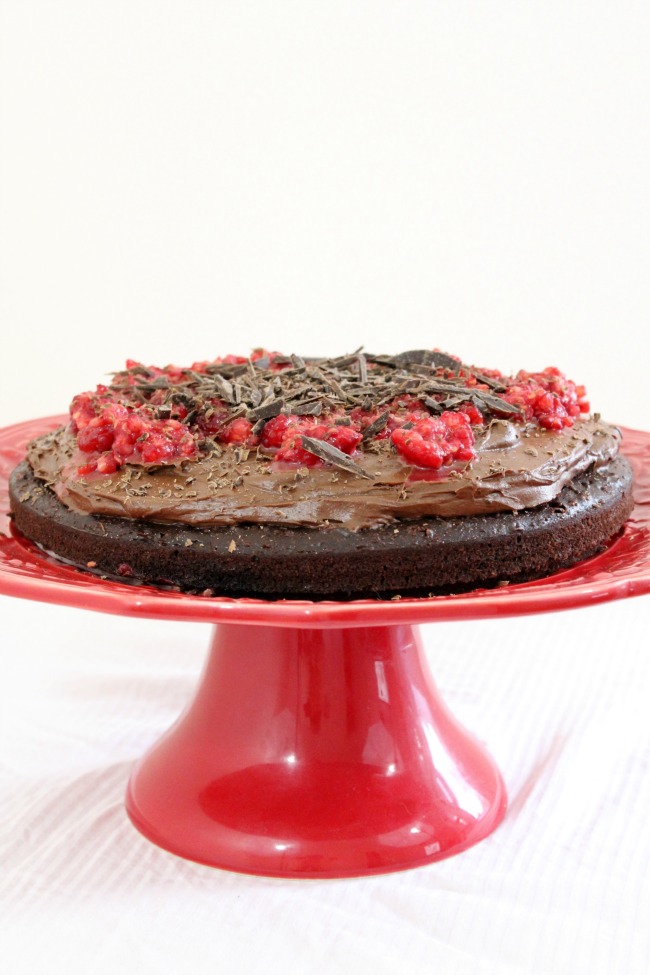 This post is brought to you in partnership with Lavazza. All thoughts and opinions are my own.
What are the holidays without a bit of indulgence? I can't think of a Christmas without chocolate! No way.
And what goes better with chocolate than the perfect dark and velvety brew. You know I'm talking about Lavazza's Perfetto Espresso Roast. If you haven't tried it, you've got to because I know what I'm talking about. Perfetto is smooth and rich, making it the ideal accompaniment to a slice of chocolate cake – which was made with coffee in mind.
This gluten-free chocolate cake is not fluffy nor overly sweet, rather its dense yet moist and sinfully delicious. Adding to its richness, I spread a thick layer of chocolate cream cheese frosting on top with freshly crushed raspberry and shaved dark chocolate. Oh my!
Rich, moist, creamy, flavourful, chocolatey, mouth-watering cake. Yes friends, it's amazing.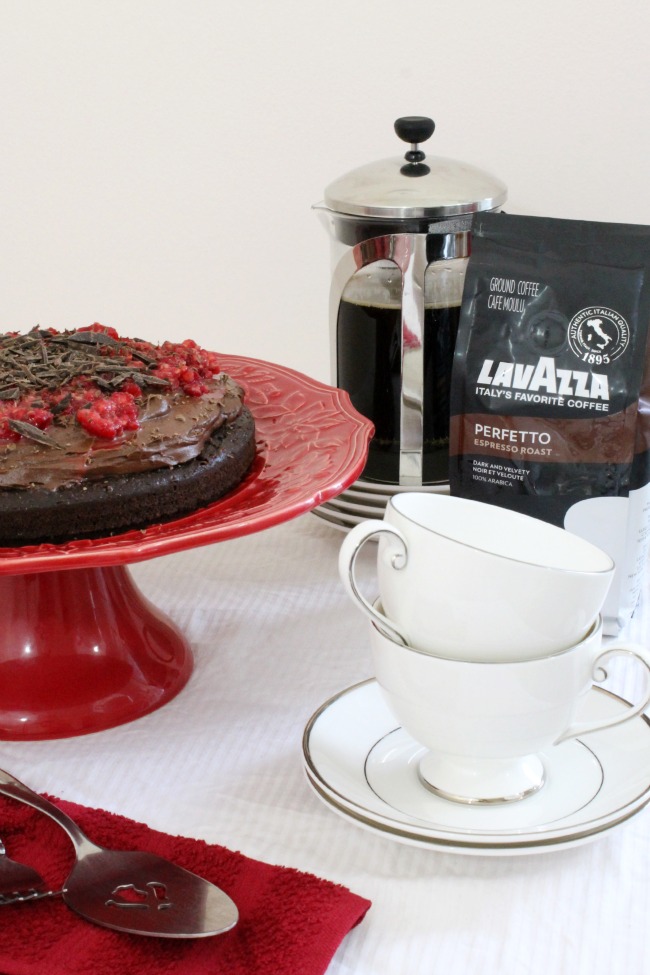 There's nothing like a piping hot cup of coffee on a cold fall day, paired with a favourite treat to make you feel all the comforts of home and the holidays. In the afternoon, right before Little A comes off the bus from school and while Abigail is still napping (somedays), I pour a cup in a one of my fancy china cups and indulge in the moment. Sipping on Perfetto coffee with a slice of dark chocolate cake is just one of life's many pleasures that must be enjoyed every so often.
We all have a favourite treat and times during the day or week, that we stop to enjoy them. From a sweet homemade recipe, to a fanciful dessert at the cafe – what do you indulge in from time to time? Do you have a specialty coffee that you drink with it? I'd love to know what your go-to is!
For more espresso inspiration using Lavazza's Perfetto Roast please follow our Lavazza Passionistas pinterest board!
Connect with Lavazza on Facebook, Twitter, and Instagram and visit their website here.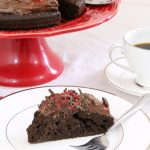 Gluten-Free Chocolate Cake
---
1 1/4 cup

unsalted organic butter

1 cup

brown rice flour

1/4 cup

oat flour (grounded gluten-free oats)

3/4 cup

brown sugar

4

large eggs

1 tsp

pure vanilla extract

1 tsp

baking powder

6 Tbsp

cocoa powder

3 Tbsp

dark chocolate almond milk
Frosting:
3/4 cup

icing sugar

4 Tbsp

cocoa powder

7 Tablespoons

unsalted organic butter

7 Tablespoons

of cream cheese

1 pint

fresh raspberries

4

large squares of dark chocolate
---
Instructions
Preheat the oven to 375F. Grease one springform cake tin with butter, then line the bottom with greaseproof paper and dust the sides with gluten-free flour.
In a bowl, beat the butter and sugar for around 5 minutes, or until light and fluffy. Crack in the eggs, then mix in the vanilla extract until combined. Sieve the flour, baking powder, and cocoa powder into the bowl, then fold through. Add the almond milk and stir briefly until you have a nice, smooth batter.
Pour the cake batter into the springform and bake on the middle rack for 15 to 20 minutes, or until an inserted skewer comes out clean. Leave to cool for 5 minutes, before turning the cake out onto a wire cooling rack, then leave to cool completely while you make the frosting.
Sieve the icing sugar and cocoa powder into a large bowl, then add the butter and beat until smooth. Stir in the cream cheese until combined. If it's a little thick, add a splash of milk to loosen.
Once cooled, place the cake on platter or cake stand. Carefully spread the icing. In a bowl, crush the raspberries with a fork, then scatter on top. Finish with a few shavings of chocolate.
Notes
Original recipe modified from Jamie Oliver: http://www.jamieoliver.com/recipes/chocolate-recipes/gluten-free-chocolate-cake/#mTyFPbDapc26sIyq.97
Latest posts by Emily Smith
(see all)