Two Creative and Delicious Ways To Cook with Bacon
My daughter tried bacon for the first time when she was around a year-and-a-half old. She reached toward her plate with her tiny hands and took a few pieces to taste. With big, bright eyes, she exclaimed, "Oh YUMMY!" – and hasn't stopped saying so since.
Unlike my darling Abigail, I didn't quite take to bacon as a child. In fact, it wasn't until my early twenties that I started to really enjoy bacon with eggs for a weekend breakfast. And now, it's a regular Sunday morning meal for our family; we all look forward to it because bacon is delicious!!
Beyond a traditional breakfast, I haven't explored much the culinary possibilities of bacon – that is, until now. When Walmart invited me to try two new recipes that included Great Value Bacon, my curiosity was piqued, and I knew my mini-me's would be too. Together, we went on a shopping trip to Walmart to pick up all the ingredients we would need to make Cheesy Bacon Wrapped Chicken and Bacon Chocolate Chip Cookies.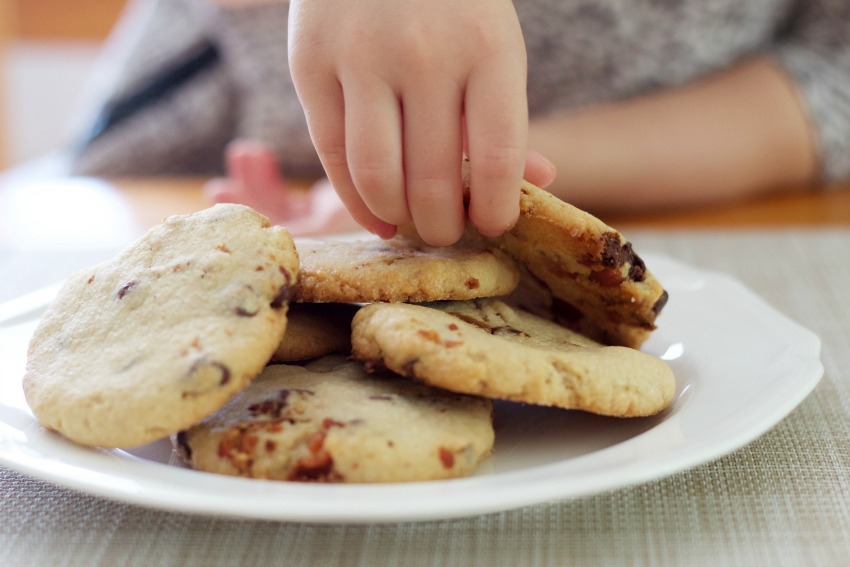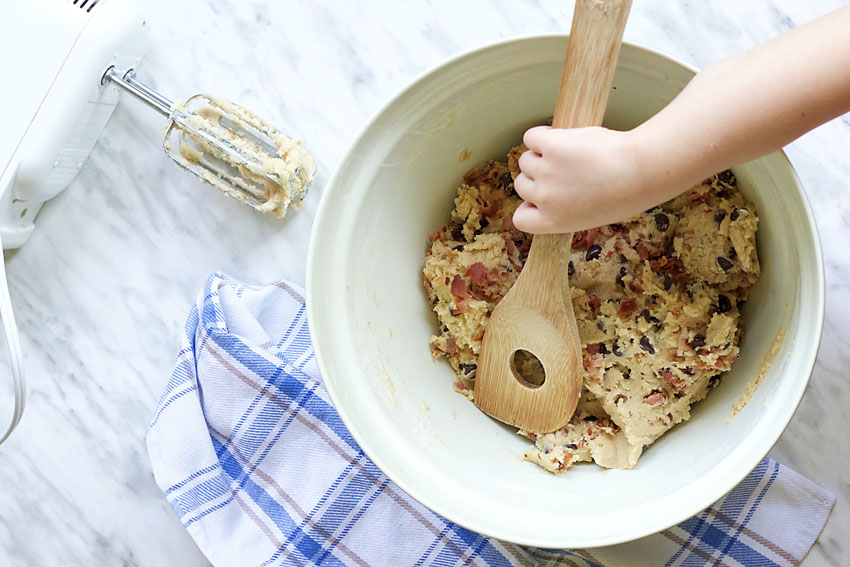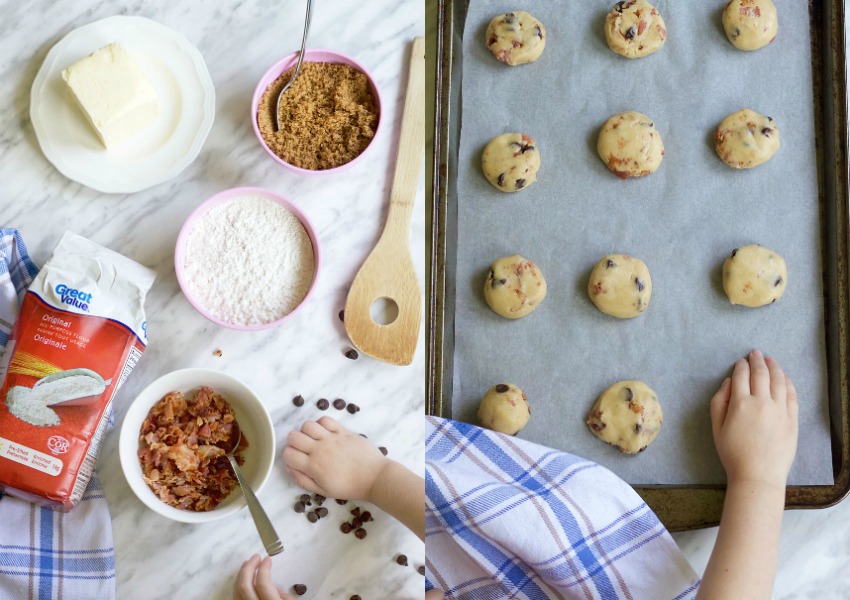 These recipes incorporate bacon in creative ways that I was just dying to try. We got busy in the kitchen one late afternoon, and planned to enjoy our creations for dinner and dessert. Abigail helped me measure and prep all of the ingredients for our cookies. She was a big help, mixing the dough and placing it on our baking sheet. Of course, she was also the perfect taste-tester once the cookies cooled a bit after baking. I can tell you right now, she had those same big, bright eyes when she took her first bite. "Mmmmm, these are so yummy Mommy," she said, and I have to agree! Their flavour is decadent, sweet, and salty, and they have a wonderfully chewy texture. They are undoubtedly a new household favourite.
Bacon Chocolate Chip Cookies
Ingredients:
375 g pkg Great Value Thick Bacon
3 cups (750 ml) Great Value All Purpose Flour
1 tsp (5 ml) Great Value Baking Soda
¼ tsp (1 ml) Great Value Salt
1 cup (250 ml) Great Value Unsalted Butter, softened
1 cup (250 ml) packed brown sugar
¾ cup (175 ml) granulated sugar
2 Great Value Eggs
1 tbsp. (15 ml) Great Value Vanilla Extract
1 cup (250 ml) Great Value Milk Chocolate Chips
Directions:
Heat oven to 160F (70C). Line 2 baking sheets with parchment.
Cook bacon in a large skillet over medium heat until crisp, about 8 to 10 min. Drain on a paper towel-lined plate. Once cooled, roughly chop.
In a medium bowl, whisk together flour, baking soda and salt.
In a large bowl using a hand mixer or in the bowl of a stand mixer, cream together butter and sugars until light and fluffy, about 2 min. Add eggs, one at a time until combined. Add vanilla. Add flour to mixture in 2 additions until fully combined. Stir in chocolate chips and bacon
Spoon onto prepared sheets in 2 tbsp. (30 ml) balls, 1½ inches (3.5 cm) apart, pressing down lightly with palm. Bake in batches for 14 to 15 min until just golden on edges.Let cool 2 min on sheets before cooling completely on racks.
Kitchen Tip: Try these delectable cookies as an ice cream sandwich with your favourite ice cream flavour!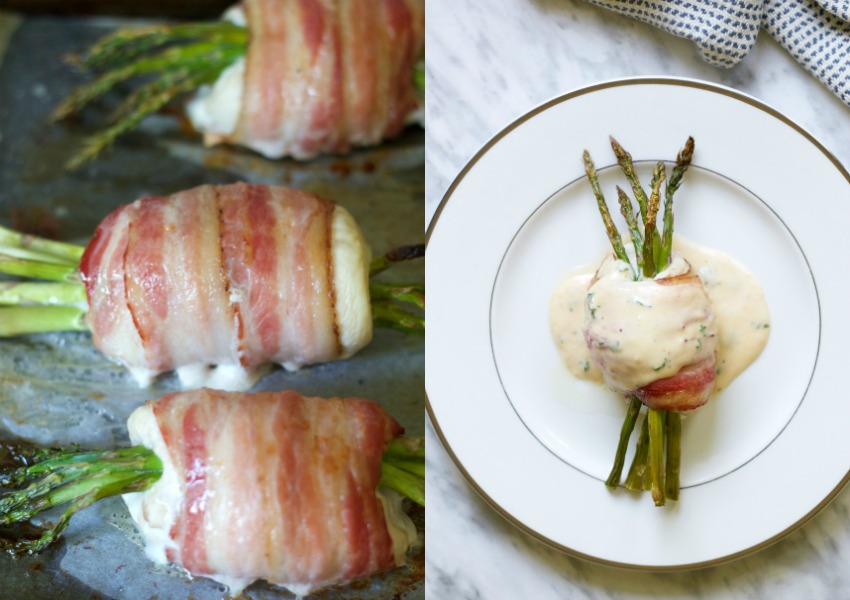 Once the cookies were prepared, Abigail washed the asparagus while I prepped the chicken. It didn't take long to roll the chicken around the asparagus and wrap it up in the bacon. In no time at all, it was baking in the oven. Shortly after, I began working on the cheese sauce. This step required whisking over a hot stovetop, so Abigail was just an observer – she was amused watching the shredded cheese melt into the creamy sauce.
When our chicken was ready to come out, I plated it and we served it for family dinner. I knew the asparagus might be a challenge to get our children to eat – they prefer fresh-cut veggies to pretty much anything green and cooked. However, they were surprisingly interested in their meals because of the bacon. Thick, juicy bacon cooked to perfection! The chicken was tender and moist, the asparagus in its centre was steamed beautifully while the spears were slightly crispy – both equally delicious. The cheese sauce was a delectable added touch to the whole dish. Overall, we give it two thumbs up.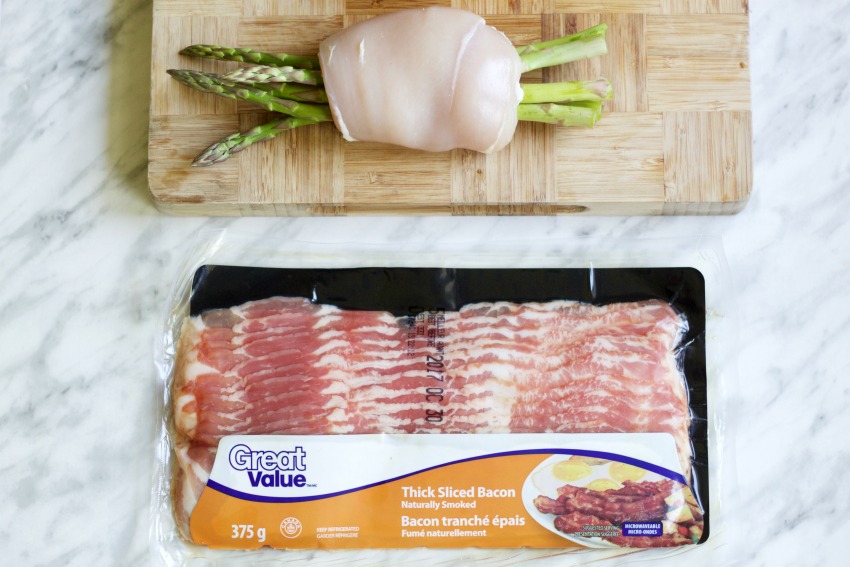 Here's the recipe for this showstopper dish:
Ingredients:
4 chicken breasts
½ tsp (2 ml) salt, divided
½ tsp (2 ml) pepper, divided
20 asparagus spears, trimmed
8 slices Great Value Naturally Smoked Bacon
1 Tbsp (15 ml) Great Value Butter
1 Tbsp (15 ml) Great Value Original All-Purpose Flour
½ cup (125 ml) plus 2 Tbsp (30 ml) milk
1 tsp (5 ml) Great Value Prepared Dijon Mustard
½ cup (125 ml) Great Value 3-Cheese Blend Shredded Cheese
2 Tbsp (30 ml) minced parsley
Directions:
Position one oven rack in centre of oven and another 15 cm from broiler. Heat oven to 375F (190C). Line a rimmed baking sheet with parchment.
Place chicken breasts on a cutting board. Cover with plastic wrap. Use a medium saucepan to gently pound chicken breasts to ½ inch (1.2 cm) thickness. Season both sides with ¼ tsp (1 ml) each salt and pepper. Place 5 asparagus spears crosswise on the centre of each breast. Roll chicken around the asparagus, starting with the pointed end. Set aside, seam side down.
On a prepared sheet, lay 2 slices of bacon side by side lengthwise. Place one piece of chicken, seam side down at one short end of bacon slices. Roll chicken in bacon and place, seam side down on prepared sheet. Repeat with remaining bacon and chicken.
Bake in centre of oven 30 min. Set broiler to high move sheet to upper rack. Broil until bacon is golden and is chicken is cooked through 160 F (70 C), checking often, about 4-5 min.
Meanwhile, melt butter in a medium saucepan over medium heat. Add flour and cook 1 min. gradually whisk in milk and mustard until thickened, about 2 min. Stir in cheese, remaining salt and pepper and parsley, until cheese is melted. Serve sauce spooned over chicken.
Kitchen Tip: Substitute 2 tsp (10 ml) fresh chopped rosemary for the parsley for a different taste.

These two creative and delicious ways to cook with bacon won me over! I'm inspired to pick up some more Great Value Bacon and incorporate it into our family's other favourite recipes. I have no doubt my daughter will be pleased as punch!
---
This post is sponsored by Walmart Canada as part of the Walmart Great Value Bacon program. In exchange for this post, I have received perks in the form of products and/or compensation. All opinions on this blog are my own.
Latest posts by Emily Smith
(see all)