Valentine's Day Chocolate Peanut Butter Snack Bites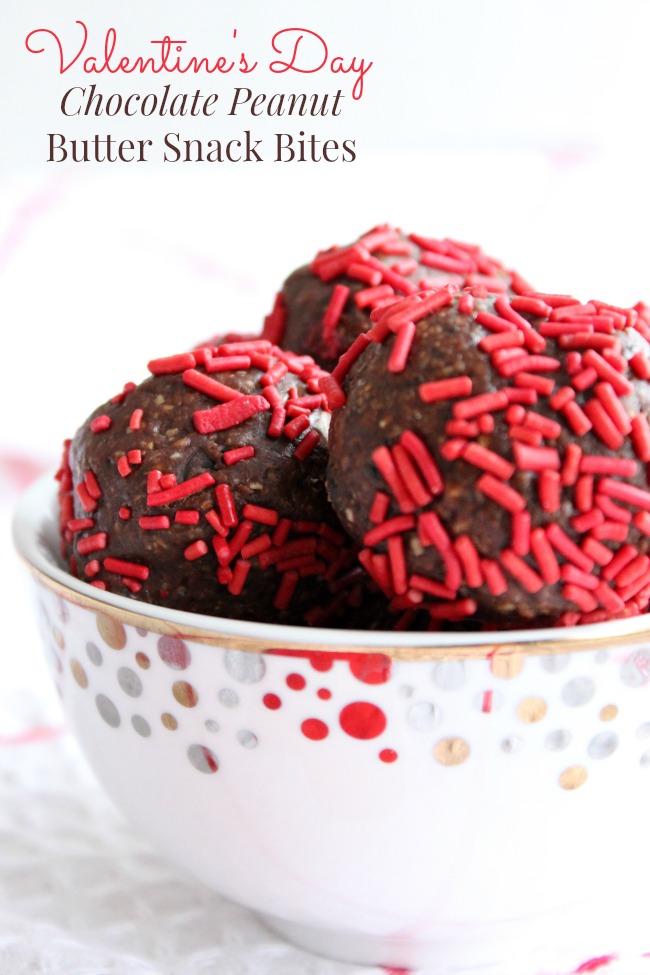 Spoil your sweetheart(s) with these adorable and delicious chocolate peanut butter snack bites! These are the perfect companions to a Valentine's Day-themed school lunch or for an after school snack that is sure to wow your kiddos.
Of course, if you make these for your grown up sweetie, I'm sure she or he won't mind one bit. These decadent bites are such a scrumptious treat. The sprinkles are totally optional, if you'd rather use dried cranberries or strawberries to add some festive colour, that would be pretty (and good) too.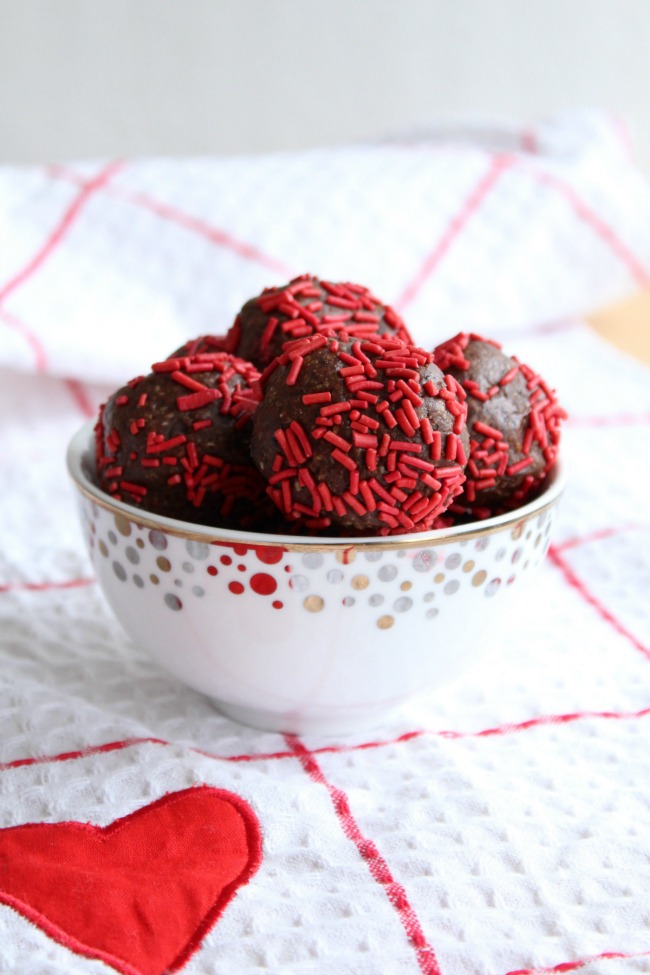 We're pretty fond of these kind of balls, bites, bars…whatever you decide to call them. The combination of oats, honey, peanut butter and chocolate is pretty fantastic and really does the trick when you're craving something sweet. I used melted chocolate chips in this recipe (which have sugar in them), but you could also use cocoa and melted coconut oil instead, lessening the sugar content further. Either way, they are a yummy treat.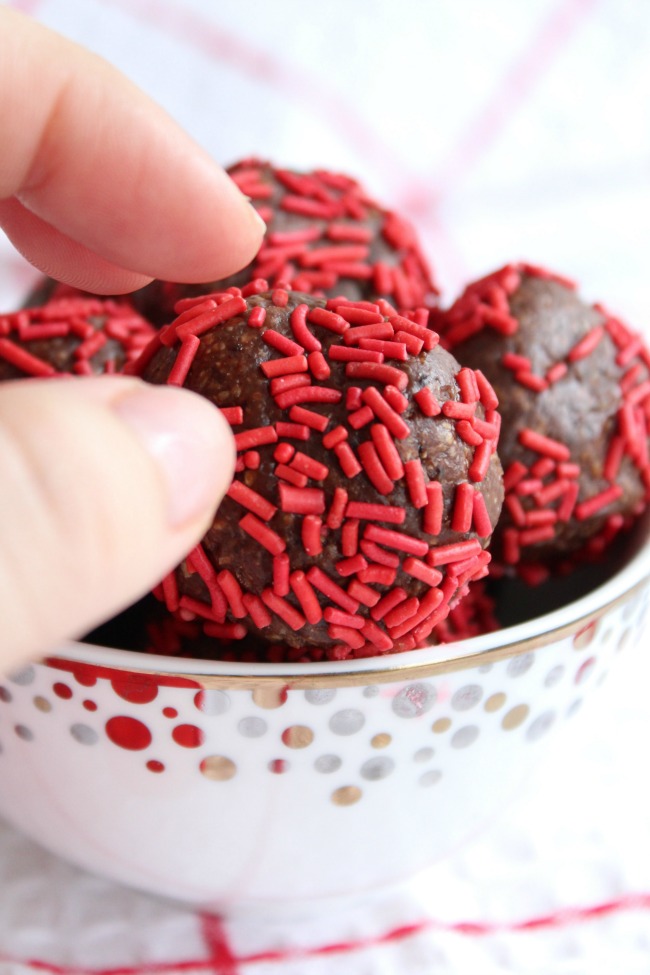 Tell me, do you celebrate Valentine's Day in a big way? We never miss an excuse to have a little party, so we like to celebrate as a family with a few sweets and usually a special movie and fun crafts.
Do you have any Valentine's Day traditions?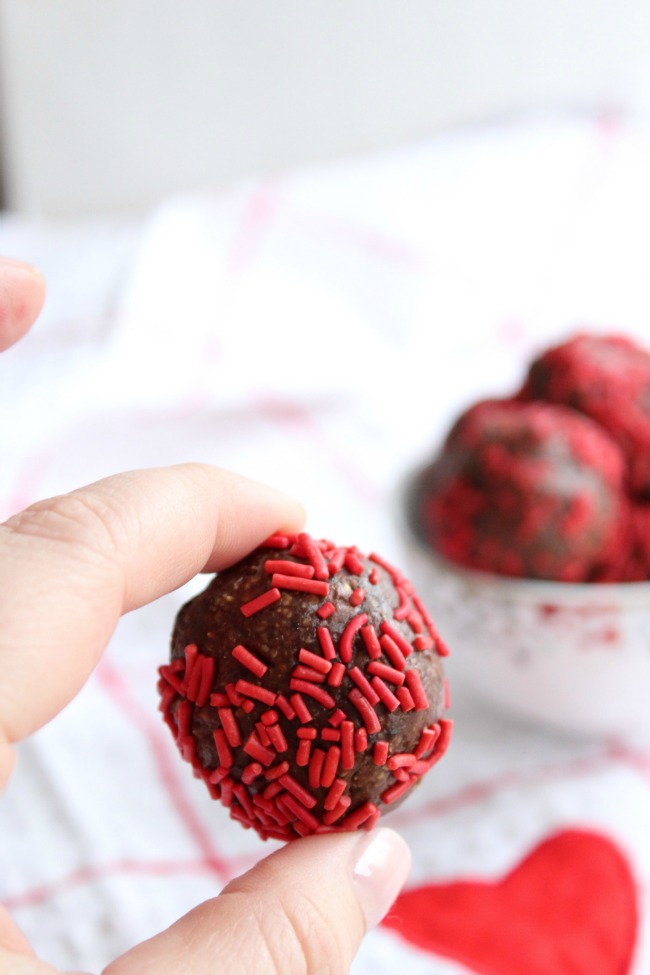 Maybe you'll add these to your Valentine's Day festivities this year! If you do, let me know what you think.
xo
Print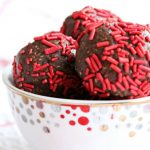 Valentine's Day Chocolate Peanut Butter Snack Bites
---
1/2 cup

natural peanut butter

1/4 cup

local honey

1 cup

large flake rolled oats, ground into oat flour

3/4 cup

semi-sweet chocolate chips
Red sprinkles (approximately 6 Tbsp.)
---
Instructions
Mix peanut butter and honey in medium bowl until blended.
Melt in the microwave or over double-boiler 1/2 cup of chocolate chips until melted, but not hot or boiling.
Stir chocolate into the peanut butter, honey and add oat flour.
Let sit for 5-10 minutes.
Add in remaining chocolate chips.
Roll into 20 (1-inch) balls, using about 2 Tbsp. for each
Drop each ball into a small dish with red sprinkles. Roll until somewhat covered.
Place on waxed paper lined plate in the fridge for 20-30 minutes. Enjoy!
Notes
Adapted from: http://www.kraftcanada.com/recipes/peanut-butter-snack-bites-sprinkles-177637
Latest posts by Emily Smith
(see all)