Here's Why You Should Add Yogurt to Your Next Family Dinner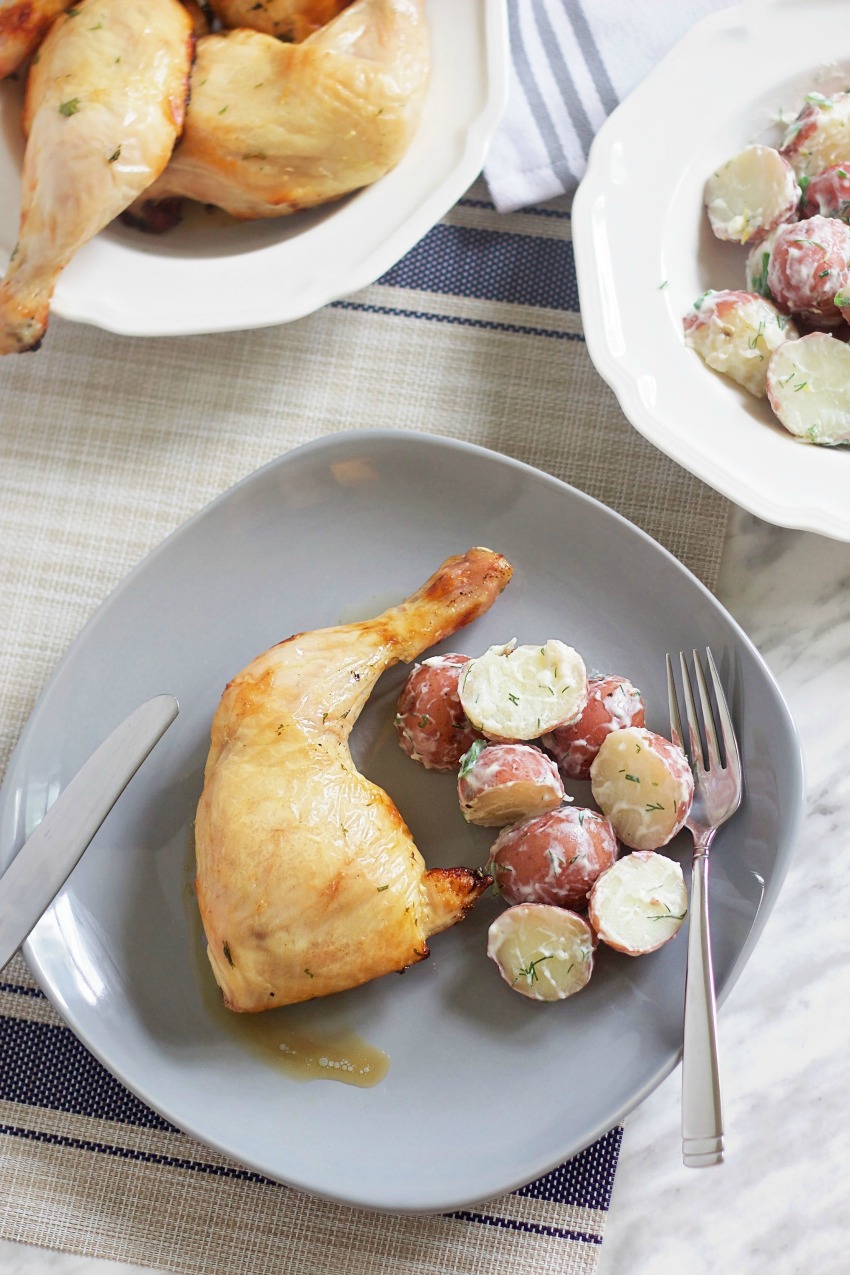 Last week, my family and I switched up our regular chicken dinners and tried two new flavourful recipes. We typically have chicken at least twice a week. The dinner options normally include a roasted chicken or grilled chicken breast. To be honest, we were getting tired of the same old recipes – until we added yogurt to the mix!
I know, you're probably thinking – what does yogurt have to do with bringing your chicken dinners back to life? And the answer is; everything.
We often think of yogurt as a lunchbox staple or a snack item, but when adding it to your family dinner, great things can happen. To begin, I went grocery shopping at Walmart to pick up all the fresh ingredients needed to make two delicious dishes which included Great Value Plain 0% Yogurt and Great Value Vanilla Stirred Yogurt.
Keep on reading to learn how a touch of yogurt added the right touch of zip to our meals!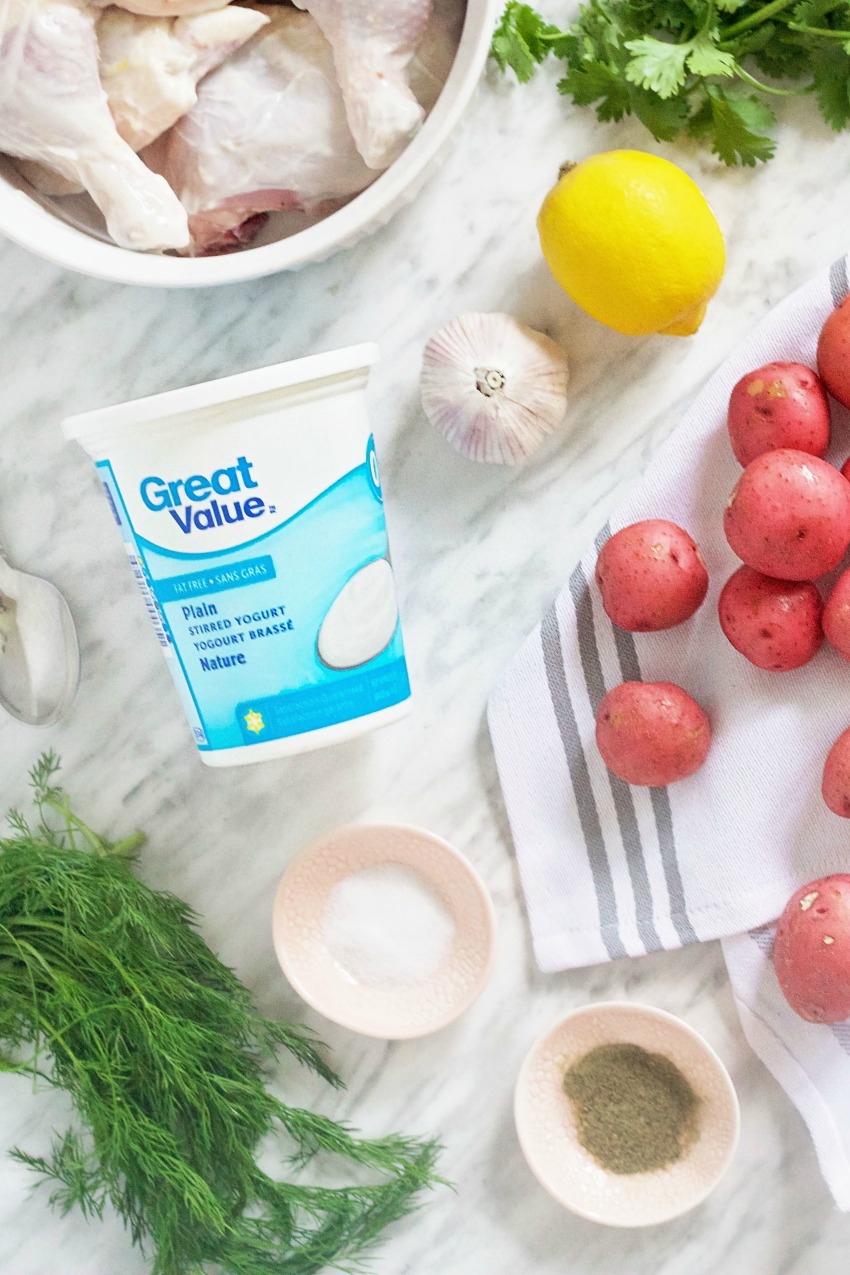 I whipped up the first easy weekday meal with my son's help. Together we created melt-in-your-mouth Greek-Style Chicken Legs with a tasty potato side salad. The secret to incredibly tender chicken is using yogurt as a marinade, helping tenderize and season the chicken.
Yogurt can also be used as the base ingredient in your potato salad side! This is exactly what we did. The dressing is made with Great Value Plain 0% Yogurt, a non-fat yogurt made with Canadian dairy.  We prepared the potato salad while waiting for the chicken to marinate. After 30 minutes of marinating, we barbecued the chicken to perfection. The chicken legs were so juicy and paired wonderfully with the yogurt and herb potato salad. Success number one!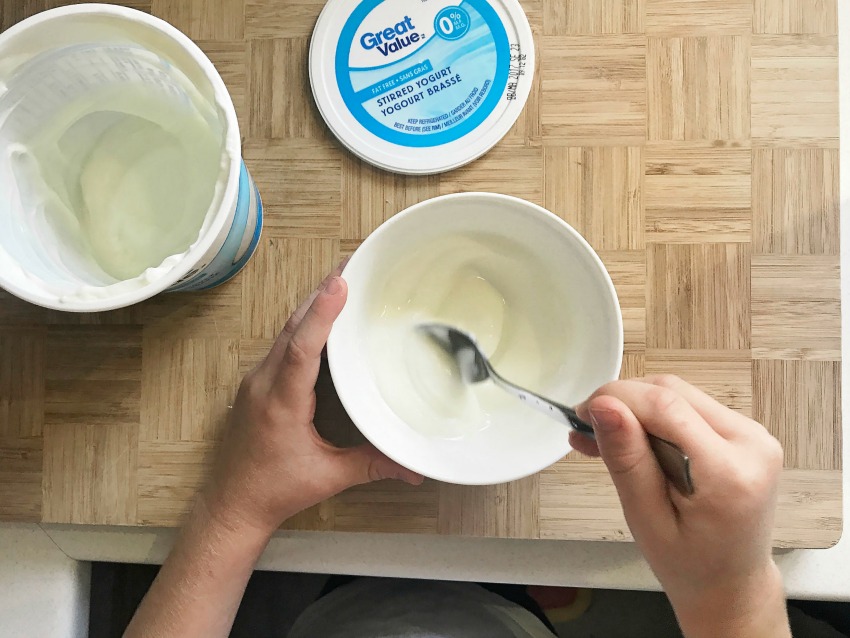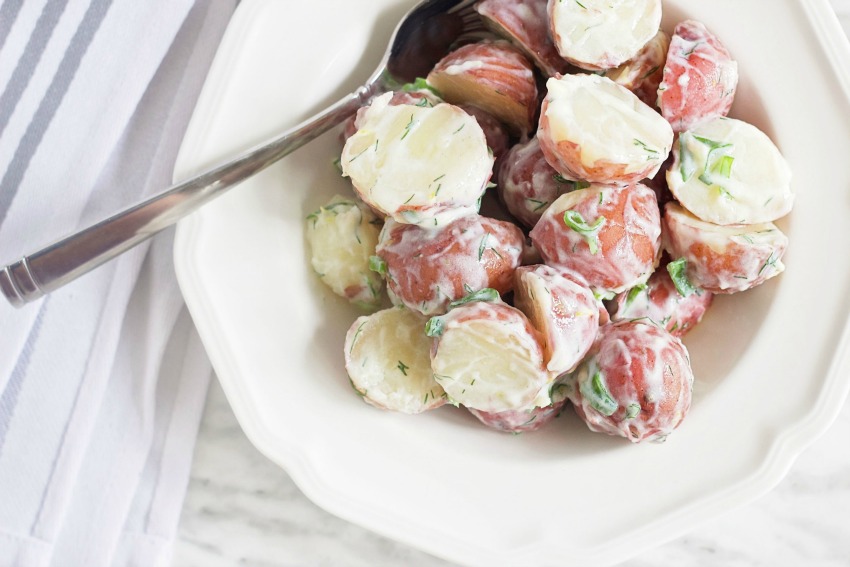 Greek-Style Chicken Legs and Potato Salad
Serves 4
Prep Time: 10 min
Total Time: 1 hr 5 min (including marinating)
Ingredients:
1 cup Great Value Plain 0% Yogurt
1 tsp lemon zest
2 cloves garlic, grated
½ tsp salt
¼ tsp pepper
1 tsp minced oregano leaves
4 chicken legs
1 lb red baby potatoes
2 tbsp minced fresh dill
3 green onions, sliced
Directions:
In a large bowl, mix yogurt, lemon, garlic, salt and pepper. Reserve ½ cup of the mixture and set aside. Stir oregano into remaining yogurt mixture and add chicken; toss to coat. Cover and refrigerate for 30 min or up to 1 day.
Add potatoes to a medium saucepan and cover with water. Bring to a boil. Uncover and cook until potatoes can be easily pierced with a paring knife or fork, about 10 to 12 min. Drain and run under cold water until cool. Cut potatoes in half and toss with reserved yogurt sauce, dill and green onions in a medium bowl.
Heat barbecue to medium-low or 375°F if you're cooking it in the oven.  Add chicken and cook 22 to 24 min or until cooked through (165°F), turning halfway. Serve with potato salad.
Kitchen Tip: Don't have fresh oregano? Substitute for half the dried amount for a similar taste.
For more great recipes visit Walmart.ca/recipes
For our next yogurt-infused dish, we made Coconut Chicken Fingers, using Great Value Vanilla Stirred Yogurt.  This is such a simple recipe to make and the finished meal has major wow-factor and offers your taste buds a unique and delicious flavour. You can get your kids involved by letting them measure and set out all the ingredients you need and have them prepare the tangy yogurt sauce. Our family loves how quick and easy this recipe is to prepare, and we give it two thumbs up for its yum factor and originality.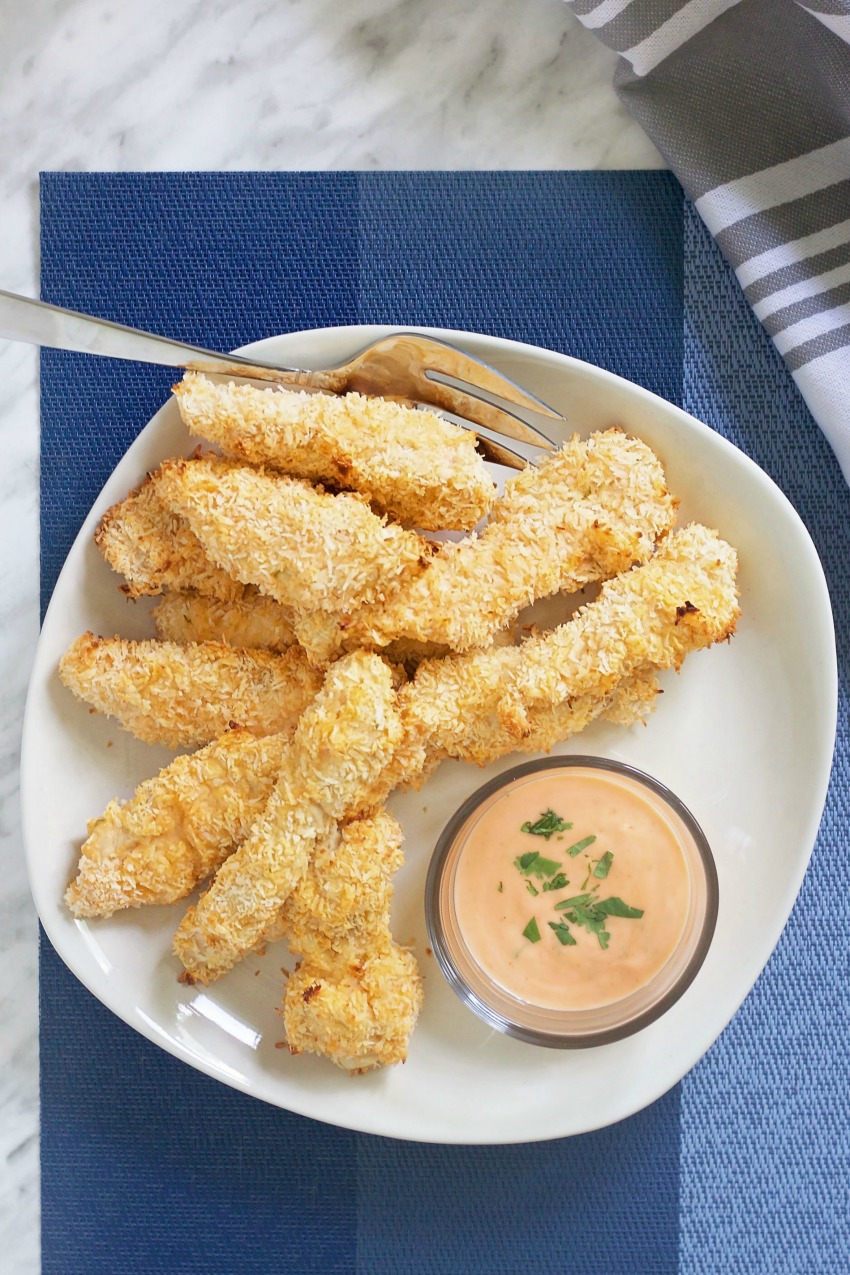 Coconut Chicken Fingers
Serves 4
Prep Time: 10 mins
Cook Time:20 mins
Total Time: 30 mins
Ingredients:
¼ cup flour
½ tsp salt
1-1/2 cups unsweetened medium desiccated coconut
1 cup Great Value Vanilla 1.5% Yogurt
2 tbsp Sriracha hot sauce
1 garlic clove (grated)
1 tsp lime zest
4 chicken breasts, each cut lengthwise into four slices (about ½-inch thick)
2 tbsp chopped cilantro (optional)
Instructions:
1 Preheat oven to 400°F. Line a rimmed baking sheet with parchment and set aside.
2 In a shallow dish, mix flour and salt. In another shallow dish, add shredded coconut. Set both aside.
3 In a small bowl, stir yogurt, Sriracha sauce, garlic and zest together. In a medium bowl, reserve ½ cup of mixture.
4 Dredge chicken in flour and toss to coat in reserved yogurt mixture in medium bowl. Dredge chicken in coconut, pressing to adhere. Place on prepared sheet. Bake 18 to 20 min or until golden brown and cooked through (165°F).
5 Stir cilantro into remaining small bowl of yogurt mixture and serve with chicken strips.
---
This post is sponsored by Walmart Canada as part of the Walmart Great Yogurt for Dinner program. In exchange for this post, I have received perks in the form of products and/or compensation. All opinions on this blog are my own.
Latest posts by Emily Smith
(see all)