A Hearty White Bean and Chicken Chili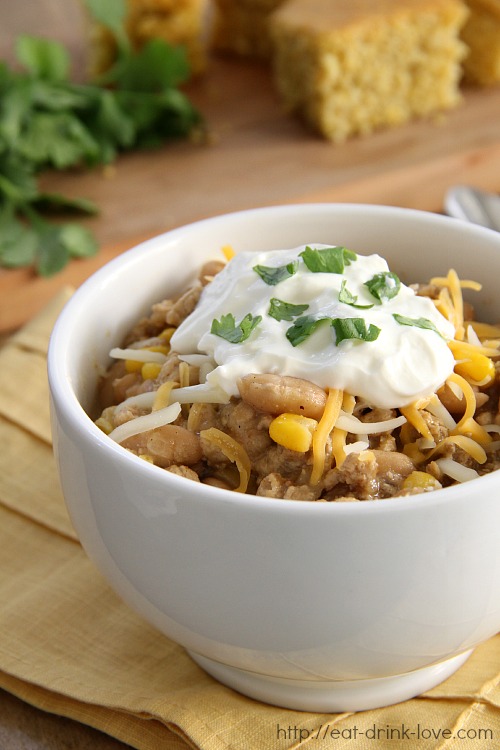 Hello The Best of this Life readers! I'm so glad Emily asked me to guest post for her during this special time with her new little bundle! Emily and I have been blogging buddies for a long time and I couldn't be happier for her!
When Emily asked me to share a recipe that I would bring to a new mom, my mind immediately went to soups. They're warm and comforting. You can reheat just what you want to eat and leave the rest for later or freeze it. Not to mention it's the perfect time of year to eat a big bowl of warm soup! I landed on my white chicken chili, which I guess is not technically a soup, but close enough, right?! This is a favorite recipe of mine. I like this white chicken version more than traditional chili as it's a little lighter and I'm a big fan of white beans. I highly recommend eating this with a big piece of homemade bread!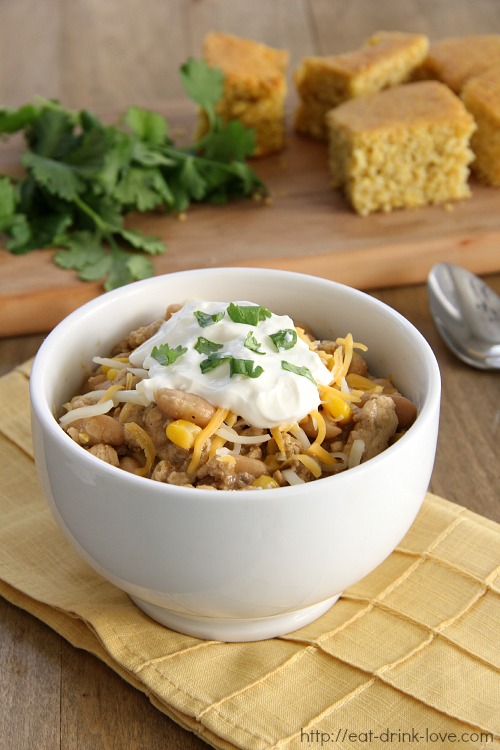 Print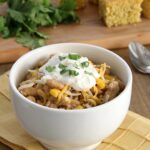 White Bean and Chicken Chili
---
Description
A hearty chili to enjoy on a cold winter's day. Perfect to pair with homemade bread!
---
2 tablespoons extra virgin olive oil
1 large onion, chopped
4 garlic cloves, minced
2 lbs. ground chicken
1 tablespoons dried oregano
2 teaspoons chili powder
1/2 teaspoons salt
2 tablespoons ground cumin
3 tablespoons flour
2 (15-ounce cans) white or cannellini beans, rinsed and drained
1 1/2 cups frozen corn, thawed
4 cups low-sodium chicken broth
1/2 teaspoon red pepper flakes
ground pepper to taste
Optional: cilantro, sour cream, cheddar cheese, tortilla chips for garnishing
---
Instructions
In a large pot, heat the olive oil on medium heat. Saute the onion and cook until it is translucent (3-5 mins.). Add the garlic and cook for 30 seconds.
Add the ground chicken, oregano, chili powder, cumin, and salt. Break the chicken up and continue stirring until the chicken is fully cooked (about 8-10 minutes).
Add the flour to the chicken. Add the beans, corn, and chicken stock. Bring to a simmer and stir the mixture, making sure to scrape the bottom of the pan. Simmer for 60 minutes until the liquid reduces by about half and has thickened. Add the red pepper flakes and cook for an additional 10 minutes. Serve.
Latest posts by Stephanie Day
(see all)