How to Make Vegan Frozen Banana Custard
It's all about texture folks. What distinguishes frozen custard, from ice cream, or frozen yogourt? That extra creamy texture. To make traditional custard, you would add egg yolk to milk, cream, and sugar. The first time I had frozen custard was in Virginia. I thought it was the best darn thing. Until my throat started puffing up, like it always does after a dose of milk or ice cream. Oh! But that texture, that creamy goodness – what's a girl to do?
Well, I forgot about frozen custard until recently, by fluke. I was trying to make a thick "ice cream" smoothie, by using the food processor instead of the blender. When I taste tested my creation, a flash back happened. F-R-O-Z-E-N C-U-S-T-A-R-D, I remembered. The texture and flavour just hit me. Mmmmm….
You've got to try this dairy-free, sugar-free, healthy version. I'm not kidding!!! This vegan frozen custard, has no added refined sugar and it taste incredible. All you will need for this recipe is; bananas, dates, full-fat coconut milk or cashew milk (I've used both), and organic vanilla extract. Optionally, you can make a chocolate sauce and add your favorite toppings (blendco. shown in the picture).
The only thing that makes me sad about this frozen custard, is that I can't eat it right now as I write this post late in the evening. The kids are asleep and I fear that my kitchen shinanigans would wake them up. But, you can bet your bottom dollar that first thing in the morning – they'll be custard. Oh, they'll be frozen custard alright! Try it…you'll get it.
Print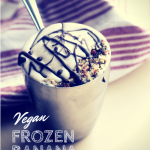 Vegan Frozen Banana Custard
---
Description
Frozen bananas mixed with key ingredients replicate the traditional frozen custard.
---
5

very ripe bananas, peeled, sliced, and frozen

1/4 cup

full-fat coconut milk or cashew cream

1/2 teaspoon

organic vanilla extract

4

medjool dates, soaked in water for

1

hour and softened
Optional Toppings
Chocolate syrup, made from melted virgin coconut oil and raw cacao
Blendco. mix
Chopped raw almonds, cashew, walnuts
Cacao nibs
---
Instructions
Slice and freeze five very ripe bananas.
When they are frozen (4-6 hours or overnight), place them in a food processor.
Pulse until the bananas are starting to blend nicely. Add in the dates. Pulse.
Then add in the organic vanilla and milk of your choice.
Mix until nice and smooth.
Serve and top with choice toppings.
Notes
Use whichever milk you would like, I have tried both homemade cashew milk and full-fat coconut (because they are both very creamy).
You can freeze the frozen custard, but it will change its consistency. If you do freeze it, put it back in the food processor until desire texture is achieved.
I would also try this recipe as Chocolate, Peanut, or Strawberry flavours, by adding those extra ingredients.
Latest posts by Emily Smith
(see all)