Gluten-Free Glazed Pumpkin Spice Loaf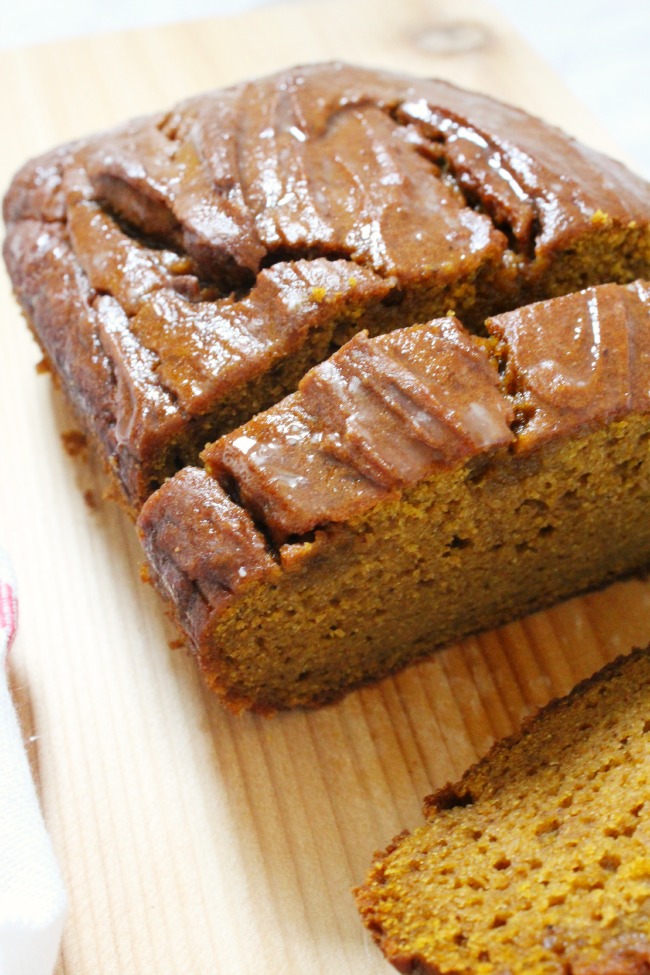 I think I'm still in disbelief that we've entered the month of November. Where did October go? The month was full and busy, flying right on by. We celebrated Little A's 5th birthday and soon after, all the planning for Halloween started. Costumes, school party, and trick-or-treat strategizing.
Waking up early this morning, not quite used to the time change yet (how long will that take?) I feel like the calm after the storm. I'm hoping for a few weeks of that before the holiday rush! On quieter days like these, I like to bake – so when the busyness comes again, there are healthy nibbles and treats all ready to go.
This gluten-free pumpkin loaf is moist, flavourful, spicy, slightly sweet, and comforting. It freezes very well and thaws quickly, making it a terrific make-ahead snack.
I added a thin glaze for a bit of extra sweetness and to give it the feeling of a cake loaf, however it really is quite healthy!
Print
Gluten-Free Glazed Pumpkin Spice Loaf
---
For the glaze:
1/2 cup

of icing sugar

2 tsp

of melted coconut oil

1/2 teaspoon

pure vanilla extract

1 teaspoon

almond milk
---
Instructions
Preheat oven to 350F.
Grease a 9×5 loaf pan.
In a medium mixing bowl, combine all the dry ingredients, except sugar.
In a large mixing bowl, mix together pumpkin puree, eggs, oil, vanilla and sugar.
Slowly add the flour mixture to the wet ingredients, blending until smooth.
Bake for 1 hour. Remove from oven and allow to cool before removing from pan. Combine all ingredients to make glaze, pour over bread, and enjoy!
Latest posts by Emily Smith
(see all)