The Kitchen Edit: Gift Ideas For The Person Who Likes To Cook and Bake
It's that time of the year again! Everyone has started their holiday shopping because they're on the lookout for unique gifts for their family, friends, loved ones, co-workers, and neighbours!
Not just any holiday gifts either. Gifts that will be just right.
Are you looking for gift ideas for someone who loves spending time in their kitchen?
Whether they enjoy making a perfect cup of tea or baking treats all year long, these kitchen gift ideas will inspire your gift-giving.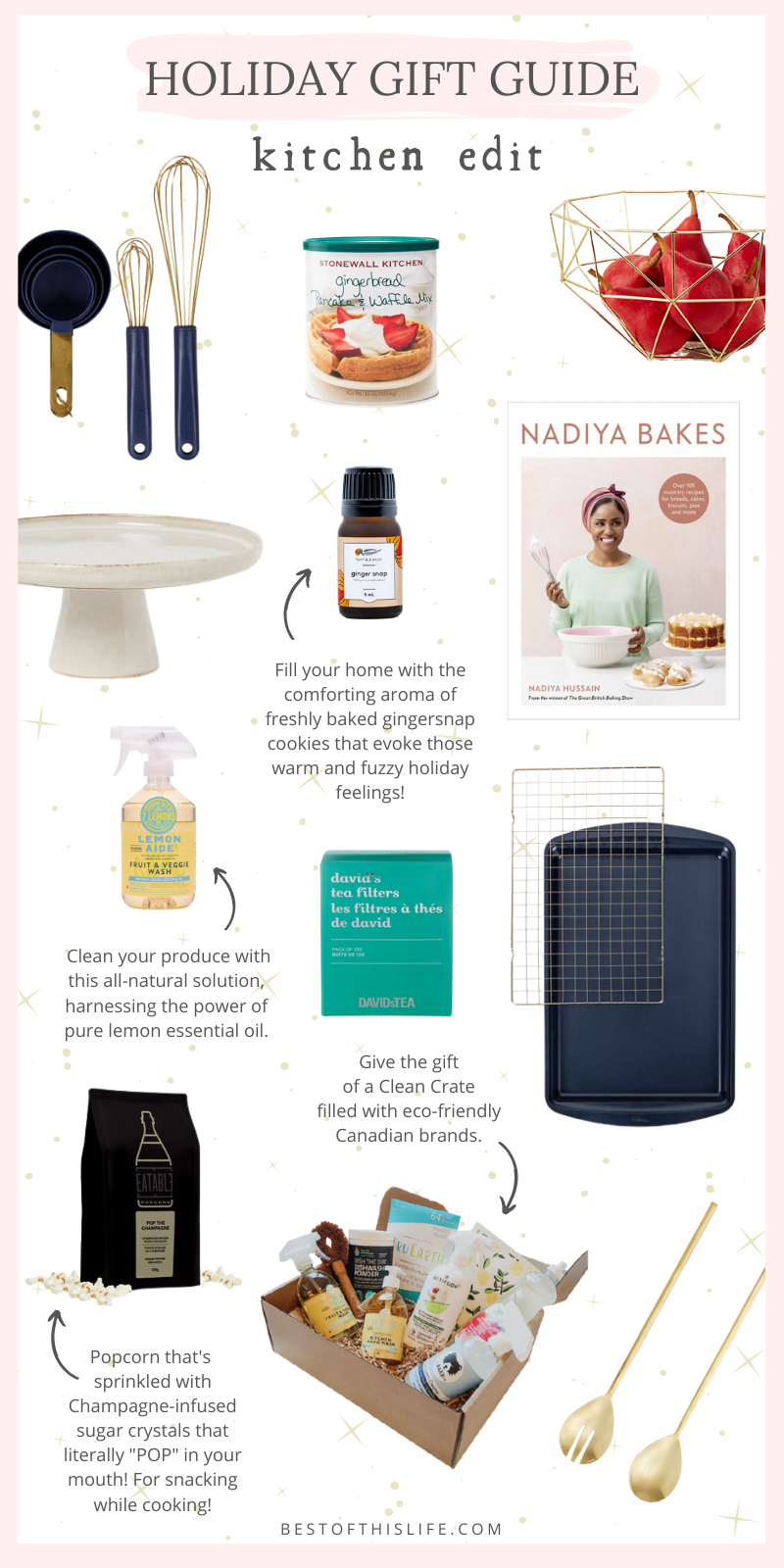 For some, the kitchen is the heart of the home. They like to spend time trying new recipes, tending to their fresh herb garden, hosting intimate gatherings at the kitchen island, and even keeping their kitchen clean and organized in between cooking and baking sessions.
With that in mind, here are some kitchen gift ideas they are sure to love unwrapping this holiday season.
12 Best Kitchen Gift Ideas for 2021
Wilton Navy Blue and Gold Kitchen Utensils Mix and Measure Set, 10-Piece: for the baker in your life, this set is just the thing. The beautifully designed measuring cups and spoons plus two sizes of whisks are not just pretty, they're perfect to take on everyday baking and bigger projects too. Sold at wilton.com, $22.69 USD
Stonewall Kitchen Gingerbread Pancake & Waffle Mix: enjoy the taste of the holidays through the wintertime with this delicious mix. Grab a lovely wicker basket, fill it with this pancake and waffle mix, a whisk, a patterned tea towel, and maple syrup for a thoughtful gift that's sure to be well-received. Sold at well.ca, $13.98 CAD
Gold Metal Fruit Bowl: I love this elegant, Scandinavian inspired design! For a fabulous touch in any modern kitchen, this minimalist bowl displays fruits in an eye-catching way. Sold at simons.ca, $20 CAD
Stoneware Cake Stand: for serving their latest baking creations, this servingware is classic with a touch of rustic. To complete the gift, wrap it up with a cake mix and cake knife, voila! Height 3 in. Diameter 10 1/2 in. Sold at hm.com, $39.99 CAD
Ginger Snap Essential Oil Blend: we can't get enough of this delicious holiday blend! I like to add a few drops to my diffuser after a particularly savoury cook fest. It's like dessert for your senses. "Fill your home with the comforting aroma of freshly baked gingersnap cookies that evoke those warm and fuzzy holiday feelings!" Various sizes available. Sold at fernandpetal.ca, 5ml $11 CAD
Nadiya Bakes Cookbook: have you watched Nadiya's baking show on Netflix? It's a household favourite! For the avid baker, this recipe book would definitely be a hit. "In her newest cookbook, based on her Netflix show and BBC series Nadiya Bakes, Nadiya shares more than 100 simple and achievable recipes for cakes, cookies, breads, tarts, and puddings that will become staples in your home." Sold at chapters.indigo.ca, $39.99 CAD
Lemon Aide Fruit & Veggie Wash: I love the simple, eco-friendly ingredients in this fruit and vegetable wash. Whether they're bringing in potatoes from their greenhouse or the grocery store, a good, all-natural scrub keeps their food fresh and delicious. Sold at cleancrate.ca, $8 CAD
DAVIDsTEA Tea Filters: made with biodegradable, chlorine-free, compostable manila hemp, these tea filters don't have any harsh chemicals or additives. They're easy to use, cute, and ensure that you don't get drips. Sold at well.ca, $11.99 CAD
Wilton Navy Blue Cookie Sheet with Gold Cooling Grid Set: if you have someone on your list who loves to bake cookies, breads, and treats, this is for them! "This gorgeous navy-blue cookie sheet and gold cooling rack is more than just pretty set. It's beautiful bakeware that's built to last." Sold at wilton.com, $19.19 USD
EATABLE Popcorn "Pop The Champagne": champagne popcorn? Yes,please! I'm obsessed. If you're looking for a unique hosting gift, EATABLE Popcorn flavours are inspired by classic cocktails, wine, and spirits for a sophisticated taste and texture worthy of those who truly appreciate the good stuff. Founded by Torontonians Charlene and Vince Li, EATABLE offers elevated popcorn snacks with a modern grown-up twist. Lots of flavours available. Sold at eatable.com, 100g $9.99 CAD
Clean Crate: here's where I remind you to know your gift recipient! Or at least get the confirmation from someone who knows them well. If they're like me and love to clean, try new home products, and prefer eco-friendly cleaners, then they would love this! Each Clean Crate comes carefully packed in eco gift style packaging and includes information on the Canadian brands and products included. You also have the option of selecting scented products or unscented products. Sold at cleancrate.ca, $115 CAD
Gold-Colored Metal Salad Servers: how pretty are these? I'm smitten. Just a smitten kitten over these salad servers. They would elevate any serving bowl! For the person in your life who thoroughly enjoys creating delicious salads filled with toppings and crunch, this is your sign to pick these up tout suite! Sold at hm.com, $19.99 CAD
One of the reason's I like to give and receive kitchen gifts is because I can put them to good use right away! I also enjoy the novelty of specialty items, like a mini waffle maker or a pretty tea pot. When you're shopping this holiday season, keep in mind inventory and shipping cut off times. If you spy something that you think is the perfect fit, don't sit on it. I also recommend checking out your local Christmas markets for treasures that make wonderful gifts, like crocheted pot-holders and ceramic mugs!
Latest posts by Emily Smith
(see all)