Winter Blues: Faux Fur, Cobalt Blue + Crystals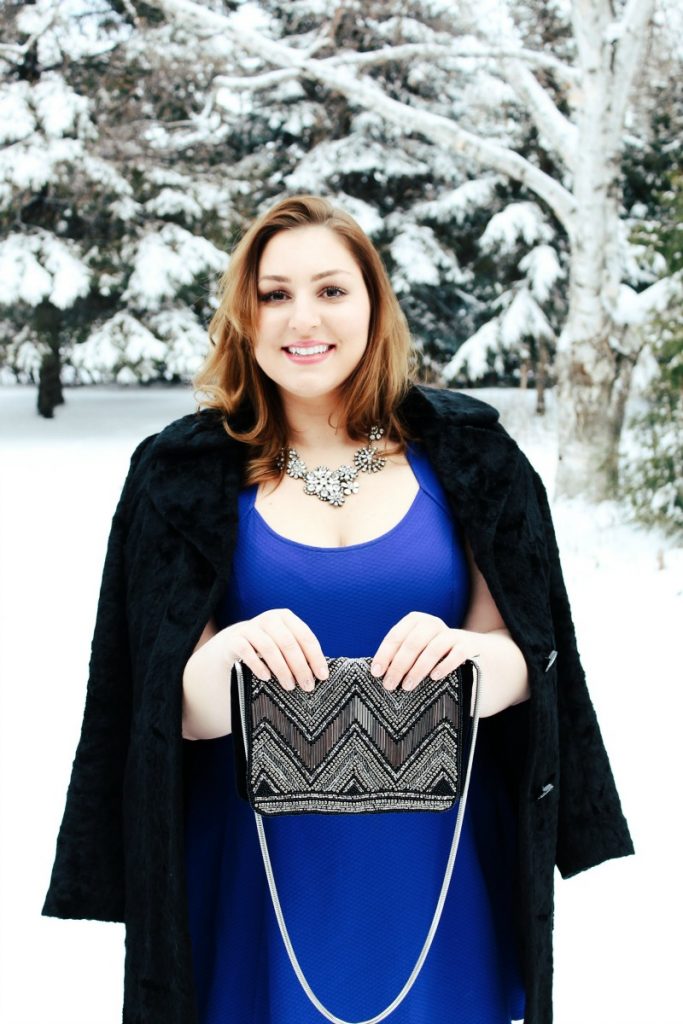 Winter is officially here, but that doesn't mean you need to give up your style. The snow is a white canvas against which you can shine, with bold colours and shimmering accessories. Beautiful jewel tones pop against a snowy landscape, so why not pull out those brights this season?
Emerald, ruby and sapphire are perfect colours to make a statement. Choose one to be the focus of your outfit and frame it with neutral pant and jacket. For this look, I wore a deep cobalt blue dress with a faux fur black-blue winter coat and added some sparkle with a vintage crystal statement necklace and silver beaded purse.
Because the winter scene can go from gorgeous to drab as the fresh snow turns grey, adding brights to your wardrobe is a sure way to keep things on the fun side all season long. This fall, we saw topaz and amethyst as a strong colour trend, so if you have those hues in your closet make sure to pull them out!
My summer tan is looooonnnng gone, so I like to use a little bit of matte bronzer to add contour to my face with a soft highlighter and natural pink blush. To add some flare to my eyes, I used a cool brown shadow in my crease, a beige over my eyelid and gold eye glitter along my lash line. With a sweep of my favourite mascara and pink lip gloss, I am ready to go!
To get through the cold months ahead, without the blues, I'm making an effort to play up my clothing and create colourful looks that make me happy!
What are your winter dressing tricks?
Shop the look:
Latest posts by Emily Smith
(see all)