As the weather turned cool last week, my mind turned to hot soups. Although, I don't typically gravitate towards soups – when the flavour and texture are just right, I enjoy them very much. Since there are so many gorgeous vegetables flooding the market, a vegetable soup was just the thing to kick off the soup season! I looked through a vintage home magazine for ideas (I love old magazines!) , then I searched online for inspiration – and I came across a recipe for "The Famous Fat Flush Soup". It had a long list of vegetables to include and sounded actually quite delicious; getting rid of extra pounds wouldn't be a bad bonus either!
If you're curious, you can read the story behind the soup for yourself. I followed the exact recipe, except I did skip the ground turkey – making this version vegetarian. Adding the ground turkey would surely make it even more substantial – but even without it, this soup was hearty and filling. The mix of tomatoes, hot peppers, black beans and cilantro created incredibly rich, complex flavours. I love fresh cilantro, and was really happy with how you could taste it in the soup – with a tall glass of lemon water, the spicy and fresh combination was delish!
Little A. was very curious about each vegetable that was going into our pot of soup. He bit into a few before I had a chance to chop them, but I caught him in time before he took a bite of hot pepper! I told him, that one was best for smelling. He loved the colour and shape – playing with it in his hands for a while. The smell that flooded our home, as it cooked, was lovely. There is something to home cooking – it fills the house with warmth and closeness.
There is love in food, prepared with loving hands.
Lots of healthy, nutritious, fresh vegetables sautéed and simmered together, creating a flavourful satisfying soup that makes a wonderful fall meal. Enjoy on its own or with a gluten-free garlic herb scones on the side. Bon Appétit!
p.s let me know if you shed a pound or two after a few servings!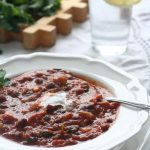 Autumn Vegetable Soup (Vegetarian Fat Flush Soup)
---
Description
Ann Louise created this recipe, inspired by a study at Penn State that found eating soup can trigger you to consume up to 448 fewer calories per meal, this satisfying soup is an easy go-to recipe to help jumpstart long term weight control.
---
2 tsp

. olive oil

1

onion, chopped

2

cloves garlic, chopped

1

bell pepper, seeded and chopped

8 oz

. mushrooms, chopped

1

(14 oz.) can crushed tomatoes

1

(32 oz.) bottle reduced-sodium tomato or vegetable cocktail juice

1

Tbs. fresh lemon juice

1

(14 oz.) can black, navy or pinto beans, rinsed and drained

1

Tbs. ground cumin

1/8 tsp

. cayenne, or to taste

¼ cup

each fresh cilantro and parsley, chopped
---
Instructions
In stockpot, heat olive oil over medium-high setting.
Sauté onion, garlic, peppers and mushrooms until soft, about 5 minutes.
Stir in remaining ingredients, except cilantro and parsley. Cover and simmer 20 minutes. Stir in cilantro and parsley.
Cover; simmer 10 minutes longer.
Enjoy!
Notes
Store soup in refrigerator up to 5 days. Freezes well. Make 12-14 cups. 1 serving = 3 cups.
Latest posts by Emily Smith
(see all)