31 Things to Do in October
" I'm so glad I live in a world where there are Octobers. " – L. M. Montgomery
Who else is excited for this month? Oh my goodness, I can't even tell you how much I've been looking forward to it. This week, my family and I are off to visit Niagara Falls for a weekend getaway and I can't wait! Soon after, we'll be celebrating Canadian Thanksgiving, my son's 9th birthday, and getting a visit from my sister-in-law's family. including our little nephew who we'll be meeting for the first time! Then of course, there's Halloween to prepare for and all the fun that comes with it.
As we ease into the true autumn season, there are so many events and activities ahead, I'm pretty pumped about this month guys!
What are your favourite things to do in October? Do you like to take in all the beauty of the changing leaves? Visit the pumpkin patch?
I'm sharing some ideas to fill your calendar with this month, including some local Ottawa events you might want to partake in.
Happy October friends!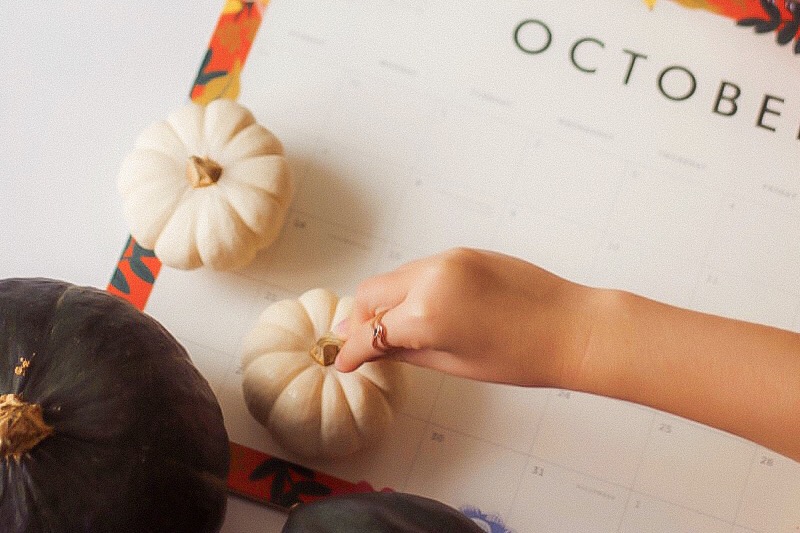 31 Activities to Embrace Fall
Visit a corn maze – we did this in September and had a blast! Just make sure you wear the right shoes 😉
Press leaves – changing of the leaves is majestic; collecting and pressing leaves is a great way to enjoy the beauty and treasure the leaves you found.
Make a gratitude tree – this craft is a fun one that comes with some perspective, there are a few ways you can do this but the point is to create something that everyone in the family can write what they are grateful for. 
Take a road trip – discover a new town near you and explore all that it has to offer, including farmer's markets and nature trails.
See some beautiful butterflies – the Annual Biology Butterfly Show is happening at Saturday, October 2 – Sunday, October 10, 2021.
Bake with cranberries – we are in the peak season for harvesting this wonderfully tart fruit, and it is a wonderful addition in many recipes. Try my homemade cranberry sauce or my mom's homemade chutney! They're both great additions to your harvest table.
Visit a haunted house – for those of you who are brave, this can be a spooky and fun activity! 
Go pumpkin picking – we had a blast picking apples in September and now we are more than ready to go get a big, pumpkin perfect for a Jack O'Lantern or pie! 
Pack away your summer wardrobe – it's a little hard to say goodbye to summer but packing away summer clothes and pulling out all those scarves and long sleeved shirts will help you plan outfits better this season! 
Collect pine cones – this is another great excuse to get outside, and doubles as an awesome family craft for making bird feeders or ornaments. 
Go for a jog – October is a perfect month for joggers, cool but not too cold, it is a wonderful time to get outdoors for a nice run! 
Bake a pumpkin pie – as we get ready for Thanksgiving, I have baked a few pies in practice, but hands down my family goes crazy for pumpkin pie. If you're looking for a dairy-free and gluten-free recipe, you can try my Pumpkin Tart.
Throw a Halloween party – Halloween may be at the end of the month but it doesn't mean you can't sneak a spooky party or two in. This is also a fun way to test out a Halloween costume before the big night!
Celebrate Thanksgiving (Canadian) – Gather around with friends and family to celebrate with gratitude. What are you thankful for this year?
Take a hike – this is the season to get outdoors, with the cooler weather and beautiful changing of the leaves, it's a perfect time to go for a hike! 
Celebrate Boss's Day – October 16th is Boss's Day and a great opportunity to bake a treat or do something nice for your boss, but if you work for yourself, take the day off and go treat yourself! 
Visit a bake sale or host your own – autumn, going into winter, is a very nostalgic time of baking for me, and going to a bake sale or participating in one is a nice way to share treats and try new ones.
Watch a spooky family movie – I'm not big on the scary-movie genre, but the kinda-scary-not-really is okay with me. This is the perfect time to watch It's the Great Pumpkin Charlie Brown, Scooby-Doo or something similar with the kids! 
Celebrate Sweetest Day – Valentines doesn't have a monopoly on romantic holidays, this original American holiday is a great opportunity to surprise your romantic partner!  
Make some homemade candy apples – this is a quintessential autumn treat and perfect for a festive halloween party! 
Jump in a pile of leaves – raking leaves in the backyard might be a little mundane but you can ease that boredom by creating a giant pile and jumping in them (just be careful of big sticks or rocks!).
Create a reading nook – with shorter days and longer nights ahead, create a little reading nook and wrap yourself up in some good reads this autumn. When the sun goes down early, you'll have the best spot to relax.
Make butternut squash soup – squash is one of my favourite vegetables this time of year. Making a hearty soup is a great way to use them, especially as it is getting chiller! 
Bake a tasty pumpkin loaf – pumpkins are amazing, and I have already been cooking with them for a month. One of my favourite recipes is an everyday pumpkin loaf that is ideal for breakfast or a snack! 
Get a jump on Christmas shopping – Getting an early start on Christmas shopping is a great way to prepare for the holiday season! 
Go for a hayride – this throwback family activity is a great way to get outdoors and ride into the new season. 
Roast pumpkin seeds – don't forget to save the pumpkin seeds when you are carving your own Jack O'Lantern. Just wash them and add some sea salt and oil before you roast them. You can flavour these so many different ways for a tasty treat! 
Go for a haunted walk – this is a perfect combination of exploring a city, getting in some exercise and getting a little spooked at the same time! 
Make your own candles – this is a lot simpler than it may seem and is a fun craft that will be enjoy on cozy nights in throughout the fall and winter.
Explore the Byward Market here in Ottawa – the Byward market is a gem throughout the year but I love going during the autumn and maybe getting a Beavertail for the family! 
Celebrate Halloween – whether you're handing out candy, going to a party or taking the little ones trick or treating, I hope you enjoy this spooky holiday! 
As we transition into the cooler months around here, it can sometimes be a bummer to say goodbye to warm weather, but making the most of this season can definitely be a big mood shifter.
I'm not a fan of the cold, but when I bundle up and get outside to enjoy the gorgeous tapestry of colours this season sets before our eyes, and breathe in the autumn air, it truly does wonders for my soul.
I hope you have a beautiful month ahead of you and find the time to take in some fall festivities
Latest posts by Emily Smith
(see all)