5 Ways to Create a Practical Desk Space for Kids
Back to school, back to homework. Am I right?
After you're done filling out all the school forms, and everyone settles in the first week, homework starts rolling in. Which means when your kids come home from school, they will be working on schoolwork at some point.
Depending on their grade the workload will vary, but nevertheless they need a space where they can work productively.
In the past, we've set up at the dining room table. While that's worked well for us, my son is now in grade 4 and there's more regular amounts of homework. It was time for him to have a space where he could set up his work. A place where he could leave his on-going projects and supplies.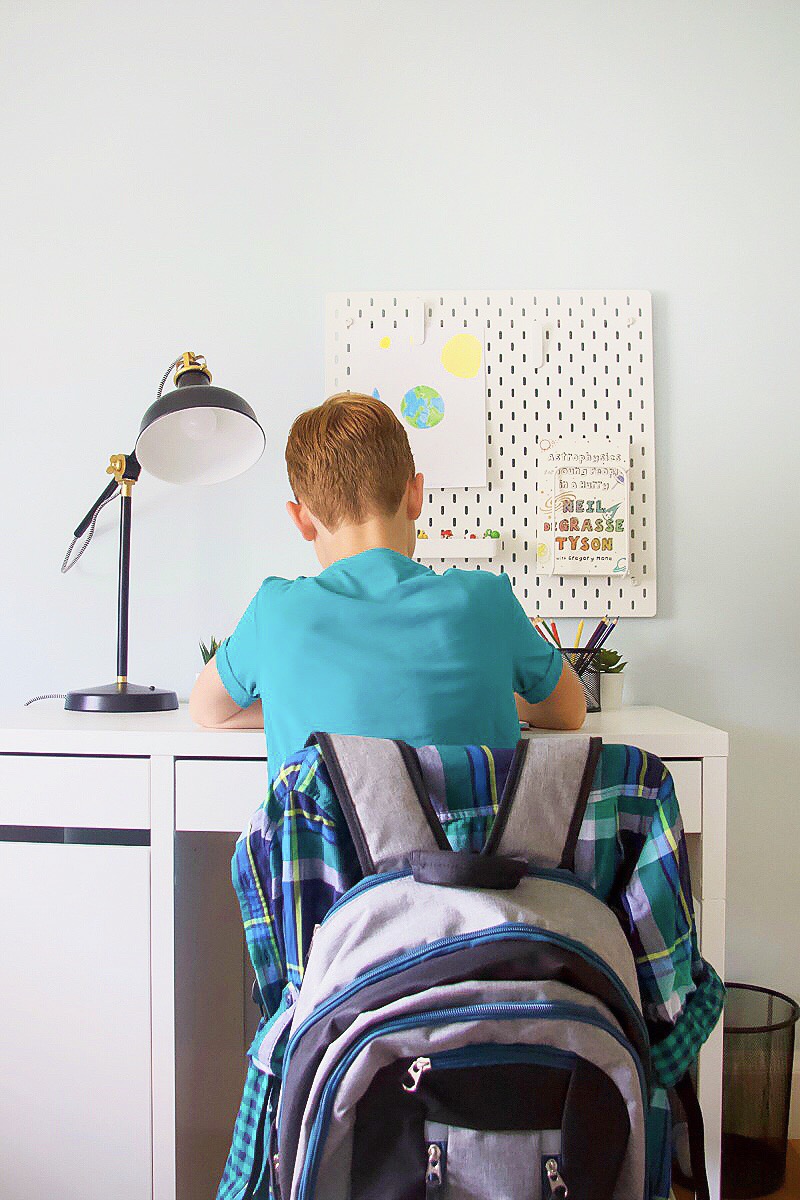 Define a Desk Area with a Few Key Pieces
We recently updated our son's room and among the top priorities was making a space for him to be able to work and create.
These next few years are going to be ones of exploration and discovery, as well as more homework than before! To help him prepare for that I wanted him to have a desk space that was all his own.
Now that it's setup, with a few key pieces, it's so nice to see him sitting at his desk! To define the space, you'll want to focus on a functional desk, a lamp, wall shelves or a bulletin board (we love the SKÅDIS pegboard from IKEA), and desktop organization.
While the desk space will certainly be used for homework, one of the main reasons for setting it up was to encourage imaginative and artistic creation.
The dual benefits of having an area to work through academic material and explore creativity are why it was important for us to create a desk space in the first place.
Are you looking to create a practical desk space for your child? Consider the elements below before you go shopping and set it up.
5 Things to Remember When Planning for a Desk Space for Your Kids
Good lighting: having good lighting is so important for our eyes, especially while reading and writing. While our son's room has a large window for natural light, a desk lamp provides direct light over his work area. Even more so when the sun goes down.
Storage: we looked at many desk options and I was surprised to see so many without drawers! While aesthetically they look beautiful, it isn't very practical. Remember to look for a desk that includes drawers, where your child can store paper, supplies, books, etc. For added storage and functionality, shelves and pegboards are great options.
Organization: for pencils, pens, markers, rulers, tape, scissors, and so on, desktop trays, dividers and pen holders help keep your child's space tidier. Having a place for everything encourages them to put things back where they belong.
Charging station: kids of all ages use devices to learn and play, and it is a great idea to have a safe spot to store and charge their devices. It will also help keep the rest of the house free from the clutter of devices and cords.
Supportive seating: if you've worked a desk job before then you know how important supportive seating can be. A good way to approach it is letting your child test out a few chairs to feel how comfortable it is for them and if their lower back is supported.
These are just some of the criteria I used when planning and shopping for my son's desk space. You can use these as a jumping off point to create a unique space for your kiddos!
PIN THIS POST FOR QUICK REFERENCE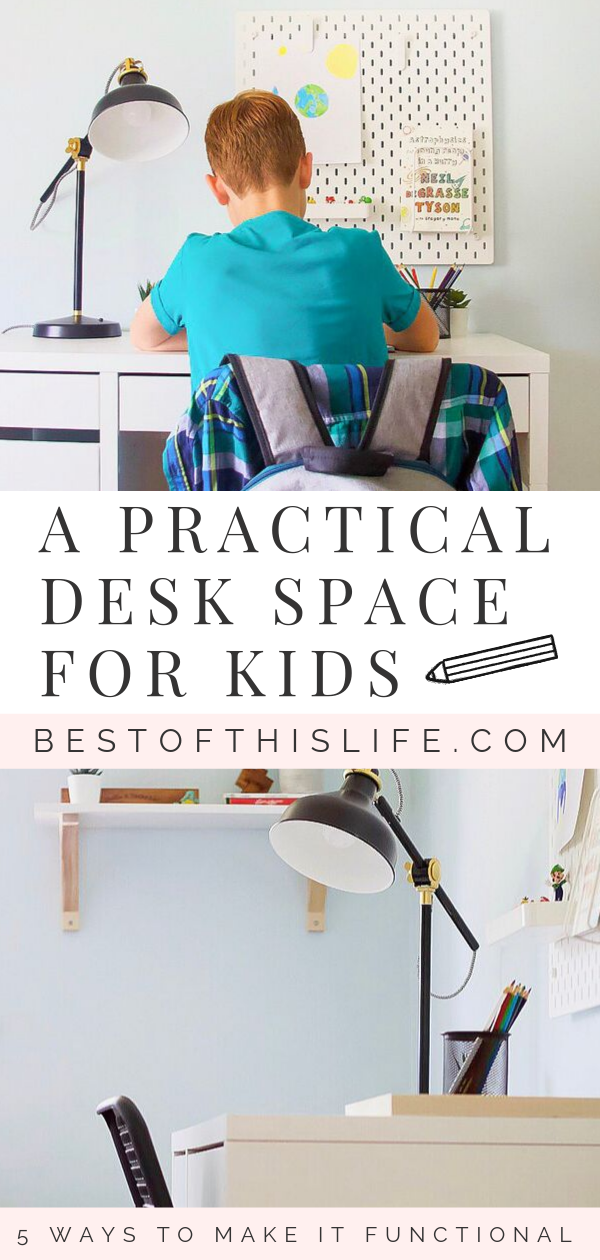 Latest posts by Emily Smith
(see all)