Just For Kids: Yummy S'mores Apple Slices
Do your kids love s'mores just as much as mine do? Take the taste of summer into the fall with these yummy s'mores apple slices!
Apple season is just kicking off here in Ontario, which means we'll be enjoying apples lots of different ways for the coming months. This fun spin on a traditional s'more treat is a delicious way to incorporate apples into snack time.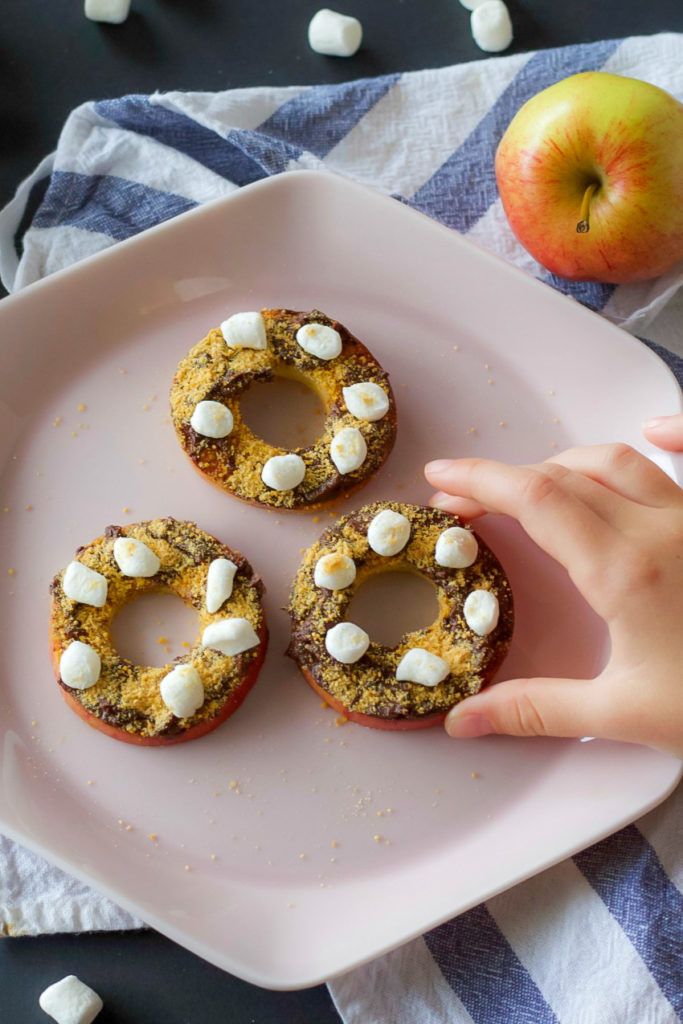 What You'll Need to Make S'mores Apple Slices:
crisp apples, sliced
chocolate spread, homemade or store-bought
graham cracker crumbs
mini marshmallows, halved
We used Ontario grown Cortland apples to make our healthy treats. Cortland apples are a McIntosh variety that has a mild, sweet taste and crisp texture. Their ideal for this simple recipe!
For the chocolate spread, you can pick up a jar at the grocery store or make your own. We love homemade chocolate spread! If you haven't tried making your own, I highly recommend it. We love this Easy Vegan Nutella recipe.
Pro tip: if the spread isn't sticking to the apple slices, use a paper towel to absorb some of the juice.
And to make the mini marshmallows the ideal size to fit on the apple slices, cut them in halves. Six halves are the perfect amount!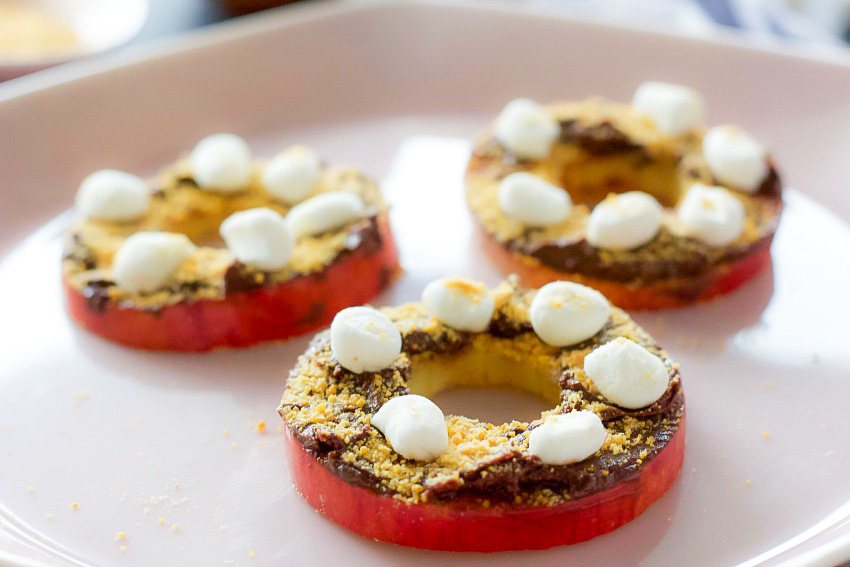 S'mores Apple Slice Snacks Are Fun for Kids to Assemble
Want to get your kids involved in prep? Set up a do-it-yourself station at the kitchen counter or dining table. Lay out all of the ingredients and let your children build their own s'mores apple slice snacks. You can take care of coring and cutting the apples into slices if they're not old enough to do that part. They'll have a blast putting them together and enjoying their delectable treat.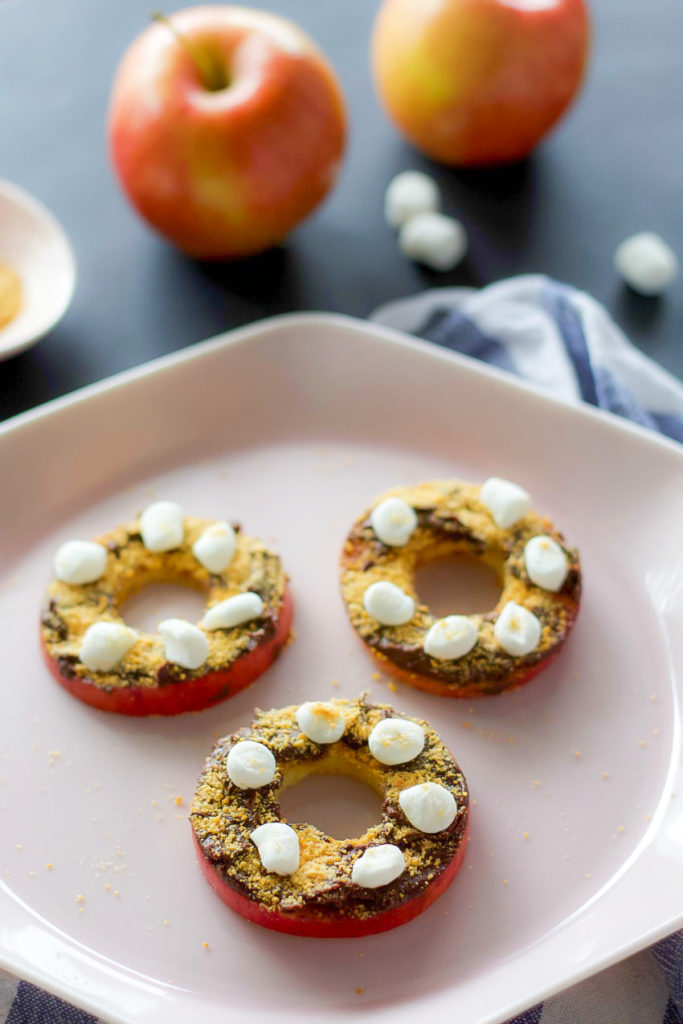 More Ways to Enjoy Apple Slices
There's no doubt apples are delicious on their own, period. My kiddos are happy to bite into a fresh, juicy apple. On the other hand, they enjoy getting creative with their food. New flavour combinations and unique kitchen creations spark their interest as mini chefs! I'm sure for many of you, your kids are the same way.
Here are some more topping ideas for yummy apple slice creations:
Topped with peanut butter, raisins, shredded coconut
Pizza! Shredded cheese, mini pieces of ham or pepperoni, and Italian herbs
Cream cheese apple spread and chopped peanuts
Sunflower seed butter and mini pieces of banana
Dipped in caramel sauce topped with chopped pecans
Pink frosting and rainbow sprinkles (donut apple slices!)
Drizzled with dark chocolate and decorated with chocolate sprinkles
Apple butter spread on top and sprinkled with currants
What other toppings would be perfect for apple slices? Share your ideas in the comments!
---
PIN IT!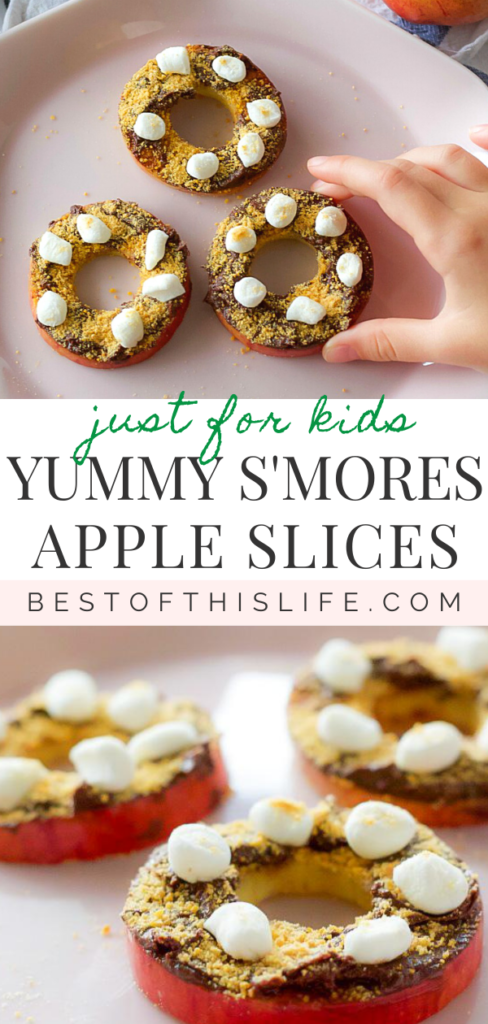 Latest posts by Emily Smith
(see all)