A Flavourful Thanksgiving Menu For Six (under $50!)
The leaves are beginning to change colour, there is a chill in the evening air, and Thanksgiving is almost here. There is something so pleasant and magical about this season, isn't there? In my opinion, it's nearly impossible not to be filled with gratitude. From the glorious harvest sun to the pumpkin patch and every autumn goodness in between, all around there is beauty to be found.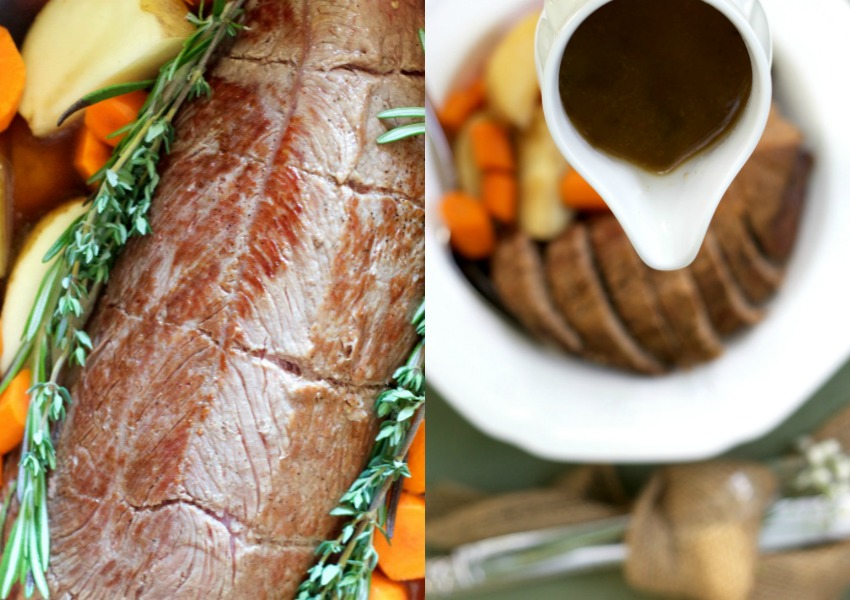 Thanksgiving is a cherished holiday and celebration in our home. I recall my mom when we were little making our gratitude tree from construction paper and taping it up in our dining room. On it we would place all of our thankfulness leaves where we wrote the things we were grateful for. I look forward to doing the same with my children this year! Of course, Thanksgiving is also a time to enjoy a wonderful feast of delicious seasonal foods among friends and family.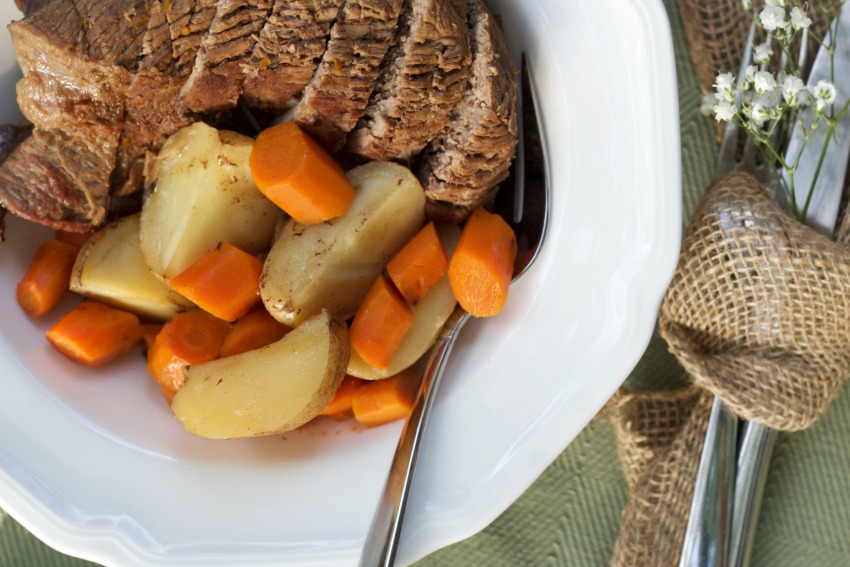 Even though we often think of turkey being the main course for this holiday, there are many other budget-friendly and just-as-traditional options, including a Thanksgiving Pot Roast, which is the recipe I'm sharing with you today along with a scrumptious side of Skillet Mac N Cheese, and for dessert, a Deep Dish Apple Pie to round off an incredibly flavourful and satisfying Thanksgiving menu all from Walmart!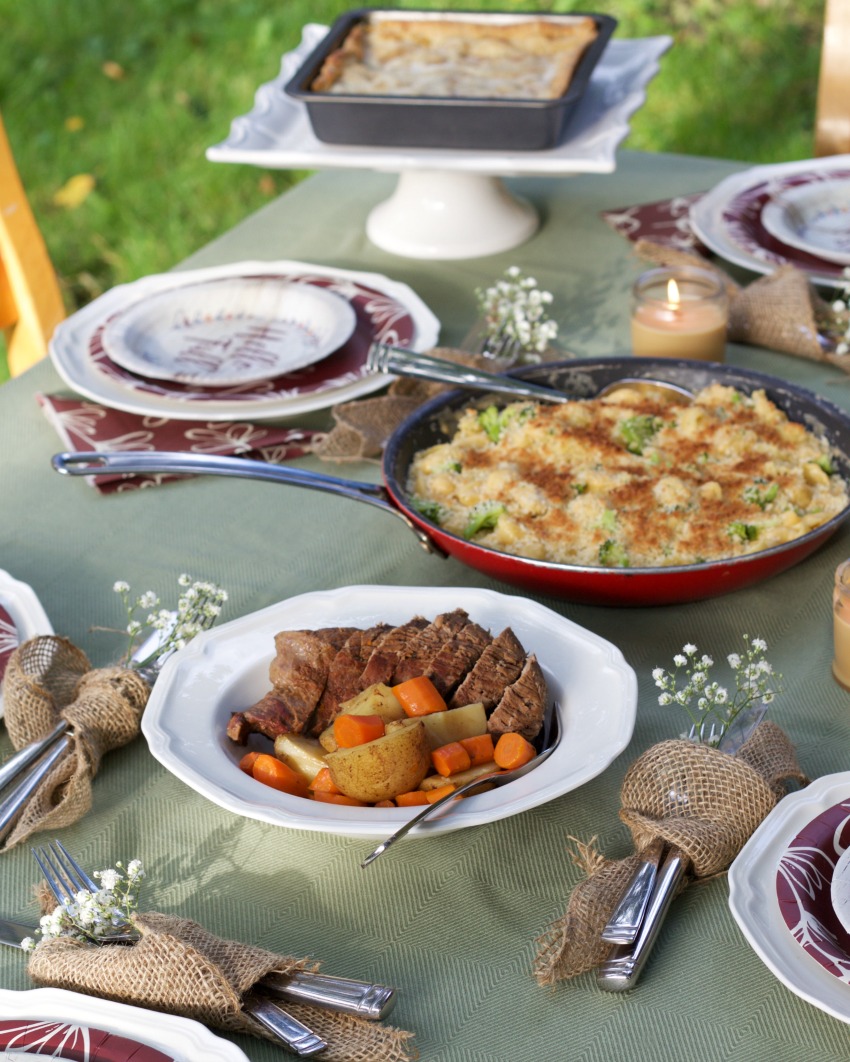 My husband and children were pretty excited to get to test-run Thanksgiving this week and give these dishes a whirl. Each recipe is easy to follow, you can even enlist little helpers in the kitchen and I promise that your family and friends will be yumming their way through each course, just like we were. To me, the recipes are the perfect choice to serve for a fuss-free holiday dinner that's all about gathering together, laughing, telling stories and enjoying good ol' home cooking.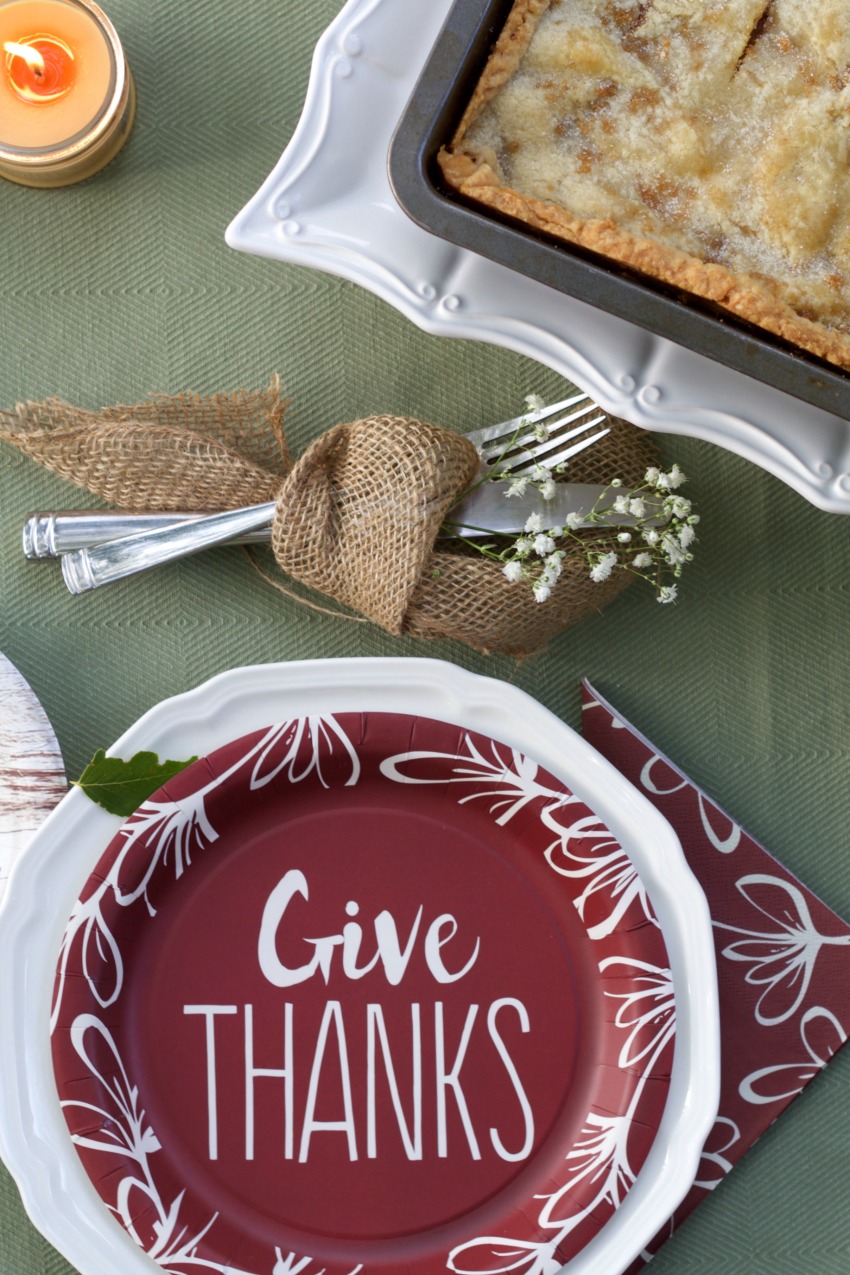 Did I mention this holiday menu serves six for under $50 using fresh groceries from Walmart! Not only did I pick up all of the wholesome ingredients at my local Walmart store, I also purchased beautiful decor to adorn our table with Thanksgiving-themed dinner plates, side plates and napkins. I wanted to make our dinner feel special and create a warm atmosphere, without being overly fancy, so I layered the paper plates onto our daily china, then added candles and cream-coloured roses, which I found at Walmart as well. Since we are still having beautiful weather, I decided to take our dining experience outside! Even if it's a cool evening, a few throw blankets can keep your family and guests comfortable if you choose to enjoy your meal alfresco as we did.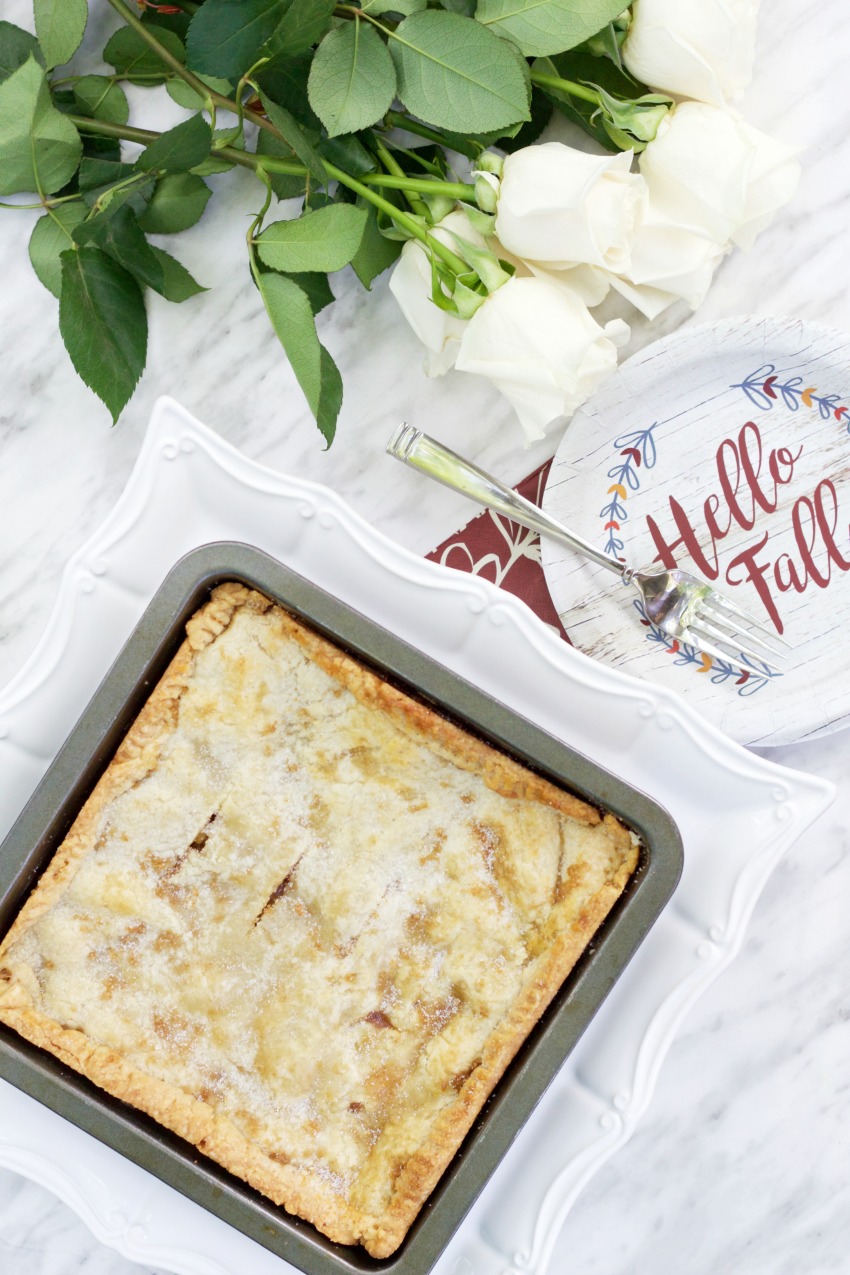 I've listed the flavourful recipes we cooked below for your enjoyment this festive season – and from our family to yours, Happy Thanksgiving!
---
This post is sponsored by Walmart Canada as part of the Walmart Thanksgiving program. In exchange for this post, I have received perks in the form of products and/or compensation. All opinions on this blog are my own.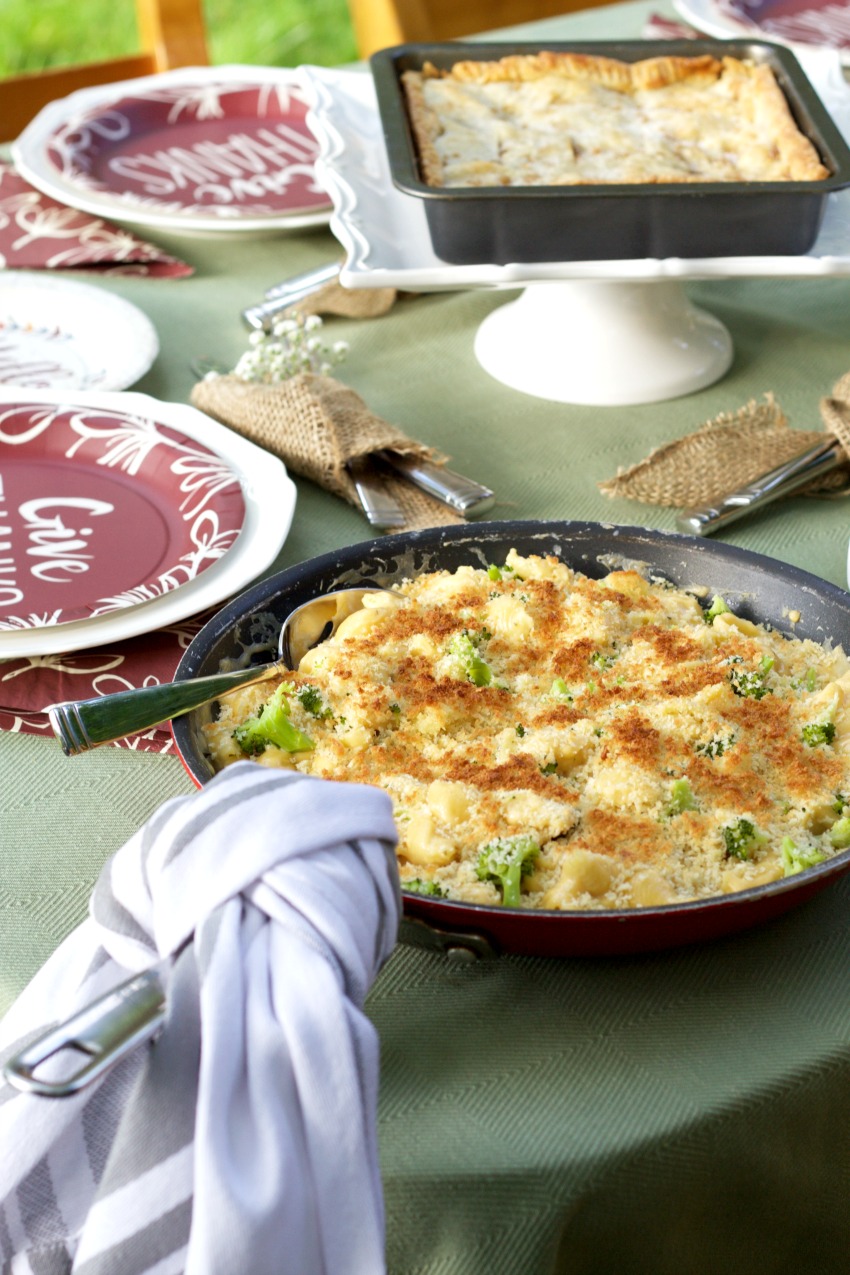 Easy Slow Cooker Pot Roast: A New Thanksgiving Favourite
| | |
| --- | --- |
| Serving Size | 6 |
| Estimated Cost Per Serving | $4.74 |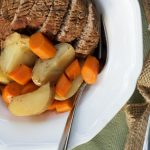 Prep Time: 20 minutes
Cooking Time: 480 minutes
Ingredients
1 Canada AAA Angus sirloin tip roast (1 to 1.5 kg)
1 tsp (5 ml) salt
1 tsp (5 ml) black pepper
1 tsp (5 ml) garlic powder
1 tbsp (15 ml) canola oil
1 tbsp (15 ml) Worcestershire sauce
1 tbsp (15 ml) sambal oelek ground fresh chili paste
1 tbsp (15 ml) Dijon mustard
4 small potatoes, quartered
4 cloves garlic, smashed
4 medium carrots, cut diagonally into one-inch pieces
4 cups (1 L) beef broth
2 springs fresh rosemary
1 springs fresh thyme
1 tsp (5 ml) cornstarch
1 tsp (5 ml) cold water
Salt and pepper
Directions
Remove roast from packaging and pat dry. In a small bowl, combine salt, black pepper and garlic powder. Sprinkle evenly over roast, being careful to season all sides. In a large skillet, heat canola oil to medium high. Sear roast for four minutes on each of four sides. Transfer to 6-quart (6 L) slow cooker.

In a large measuring cup, add Worcestershire sauce, sambal oelek ground fresh chili paste and Dijon mustard to beef broth. Mix well and set aside.

Add potatoes, garlic and carrots to slow cooker, nestling them around the roast. Pour beef broth mixture carefully over the top. Tuck rosemary and thyme around the roast. Cover and cook on low for eight hours.

To make gravy: Ladle two cups of hot cooking liquid into a small saucepan. Set over medium high heat. In a small bowl, combine cornstarch and water. Add to hot cooking liquid and stir until it comes to a boil. Remove from heat. Season with salt and pepper.

To serve: Discard herbs. Transfer vegetables to a serving bowl. Remove roast to a cutting board. Slice thinly across the grain. Transfer to serving platter. Top with hot gravy.
Deep Dish Apple Pie
| | |
| --- | --- |
| Serving Size | 6 |
| Estimated Cost Per Serving | $1.04 |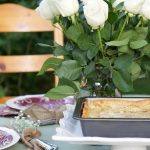 Prep Time: 15 minutes
Cooking Time: 40 minutes
Ingredients
4 Gala apples, peeled, cored, quartered and cut into ¼ inch (6 cm) slices
4 Granny Smith apples, peeled, cored, quartered and cut into ¼ inch (6 cm) slices
½ cup (125 ml) brown sugar
1/3 cup (80 ml) white sugar
1 tsp (5 ml) cinnamon
¼ tsp (1 ml) ground cloves
¼ tsp (1 ml) ground nutmeg
1 tbsp (15 ml) butter
2 tbsp (30 ml) cornstarch
1 tbsp (15 ml) flour
1 package Great Value 9" (22 cm) Deep Dish Pie Crusts (2 crusts)
1 egg, beaten
1 tbsp (15 ml) natural turbinado sugar
Directions
Preheat oven to 400 F (200 C)

In a large bowl, toss apples with sugars and spices.

In a large skillet, heat butter over medium high heat. Add apple mixture and cook for six to eight minutes, until apples start to brown. Remove from heat and let cool for 30 minutes. Once cool, add in cornstarch and flour and mix well. Set aside.

Thaw pie crusts according to package directions. Remove one crust from foil pan and place gently into an 8" x 8" nonstick cake pan. Carefully fill with apple mixture. Brush edges of crust with half of beaten egg. Remove second crust from foil pan. Gently place on top of apple mixture, tucking the pastry edges inside the pan.

Brush top crust with remaining egg. With scissors or a sharp paring knife, cut eight small slits on the top. Dust generously with natural turbinado sugar.

Place the cake pan on the baking sheet and place in oven. After 15 minutes, reduce heat to 350 F (175 C), cover pie loosely with foil and continue to bake for 25 minutes more.

Remove from oven. Discard foil. Let stand for at least two hours before cutting into the pie.
Skillet Mac N Cheese
| | |
| --- | --- |
| Serving Size | 6 |
| Estimated Cost Per Serving | $1.77 |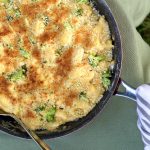 Ingredients
3 cups (750 ml) small pasta shells (uncooked)
1 ½ cups (375 ml) broccoli, cut into bite-sized pieces
4 tbsp (60 ml) unsalted butter
1 cup (250 ml) panko breadcrumbs
3 tbsp (45 ml) all-purpose flour
2 cups (500 ml) whole milk
1 cup (250 ml) Great Value Shredded Old Cheddar Cheese
1 cup (250 ml) Great Value Shredded Garlic & Herb Cheese
1 tsp (5 ml) Dijon mustard
1 tsp (5ml) smoked paprika
½ tsp (2 ml) salt
½ tsp (2 ml) pepper
1 tbsp (15 ml) water
Directions
Bring a large pot of salted water to a boil. Add the pasta and cook according to package instructions until al dente. Drain and set aside.

Set oven to broil.

Place broccoli in a microwave safe bowl, add 1 tbsp of water and cook for two minutes. Remove. Drain water and set aside.

In an 11-inch (28 cm) frying pan, heat butter over medium high heat. Remove one tablespoon of butter and add it to the panko breadcrumbs. Mix well and set aside.

In the pan, sprinkle the flour over the butter, whisking continuously, cooking for two minutes. Slowly drizzle in the milk, whisking continuously to avoid lumps. Cook for three minutes or until sauce begins to thicken.

Remove from heat. Add in the cheeses, a cup at a time, stirring constantly. Add mustard, smoked paprika, salt and pepper and mix well. Add cooked pasta and broccoli and stir to combine.

Sprinkle panko breadcrumbs evenly over the top and place under the broiler for four to five minutes or until lightly browned. Remove from oven and serve immediately.
Latest posts by Emily Smith
(see all)