An Easy and Beautiful Raspberry Walnut Winter Salad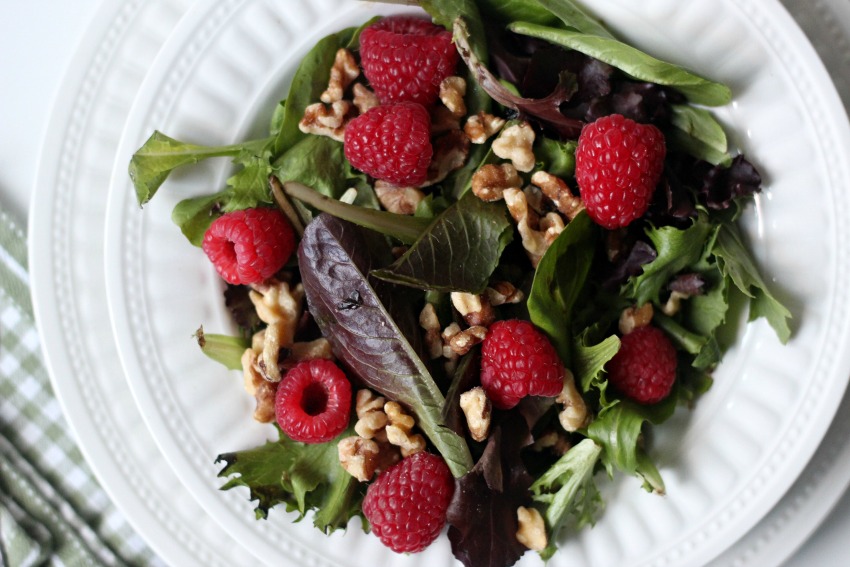 Winter blues. Man, do I have the winter blues. After a week of grey skies and cold weather, the sunshine broke through yesterday in Ottawa and I went for a long walk to soak up its warmth and vitamin D. Even so, I felt the weight of winter and the cold in my bones hasn't subsided. It doesn't help that the jolly and fun days of the holidays are behind us (also a time when sweets, drinks, and presents soften the sting of the ice cold winds). Alas, this has always been around the time where the winter blues begin for me. If you don't live in a part of the world that gets brutally cold winters, you may not get just how hard it is to push past it to enjoy being outside, or even just getting out of your warm bed in the morning!
One of the ways that I fight back is through healthy eating, loads of vitamins and short workouts – because truthfully, my energy is at an all time low when I haven't had face time with the sunshine. I gravitate towards eating bowlfuls of clementines, Florida oranges ( hoping that the sun in them will energize me from within) and foods like this salad, that are chock-full of good stuff.
What are you coping mechanism to deal with the winter blues? Or are you lucky enough not to be quite so affected by the cold, grey days of winter?
Eating nutritious foods to boost my immune system and keep healthy is where I'm focusing a lot of attention this month, especially after a December where my family was sick with the flu off and on. This salad is just one of the many easy meals I throw together on the daily to help my body out while its dealing with the effects of the cold (constant shivers, muscle pains, lethargy, low-energy). I should add that I have a low iron count, which adds to my sensitivity to the cold, if you're thinking to yourself, "this girl seems real sensitive to the cold." But the truth is, many women have a low iron count, and living in a place that has a freezing cold winter isn't the easiest thing to get over.
This salad includes spinach and walnuts in it for added iron which, like any iron rich food you can get your hands on, will help if you are iron-deficient.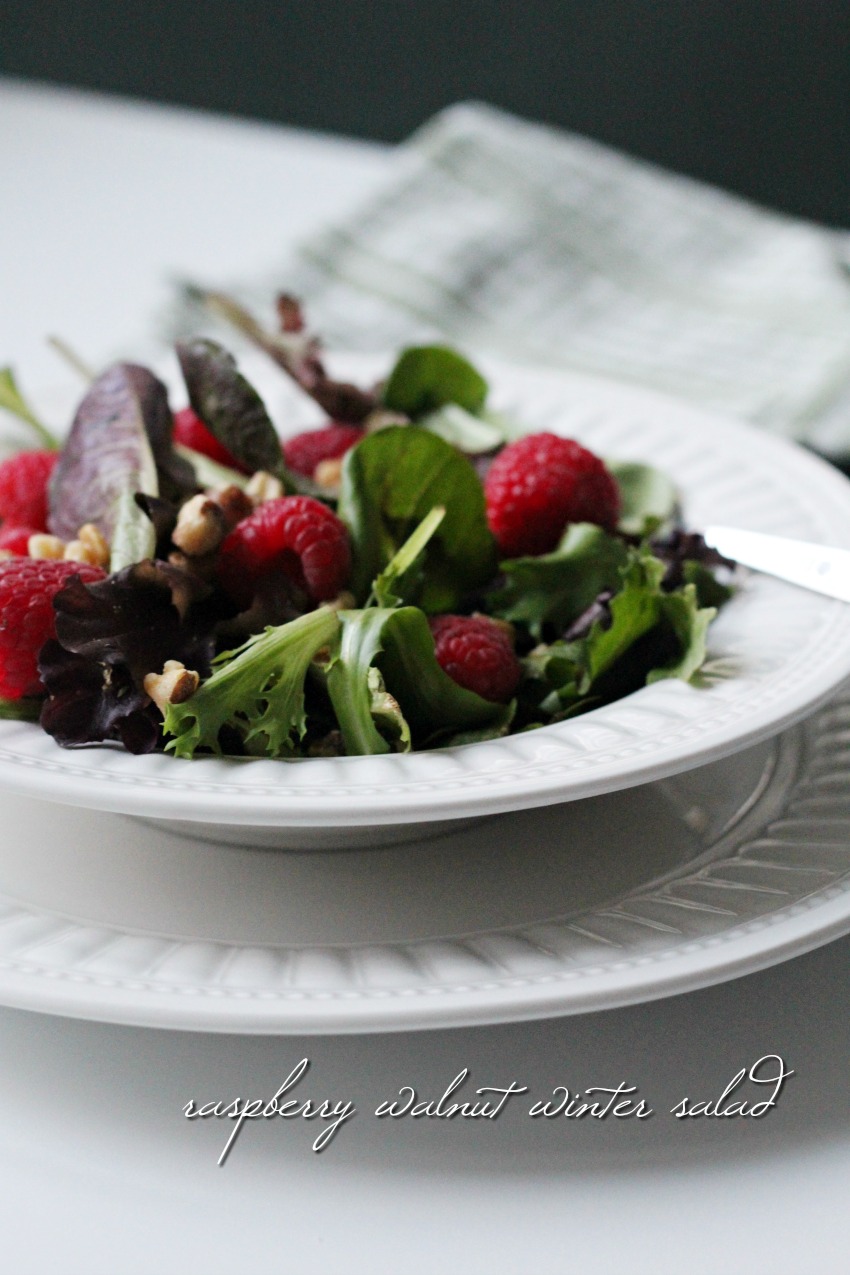 When you are so lucky to spot fresh berries in the produce section, even though they come from thousands of miles away, it's a little burst of summer that is hard to resist. These raspberries were the perfect topping to add. Alternatively, there are lots of local apples you can buy that would be delicious paired with walnuts, and instead of the homemade raspberry vinaigrette, you could use store-bought or make an apple cider vinegar dressing.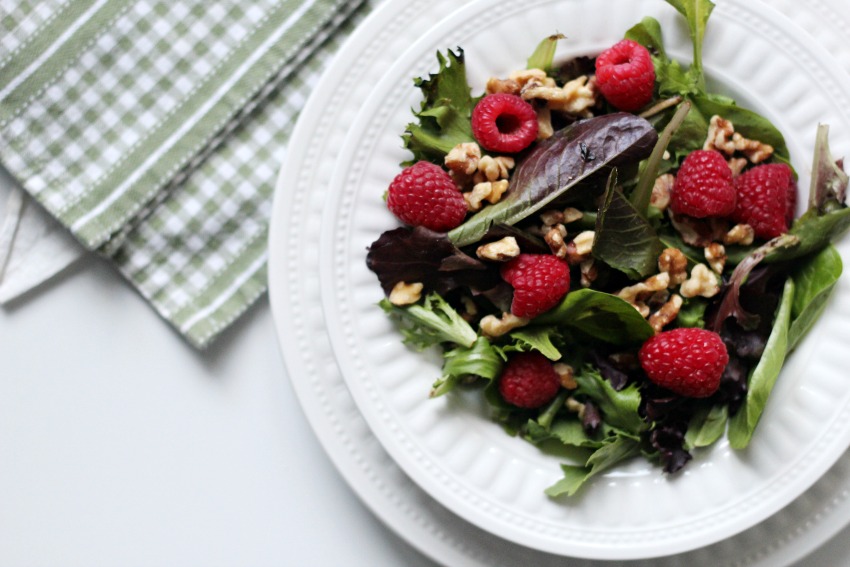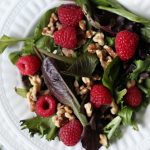 Beautiful Raspberry Walnut Winter Salad
---
Description
A refreshing and satisfying salad that brightens any winter day!
---
4 cups

mixed greens (including baby spinach)

6 oz

of raspberries

1/3 cup

chopped walnuts
For the dressing
5 Tablespoons

olive oil

3 Tablespoons

raspberry vinegar

6

raspberries

1

pinch of brown sugar

1 tablespoon

Dijon mustard
---
Instructions
In a serving bowl, place a bed of baby spinach leaves. Top with raspberries and walnuts. In a small bowl, crush raspberries using a fork, add raspberry vinegar, oil, sugar and mustard, stir until well combined. Drizzle the salad with the raspberry vinaigrette and serve Enjoy!
Whether you're living in the sunshine state, or facing the damp, cold days of Ottawa, a bright, vibrant and healthful salad makes a wonderful lunch or addition to dinner that boosts your immune system and helps to fight off the winter blues!
p.s if you or someone you know is feeling blue this time of year, please know it's a real thing – you can learn more about Seasonal Affective Disorder (SAD) here with some helpful tips on how to manage it.
Latest posts by Emily Smith
(see all)