Summer Quinoa Salad and Honey Glazed Chicken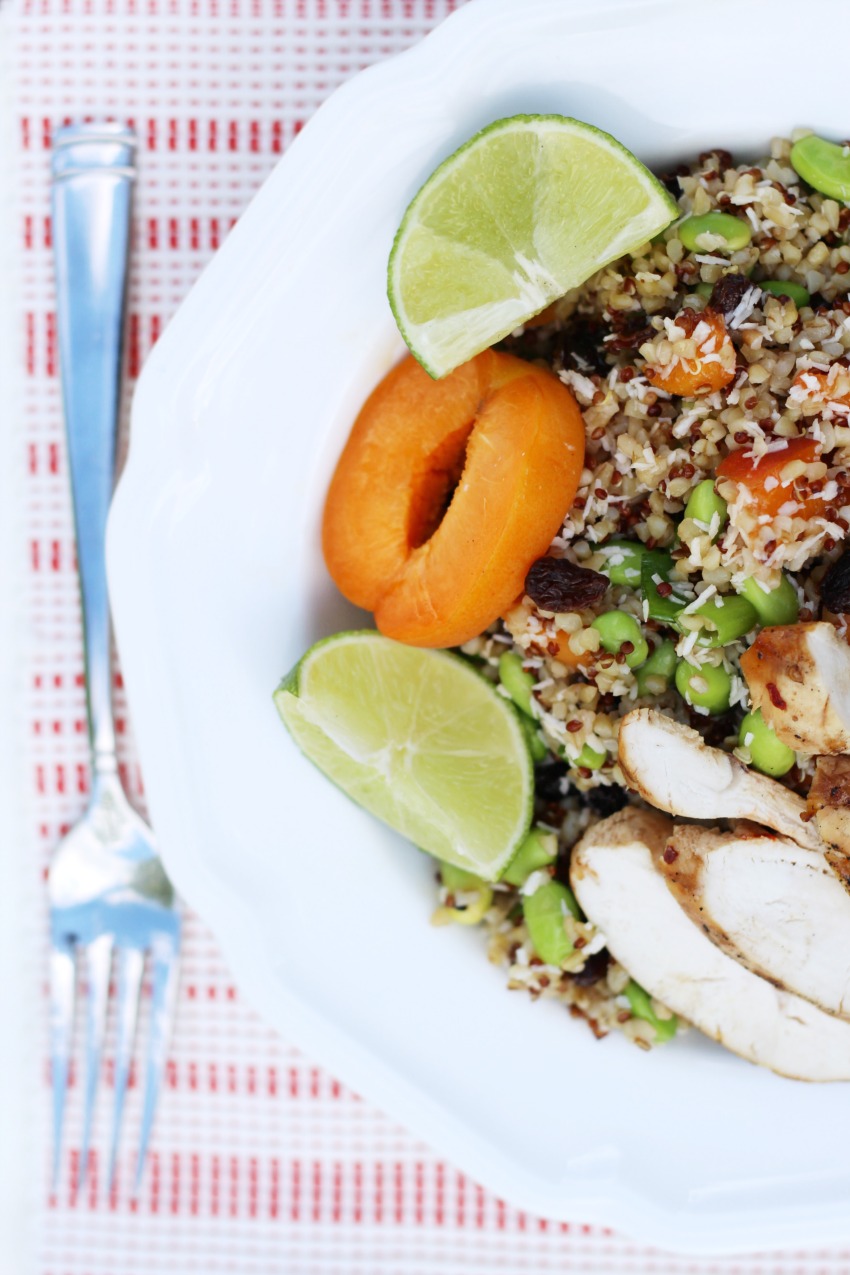 We're all about the summer barbecues and picnics.
Meat and vegetable grilling, easy salads – and of course summer desserts, like ice cream cones and fresh fruit. It's the season of enjoying delicious meals al fresco in our backyard, beneath the shade of our lush birch tree.
Enjoying your favourite summer foods shouldn't have to break the bank. In fact, there are some pretty great deals to be had, if you know where you find them. Enter, Flipp.  Flipp is a must-have app to help you save money on groceries, household supplies, clothing and more.  It's a free app that allows you to see the most recent flyers from stores in your area. Within the app you can virtually circle all the items in the flyer that you're interested in and add them to your coupon list. 
You can also plan from another angle: by creating your shopping list and then Flipp will search for deals on the items that you need from stores nearby. Seriously! It's that awesome.
Flipp helped me save big on my recent grocery haul. I found all the ingredients to make my Summer Quinoa Salad and Honey Glazed Chicken recipes, as well as some weekly food items we needed to stock up on (under $100 of groceries).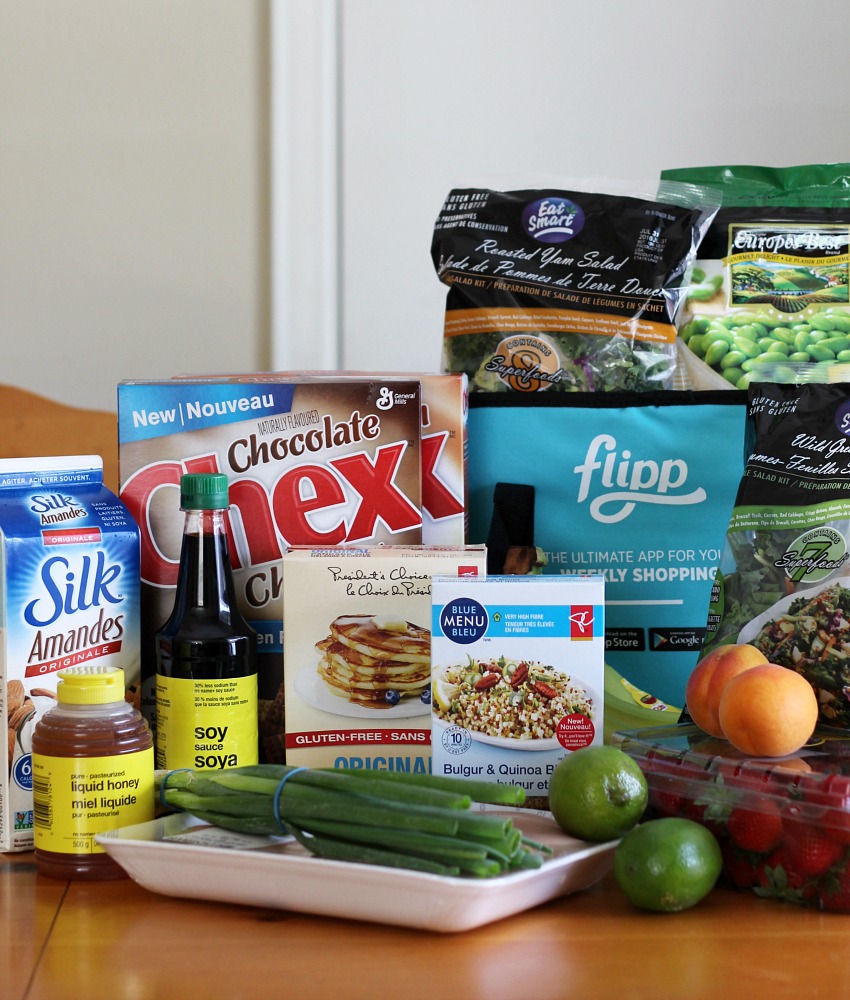 With the help of the Flipp app, I found the almond milk, green onions, chicken, cereal (a big treat for the kids!) and salad kits on sale.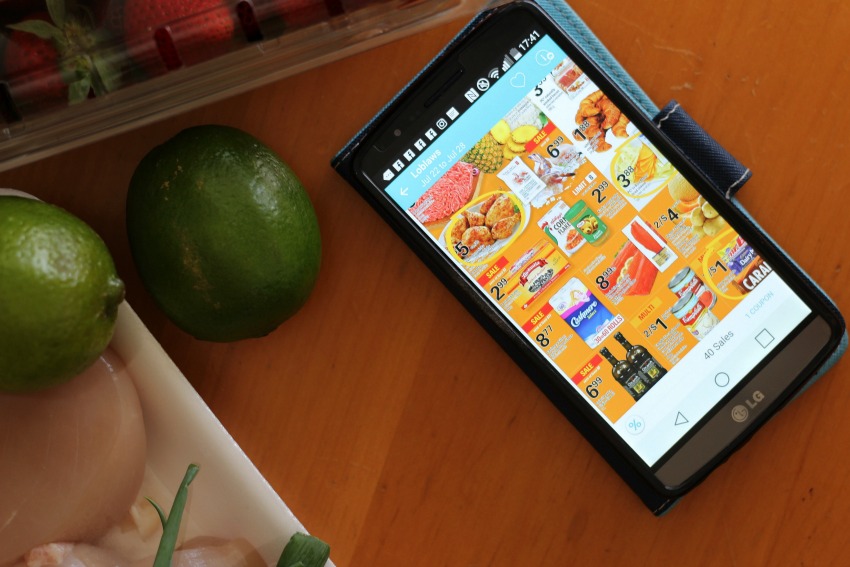 You can easily hop back and forth from different flyers, your coupon list and your shopping list. It's really simple to use and incredibly handy. While I was shopping, I just checked the items off my list while I toured the store.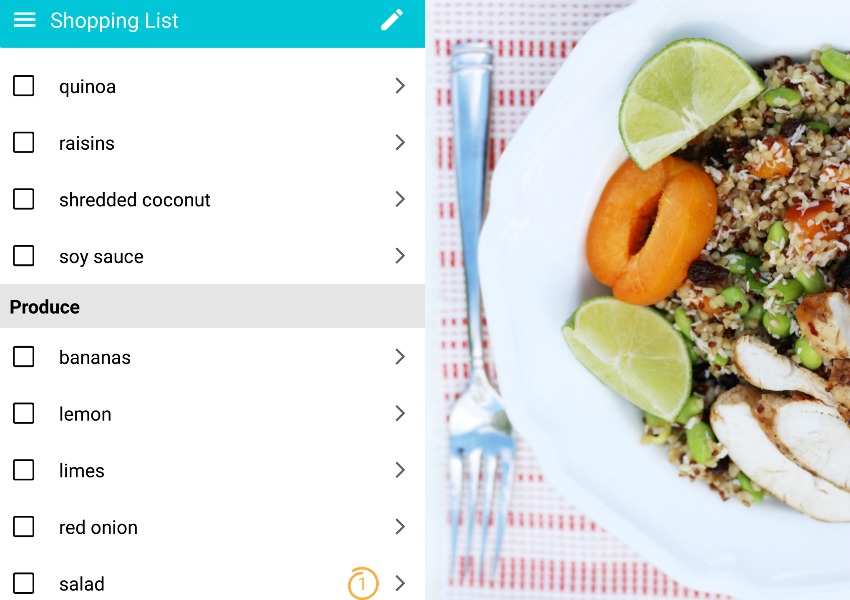 I was all too happy to take the Flipp Summer Food Challenge to create a tasty meal you're sure to love. I wanted to make something that combined BBQ and healthy, fresh produce. A delectable, hearty bowl of quinoa with summer flavours, topped with lightly seasoned barbecued chicken was the perfect pairing.
Summer Quinoa Salad Recipe (Serves 6-8):
Ingredients:
For salad:
225 grams dry quinoa, prepared and cooled
2 apricots, chopped
2 green onions, chopped
1 1/4 cup unsweetened shredded coconut
1 1/4 cup raisins
2 cups frozen shelled edamame, thawed
For dressing:
juice from 2 limes
2 tbsp balsamic vinegar
1 tbsp honey
1 tbsp olive oil
salt and pepper to taste
Directions:
Prepare quinoa (follow package). Allow to cool.
In a small bowl, combine all the ingredients for the dressing together. Whisk for 30 seconds. In a large salad bowl combine all the salad ingredients together including the cooled quinoa and add the dressing.  Mix until well coated and serve.

Honey Glazed Chicken Recipe (Serves 6-8)
Ingredients:
4 large boneless (skinless) chicken breasts
1 lemon
2 Tbsp honey
2 Tbsp soy sauce
salt and pepper
Directions:
Put all 4 chicken breasts in a large baking dish, sprinkle with a pinch of salt and pepper.
Squeeze the lemon into a bowl and stir in the honey and soy sauce. Spoon the mixture over the chicken and coat evenly.
Put chicken on lightly oiled grill plate and bbq for approximately 7 minutes each side (longer if using large breasts).
Cook until done (double check with meat thermometer).
Slice the chicken breasts and serve over quinoa salad.
Enjoy!
I know you'll love this delicious summer meal as much as my family did. When you shop for the ingredients, don't forget to take Flipp along with you.
Bon Appetit friends!
This piece is in collaboration with Flipp.
Editor's note: If you are Celiac or gluten-free, PC Blue Menu Bulgur & Quinoa Blend isn't for you! I made the mistake of thinking it was a red quinoa mix. No biggie, I picked up some more quinoa for me to eat this tasty recipe, while my hubby devoured the bulgur blend…hehe. Just a friendly FYI! 
Latest posts by Emily Smith
(see all)