10 of the Best Exercises You Can Do at Home
Can't get to the gym for a quick workout? No problem! You can have an amazing workout at home. With a mix of these simple exercises, you can turn your indoor home workout into a major sweat session. Ready to get your heart pumping? Let's do this.

These exercises can be done with little to no equipment. You can include a combination of stretching, strength training and cardio for a well rounded indoor workout.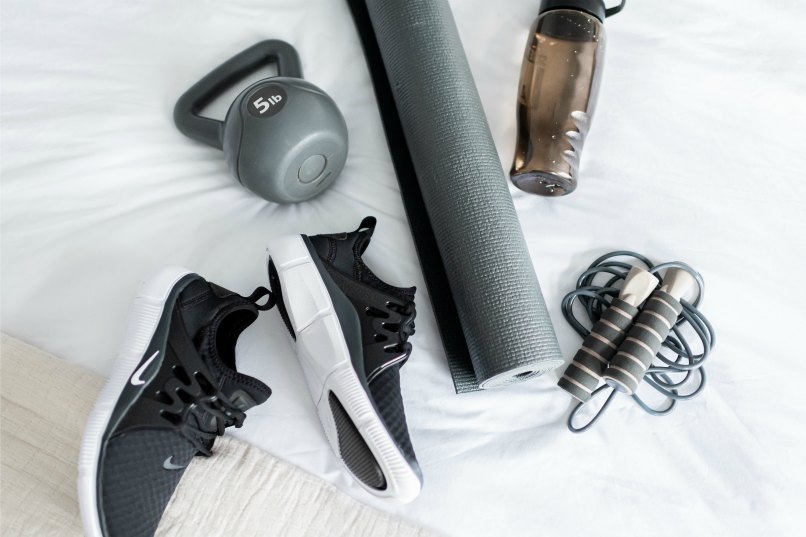 10 Exercises to Include in Your At-Home Workout
1. Jumping jacks are a great way to get your heart pumping and they don't require any equipment. Put on your favourite music and start slow with a few sets of ten to twenty jumping jacks. You can turn this into a longer workout or just a quick one to take a break from Netflix and get moving! If you are not able to perform a lot of jumping jacks the first time, don't worry, stick with it for a while, you will be surprised how quickly you improve. Try to do a set or two of jumping jacks every day to give yourself an energy boost!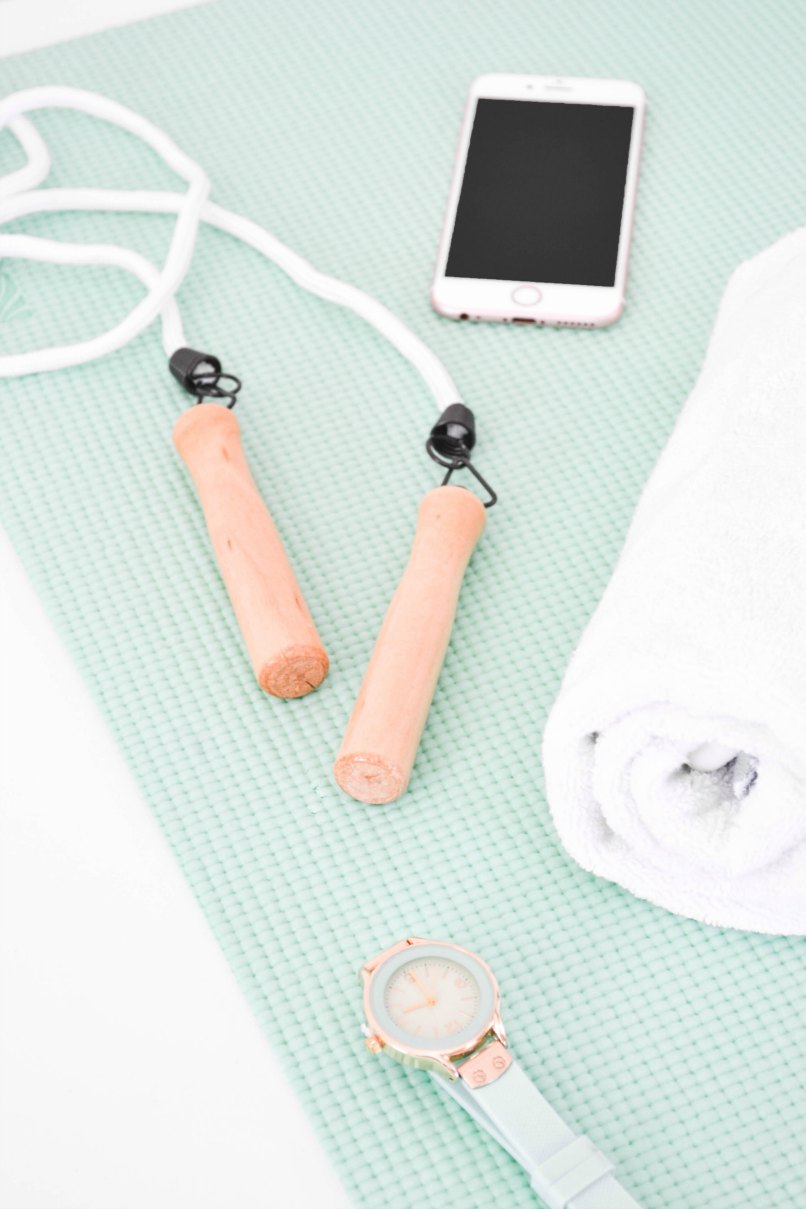 2. Jumping rope: If you tackled the jumping jacks and you're looking to level up, a jump rope is for you! When beginning to jump rope opt for an affordable one to learn on before you invest in a more expensive one. To find the right fit for you, step in the middle of the jump rope, and make sure the end of the cables come to your chest evenly. There are a few variations of jump ropes, but a thicker one will be easier to find the right tempo for your jumps. Again, put on your favourite tunes and do a few sets, it might take a little time to get into the swing of jumping rope but let me tell you it's a great cardio workout.

3. YouTube workouts: there has never been a better time to stream awesome workout routines. A quick search on Youtube for workouts will yield so many great options including high-intensity interval training, dance workouts, and yoga. There are beginner levels all the way up to expert. Whatever you're in the mood for, you'll be able to find it and jump right in.

4. Callisthenics: there are so many bodyweight exercises you can do to get in a successful workout at home. A good workout routine would include an exercise for your lower body, abdominal, and upper body. Doing a compound workout that includes sit ups, squats, and push-ups is a good example. There are a lot of variations when it comes to bodyweight exercises, pick a few beginner ones to start with. For example, you can start with knee push-ups to build up to traditional push-ups.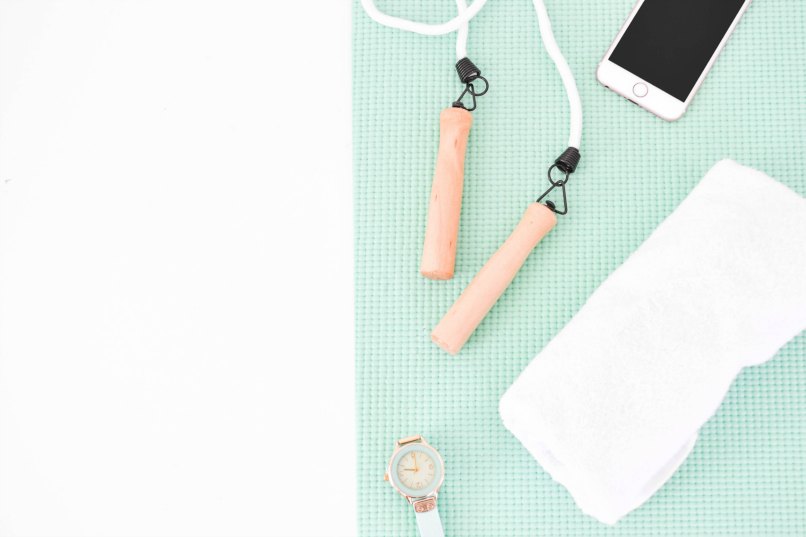 5. Band exercises: working out with bands is an excellent and safe way to strength train. One movement I love is the band pull-apart: it works the shoulders and upper back. If you are accustomed to using gym equipment, then bands are a great at-home workout option for you.

6. Dancing: want to reduce stress, have fun, and work out? Yeah, you do! Dancing is one of the funnest at-home workouts. Whether you're having a kitchen dance party, following a YouTube dance workout, or trying to master the latest TikTok dance challenge, let loose!

7. Workout with household items: if you want to try working out with weights without investing in them yet, there are a lot of household items you can use to strength train. For example, you can add a bag of rice or a few books to a backpack to use as weight for squats or presses. Do you have soup cans (or any canned good) in your pantry? Then grab them for an amazing upper body workout at home. You can use them for bicep curls, tricep kickbacks, and arm circles.

8. Stretching: having a morning or nightly stretching routine will do wonders for your body. Even taking five minutes after you wake up or before you go to bed to stretch is a terrific way to take care of your body. You can go one step further by carving time out of the day to do a yoga workout. If you're new to yoga, there are a lot of great beginner courses and amazing instructors on YouTube such as Sarah Beth Yoga or Cosmic Kids Yoga (fun for the whole family).

9. Dumbbell exercises: a simple pair of dumbbells is all you need to begin strength training and adding muscle definition! If you don't have a set at home, you can start with soup cans or homemade weighted bags. Exercises like the overhead press or bicep curls with dumbbells work well to condition and sculpt your body.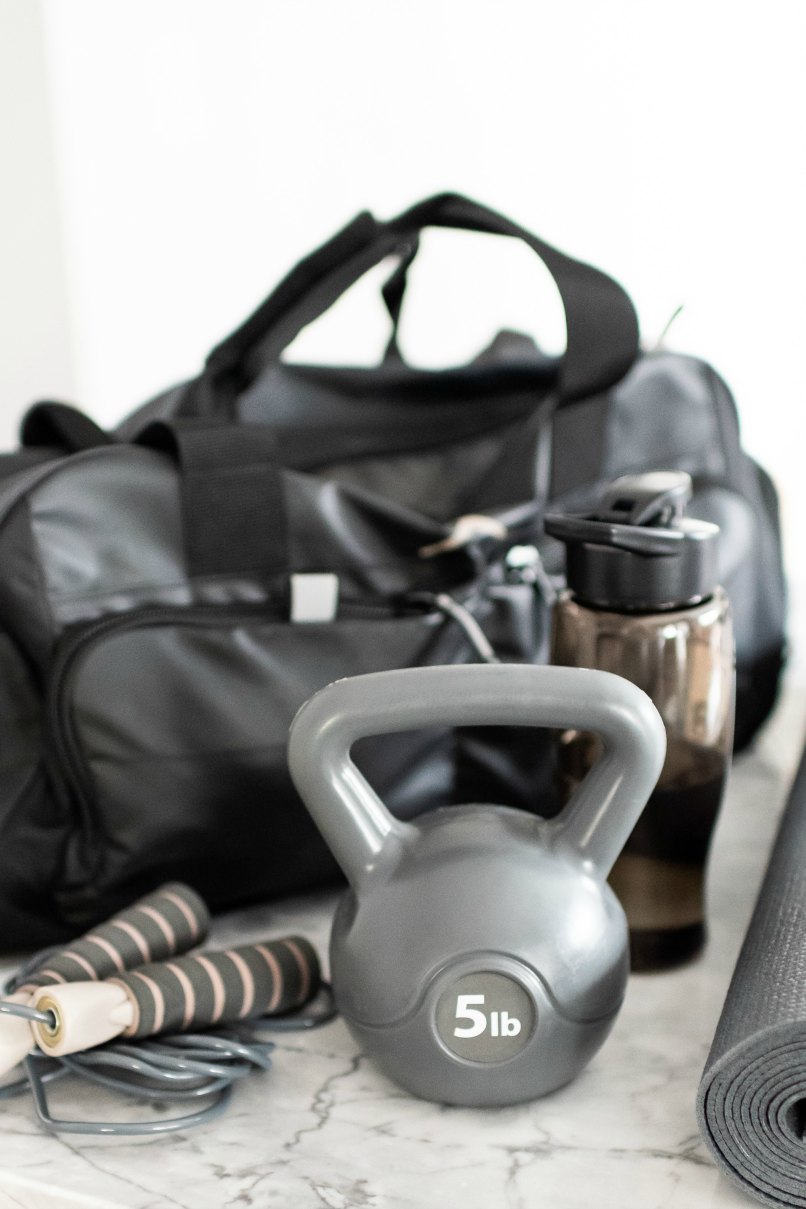 10. Kettlebell exercises: again, you don't really need any equipment to have a solid at-home workout. However, a kettlebell will certainly come in handy. One of my favourite exercises, which combines strength training and cardio, is the kettlebell swing. If you've never done this,  take the time to read our Beginner's Guide to the Kettlebell Swing or watch a few online tutorials to see how it's done correctly. Also, a kettlebell is an home-friendly alternative to a barbell for weight training movements as it is easier to store.
Squeezing in an at-home workout doesn't have to be an all out affair. If you've got 30 minutes to spare, you can include stretching, cardio, strength training, and a cool down into your at-home workout routine. From these exercise and equipment suggestions, you can build your own fitness routine to do at home. Whether you're a beginner or a pro, these simple at-home exercises will get your body moving and feeling good!
SAVE THIS POST ON PINTEREST
---
Disclaimer: You should consult your physician or healthcare professional before beginning this or any fitness routine to make sure it is right for your needs. Do not start this or any fitness routine if your physician or health care provider advises against it. If you experience faintness, dizziness, pain or shortness of breath at any time while exercising you should stop immediately. The author of this article is not a medical doctor, it is written from personal experience for information and entertainment purposes. The author and this website disclaim liability for any injury, damage or mishap that may occur from engaging in any activities from this website.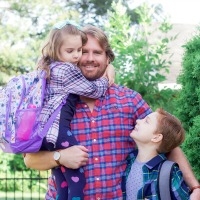 Latest posts by David Smith
(see all)