Healthy Banana Chocolate Cookies (Just 4 Ingredients!)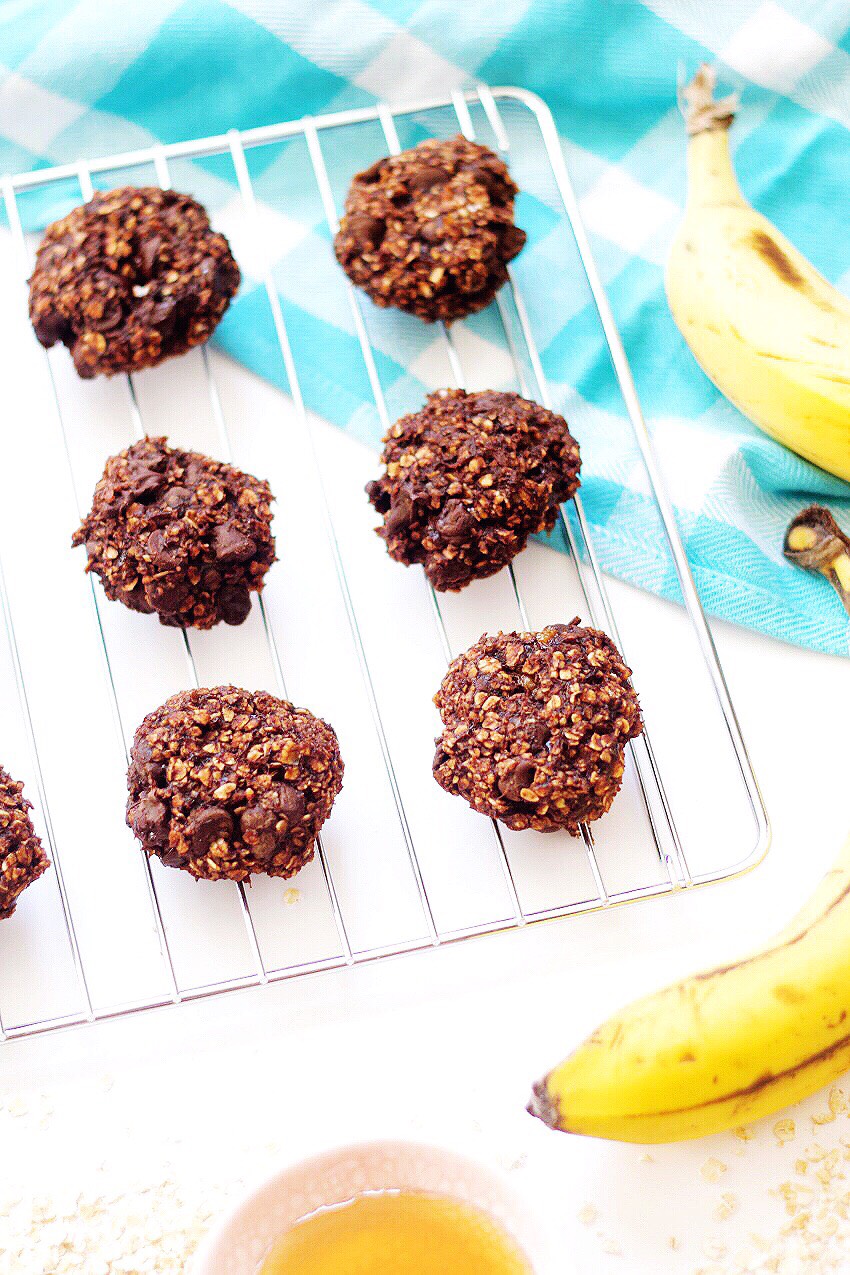 It doesn't matter the occasion, sometimes I just get the itch to bake. When my kids are coming home from school and are hungry for a snack, or we're just hanging out as a family and want to make something scrumptious, whatever the reason it often leads us to making cookies!
Honestly, I think I could make the argument that baking cookies is good for my mental health. But I definitely know I can make the argument that these cookies are good for my health in general, 'cause they're pretty healthy overall.
Now, I know what you're going to say, "Emily, 'healthy' cookies can taste horrible and you should just leave cookies alone!" and I completely understand where you're coming from. I've tasted my fair share of very uncookie-like things disguised as an elusive 'healthy-cookie that tastes just like the real thing'.
related: White Bean (YES!) Oatmeal Chocolate-Chip Cookies
Here's what I am saying: the idea of a cookie isn't just something that should be reserved for an indulgence or something you have to feel guilty about making for yourself or your kids. By taking four simple ingredients: oats, bananas, cocoa powder and honey (or maple syrup) you can make a great tasting cookie that also happens to be a very nourishing cookie!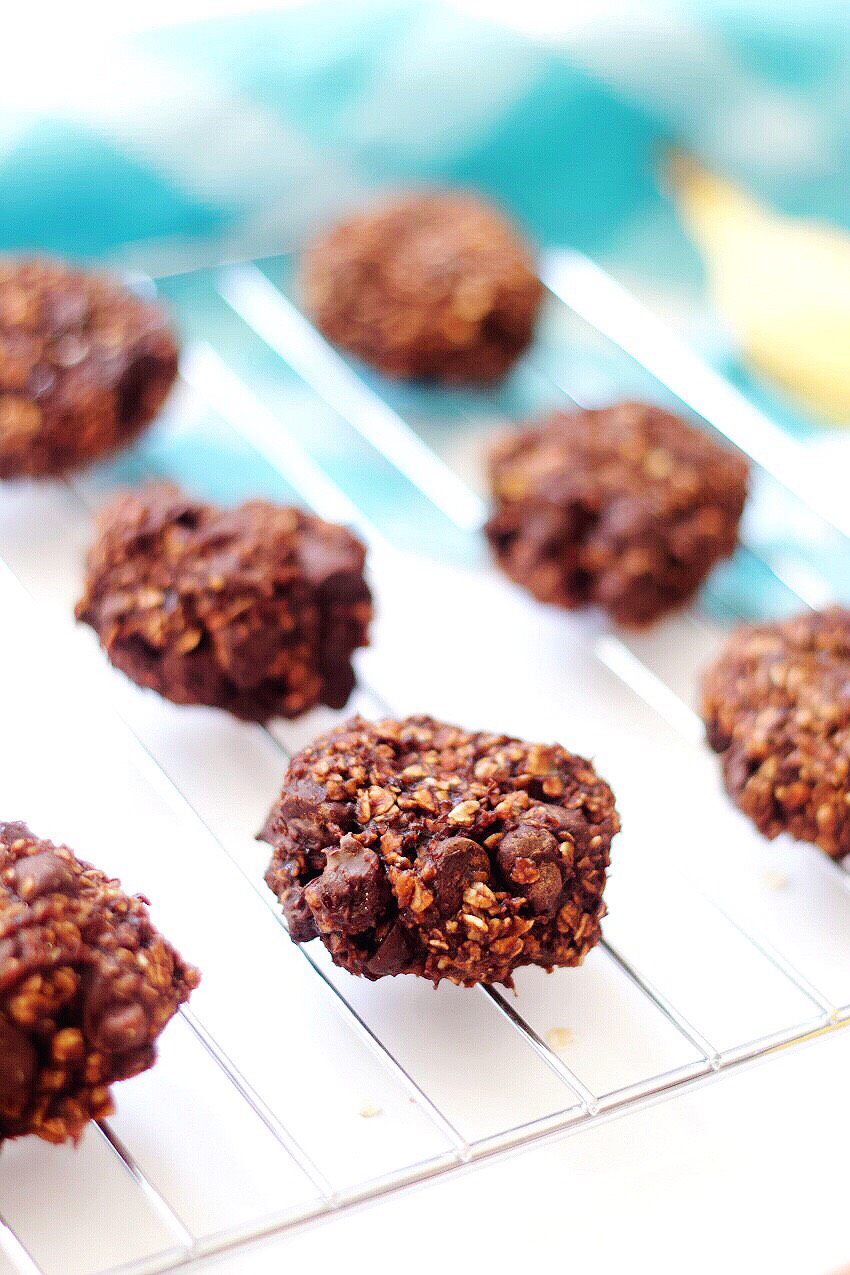 Rolled oats, for instance, are a great source of vitamins, minerals, and fiber, bananas are a potassium-rich food, cocoa powder has concentrated antioxidants, and honey is lower on the glycemic index than sugar or if you prefer maple syrup also contains numerous antioxidants and is also lower on the glycemic index than sugar. These ingredients in of themselves are great and put together can make one tasty (and kid-approved) cookie that is also nutritious.
My family and I are big fans of all types of cookies, and I am certainly not advocating tossing out your favourite cookie recipes (no way!), I am just suggesting these banana chocolate cookies as a great option or alternative if your looking to whip up a treat that is leaning closer to the good for you side then it is for this is the indulgent side.
related: Almond Butter Oatmeal Cookies
The fun thing about this easy recipe is how you can switch it up – you can add a few chocolate chips, dried fruits or nuts, a scoop or two of nut butter…etc. There's lots of room to play, which is always exciting for kids who like to get playful with ingredients.
What would you add to these cookies to personalize them? Leave a comment and let me know!
xx, E.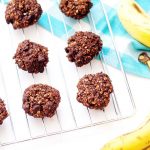 Healthy Banana Chocolate Cookies (Just 4 Ingredients!)
---
Author:

Total Time:

5 minutes

Yield:

1

2

1

x
Description
A nutritious chocolate cookie you can even eat for breakfast!
---
2

large very ripe bananas

2 Tablespoons

cacao powder, unsweetened

1 cup

of quick cook oats

3 Tablespoons

honey, preferably local 
OR pure maple syrup
---
Instructions
Preheat oven to 350°F.
Lightly grease or line a large, rimmed baking sheet with parchment paper.
Mash ripe bananas in a bowl, and then stir in unsweetened cacao powder, quick oats, and honey (or maple syrup) until a cookie dough-like batter is formed.
Roll dough into approximately 12 balls and flatten with a fork or your hand.
Place in pre-heated oven and bake for 10-15 minutes.
Remove from oven and cool slightly before serving. Enjoy!
Notes
Feel free to add in a few chocolate chips, like we did in this batch (1/4 cup) or any other additions like seeds, nuts, dried fruit, or nut butter.
Pin this recipe!

Latest posts by Emily Smith
(see all)